Here, in this article, we bring to you my pet essay for Class 2 students. Writing an essay on my pet animal is a wonderful opportunity for kids to express their feelings for their pets. As a matter of fact, this is an important topic for children on essay writing in primary classes. Essay writing in English helps to refine their grasp over language, and gives students an edge to gain better control on their linguistic skills. This tends to enhance their vocabulary and fluency in the English language.
Pets are always considered as human beings' best friends. They are a blessing to the human kind. There are some pet owners who consider their pets as members of the family and treat them with great care. People keep a variety of pets such as cats, dogs, rabbits, fish, etc. Pet lovers who shower unconditional love on their pets often find great companionship in them as they receive love and affection from their pets in return. Pets are, therefore, those selfless creatures who exhibit their unconditional love and affection towards their human friends.
Here, we bring to you an essay on my pet animal for Class 2 kids that will give a fair idea to students on how they can write an essay on this topic and justify the importance of pets in their lives. My pet essay writing would also help in enhancing the writing skills of kids and portray their feelings towards their pets in a simplistic manner. Moreover, you can explore more such attention-grabbing essay topics for Class 2 that are often asked in junior classes. You can also download My Pet Essay in English in PDF format, from the link provided below.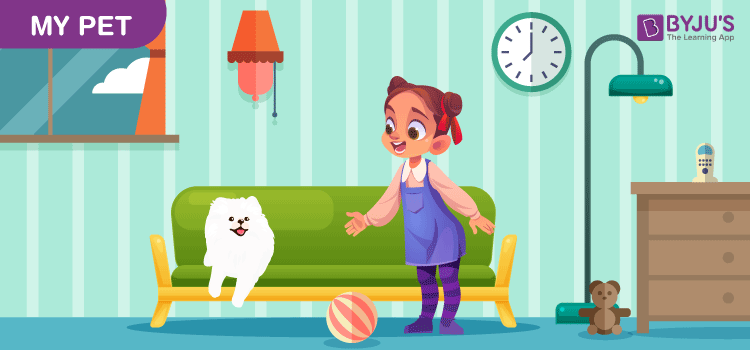 My Pet Essay in English for Class 2
I have a pet dog and her name is Dolly. She is of Pomeranian dog breed.
She is 2 years old and tiny in size.

She has a white furry coat and looks like a toy.

She loves our family members and barks whenever she sees strangers around.

She is very friendly in nature and loves to cuddle me when I reach home after school.

She loves playing with a ball, running and jumping around the house.

She showers lots of love and affection towards my family members.

She barks very loudly whenever she senses danger and warns us in case of any suspicious activity.

She is very friendly and playful and we spend a lot of time together during holidays.

She cheers me up whenever I'm upset and licks my cheeks to uplift my mood. We all love Dolly very much.
Animals play a vital role in maintaining the balance of the ecosystem. They are often considered to be helpful to human beings in various ways. People love to tame animals and often treat them as their companions at home. One such animal is a pet dog, which you are likely to find in many houses. Given above was a sample of my pet essay for Class 2 kids, which will help them to express their bond towards their pets in simple words.
Looking for more such amazing resources? Your search ends here! You can check our Kids Learning section and explore worksheets, stories, poems, essays, GK questions, NCERT Solutions, trivia questions, etc. All these resources would definitely help your kid to learn new concepts and thrive academically.