My Favourite Animal Essay For Class 3
We are here to provide you with My Favourite Animal Essay for Class 3 kids. This will help students in building an impressive essay on their most favourite animal.
Kids are fond of animals. They like to spend time with their pets. They feel cheerful around animals and play with them. Animals too show their affection to children through various gestures.
Here, we are writing an essay on My Favourite Animal Horse for Class 3 children. Horses are very energetic and fast. They have a sound sense of smell and hearing. Read more about horses in the essay below. You can also download the below 10 lines on Horse in a beautiful PDF format through the download link provided below and enjoy practising essays on horse anywhere, anytime.
Essay on My Favourite Animal Horse for Class 3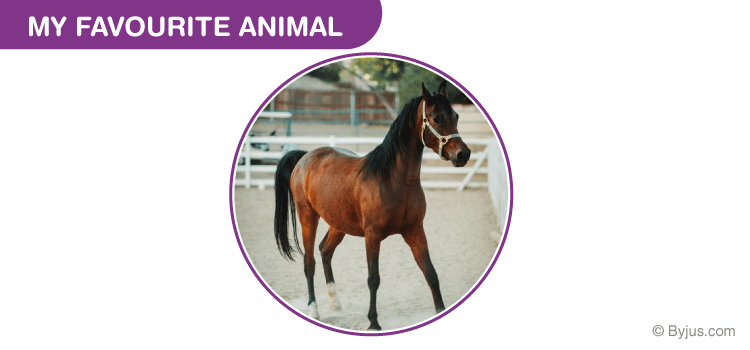 My favourite animal is a horse.
It is very powerful and fast.
In the past, horses were used in wars and battles due to their robustness and endurance.
Horses have thin but strong legs which assist them in running at a fast pace.
They have beautiful long hair on their tail and neck.
They have a sharp sense of smell and hearing which makes them apt for riding and battles.
They are herbivorous animals which means that they only eat vegetarian food, especially grass.
They live in sheds which are called stables.
They carry people from one place to another in forests and hilly areas.
We can find them in different sizes and colours like red, white, black, golden, brown, etc.
In the above written my favourite animal horse essay for Class 3 children, we have made an attempt to help young minds to think creatively and write a few brilliant and informative lines on a horse. If you wish to have a look at other Class 3 Essay topics, you can check and explore the linked article.
If you are looking for more such exciting and awe-inspiring resources for your little one like worksheets, stories, poems, trivia questions, NCERT solutions, etc., then consider our Kids Learning section your one-stop solution. You will get everything that you might be searching for in order to assist your kid in learning.