We bring to you an interesting My Favourite Cartoon Character Essay for Class 3 kids. Through this essay, kids will be able to understand how they can draft a simple yet impressive essay on my favourite cartoon character Shinchan or, in fact, any other cartoon character they enjoy. For instance, Ash from Pokemon, Ninja Hattori, Barbie, Doraemon, Motu-Patlu, Tom, Jerry, etc.
Children love watching cartoons. Television has so many options to choose from. There are multiple cartoon channels- Cartoon Network, Pogo, Nickelodeon, Disney Kids, Hungama, etc.
These channels are filled with amazing cartoon shows. The cartoon shows, through their stories, let kids explore various emotions. Cartoon characters are fun to watch and simultaneously increase a kid's exposure to real-life situations.
These 10 lines on my favourite cartoon character will help children get an idea of how they can write an impressive essay on this topic using simple language. You can also download this essay on Shinchan in a colourful PDF format for free through the link provided below.
Essay on My Favourite Cartoon Character Shinchan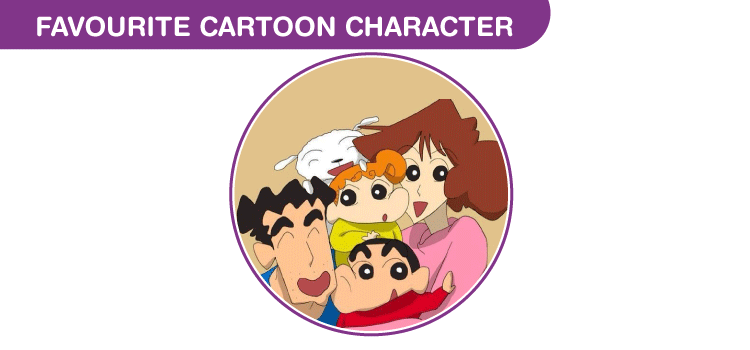 1. I watch lots of cartoon shows. But my favourite cartoon character is Shinchan.
2. Shinchan Nohara is a five-year-old kid from Japan. He is very mischievous.
3. He goes to Fatuba kindergarten school.
4. He troubles his friends, family, neighbours and teachers by singing silly songs.
5. He is very funny.
6. He has a nice family, including his father Hiroshi Nohara, mother Misae Nohara, sister Himahari Nohara, dog Shiro, and grandparents.
7. Kazama, Masao, Nani and Bochan are his closest friends.
8. Shinchan is fond of eating chocolates. He watches Action Kamen, his favourite cartoon.
9. Shinchan loves what he does.
10. I watch Shinchan with my family.
While writing an essay on my favourite character, kids get an opportunity to think over their most loved cartoon character and pen down what they like about that character.
Cartoon characters let the kid understand how one should deal with situations. Through comedy and fun, cartoon shows educate kids on the structure of sentences, numbers, alphabets, and a lot more things. Cartoon characters like Ninja Hattori, Doraemon, Oswald, etc., teach good habits and honesty.
Essay writing brings out the creativity of children. They ponder the topic and frame sentences. Essay writing for Class 3 kids improves their sentence-building skills. Also, it encourages them to focus on the various aspects of the topic- the positive, the negative and the neutral ones. This way, kids get exposure to language and build better linguistic skills.
We have a huge collection of amazing learning resources like poems, stories, worksheets, general knowledge questions, trivia questions, NCERT solutions, etc., on our kids learning section, which will be helpful in raising the bar of your little one's learning.