Here we bring to you a sweet and simple 'My School Bag' essay for Class 3 kids. When we think of school times, the first thing that comes to our minds can be our school bag. The school bag is a very important item for a student. Everything that the student wants to take to and from the school, finds its place in the school bag – pencil box, notebooks, textbooks, lunch box, water bottle, etc. In this 'My School Bag' essay, we shall discuss the uses of a school bag for students.
We are sure that kids will relate to the essay on School Bag in English given below as it is written in a very comprehensive manner. Students can refer to this essay while they put in more ideas and thoughts into the school bag essay.
My School Bag Essay for Class 3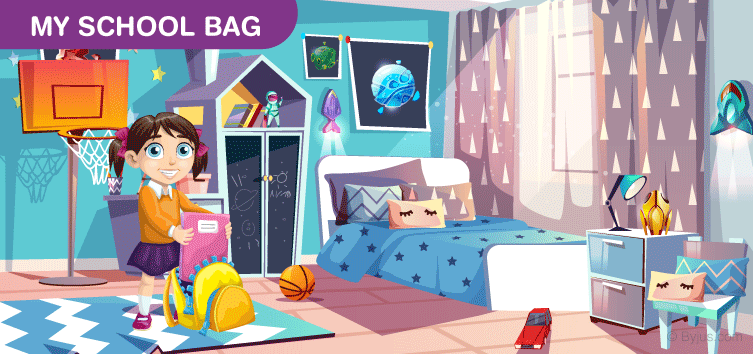 I own a strong, yellow coloured school bag.
The front of my school bag is covered with an image of my favourite cartoon.
My school bag is waterproof which prevents my books and notebooks from getting spoiled if it rains.
It has fast zips that can be locked and multiple handles, which makes it easy to carry.
My school bag even has small wheels at the bottom to pull it when it is heavy.
This school bag was gifted to me by my elder sister on my birthday.
I carry my notebooks, textbooks, pencil box, lunch box and water bottle in my school bag.
There are separate sections for the lunchbox and water bottle along with two side-pockets where I keep fruits.
I clean my school bag every day and pack it for the following day according to the time table.
I love my school bag. It looks so cool and keeps all my essential belongings safe from dust and rain.
The above 10 lines essay on 'My School Bag' in English imparts an idea on how kids can write a simple and impressive essay on a school bag.
Essay writing is taught to students right from their formative years. This is because essays make kids work on their creativity, sentence building, vocabulary and other writing skills. It enhances their understanding of the entire language. We have essays on a lot of common topics for Class 3 students.
If you wish to explore more on other cool learning resources for your little one like worksheets, general knowledge questions, poems, stories, trivia questions, etc., you can check out our Kids Learning section and find everything you need in one place.