Meaning of Share Capital:
Share capital is referred to as the capital that is raised by the company by issuing shares to investors. Share capital comprise of capital that is generated from funds generated by issuing of shares for cash or non-cash considerations.
Companies have a requirement of share capital for the purpose of financing their operations. The share capital of the company will increase with the issuance of new shares.
Share capital is of two types namely, equity share capital and preference share capital. Equity share capital is generated by raising of funds from the investors and preference share capital is obtained by the issuance of preference shares. 
Types of Share Capital: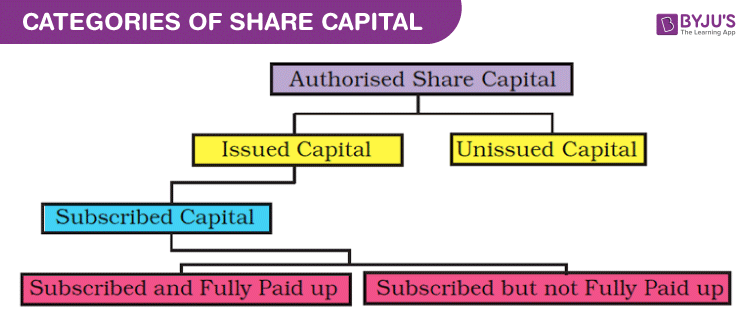 Also, Explore:
Share capital can be classified as authorised, issued, subscribed, called up and paid-up share capital. From an accounting point of view the share capital of the enterprise can be categorised as follows:
Authorised Capital: Authorised capital is the amount of the share capital in which a company is allowed to issue its Memorandum of Association. The company is not supposed to raise more than the amount of capital as mentioned in the Memorandum of Association. It is also known as Registered or Nominal capital. The authorised capital can be either decreased or increased as per the process furnished in the Companies Act. It should be understood that the company need not issue the complete authorised capital for public subscription at one time. Relying upon its necessity, it may circulate share capital but in any scenario, it should not cross more than the amount of authorised capital.
Issued Capital: It is that portion of the authorised capital which is usually circulated to the public for subscription comprising the shares assigned to the merchants and the endorsers to the enterprise's memorandum. The authorised capital which is not proffered for public consent is called as 'unissued capital'.
Subscribed Capital: The subscribed capital is referred to as that part of issued capital that is subscribed by the company investors. It is the actual amount of capital that the investors have taken.
Called up Capital : The amount of share capital that the shareholders owe and are yet to be paid is known as called up capital. It is that part of the share capital that the company calls for payment.
The above mentioned is the concept that is explained in detail about Categories or Types of Share Capital for the Class 12 Commerce students. To know more, stay tuned to BYJU'S.