Income and Expenditure account meaning
A non-trading firm or a non-profit organisation is involved in providing services to its customers. But in order to provide those services, the organisation may incur some expenses and also earn some revenue by providing the services. All the details of Income and expenditure generated in such an organisation should be accounted for, and that's why an income and expenditure account is created.
The purpose of creating an income and expenditure account is to determine the deficit or surplus that is generated by the difference between the current income and expenditure of the organisation.
Income and expenditure account is mostly prepared from the Payments and Receipt account, but sometimes it is prepared from the trial balance.
Income and expenditure account is similar to the Trading and Profit and Loss Account prepared by the trading organisations.
Also Read: Trial Balance Example
The format of an income and expenditure account based on a trial balance is as follows: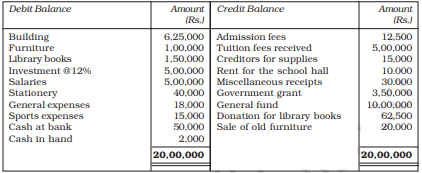 The above mentioned is the concept that is explained in detail about Income and Expenditure Account based on Trial Balance for the Class 12 students. To know more, stay tuned to BYJU'S.