Copper II Nitrate formula, also known as Cupric nitrate formula or Copper Dinitrate formula is explained in this article. This inorganic compound occurs in the form of a blue crystalline solid. The molecular or chemical formula of Copper II Nitrate is Cu(NO3)2.
Cupric nitrate can be obtained in two forms viz as a hexahydrate and as a trihydrate. Copper Dinitrate is widely used in the production of medicines, in chemical analysis, as an insecticide, and in the making of light-sensitive papers. On burning this compound it produces toxic oxides of nitrogen.
Copper II Nitrate Formula Structure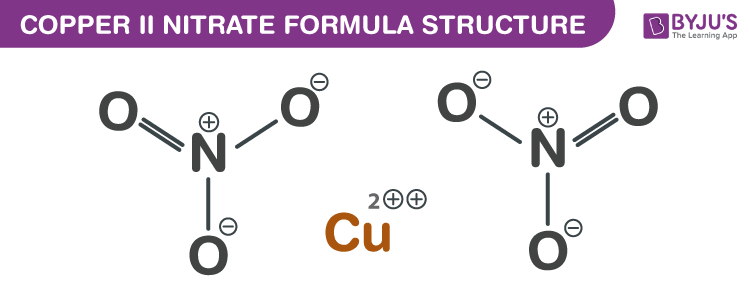 Properties Of Copper II Nitrate
| | |
| --- | --- |
| Chemical formula | Cu(NO3)2 |
| Molecular weight  | 187.5558 g/mol (anhydrous) |
| Density  | 3.05 g/cm3 (anhydrous) |
| Boiling point  | Sublimes |
| Melting point  | 256 °C (anhydrous) |
To learn more about Copper II Nitrate formula from the expert faculties at BYJU'S, register now! Also, download notes on Cupric nitrate for free.