Adverbs are a part of speech that provides more information about the verb, adjective or another adverb in a sentence. Go through the adverbs exercises given in this article and test your understanding of the same.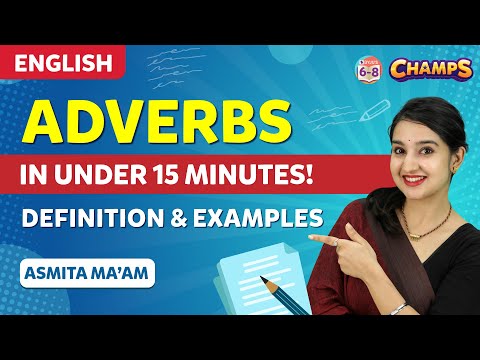 Adverbs Exercises with Answers
Given below are exercises on adverbs. Try them out.
Identify the Adverbs
Read the sentences given below and underline the adverbs.
The boy is too careless.
The winds are very strong.
The baby slept soundly.
The soldiers fought the war valiantly.
Joey always tries his best.
Surely you are mistaken.
The movie is to end soon.
Your friend messaged again.
I did my homework already.
I was rather busy.
Is your mother within?
We looked for the lost puppy everywhere.
We do not know her.
How long is the trip?
Monica seldom visits here.
Answers –
Too
Very
Soundly
Valiantly
Always
Surely
Soon
Again
Already
Rather
Within
Everywhere
Not
How
Seldom
Use the Right Adverbs
Fill in the blanks by choosing the most appropriate adverb from the table.
| | | | | |
| --- | --- | --- | --- | --- |
| out | quickly | forward | pretty | too |
| before | often | once | somewhat | so |
Riya ran to her mother ____.
The scores are ____.
We have met ____.
I know him ____ well.
The baby is ___ sleepy.
The naughty boy is ___ annoying.
My aunt comes to visit us ___.
My grandpa is ____ better today.
I met a magician ___.
Ambition urges us ___.
Answers –
Quickly
Out
Before
Pretty
Too
So
Often
Somewhat
Once
Forward
Identify the Type of Adverb
Go through the given sentences and identify the type of adverb used in each sentence.
The boy practised his speech regularly.
The phone kept ringing constantly.
The people have gone out.
I have heard this story before.
Are you quite sure?
You are driving too carelessly.
I always try my best.
You are quite right.
He solved the problem quickly.
I have heard enough.
The boy often makes the same mistake.
Why are you still here?
I could hardly recognise him.
The little kid is too shy to sing.
The horse galloped away.
Answers –
Regularly – Adverb of Frequency
Constantly – Adverb of Frequency
Out – Adverb of Place
Before – Adverb of Time
Quite – Adverb of Degree
Too – Adverb of Degree
Always – Adverb of Frequency
Quite – Adverb of Degree
Quickly – Adverb of Manner
Enough – Adverb of Degree
Often – Adverb of Frequency
Why – Interrogative Adverb
Hardly – Adverb of Manner
Too – Adverb of Degree
Away – Adverb of Place
Frequently Asked Questions
Q1
What are adverbs?
Adverbs are those words that qualify/modify a verb, an adjective or another adverb.
Q2
How many types of adverbs are there?
There are eight types of adverbs which are as follows.
Adverbs of Time
Adverbs of Frequency
Adverbs of Place
Adverbs of Manner
Adverbs of Degree
Adverbs of Affirmation and Negation
Adverbs of Reason
Interrogative Adverbs