All of you must have been so fixated on this exam that you probably haven't thought of anything after taking the exam. Here are some pointers for what exactly you should be doing after taking your CAT exam.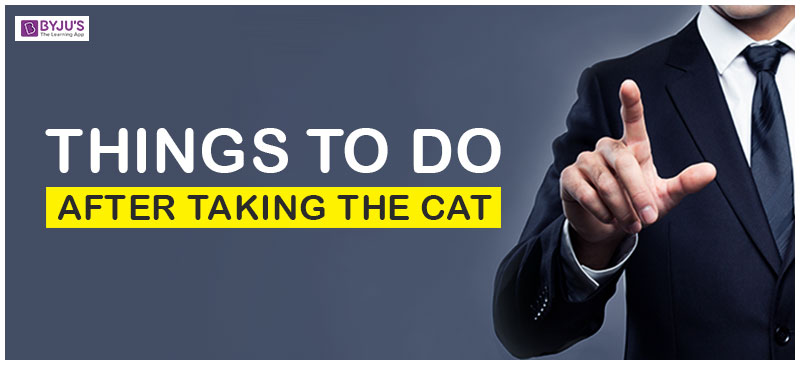 You have probably spent a major chunk of your life hearing that "this is the most crucial time", "this is going to determine your future" but this, the time right after you have given your CAT exam, in every sense of the word, actually is.
4 Things to do After Writing the CAT Exam:
Read Newspapers
Every news and newspaper is important for CAT. You must focus on the information provided, grammar, writing style and learn new words. Besides news, you must also read the editorial section of the newspaper. They are not only important for you to look aware for your PI session but also will be of great help for your W.A.T (Written Ability Test), which is going to play a crucial role in your overall selection. If newspapers are already a part of your morning routine, this would be a great time to broaden your horizon and try reading ones that have a different writing style. Every newspaper has its own taste. Here are some of them you must go through.
The Economic Times

The Hindu

Live Mint

The Indian Express
You can also install various applications on your phone and browse through the electronic formats.
Attend Webinars And Workshops
Good preparation for your GD- PI round is a must otherwise, all your efforts are in vain. Attend as many interactive workshops as possible. If, however, you are not ready for that kind of a commitment, you can always attend webinars. What you are going to be subjected to in your GD-PI round needs professional help and don't overlook it in over-confidence. This would be a great time to brush up on your C.V. Presentation. You must show yourself in the best light that doesn't mean you have to overdo it and that is exactly where professional help comes in. Associate with a good institute and work on yourself.
Back-up Plans
The last thing you probably feel like doing right now is to sit for some more exams. But on the bright side, you are already prepared and it won't hurt to keep a backup. 
GMAT

if you have some work experience at hand you can always apply for b-schools abroad

GRE

if you are a fresher you will just have to write a great college essay, which, in fact,   you can use for all your applications with minor editing.

XAT

B-schools like XLRI, XIME, SPJAIN and many others accept XAT scores.

MAT

This exam is held four times a year and 500+ B-schools accept its scores.

TISSNET

is conducted by the Tata Institute of Social Sciences (TISS) which has its campuses at Hyderabad, Mumbai, MHAT Calicut, Guwahati, Tuljapur, G-SET Ranchi and IMHST Chennai.
Visit the list of MBA entrance exams to know about the other exams and their respective details to prepare accordingly.
Take A Break
Last but not the least, take a break and read a novel, watch some good movies and catch up on your sleep because you deserve it, also because it is not going to be on your cards for the next two years.
After the CAT exam, the MBA aspirants are also suggested to prepare for the next round of selection in various institutes. IIMs include WAT and PI for further selection whereas, some institutes include GD and PI. So, the candidates need to prepare thoroughly for the further processes to be able to join their preferred institute.