MBA is one of the most sought-after degrees in the present corporate generation. With a degree in MBA, the individuals enhance their expertise in different fields which helps in the efficient functioning of a company.
The demand for MBA graduates in the corporate world has led to the foundation of several management institutes in the country which include the IIMs. Even institutes like IITs have started to offer MBA courses which are equally good and promising.
The admission process for most of the institutes is similar i.e. MBA entrance test followed by GD or WAT and PI. While some institutes conduct their own admission test, others accept scores of some specific MBA entrance test(s).
IIMs conduct the CAT exam and the CAT scores are widely accepted in most of the top MBA colleges. There are various other entrance tests conducted by different institutes and organizations that are equally important and accepted. Some of the most important MBA entrance tests are given below to help the aspirants get well-acquainted with them.
MBA entrance exams are a prerequisite for admissions in various management schools. The exams are conducted by the respective institutes who also frame the selection criteria accordingly. Every year numerous candidates appear for different management entrance exams with a dream to pursue higher management degree.
The CAT is the most sought-after MBA entrance exam so far and is taken by almost over 2.5 lakh candidates every year. So, the MBA aspirants are suggested to check out the other management exams also to diversify their chances of selection in other B-Schools.
Numerous top B-Schools conduct their own exams every year for their respective admissions. So, sometimes, candidates need to tweak their preparation to keep up and prepare for other important management exams simultaneously. For example, XAT has a section for Decision Making and Essay writing, and  MH-CET, MAT, SNAP has a section called general knowledge; so the candidates need to keep up with current affairs along with their preparation for CAT.
So, here is a comparison of the different sections of other important management examinations along with CAT exam to help the MBA aspirants prepare for these exams simultaneously.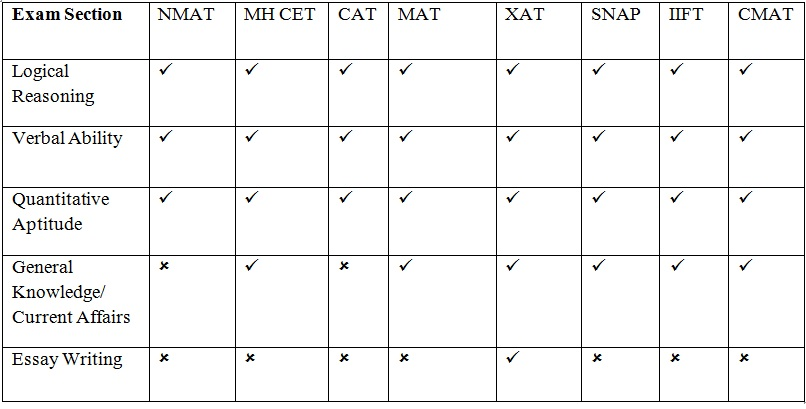 Though CAT exam score is accepted by most of the management institutes in India, these other exams also equally important as some of the best B-Schools conduct these exams for their respective admissions. The scores of some tests like MAT are also accepted by numerous institutes. Details of these exams are given here which might help the candidates to get well-versed with the respective details and prepare accordingly. 
NMAT:
Narsee Monjee Aptitude Test is usually conducted during the month of October and continue for one and half month.  An aspirant is allowed to take 3 attempts of NMAT in a year, including no shows. The only condition is to wait for at least 15 days between two attempts. The results are announced separately after 15 days of taking the exam. NMAT exam scores are the prerequisite for NMIMS – Bangalore, Hyderabad and Mumbai Campus, ICFAI, Alliance University, ARM University, BIT University among other universities. Aspirants can visit the official site to know all the details regarding the exam.
MH-CET:
Maharashtra Common Entrance Test (MH-CET) or MH-MBA/MMS-CET is a computer-based test for admission test for Two-year Full Time Post Graduate Degree Courses in MBA/MMS and PGDBM/PGDM in Government, University Departments, University Managed, and Unaided Institutes in the state of Maharashtra. Conducted in March for two days, the scores are accepted by some of the best-ranked B-Schools like Jamnalal Bajaj Institute of Management Studies, K J Somaiya Institute of Management Studies and Research, N L Dalmia Institute of Management studies and research, Indira Institute of Management, PUMBA, and other MBA colleges in Maharashtra.
MAT:  
Management Aptitude Test is conducted four times a year. It is conducted by All India Management Aptitude Testing Service (AIMATS), for admission to MBA and equivalent programmes of the various participating institutes. MAT exam is generally conducted four times a year, in the months of February, May, September and December.  The test scores cut off varies from month to month and the Institute. For example, Christ University cut of is 80% for the month of MAT February, while it sometimes changes to 85% for MAT December. The top institutes who accept the MAT scores are Christ University, Galgotias Business School, NIILM Centre of Management Studies, MITCON Institute of Management, Alliance Business Academy, Jagan Institute of Management Studies, ITM (Navi Mumbai).
XAT:
Xavier Aptitude Test is often regarding as the second most common entrance exam for the management aspirants after the CAT exam. XAT is conducted by Xavier Association of Management Institution to the post of graduate programs in management courses of many top management institutes in India. XAT is usually conducted in the month of January each year. Two sections in XAT that are different from CAT is the Decision Making section and the Essay Writing part. Essay Writing section usually throws the questions in current affairs, so the candidates need to get themselves equipped with the current stories around the world.  Apart from Xavier Association and institutes, XAT scores are accepted by S P Jain, GIM, Department of Management Studies, IIT – Madras, Loyola Institute of Management, Great Lakes institute of management – Madras, Institute of Public Enterprise- Hyderabad etc. Candidates can visit the official site for all the information related to XAT.
SNAP:
Symbiosis National Aptitude is conducted by Symbiosis International University (Deemed)  for admission into their graduate programs. SNAP has an extra section of General Awareness and has no sectional time limit. So, anyone can allocate as much time or as little time to the respective sections as they want. Conducted in the month of December, this is the gateway to the prestigious Symbiosis Group of Institutions. Symbiosis Institute of Business Management [SIBM] Pune, Symbiosis Institute of International Business [SIIB] Pune, Symbiosis Centre for Management and Human Resource Development [SCMHRD] Pune, Symbiosis Institute of Business Management [SIBM] Bangalore are the institutes for the management programs among other institutes.
IIFT:
Indian Institute of Foreign Trade is the test conducted by IIFT for admission in the MBA program for their Delhi and Kolkata campus. Generally, conducted in the month of November, this test, like CAT, has no age limit for the candidates who want to take the test.  IIFT is one of the top ranked colleges in India for foreign business management. This autonomous public business school was established in 1963 by GoI (Ministry of Commerce and Industry) to help professionalize country's exports and imports and trade management by developing the human resources through this Institute.
CMAT:
Common Management Admission Test is Approved by AICTE and is a national level test conducted to get admission in all management programs in India. Held twice a year i.e. on February and September, this exam allows a test taker to go for the score in which he/she has scored better. From 2015, CMAT is also conducted in foreign countries to facilitate MBA admission of foreign candidates in India. General Awareness section is included in the CMAT as well.  Jamnalal Bajaj Institute of Management, Great Lakes Institute of Management, Welingkar Institute of Management, Goa Institute of Management,  Birla Institute of Technology – Mesra,  K J Somaiya Institute of Management, Xavier Institute of Management and Entrepreneurship – Bangalore, etc. are dew institutes accepting CMAT scores. Aspirants can follow the official website for updates on CMAT exam.
It should be noted that the candidates preparing for CAT exam can easily solve the Quantitative, Verbal, Reasoning and Data Interpretation of these exams easily. So, the MBA aspirants are suggested to stay tuned with BYJU'S to know more about different MBA entrance exams and their preparation strategies. At BYJU'S, candidates are also provided with various video lessons of important CAT exam topics to help them prepare more effectively.