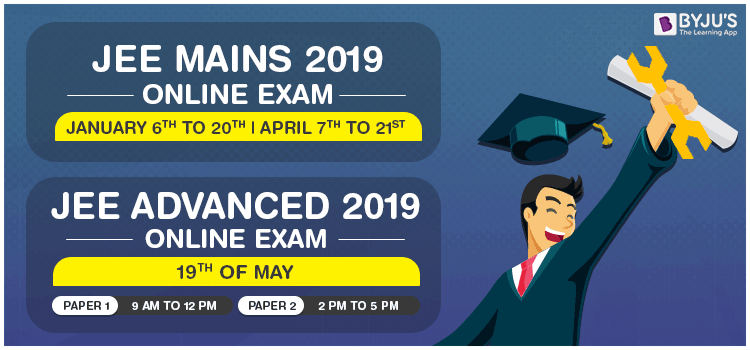 JEE or Joint Entrance Exam is one of the popular entrance examinations conducted in India for aspirants who are seeking admissions in top engineering colleges across the country. Every year, lakhs of candidates appear for the exam and successful ones do get placed into renowned institutions which are further privately owned or run by the government. The entrance exam is mainly divided into two categories and is known as JEE Mains and JEE Advanced. These exams usually follow an objective pattern and are mostly computer-based tests (could be either offline or online tests). However, the main criteria here is that only applicants selected in JEE Mains will be eligible for appearing in JEE Advanced exam. Therefore, clearing the first exam is really important.
Overview of JEE
Till 2011, the entrance exams were known by different names. JEE Mains was known as All India Engineering Entrance Examination (AIEEE) and JEE Advanced was called IIT JEE. In the year 2012, CBSE made an announcement stating that IIT JEE and AIEEE would now be replaced by Joint Entrance Examination. After this declaration, AIEEE was changed to JEE Mains and similarly, IIT JEE was renamed to JEE Advanced to facilitate admissions in different IITs (Indian Institute of Technology) and other institutes.
JEE Main 2019 Analysis Physics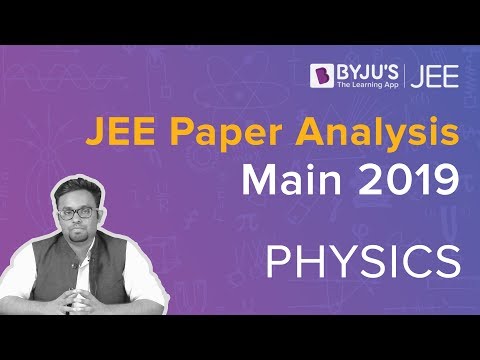 JEE Main 2019 Analysis Chemistry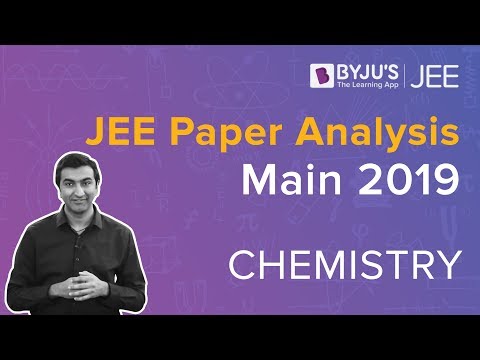 It is worth mentioning that the JEE has undergone many changes since 2012. There is more transparency where students are given their answer copies and the cutoffs are announced in advance. Today, there are even options for online admissions and application selection procedures. Against such backdrop, there has also been a recent change regarding the examination body for JEE Mains. Well, from JEE 2019, Mains will be conducted two times a year by National Testing Agency (NTA) instead of CBSE.
IIT JEE 2019 Exam Dates
JEE Mains 2019 Online Exam
JANUARY 8th – 12th

April 7th – 20th
JEE Advanced 2019 – Online Exam
19th May (9 am – 12 pm) and (2 pm – 5 pm)
Importance of JEE: Why Appear for This Exam?
If you are wondering what this exam is all about or what it's worth, then to put it in simple terms, JEE is the most recognized exam and probably the only way for aspirants to get admissions into the top IITs and NITs in the country. Once students get admissions into these institutions, they will be offered some of the best resources including, teachers, facilities and other amenities. Interestingly, apart from IIT colleges, other leading institutions also grant admissions based on JEE Advanced score. So it is a win-win situation for the candidates.
JEE (Mains)
As mentioned above, JEE has two stages including Mains and Advanced. JEE Mains is the preliminary stage which candidates have to appear before moving on to the next stage. As of 2019, the National Testing Agency (NTA) will conduct JEE Main exams and will facilitate admissions into 20 IIITs, 31 NITs, and 18 other Centrally Funded Technical Institutes (CFTIs). JEE Main 2019 will happen in multiple sessions and the total slots that will be included will be eight for both the January and April exams. Moving on, JEE Main comprises of two papers where;
Paper 1 is mainly for B.Tech students and is computer-based. It includes sections like maths, physics and chemistry.
Paper 2 is set for B.Arch programmes. This paper is either computer-based or a written-based test. The test includes mathematics and aptitude test which will be a computer-based test. Students have to go through the drawing exam which will be in offline (pen and paper-based) mode.
Paper 1 is conducted in two shifts per day whereas Paper 2 will be completed in one shift.
Students can appear for one or both the exams. However, only the better score between the two will be considered for admissions.
JEE Main merit list will be exclusively based on percentile scores and not on raw marks obtained by aspirants.
JEE (Advanced)
Once aspirants secure the desired score in the JEE Mains they will be eligible to appear for JEE Advanced. Usually, top candidates from JEE Mains are chosen. The main purpose of JEE Advanced is to provide admissions for B.E. or B.Tech. courses and includes 23 IIT and 9 Primer institutes. In 2019, the exam will be conducted in the form of a computer-based test (online) and will include two papers. The test will be carried out in two sessions on the same day and it is worth mentioning that the only students who appear for both paper 1 and paper 2 will make it to the merit list. IIT Roorkee will administer the examination in 2019.
Important JEE Facts
JEE is globally recognized as one of the most challenging engineering entrance examinations at the undergraduate level. Moreover, with almost 2 million students appearing for this exam every year the competition is intense. In 2018 alone, 1.15 million students registered for JEE Mains.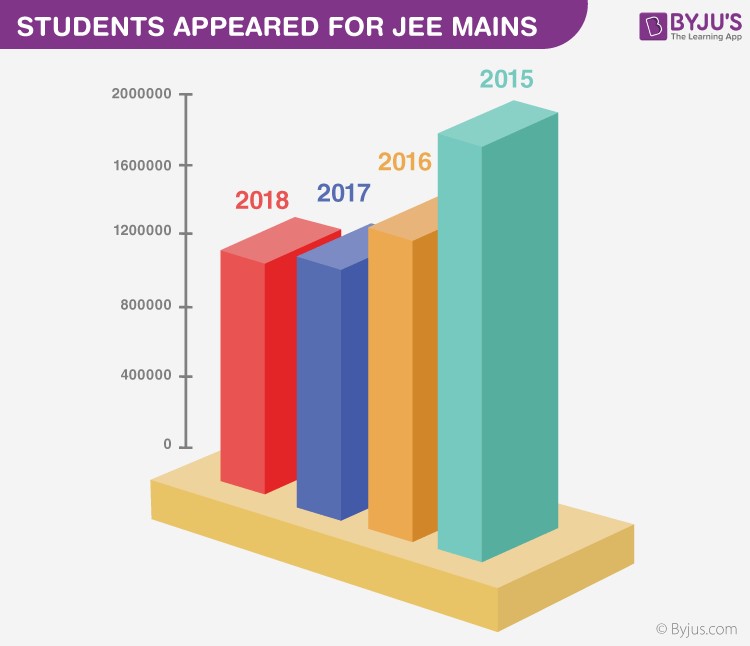 Around 2,24,000 qualified for JEE Advanced exams. However, only 1, 64, 822 number of candidates reportedly registered for JEE Advanced 2018. While the numbers speak for itself, the stats will significantly change in JEE 2019.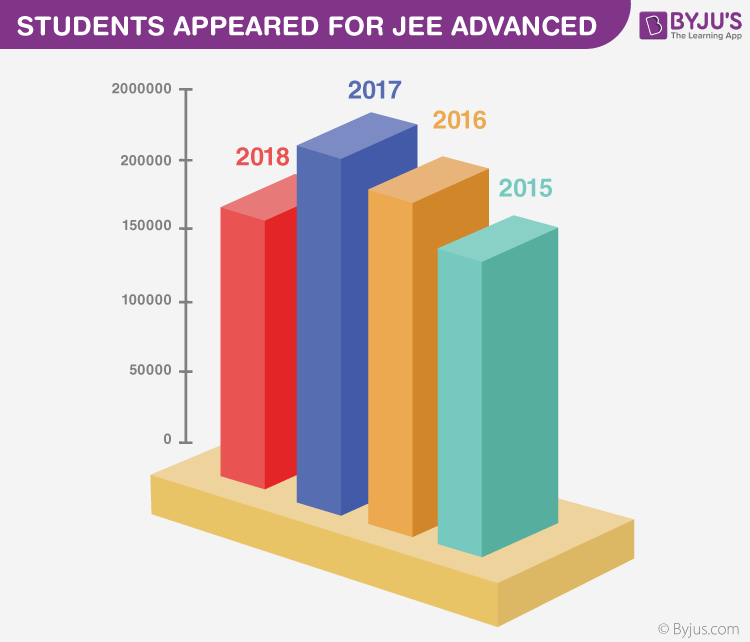 JEE Preparation Tips
It is important to realize that having a good preparation for JEE is also crucial for candidates. JEE preparation requires a smart, systematic and continuous effort. While studying for IIT JEE students and aspirants need to be dedicated and have a proper study time-table in order to cover all the topics given in the vast JEE syllabus. The good thing here is that the questions that are asked in the exams are directly framed from the concepts taught in NCERT textbooks for maths, physics, and chemistry. In any case, students can check out few useful tips below;
The first thing that students should do is have a proper timetable. Having a dedicated study time and follow it with religiously. Allocate proper time for each subject so that the entire syllabus is covered and revisions can effectively be done before the exams.
Another important tip that students can follow is to know the in and out of the syllabus. Being thorough with the syllabus will help students to get an insight into the important topics and focus on spending more time studying these topics. One trick here is that as students will be preparing for both their board and JEE exam simultaneously, they should compare the syllabus to know the common topics.
It is very crucial for students to get a clear understanding of all the fundamentals as JEE exams are designed specifically to test the student's knowledge about certain topics and how they approach specific problems as well find solutions.
Students should know that using too many reference books or inappropriate study material can have a negative impact on their preparation. Thus, they should limit their resources and instead go for the right and helpful books. Students can start their preparation by going through their respective Class XII textbooks and they can also refer to NCERT books as these hold a greater significance. Here students should also remember to study topic wise and not just subject wise.
In order to prepare effectively for JEE 2019, students should engage themselves in solving past question papers or sample papers as well as attempt mock tests. This will not only help candidates be aware of their preparation level but figure out which areas they need to improve and manage time properly. This will also help raise the confidence level of the aspirants.
BYJU's JEE Solution
We at BYJU's are providing a comprehensive course for aspirants who are planning to appear for IIT JEE. The course comes with a validity of 2 years and covers the entire JEE syllabus. Students will get access to video lectures by experts for Physics, Chemistry and Math subjects. Furthermore, with our adaptive learning and visualization techniques, students will experience better learning and retention of concepts. The course also includes chapter-wise and full-length tests with tips and tricks and solutions for easy revision. Students can also get their doubts cleared from the experts as we also facilitate interaction with personal online teachers. Made by IITians and other top professors this course might be everything students need for their JEE preparations.
Stay tuned with BYJU'S to get more information on IIT JEE 2019 eligibility criteria, application form, syllabus, previous years question papers, sample papers, and other exam related details.