MSBSHSE Examinations – Details, Resources And Notifications 
The Maharashtra State Board of Secondary and Higher Secondary Education or MSBSHSE (Marathi: महाराष्ट्र राज्य माध्यमिक आणि उच्च माध्यमिक शिक्षण मंडळ), is an autonomous and statutory body established in 1965. The board was amended in the year 1977 under the provisions of the Maharashtra Act No. 41 of 1965. The Maharashtra State Board of Secondary and Higher Secondary Education (MSBSHSE) is also known as Maharashtra Board or the State Board Of Maharashtra. The board conducts HSC and SSC Exams in the state of Maharashtra.
Latest Updates: 
Maharashtra HSC 12th Result 2021 Declared on Aug 3rd 2021, 99.63% Students Pass, To Know More Visit,

Link

. 

Because the routine of academic work was disrupted due to lockdowns, the Maharashtra government has asked MSBSHSE to develop a framework for organizing the class 10 and class 12 board exams in 2021-2022. 
Table of Contents 
MSBSHSE Highlights 
Check out details of MSBSHSE highlights from the given tables below:
 

Maharashtra State Board of Secondary and Higher Secondary Education (MSBSHSE)

Type
Formation
Headquarters
Official Language
State Governmental Board of Education
1st January 1966
Maharashtra, Pune
English and Marathi
MSBSHSE Full Form
MSBSHSE: Maharashtra State Board of Secondary & Higher Secondary Education
Type
State Governmental Board of School Education
Establishment Year
Jan 1, 1966
Headquarters
Pune, Maharashtra
Chairman, State board, Pune
Dr. Shakuntala Kale
Secretary
Dr. Ashok Bhosale
Address
Survey No 832-A, Final Plot No. 178 &179,

Near Balchitrawani,  Behind Agharkar Research Institute,

Bhambudra, Shivajinagar, Pune-411004

Maharashtra, India

Contact
Ph. No: 020-25705000

020-25651751

020- 25651750

020- 25705301
History of MSBSHSE 
The state board of Maharashtra was established on 1st January 1966 to manage certain events concerning secondary education in Maharashtra as Maharashtra State Secondary Education Boards. This act was revised in 1976. This act changed the name of the Maharashtra Board to its current name, which is Maharashtra State Board Of Secondary And Higher Secondary Education.
Functions of Maharashtra State Board
The function of MSBSHSE is the implementation and the formation of specific rules and regulations, according to the management, which is set by Maharashtra and also the Central Board. The board is also in charge of implementing and forming the curriculum and syllabus of all the Maharashtra Board Books, exam timetables, etc. MSBSHSE also takes responsibility for fairly conducting exams, creating textbooks, etc.
The Maharashtra State Board of Secondary and Higher Secondary Education conducts the exam twice every year. Around 14 lakh students appear for HSC and 17 lakh appear for the Maharashtra SSC Board exam conducted by MSBSHSE every year. The exams are conducted in Maharashtra by its 9 Divisional Boards located at Aurangabad, Pune, Mumbai, Kolhapur, Nasik, Latur, Amravati Ratnagiri, and Nagpur.
MSBSHSE Exam Resources
By referring to the Maharashtra Board syllabus, students will get the exact information about what topics they should prepare first for the exams as it provides chapters weightage. 
The Maharashtra State Board of Secondary and Higher Secondary Education or MSBSHSE conducts exams twice a year for students from class 6 through class 12. Maharashtra offers an SSC (Secondary School Certificate) and an HSC (Higher Secondary School Certificate) exam. The MSBSHSE seeks to improve the quality of education in Maharashtra.
2019 Board Papers
2018 Board Papers
2017 Board Papers
2016 Board Papers
2015 Board Papers
Maharashtra 2020-21 NTSE Stage 1 Question Paper With Solutions
Every State Board conducts its own NTSE stage 1 examination. Click the link below to access the Maharashtra NTSE stage 1 examination 2020-21 Question paper with answers.
For the students studying under the Maharashtra State Board, exams are conducted twice a year. It is imperative for students to practice sample papers before taking the board exam. Based on the syllabus and previous year's questions, sample papers are created. Check out the sample papers here. 
MSBSHSE Further Resources 
MSBSHSE Exams and Results Statistics
Maharashtra State Board conducts the board exams for Classes 10 and 12. Every year the exams are held usually in March and October. Meanwhile, the results are announced in June and January respectively. There are about 7000 HSC schools and 21000 SSC schools in Maharashtra.
MSBSHSE SSC Exam Overall Pass Percentage
Students of Maharashtra SSC have obtained decent passing marks. The passing percentage of the students in the year 2018 was 89.41%, while for the year 2021, the total passing percentage is slightly up at 99.95%.  The year-wise results are seen in the table and graph below. 
| | | | |
| --- | --- | --- | --- |
| Year  | Total Pass Percentage | Boys Pass Percentage | Girls Pass Percentage |
| 2021 | 99.95% | 99.94% | 99.96% |
| 2020 | 89.41%  | 85.23% | 92.36% |
| 2019 | 77.10%  | 72.18% | 82.82%  |
| 2018 | 89.41%  | 85.23% | 92.36% |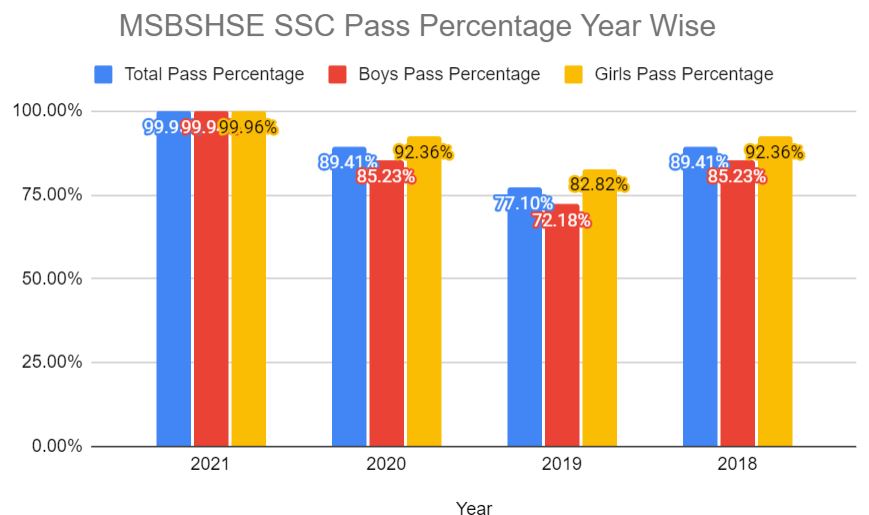 MSBSHSE HSC Exam Overall Pass Percentage
The passing percent of the Maharashtra State HSC exam even though high earlier saw a decline of 1.09% for the year 2019, down from the year before that. However, for the 2021 exams, the pass percentage has gone up again. 
| | | | |
| --- | --- | --- | --- |
| Year  | Total Pass Percentage | Boys Pass Percentage | Girls Pass Percentage |
| 2021 | 99.63% | 99.54% | 99.73% |
| 2020 | 90.66%  | 88.04% | 93.88% |
| 2019 | 85.58%  | 82.40% | 90.25% |
| 2018 | 88.41%  | 85.23% | 92.36% |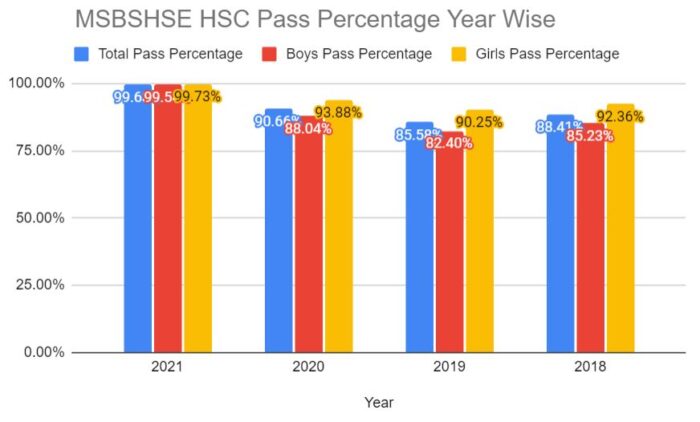 Frequently Asked Questions on Maharashtra State Board
What is the date of Maharashtra SSC Result 2020?
The Maharashtra Board SSC Result is expected to be released soon by MSBSHSE Maharashtra board. The Maharashtra SSC Board results 2020 will be available on the websites, www.maharashtraeducation.com once it is officially released.
Is Maharashtra Board SSC the 10th or 12th?
The Secondary School Certificate (SSC or Matriculation exam), is a public examination in countries like Bangladesh, India and Pakistan conducted by educational boards. Students of Class 10 can appear in these examinations.
What are the passing marks in the HSC exam in Maharashtra?
Students from SSC and HSC exams have to score at least 20% on their written exam and have an aggregate of 35% to pass. Earlier, it was 35% in written and oral exams
How can I check my Maharashtra Board SSC result online?
You can first go to the official website of Maharashtra Board SSC, i.e the mahresult.nic.in. Then you can click on the "Results" tab and select "SSC Examination Result March 2019". For more details about Maharashtra Board SSC Results, you can check our website. The results are available online as well as via SMS.
Where do I get the PDF of the books of Maharashtra State Board?
The PDF formats of Maharashtra state board, textbooks are available in clickable formats online. One such source where you can get the MSBSHSE Textbooks online is here.