JEE Main result is usually declared by the exam conducting authority which is National Testing Agency (NTA). The result or the JEE Main score of the candidates is mostly released via online mode only. Candidates should note that no physical marks card copies will be sent. For 2021, the exam authority will be declaring several results as the entrance exam is being held in four different sessions – February, March, April(Postponed to July) and May (postponed to August/ September) sessions.
The JEE Main result can be viewed or downloaded from the official website (jeemain.nta.nic.in.) of NTA. The step by step procedure to check and download JEE Main 2021 result is given below.
Table of Content
How to Check And Download JEE Main 2021 Result?
To view and download the result candidates should,
Visit the official website: jeemain.nta.nic.in.
After landing on the page, click on the "JEE Main 2021 Result" link. (Link title may be different every time)
You will be redirected to a new page where you will need to enter your exam session details, application number, date of birth and security pin to log in.
On successful entry, your results will be displayed.
You can download your JEE Main result or take a printout for further reference.
What Details Are Mentioned In JEE Main Result?
The following details will be displayed and candidates need to check them properly:
Name of the candidate
Roll number
Date of birth
Parents' name
State code of eligibility
Category and nationality
Subject-wise NTA scores
Total NTA scores obtained in the respective attempt
The candidate's particulars including Category and Person with Disability (PwD) will be indicated as mentioned by the candidate in the online application form.
Also, Check Out The Following Links
Calculation/ Normalization Of JEE Main 2021 Scores
NTA Scores are normalized scores across multi-session papers and are based on the relative performance of all those who appeared for the examination in one session. The marks obtained are converted into a scale ranging from 100 to 0 for each session of examinees.
The NTA Score of a Candidate has been calculated as follows: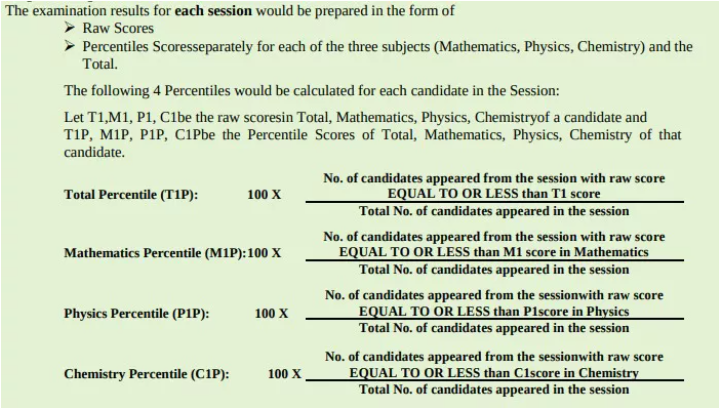 The NTA scores for JEE Main 2021 Paper-1, 2A and 2B for all the sessions will be merged together for determining the final exam result and the overall JEE Main 2021 merit list. The best of the four JEE Main scores will be considered.
Candidates should note that the NTA Score of the Total is NOT an aggregate or average of the NTA Score of an individual subject. NTA score is also not the same as the percentage of marks obtained.
In any case, the final ranks of the candidates will be declared after all the sessions (that are February, March, April, and May Sessions of JEE Main 2021) are conducted. For determining the ranks, NTA will consider only the best of the four-session scores in accordance with the policy.
Meanwhile, candidates should also note that there is a great difference between JEE Main percentage and percentile score. They are calculated differently as follows.
Calculating JEE Main Percentage: (100 x Marks obtained by candidate) / Total marks
Calculating JEE Main Percentile 2021: (100 x Number of candidates in the session with aggregate marks less than that obtained by the candidate) / Total number of candidates who appeared in that session
What Happens If There Is A Tie?
If there is a tie between two candidates then the authorities as per their policy will sort out any confusion. Basically, the ranks will be determined as follows:
First preference: A candidate with higher marks in Mathematics will receive a higher rank.
Second preference, a candidate with more marks in Physics will be issued a higher rank than others.
Third preference, a candidate who has a higher percentile score in Chemistry will be ranked higher.
If the tie is not broken still then the date of birth of the candidate will be considered. Here, whoever is older will be ranked higher.
If the tie is still not broken then ultimately the same ranks are given.
JEE Main 2021 Result Dates
| | |
| --- | --- |
| JEE Main result date 2021 (February Session) | March 8th, 2021 (Announced) |
| JEE Main result date 2021 (March Session) | March 24th, 2021 (Announced) |
| JEE Main result date 2021 April Session Postponed to July Session  | August 7th, 2021 (Announced) |
| JEE Main result date 2021 May Session Postponed to Aug – Sep Session | (To be Announced) |
Check Out These: JEE-NEET Success Stories

JEE Main 2021 Final Result
NTA is conducting JEE Main 2021 in four sessions. While this is a new change in the exam pattern, the results will also be announced for each session. However, the final result will be declared after the final session only. The final JEE Main result that will be released by NTA will mostly likely contain:
Total scores obtained in all the sessions
Best score from all the JEE Main sessions
All India Rank
Candidate's category
JEE Mains Result 2021 Re-Evaluation Facility
As per the information shared by the National Testing Agency (NTA), will be no provision for re-evaluation or re-checking of JEE Main result 2021. The scores that the candidates see in the result will be deemed final.

BYJU'S JEE Solution
BYJU's tradition of being successful has made it a pioneer for online courses in the field of JEE Main. We have made great strides over the years and our vision of providing above par professional education has helped many JEE aspirants to achieve their dream. The excellent results shown by BYJU'S students in JEE Main is evidence of our highly effective coaching program. In 2020, BYJU'S has produced outstanding results in JEE Main, which is in itself a huge accomplishment. Our goal is to help students achieve great results in the future as well.
Frequently Asked Questions On JEE Main Results
How to check JEE Main 2021 result?
Candidates can visit the official website and use their JEE Main application number along with the date of birth and password to access the result.
How much percentile is required to get admission in NITs?
General Category candidates will need to secure a minimum of 95+ percentile while reserved category candidates have to secure a minimum of 80+ percentile to get admission in NITs.
Are Category Ranks and All India Ranks the same?
No, they are totally two different things. AIR is the overall rank obtained by the candidate and CR is the rank that they got in their respective category.
I appeared for all the sessions of JEE Main. Which scores will be counted while declaring the result?
The best score that the candidate obtains from all the sessions will be considered for merit/ranking in JEE Main 2021.