NCERT Solutions for Class 9 Science Chapter 3- Atoms and Molecules is a detailed study material prepared by experts. It provides answers to the questions given in the textbook. NCERT Solutions are very helpful for a better understanding of the concepts and self-analysis.
Questions from all the topics are covered in the solutions. Everything is presented in a way that students can easily understand. It will help them score well in the examination. The answers to all kinds of long and short questions, MCQs, tricks and tips are provided in the NCERT Solutions for Class 9 Science. Try solving the questions after completing the entire syllabus and overcome the shortcomings before the exams arrive.
The chapter Atoms and Molecules form the basis of the upcoming chapters, therefore, it should be dealt with thoroughly. The questions and solutions will help the students clarify all their doubts related to the topic.
The NCERT Solutions for Class 9 carries all the important questions and answers for all the subjects and chapters. The students can refer these to excel in the examinations.
Access Answers of Science NCERT Class 9 Chapter 3- Atoms and Molecules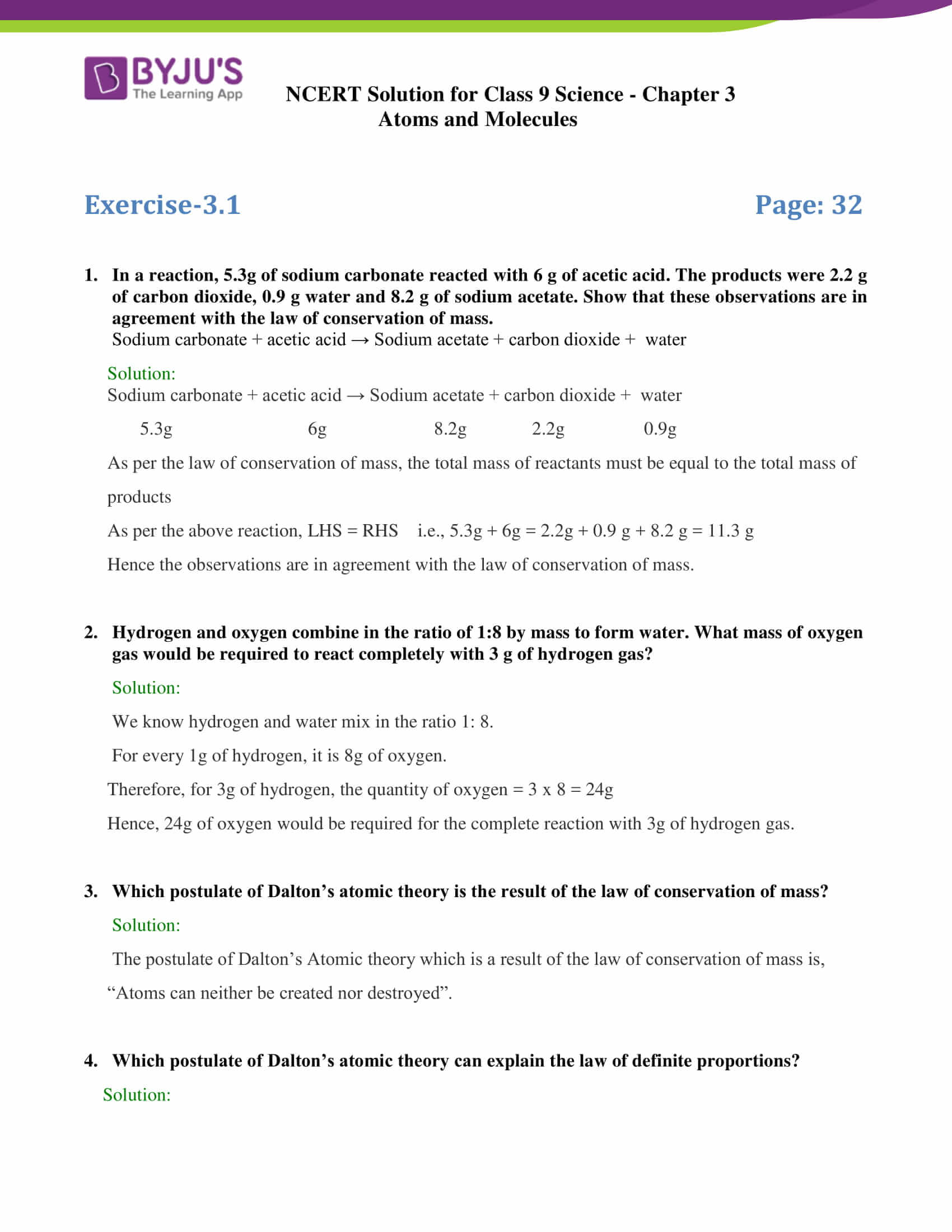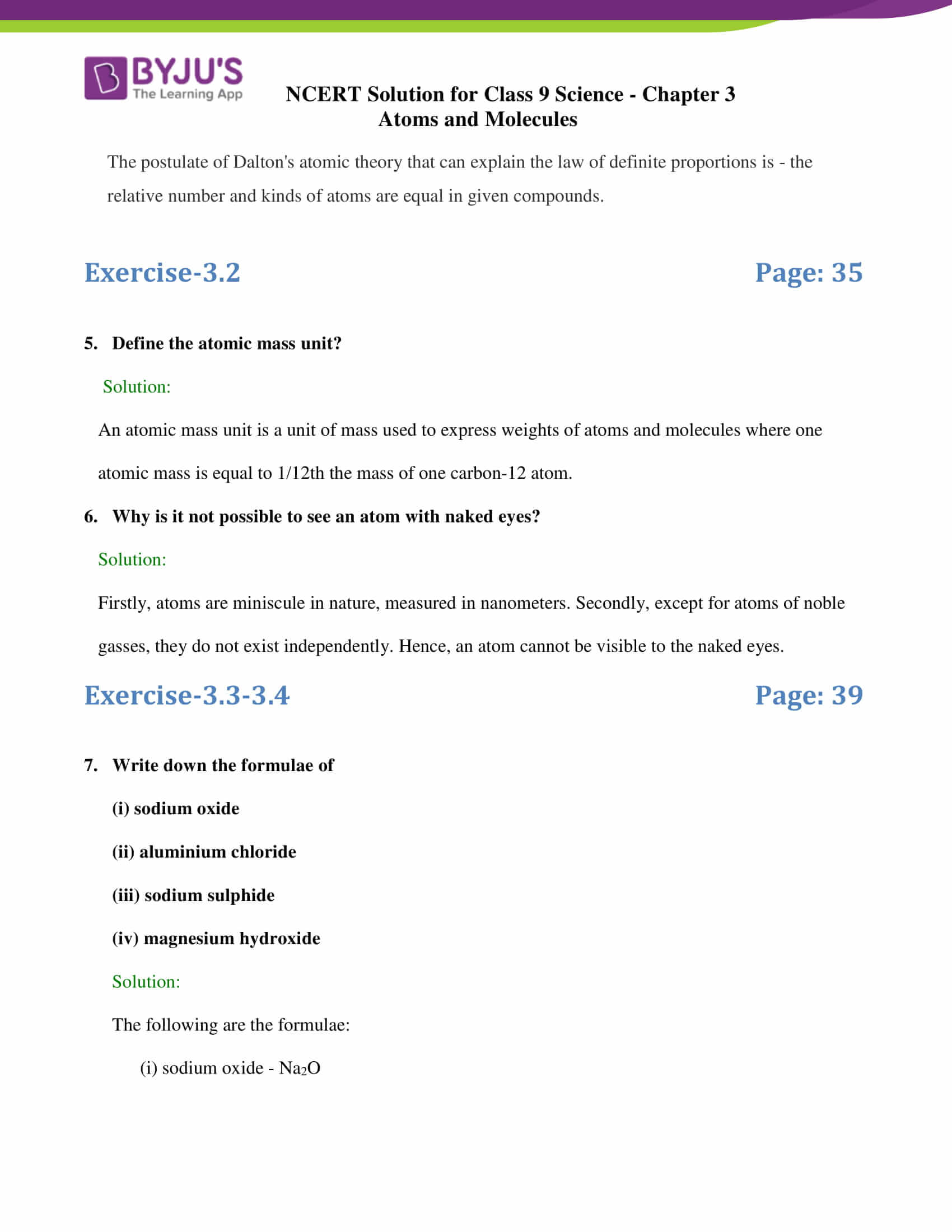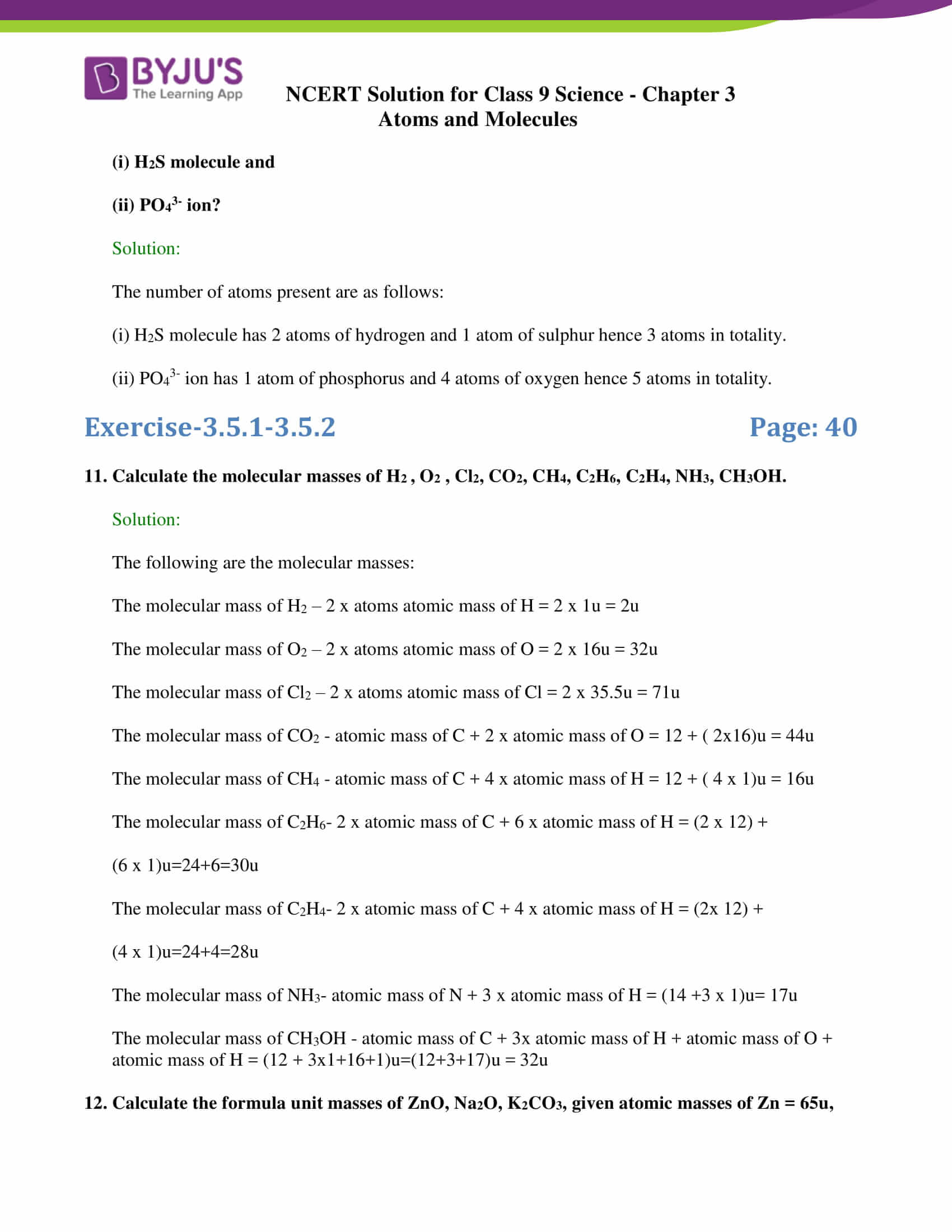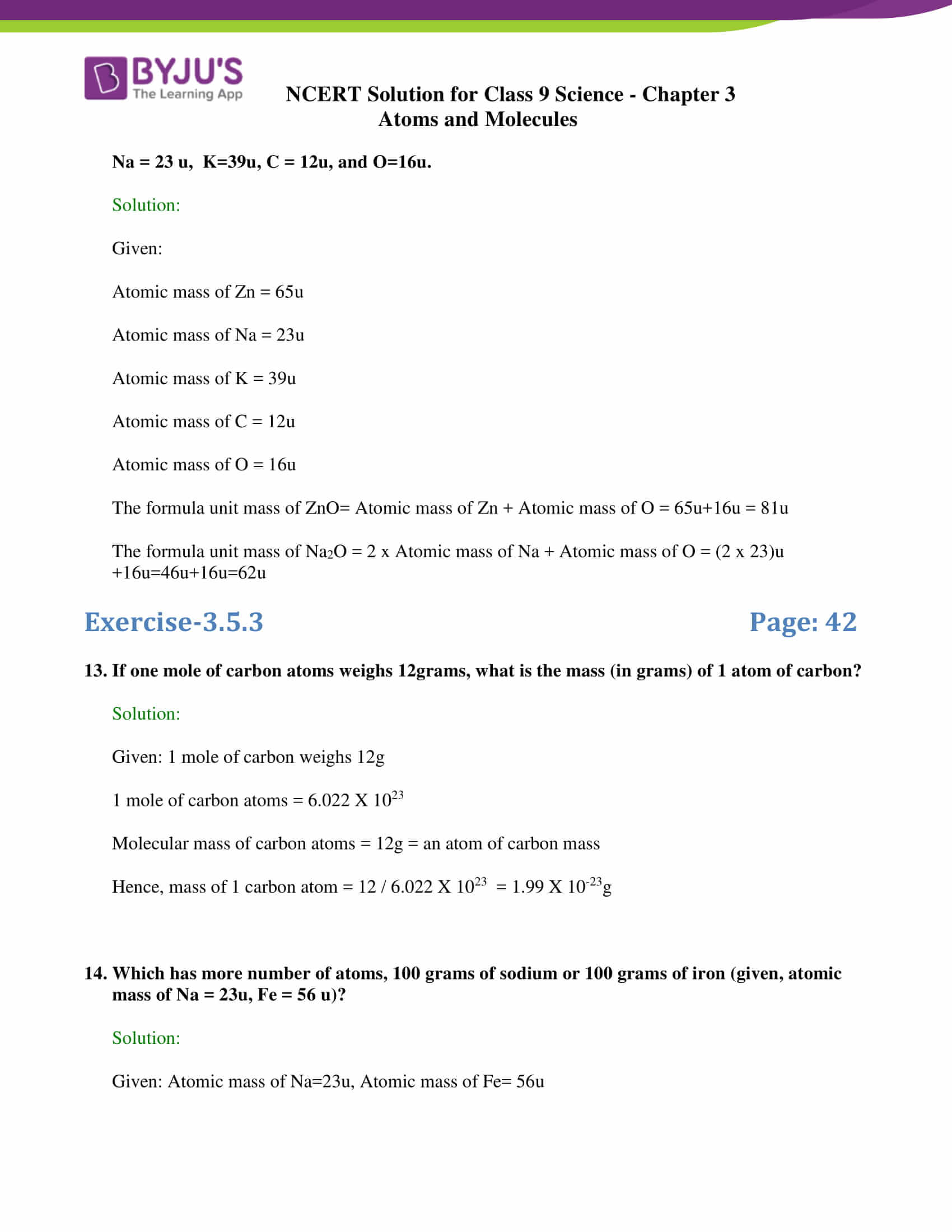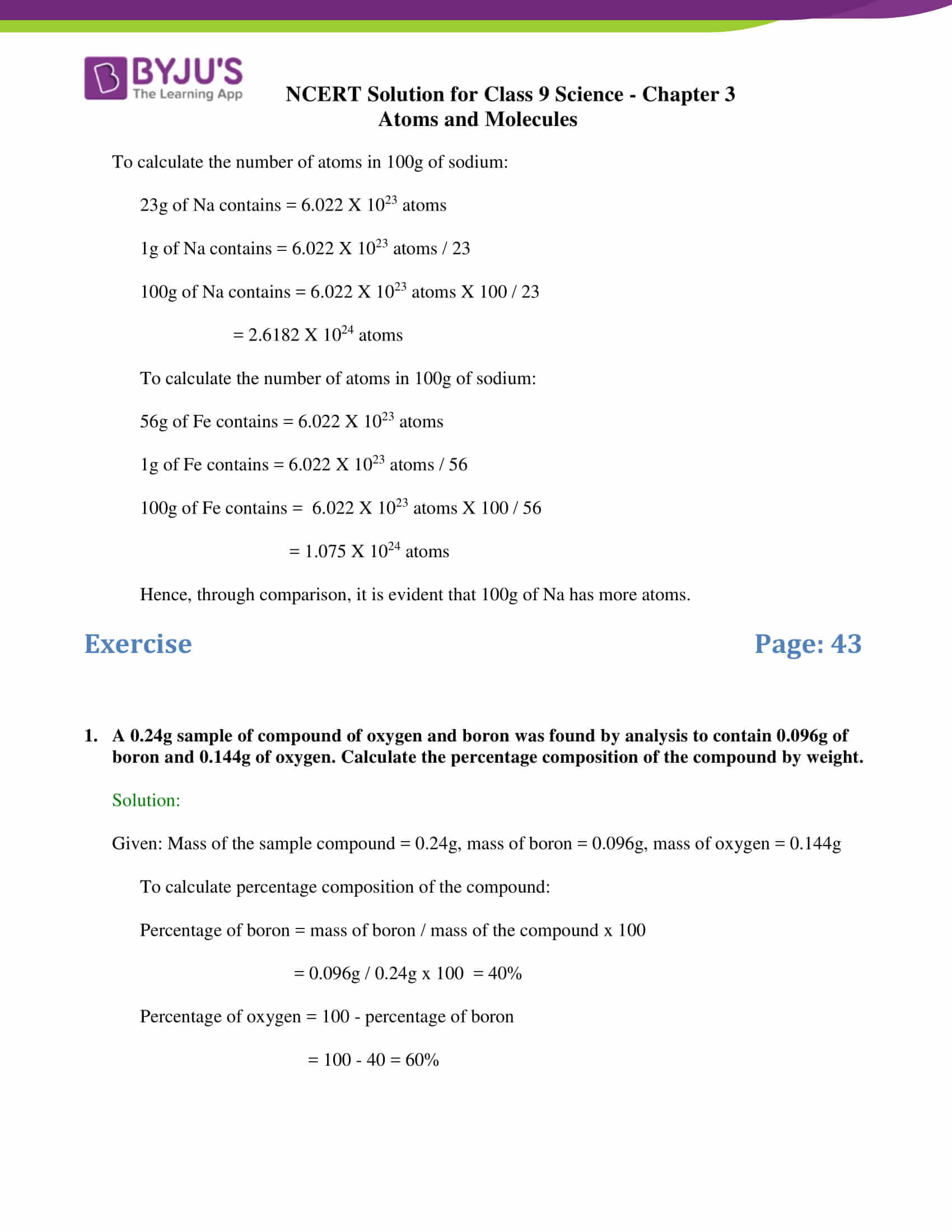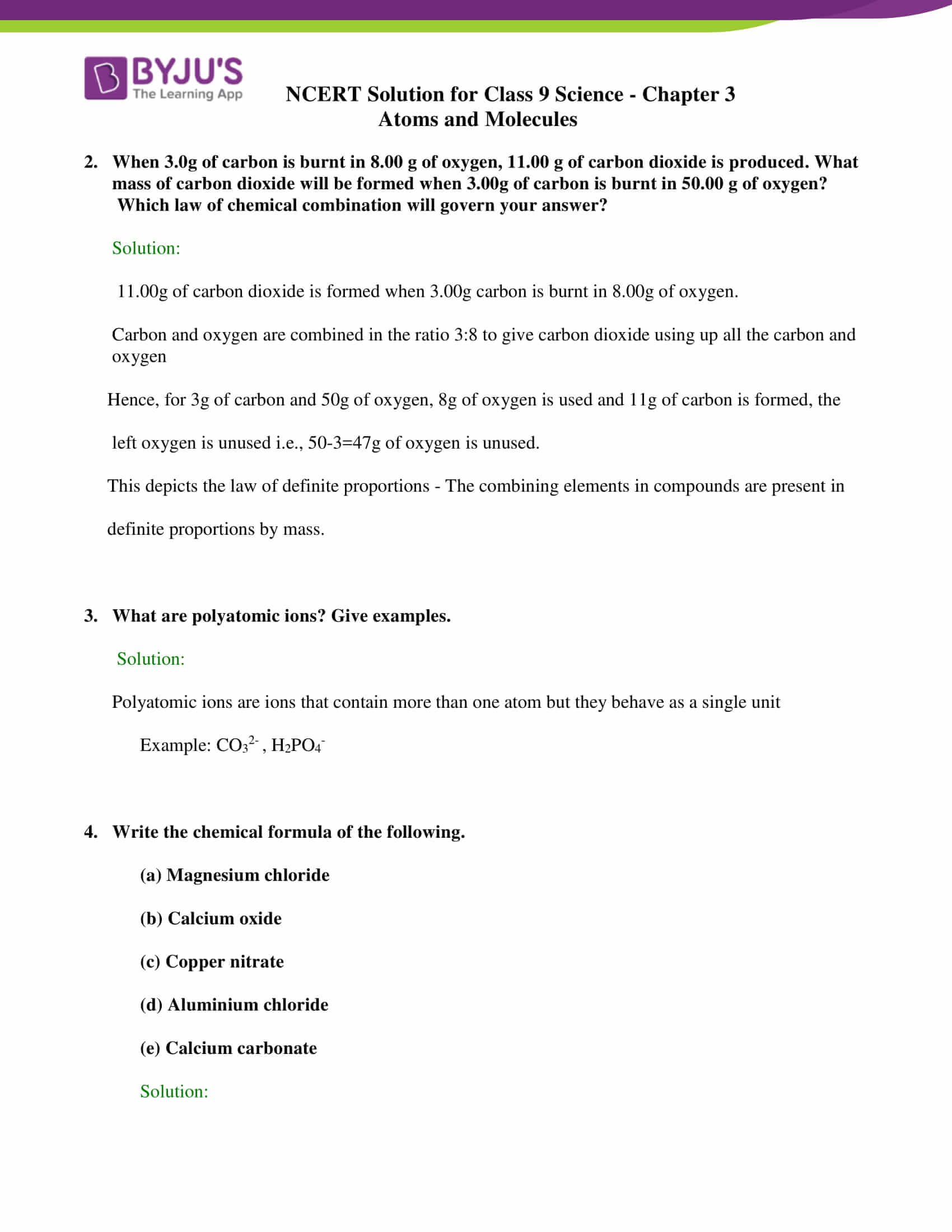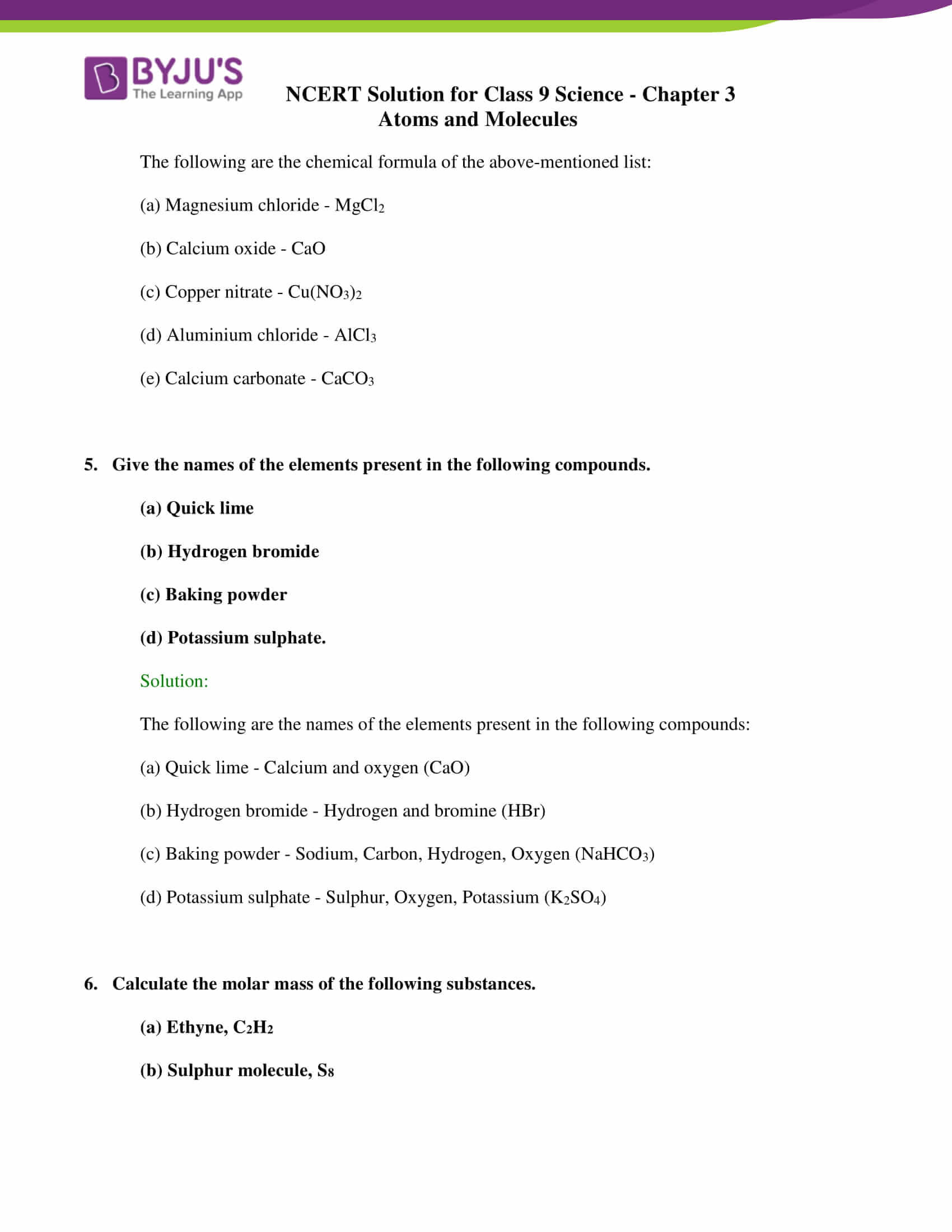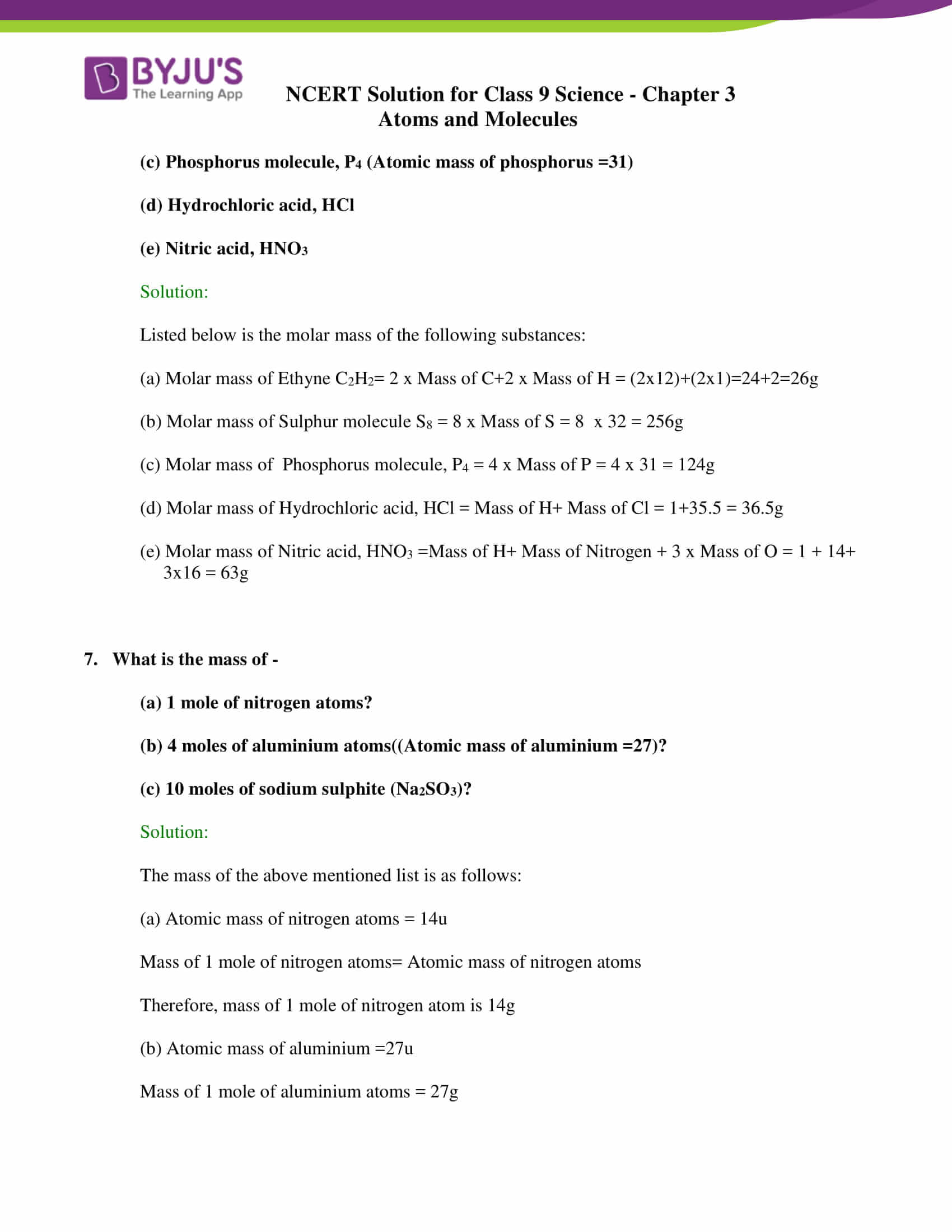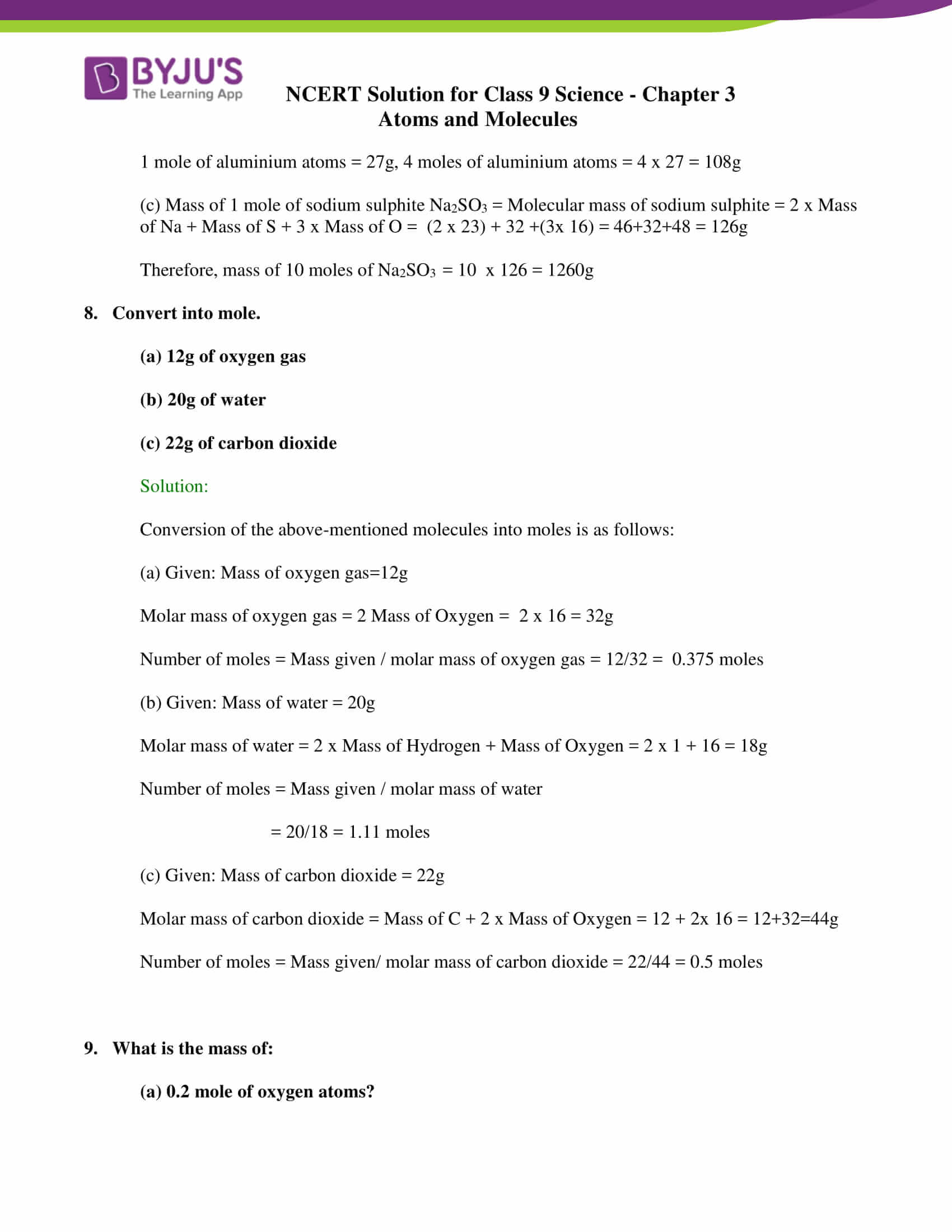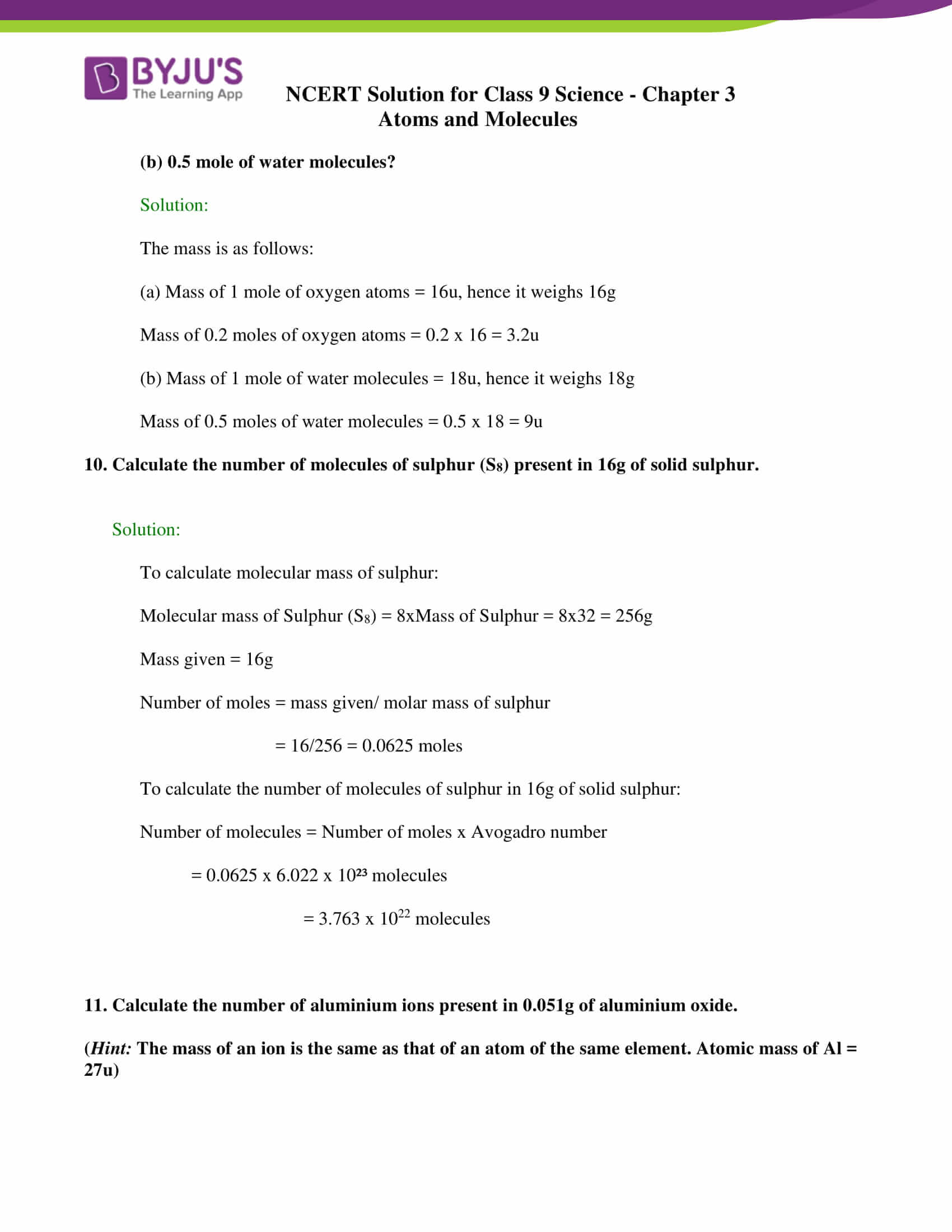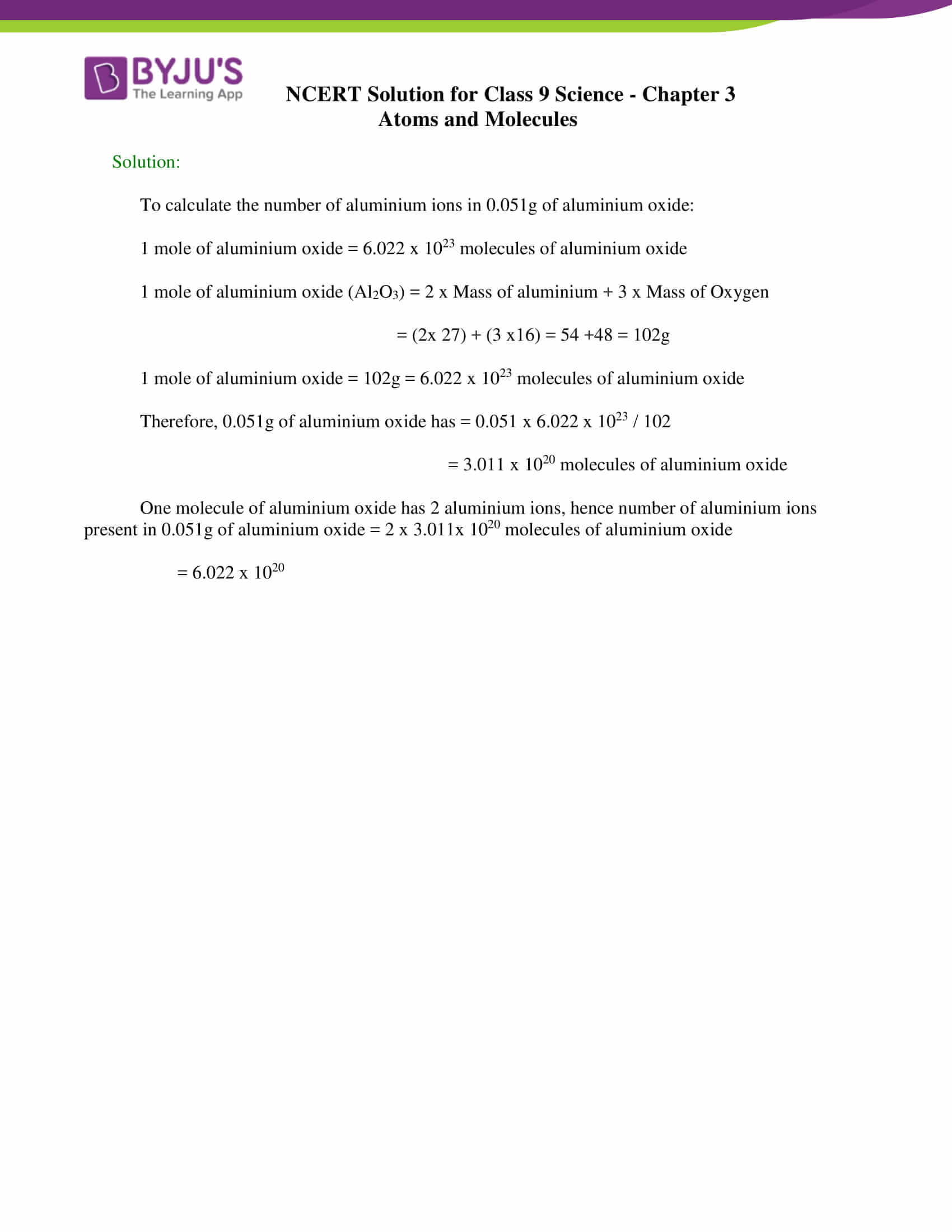 NCERT Solutions for Class 9 Science Chapter 3- Atoms and Molecules
This chapter holds a weightage of 23 marks in the final examinations. The questions are not specific and can be asked from any topic. The students are therefore advised to be thorough with the entire chapter. The chemical formulae and the numerical should be practised well.
The important topics provided in this chapter include:
3.1 Laws of Chemical Combination
3.2 What is an Atom?
3.3 What is a Molecule?
3.4 Writing Chemical Formulae
3.5 Molecular Mass and Mole Concept
List of Exercises
Exercise Solutions 11 Questions (8 numerical, 3 short)
Molecular mass and Mole concept- 8 numerical
Chemical Formula- 2 Questions
What is an Atom- 1 Question
NCERT Solutions for Class 9 Science Chapter 3- Atoms and Molecules
The smallest unit of matter is an atom. It has the properties of an element. An atom comprises of a dense core called nucleus surrounded by a series of outer shells. The electrons are present in these shells. The nucleus contains the protons and neutrons. Protons have a positive charge, while the neutrons are neutral.
Two or more atoms tightly bound together form a molecule. The molecules made up of two atoms are known as diatomic. Oxygen, nitrogen, hydrogen, iodine are diatomic molecules. Earth's atmosphere is comprised mainly of the diatomic molecules. A molecule is the smallest part of a compound.
Key Features of NCERT Solutions for Class 9 Science Chapter 3- Atoms and Molecules
The answers are provided by Science experts.
The answers are non-erroneous.
The Solutions provide questions from every important topic.
It gives a thorough understanding of the concepts.