Tripura Board of Secondary Education popularly known as TBSE was established in the year 1973 by Tripura Act. No.12 also called as Tripura Board of Secondary Education Act. The Tripura board came into operation from January 1, 1976. The intervening time-period was spent in framing the syllabus and curriculum, rules and regulations, and other important guidelines of the board.
ত্রিপুরা মধ্যশিক্ষা পর্ষদ
Tripura Board Of Secondary Education (TBSE)
Abbreviation
TBSE
Formation
1976
Headquarters
Agartala, Tripura, India
Type
Government Board of School Education
Official language
Bengali, English
Location
Tripura, India
Website
www.tbse.in
Tripura Board Exam Dates
The TBSE released the official dates for the Class X and XII, 2023 exam. The Tripura Board Class 10 exam will be held from 16th March 2023 and will finish on 18th April 2023. The Class 12 exam of Tripura Board is scheduled between 15th March 2023 and 19th April 2023. Find the PDF of the time table for both classes 10 and 12 examinations below.
Tripura Board Madhyamik Class 10 Date Sheet 2023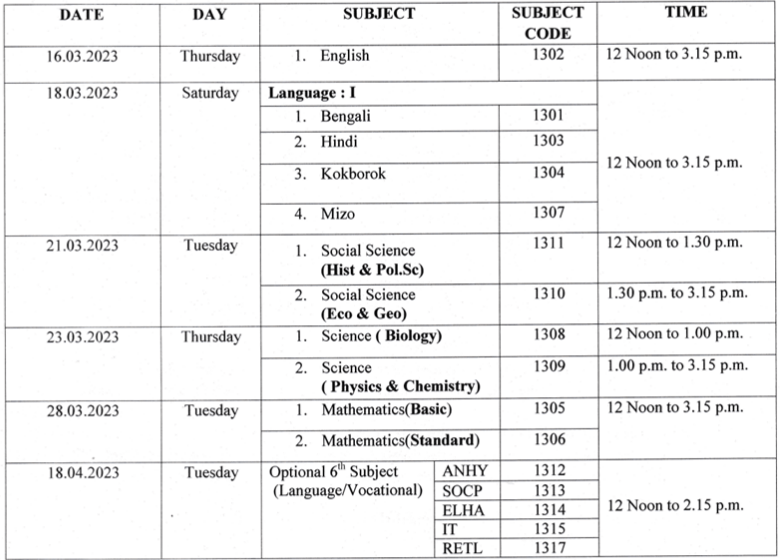 Tripura Board Higher Secondary Examination Class 12 Date Sheet 2023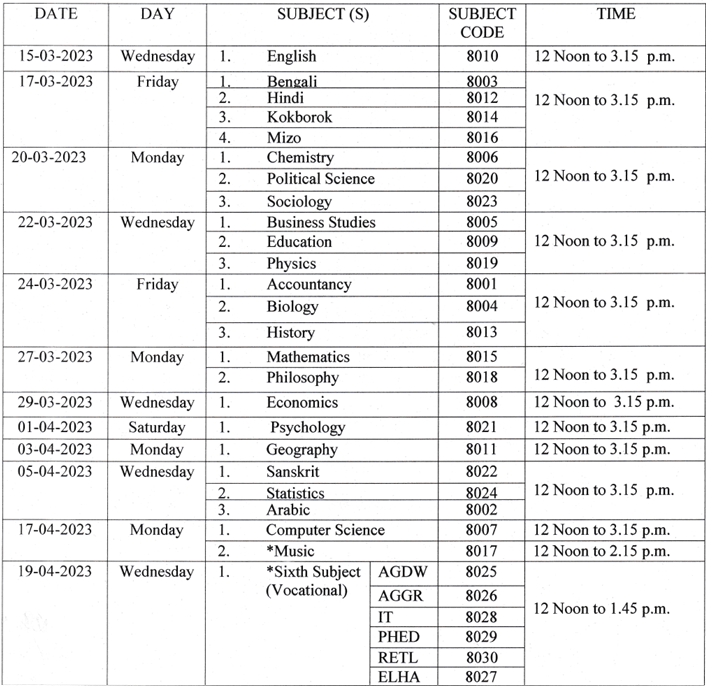 TBSE Syllabus
The Tripura Board of Secondary Education syllabus and exam pattern as per guidelines of National Curriculum Frameworks (NCF) 2005 is under active consideration of the Board. The Board introduced the Madhyamik Madrassa Education in the year 2009. The TBSE designs the syllabus for all the classes and schools affiliated to Tripura board are required to follow it.
Tripura Board Books
The Tripura Board Of Secondary Education is responsible for designing the books and are prescribed to all the schools affiliated to the board. The TBSE books are designed in a way to help the students get a deeper understanding of the concepts and give the students clear insights of all the important topics.
Tripura Board Sample Question Papers
Sample Question Papers of Tripura Board help students to get an idea of real question paper, unit wise marking scheme, difficulty level, important questions, etc. These sample question papers are a vital resource while preparing for exam. Students are advised to practise sample questions paper of Class 10, 11 and 12 provided below of subjects such as Maths, Physics, Chemistry and Biology.
Exams conducted by Tripura Board Of Secondary Education
The board provides higher education through the schools affiliated to it. The Tripura Board now conducts 2 major exams namely, Madhyamik Pariksha or Secondary Examination and Higher Secondary which is (+2) stage (both General and Vocational courses) Exam since 1981.
Tripura Result 2018 – Pass Percentage Pattern
State
Year
10th
12th
Tripura
2016
66.14
781.41 (Science)
2017
59.31
83.68 (Science)
Exam Pattern of Tripura Board
The exam pattern of Class 10 and 12 exams are decided by the Tripura Board Of Secondary Education (TBSE) and almost remains the same every year.