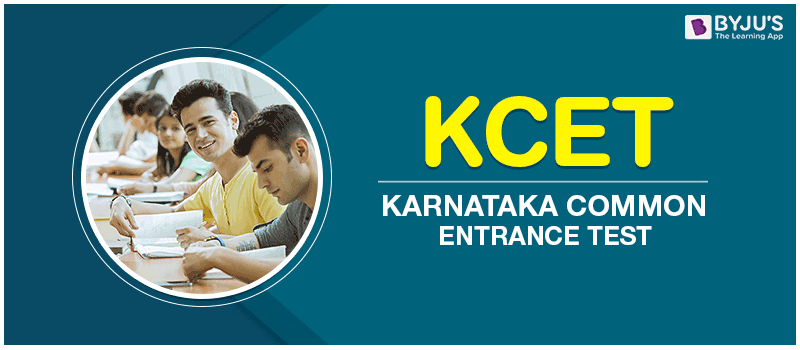 Karnataka Common Entrance Test, also known as KCET, is a state-level entrance exam conducted by Karnataka Examination Authority (KEA). This entrance exam is organised to provide eligible candidates admission to different undergraduate courses in Karnataka.

The examination is also called Karnataka CET, Kar CET or K-CET. Professional courses provided under this examination are B.Tech, B.E, B. Pharm, B.Arch and BSc. The aforementioned courses are provided by private as well as government educational institutions.

Explore all details relevant to the entrance exams – from the admission process to eligibility criteria, exam pattern, syllabus and more.
KCET – Table Of Content
Click on any of the following links to jump to that specific section.
KCET Previous Year Questions
Overview Of KCET
Following is an overview of the exam – with important dates and other relevant information.
Events and Exam Timeline

Exam Name

Karnataka Common Entrance Test (KCET)

Board Name

Karnataka Examination Authority (KEA)

Exam Level

State-level

Application Mode

Online mode of application

Application start date

May 2021

Last date to submit the application

To be Notified

Last date for payment of fees

To be Notified

Admission Card Availability

To be Notified

KCET Exam Date

August 28, 2021 (Maths and Biology)

August 29, 2021 (Chemistry and Physics)

Karnataka Language Test

August 30, 2021

Exam timings

Shift 1: 10.30 AM – 11.50 AM.

Shift 2: 2.30 PM to 3.50 PM.

Download Admit Card

To be Notified

Release of Answer Key

To be Notified

Results release date

To be Notified

KCET 2020 Counselling Date

To be Notified

Official Website

www.kea.kar.nic.in

Exam Category

Undergraduate (UG)

Courses offered

B.Tech, B.E, B. Pharm, B.Arch and BSc

The frequency of the exam

Annual

Participating Institutes

220+ colleges in Karnataka (government, private aided and unaided).
KCET 2021 Exam Timings
Biology paper will be held at the first session from 10:30 am to 11:50 am whereas the maths paper will be held from 2:30 pm to 3:50 pm.
Physics paper will be held from 10:30 am to 11:50 am, and the chemistry paper will be held from 2:30 pm to 3:50 pm.
All the important dates relevant to the examination are released by Karnataka Examination Authority. The students preparing for the examination are advised to get updated with major exam related events, including application form submissions, admit cards, and exam dates.
KCET Admission Process
The admissions to different colleges are mainly based on the candidates' score in the exam. It is also important for candidates to fulfil the eligibility criteria for admission to the first year or first semester of full-time courses.
KCET Eligibility Criteria
The following criteria must be fulfilled to be deemed eligible for the Karnataka CET exam.
Qualifying Exam: The candidates must pass 10+2 or 2nd PUC or any equivalent examination from a board recognized by the government of India.
Minimum Marks: Candidates must score at least 45% marks (40% for ST/SC) in math and physics along with biology or biotechnology or chemistry or electronics or computer science.
Subjects: Applicants must pass their exam with Physics and Maths as their main subject and English as their language subject.
KCET Admit Card
The KCET 2021 admit card will be released by the KEA (Karnataka Examination Authority) on its official website. Registered candidates should submit their credentials such as application number and date of birth to access the hall ticket. Candidates are required to download the admit card and take a print out for the examination or any future reference.
Please note: The department will not send any hard copies of the admit card to the candidates by post. Students must download it from the official website. The admit card is an important document, and it is mandatory for students to carry it to the exam centre. Candidates who fail to produce the admit card will not be allowed to enter the exam hall.
KCET Cut Off
Cutoffs are the least marks required to qualify in the entrance examination. Most of the time, the cutoff marks are released soon after the declaration of KCET results. Given below are a few important factors that will determine KCET 2021 cutoff marks.
The difficulty level of the question paper.
The total number of candidates appearing for the exam.
The total number of seats available.
Performance of candidates in all the sections of the exam.
Number of reserved category seats
Average marks of candidates in the exam.
KCET Syllabus
The syllabus for KCET is normally designed or is based as per the syllabus of the 1st and the 2nd PUC (Pre-University Course) prescribed by the Department of Pre-University Education of Karnataka. Candidates are advised to go through the syllabus completely as it is one of the most important document in order to develop an effective preparation strategy for the exam. Students can access the latest KCET syllabus for 2021 from the attached link.
KCET Application Form
For 2021, Karnataka Examinations Authority announced that the official application window would begin by May 2021. The application links will be made available on the official KCET website with the submissions deadline. The correction facility will also be opened for candidates for a certain period.
KCET Application Fee
The Application Fee for General, OBC, ST, SC and students outside Karnataka are as follows:
| | |
| --- | --- |
| Categories | Application Fee |
| General / OBC | Rs. 650 + INR 10/- (Bank Charges) |
| ST / SC | Rs. 500 + INR 10/- (Bank Charges) |
| Students from outside Karnataka | Rs. 750 + INR 10/- (Bank Charges) |
Candidates can pay the application fees via Bank challan, demand draft or through net banking.
KCET Courses Offered
As per the official website and the KCET brochure that is provided, students can get admission in various courses in Government University or Private Aided or Private Unaided Professional Educational Institutions in Karnataka:
Medical
Ayurveda
Dental
Unani
Homoeopathy
Engineering
Naturopathy and Yoga
Architecture
Technology
Farm Science courses i.e. B.Sc (Sericulture)
B.Sc (Agriculture)
B.Sc (Forestry)
B.Sc (Horticulture)
B.HSc (Home Science)
B.Sc Agri Biotech
B.Sc (Agri Marketing and Co-Op)
B.Tech (Dairy Tech)
B.Tech (Agri Engg)
B.Tech (Food Technology)
B.Tech (Food Science and Tech)
B.FSc (Fisheries)
KCET Exam Pattern
Amidst the rumours going on that KCET 2021 will be conducted in an offline mode only. KCET is being conducted in an offline mode which is basically a pen and paper mode with OMR sheets. The questions asked in the exam will be of objective type, and there will be no negative markings. Details about the KCET exam pattern is given below in the table.
Exam Pattern For Karnataka CET
| | |
| --- | --- |
| Mode of Examination | Offline |
| Total Questions | 180 (Physics: 60, Chemistry: 60, Mathematics: 60 Or Biology: 60) |
| Type | Objective Questions |
| Total Marks | 180 Marks |
| Time Duration | 80 minutes for each subject. |
| Language | English or Kannada |
| Marking | 1 mark for each question. |
| Negative Marking | No |
Important Things to Remember:
Students applying for engineering courses have to write the entrance exam based on Maths, Physics, and Chemistry.
For admission into Dental, Pharmacy, Indian System of Medicine, Dental and Homoeopathy courses, students will have to attempt questions based on Physics, Chemistry, and Biology.
KCET Result
The result of KCET is usually announced in the first week of June. Once the KCET results are announced by KEA on its official website, candidates can access all the data like the scores they have secured and the ranks they have achieved. Students can then compare the marks and ranks for the allotment of seats.
KCET Counselling 2021
KCET counselling for 2021 will be conducted by the Karnataka Examination Authority (KEA) in an offline mode. Candidates who have qualified in the exam can appear in the counselling process. The candidates must bring the following documents during the counselling sessions.
Class 10th Marksheet
Copy of Application Form
KCET 2021 Admit Card
Class 12th Marksheet
Passport size photo (2 copies)
Category Certificate (if eligible)
Seat Allotment In KCET
The KCET seat allotment is usually announced online, most likely, around the third week of July. Seat allotment is done according to ranks secured by the candidates and the availability of seats in the desired college or institute. Candidates who secure a seat in the allotted institutes are required to visit the institution and verify their documents. KEA will conduct the seat allotment session in two round. There might also be an additional extended round. Candidates have to pay the required fees for the confirmation of their admission.
Frequently Asked Questions on KCET
What is A1, B1, C1, D1, in KCET?
The question papers in KCET usually consist of different sets which are named as A1, A2, A3, A4, B1, B2, B3, B4, C1, C2, C3, C4, D1, D2, D3, and D4. There are mainly four versions of each paper from A1-A4, B1-B4, C1-C4, and D1-D4 and these details are mainly mentioned at the top of the question paper.
What documents should be carried on the day of the KCET exam?
Candidates should carry the following documents:
KCET hall ticket.
Passport
Aadhar Card
PAN Card
College Identity Card
2nd PU/ 12th Std Examination Hall Ticket
The date of birth has been wrongly entered during KCET application. Is it possible to change it?
Candidates can rectify any errors made while filling the KCET application form during the correction window opened by KEA. It will be only for a limited period of time.
How many centres are allocated for KCET exams?
KCET is usually conducted at 54 locations, spread all over Karnataka.
What is the age limit for KCET exam?
As per the eligibility criteria prescribed by KEA for KCET, there is no age factor that is taken into consideration.
Can parents or guardian come to verify the documents?
Normally, the candidates themselves have to come for document verification. Only during an emergency, the authorities might permit an authorized person to verify the documents.
To explore more information on KCET exam or any other competitive exams, register at BYJU'S.