Business Studies for Class 12 provides an extensive range of concepts and advanced information regarding the subject which includes all the questions provided in the Business Studies syllabus. A piece of good knowledge in the business can influence the growth of an organisation, earning, personal development, and daily lives of people. The business has an important impact on the living and quality of lifestyle and also the environment we live in.
Students can directly access the CBSE Business Studies Syllabus for Class 12 academic years by clicking on the links below.
Business Studies
CLASS–XII (2020-21)
Theory: 80 Marks
Duration: 3 Hours
Project: 20 Marks
Units
Periods
Marks
Part A
Principles and Functions of Management
1.
Nature and Significance of Management
12
16
2.
Principles of Management
11
3.
Business Environment
08
4.
Planning
08
14
5.
Organising
10
6.
Staffing
13
20
7.
Directing
09
8.
Controlling
07
Total
78
50
Part B
Business Finance and Marketing
9.
Financial Management
20
15
10.
Financial Markets
18
11.
Marketing Management
24
15
12.
Consumer Protection
05
Total
67
30
Part C
Project Work (One)
20
20
Part A: Principles and Functions of Management
Unit 1: Nature and Significance of Management
Concept:
Management – concept, objectives, and importance
Management as Science, Art and Profession
Levels of Management
Management functions-planning, organising, staffing, directing and controlling
Coordination- concept and importance
Unit 2: Principles of Management
Concept:
Principles of Management- concept and significance
Fayol's principles of management
Taylor's Scientific management- principles and techniques
Unit 3: Business Environment
Concept:
Business Environment- concept and importance
Dimensions of Business Environment,Economic, Social, Technological, Political and Legal
Unit 4: Planning
Concept:
Concept, importance and limitation
Planning process
Unit 5: Organising
Concept:
Concept and importance
Organising Process
Structure of organisation- functional and divisional concept.
Delegation: concept, elements and importance
Decentralisation: concept and importance
Unit 6: Staffing
Concept:
Concept and importance of staffing
Staffing process
Recruitment process
Selection – process
Training and Development – Concept and importance, Methods of training – on the job and off the job – vestibule training, apprenticeship training and internship training
Unit 7: Directing
Concept:
Concept and importance
Elements of Directing
Motivation – concept, Maslow's hierarchy of needs, Financial and non-financial incentives
Leadership – concept, styles – authoritative, democratic and laissez faire
Communication – concept, formal and informal communication
Unit 8: Controlling
Concept:
Controlling – Concept and importance
Steps in process of control
Part B: Business Finance and Marketing
Unit 9: Financial Management
Concept:
Concept, role and objectives of Financial Management
Financial decisions: investment, financing and dividend- Meaning and factors affecting
Financial Planning – concept and importance
Capital Structure – concept and factors affecting capital structure
Fixed and Working Capital – Concept and factors affecting their requirements
Unit 10: Financial Markets
Concept:
Financial Markets: Concept, Functions and types
Money market and its instruments
Capital market and its types (primary and secondary), methods of floatation in the primary market
Stock Exchange – Functions and trading procedure
Securities and Exchange Board of India (SEBI) – objectives and functions
Unit 11: Marketing
Concept:
Marketing – Concept, functions and philosophies
Marketing Mix – Concept and elements
Product – branding, labelling and packaging – Concept
Price – Concept, Factors determining price
Physical Distribution – concept
Promotion – Concept and elements; Advertising, Personal Selling, Sales Promotion and Public Relations
Unit 12: Consumer Protection
Concept:
Concept and importance of consumer protection
Consumer Protection Act 1986:
Meaning of consumer
Rights and responsibilities of consumers
Who can file a complaint?
Redressal machinery
Remedies available
Unit 13: Project Work
PROJECT WORK IN BUSINESS STUDIES FOR CLASS XI AND XII
Introduction
The course in Business Studies is introduced at Senior School level to provide students with a sound understanding of the principles and practices bearing in business (trade and industry) as well as their relationship with the society. Business is a dynamic process that brings together technology, natural resources and human initiative in a constantly changing global environment. With the purpose to help them understand the framework within which a business operates, and its interaction with the social, economic, technological and legal environment, the CBSE has introduced Project Work in the Business Studies Syllabus for Classes XI and XII. The projects have been designed to allow students to appreciate that business is an integral component of society and help them develop an understanding of the social and ethical issues concerning them.
The project work also aims to empower the teacher to relate all the concepts with what is happening around the world and the student's surroundings, making them appear more clear and contextual. This will enable the student to enjoy studies and use his free time effectively in observing what's happening around.
By means of Project Work the students are exposed to life beyond textbooks giving them opportunities to refer materials, gather information, analyse it further to obtain relevant information and decide what matter to keep.
Objectives
After doing the Project Work in Business Studies, the students will be able to do the following:
develop a practical approach by using modern technologies in the field of business and management;
get an opportunity for exposure to the operational environment in the field of business management and related services;
inculcate important skills of team work, problem solving, time management, information collection, processing, analysing and synthesising relevant information to derive meaningful conclusions
get involved in the process of research work; demonstrate his or her capabilities while working independently and
make studies an enjoyable experience to cherish.
CBSE Class 12 Business Studies Syllabus for Academic Year 2021-22
The CBSE has released the latest CBSE Class 12 Syllabus for the academic year 2021-22 on their official site. Students can also download the Business Studies syllabus pdf of Class 12 CBSE from the link given below.
CBSE Class 12 Business Studies Course Structure 2021-22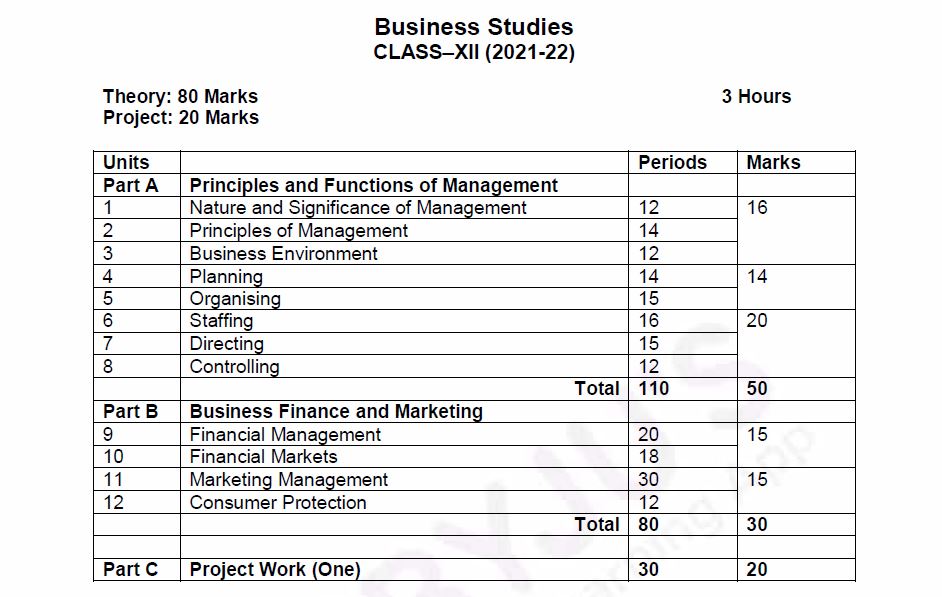 To make study easy we have mentioned a few things that students should remember while business studies CBSE syllabus class 12 are mentioned below.
Students must study according to the CBSE syllabus class 12 from NCERT Books. Following NCERT book will make the students understand the concept in depth.
Follow reference books to make the study easy.
It is important to understand the meaning of the concept and the purpose of that concept.
As there are many points to remember, make a note of each concept that you have understood and kept it for future reference.
The advance study helps and will give adequate time for revision.
Solve previous year and business studies class 12 sample papers. This will help you to manage time and understand the question pattern.
Business studies for Class 12 is an advanced level of Class 11. In Class 11 we had studied the basic fundamental aspects of the subject. And in Class 12 it is a progressed degree of concepts.
Also Explore: Business Studies Study Guide
Class 12 Business Studies syllabus provides a broad degree of illustrative examples; which helps the students to comprehend and learn quickly. The above mentioned is the syllabus for Class 12 Business Studies. For more solutions and study materials of Class 12 Business Studies visit BYJU'S or download the app for the best learning experience.