Find below the NEET 2022 question paper with answer keys and detailed solutions. The NEET 2022 question paper conducted on July 17 is available to download in PDF format on this page. The NEET question paper 2022 PDF download option here will comprise all subjects – Physics, Chemistry and Biology provided with solutions and answer keys for all codes, as and when the exam concludes.
Table of Contents
Download PDF of NEET 2022 Question Paper 17 July
Candidates can refer to the NEET question paper with answer keys and solutions for their reference to evaluate their performance at the examination. This will help candidates to understand the typology of questions asked and the difficulty level of different sections of the NEET paper. Additionally, those candidates who are preparing to appear for NEET in the upcoming academic sessions can also refer to the paper and solutions of NEET 2022.
Subject-wise NEET 2022 Question Papers with Answer Keys
You might like: NEET chapter wise previous year questions
Latest news on NEET: NEET 2022 Counselling, New NEET Syllabus 2023
NEET 2022 Paper Live Discussion with Solutions | NEET 2022 Question Paper with Answer Key | NEET 2022 Paper Discussion Live! Watch now
Watch the below video for the solutions to questions of the NEET 2022 Paper 17 July.
NEET Question Paper Analysis July 17 – Live Paper Discussion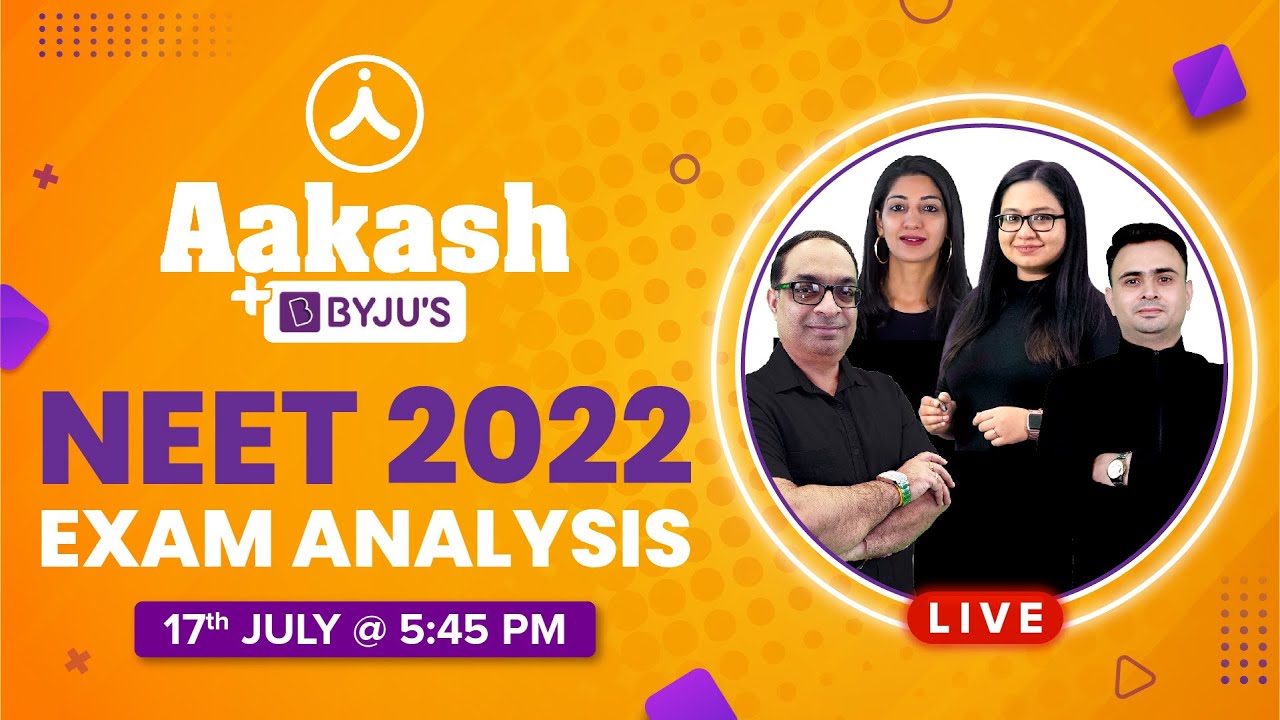 Disclaimer: NEET 2022 questions, unofficial answer keys and solutions are provided here for reference. The official answer keys will be updated once NTA releases answer keys for NEET 2022 examination.
Also Check:
Frequently Asked Questions on NEET 2022 Question paper
Q1
Is NEET 2022 paper tough?
The pre-medical test NEET-UG 2022 has to be one of the most challenging examinations for students seeking admission to undergraduate medical courses.  The number of registrations recorded this time is 1,872,341. With this whopping participation, students must be aware of the competition. Hence, students start preparing for this test much in advance.
Q2
Will there be any change in NEET exam date 2022??
No. There is no news of a change in the date of examination for NEET 2022. NEET 2022 shall be conducted on 17 July 2022.
Q3
Is there negative marking in NEET 2022?
Yes, NEET 2022 has negative marking. 1 mark is deducted for every incorrect response. No mark is deducted if a question is left unattempted.
Q4
How to download NEET 2022 question paper?
The NEET question paper 2022 can be downloaded from this page. The direct link to download PDF of question papers and answer keys shall be updated on this page as and when the exam concludes.
Q5
When will NTA release NEET 2022 answer keys?
NTA has released the final set of answer keys for NEET-UG 2022 on 7 September 2022.
Also see: