Around 4-6 lakh aspirants appear for the IAS exam every year while the number of vacancies is often less than 1000. The nature of Civil Services Examination demands thorough and sustained preparation as the UPSC Syllabus is vast and the examination cycle lasts for a year.
In view of the high competition and the rigorous requirements for UPSC preparation, classroom or UPSC online coaching for IAS exam becomes necessary for many candidates, though there are a few exceptions.
BYJU'S IAS Coaching Academy is one of the top IAS coaching in India as it gives a well-planned route map to crack the upcoming UPSC Exam. Candidates get clarity on the approach, topics to cover, focus on the individual strengths and weaknesses. This helps them to improve their success rate and reduce the number of attempts. Therefore, we can say that BYJU'S is one of the best IAS preparation institutes in India.
The best part of IAS Coaching at BYJU'S IAS Academy is that aspirants can avail Online & Offline classes as per their preference (Offline is currently stopped).
IAS Online Coaching
At BYJU'S IAS, we provide complete and comprehensive material needed for UPSC IAS preparation without compromising on quality.
What do we offer?
BYJU'S, the best IAS coaching in India, offers the following features to help give maximum benefits to students:
Being the best coaching for UPSC, BYJU'S follow the latest trend of providing accurate information related to important topics in both Prelims and Mains.
We strive to bring you the relevant information broken down as per the UPSC exam pattern.
Special features of the UPSC Exam Coaching Institute:
And many more features like the Hindu News Video Analysis, Economy This Week (Weekly business news roundup), UPSC MCQs for Prelims, etc.
More UPSC Free Coaching Links:
UPSC Civil Services Coaching – Classroom/Offline Mode
*Currently all Offline activities are on hold
Choosing a good UPSC Exam coaching institute is a tough task and precious time can be lost looking through the information about the myriad coaching centres mushrooming throughout the country. To make the process easier, we would like to suggest checking for the following four parameters while choosing an IAS coaching service:
Quality of Faculty: The quality of the teachers is important for UPSC CSE coaching, as incorrect concepts, or unclear instructions can waste time as well as reduce the chance of success in the examination.
Quality of IAS Study Material: Samples if available from the coaching centre or service to check the quality of UPSC Study Material provided by them
Success rate: A high success rate is a good indicator of the quality of teaching at the IAS coaching centre and the quality of materials available for them. Watch the success stories and get the latest IAS videos on BYJU'S IAS YouTube Channel
Availability of support: A dedicated support team would be able to ensure that candidates can bring their queries to one place and not have to spend time looking for the correct department to bring their queries to.
We at BYJU'S ensure that all these parameters are fulfilled in our top IAS coaching centres. In addition to this, we provide both online and offline modes of study for IAS coaching, backed up by expert faculty and a carefully selected and dedicated support team. Many of our alumni are serving officers in the All India Services after taking our best coaching for UPSC.
IAS Coaching Centres
Classroom Training by BYJU'S UPSC Coaching Classes is provided in the following cities (on hold because of ongoing pandemic):
City
IAS Coaching Contact Details
IAS Coaching in Delhi
BYJU'S IAS, 1B, Third Floor, Gate No.8 Metro Station, Pusa Road Behind Karol Bagh, North Extension Area, Rajinder Nagar, New Delhi, Delhi 110060 (for English)

Plot no. 21, 2nd Floor, Commercial Complex, Savitri Bhawan BLK-A, Community Centre, Dr. Mukherjee Nagar, Delhi (For Hindi)

9873643487 (for English)

9205881869 (for Hindi)

IAS Coaching Center In Bangalore

BYJU'S IAS, Tavarekere Main Road, Opp: Forum Back Gate, Venkateshwara Layout, S.G. Palya, Bengaluru, Karnataka 560029

9980837187

IAS Coaching in Hyderabad

BYJU'S IAS Classes, 3-6-196/197, 2nd Floor, Prime Plaza, Himayatnagar Main Road, Above Woodland Showroom, Himayatnagar, AP State Housing Board, Himayatnagar, Hyderabad, Telangana 500029

8884018335

IAS coaching in Chennai
BYJU'S IAS,

BYJU'S CLASSES UPSC, 2nd Floor, Newry Properties Private Limited, Newry Grandeur, No. 19, B Block, 2nd Avenue, Annanagar East, Chennai, Tamil Nadu 600102

9739018253
Our IAS coaching centres offer:
Effective and adaptive teaching methods
Experienced faculty
Comprehensive IAS test series for UPSC Prelims and Mains
Extensive study material for the IAS exam
Focused preparation methods
UPSC coaching in Delhi offers guidance for both English and Hindi medium candidates.
Aspirants can check the image below and know the batch timings for weekdays and weekend modules in BYJU'S IAS classroom classes at various centres: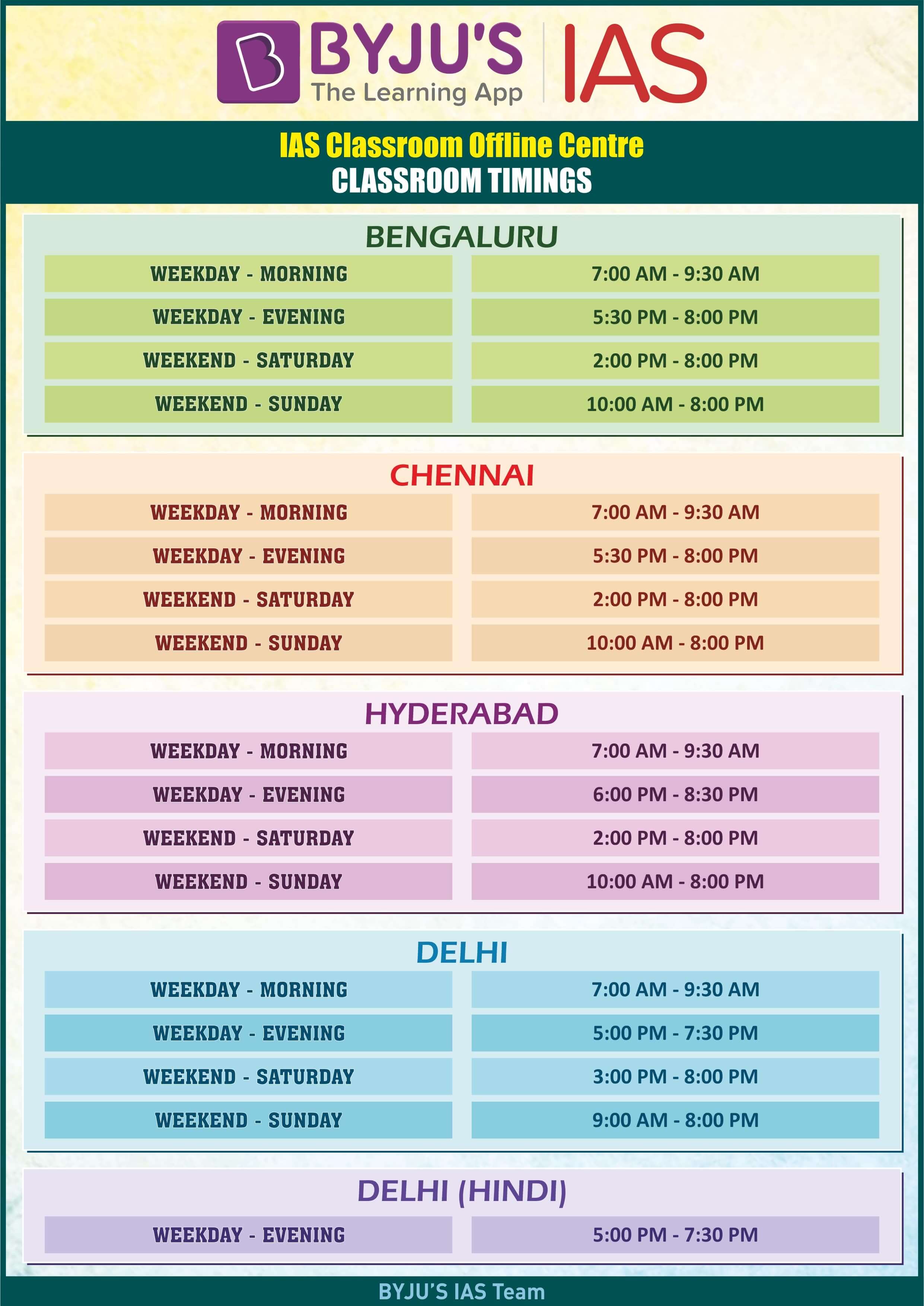 IAS Coaching in India
Though classroom IAS Coaching is present in four major cities (Banglore, Hyderabad, Chennai and Delhi), BYJU'S covers IAS Coaching in India through the following ways:
IAS Tablet Course
Free IAS Prep
BYJU'S civil services online coaching can be availed from any part of the country. The best part is that we also offer, apart from our successful tablet programme, UPSC online coaching free!
With the BYJU'S Free IAS Prep website, an aspirant can get access to all the important exam news and also IAS preparation tips and notes, which when combined with features like the news analysis, PIB, Yojana, etc. mentioned above, our civil services free coaching is a sure-shot way to IAS success, provided students put in dedication and planning.
The other cities where BYJU'S has offices for the aspirants to reach out to clear any queries w.r.t IAS Coaching or opt for UPSC online coaching in these cities are linked below:
IAS Coaching in North Zone:
City
Office Address

IAS Coachi

ng in Dehradun

Part of 1st Floor, Bldg # 21, IT Park, Sahastradhara Road, Dehradun, Uttarakhand – 248001

IAS Coaching in Noida

1st Floor, D-1,Sector -3, Noida 201301

IAS Coaching in Jalandhar

1st Floor, # 362-363, Lajpat Nagar, Model Town Road, Jalandhar – 144001

IAS Coaching in Ludhiana

2nd Floor, Surya Commercial Center, Opp. PAU Gate # 1, Ferozpur Road, Ludhiana, Punjab – 141001

IAS Coaching in Mohali

2nd Floor, C-205, Phase 8 B, Mohali – 160055 (Punjab)

IAS Coaching in Varanasi

C.26/35-A-1-C, Gautam Buddha Nagar, Ramkatora, Varanasi, 2210001, Uttar Pradesh

IAS Coaching in Agra

Corporate Park, 7th Floor, Plot No. 109, Sanjay Palace, Agra – 282002

IAS Coaching in Meerut

Hall # 1, 3rd Floor, 495/1 RPG Tower, CCS university Road, Mangal Padey Nagar, Meerut,-250004 (UP)

IAS Coaching in Bareilly

2nd Floor, Jagdish Tower, C/o Jagdish Saran & Co. # 147, Civil Lines, Bareilly-243001 (UP)

IAS Coaching in Jammu

3rd Floor, Sunny Square, Gangyal Highway, NH Plaza, Jammu, (J&K) – 180010

IAS Coaching in Lucknow

7th Floor, Bhavya Corporate Tower, TC-24, Vibhuti khand, Gomti Nagar, Lucknow-226010

IAS Coaching in Hisar

1st Floor, Plot no. 34, Khasar no. 920- 923, Opp sector 15 A, shopping complex, kaimari Road, Hisar, Haryana – 125011

IAS Coaching in Kanpur

2-3rd Floor, 16/79 F, Civil Lines, Kanpur – 208001 (UP)
IAS Coaching in South Zone:
| | |
| --- | --- |
| City | Office Address |
|  IAS Coaching in Mangalore | #15-6-302/13, 2nd Floor, Gold Finch Complex, Bunts Hostel Road, Mangalore – 575003 |
| IAS Coaching in Trivandrum | Unit 12 B, 12th Floor, Bldg No.1, Plot 2, Carnival Infopark, Technopark, Trivandrum – 695581 |
| IAS Coaching in Vijayawada | GEV Radha Madhav, 5th Floor, 60-9-10, Old Pinnamanneni Polyclinic Road, Siddhartha Nagar, Vijayawada – 520010 |
| IAS Coaching in Tirupati | 118, GS MADA Street, 2nd floor, Tirupati, Andra Pradesh, 517501 |
| IAS Coaching in Mysore | 3rd floor, Above Canara Bank, l/SMT, Udayaravi Road, Kuvempunagar, Mysore- 570023 |
| IAS Coaching in Coimbatore | 2nd floor, Senthel Tower, 1078, avinashi road, Coimbatore – 641018 |
| IAS Coaching in Kochi | 4th Floor, Thapasya Building, Infopark, Kochi P.O., Kochi – 682042 |
| IAS Coaching in Madurai | 2nd Floor, Dharshini Tower, 199 Vaigai Colony, Anna Nagar, Madurai –625020 Landmark: Near Ambiga Theatre |
| IAS Coaching in Trichy | A.R.T. Gowri Towers 61/1B2, Amman Nagar, Tanjore main road, Trichy, 620019 |
| IAS Coaching in Pondicherry | No. 33, Good Shepherd, Square, East Cost Road, Ellaipillaichavady, Pudupalayam Village, Pudducherry, 605005 |
| IAS Coaching in Belgaum | Ishaanya building, 3rd floor. Above Airtel office, Goaves, Near Datt Mandir, Belgaum – 590006 |
| IAS Coaching in Davanagere | No 889/4, Siddhi Kusagur Building, Shiva kumar swami badavane, 2nd Stage, Hadadi Main Road Davanagere, Karnataka – 577005. |
| IAS Coaching in Gulbarga | No 1&2, 1st Floor, Next to Toyota Show Room, Ring Road, Badepur Colony, Gulbarga, Karnataka – 585105 |
| IAS Coaching in Hubli | Shop No.FF-101,FF-102 &FF-103, 1st floor, Marvel Artiza, Opp.KIMS, PB Road, Vidyanagar, Hubli |
| IAS Coaching in Kannur | 3rd Floor, Royal Oak Building, Thana, Kannur – 670012. |
| IAS Coaching in Kollam | Varinjam Tower, Residency Road, Chinnakkada, Kollam, Kerala – 691001 |
| IAS Coaching in Kottayam | 3rd Floor, Kosamattam Tower, Nagampadam, Kottayam, Kerala 686001 |
| IAS Coaching in Kozhikode | Unit # 1104, Door # 2/1149, Olavanna Panchayat, 1st Floor, Hilite Business Park, Kozhikode – 673014 (Kerala) |
| IAS Coaching in Palakkad | 1st Floor, Rolla Towers,100 feet road junction, Calicut Bypass, Palakkad,678010, Kerala Land Mark: Near Victoria College. |
| IAS Coaching in Thrissur | ABA Plaza, 2nd Floor, VI/239/6A to 6G, Koorkenchery PO, Thrissur – 68007 |
| IAS Coaching in Anantapur | Ganesham Enclave, 4th floor, Old no:18-177, T.S no. 1924-1 & 1925 Uma nagar, Anantapur, Andra Pradesh – 515001 |
| IAS Coaching in Visakhapatanam | Grand Palace, D. No.: 46-11-16, 1st lane, Dwaraka Nagar, Visakhapatanam – 530016 |
| IAS Coaching in Warangal | 1st floor, Om Jai Govind Complex, 1-7-1079 & 1079/2, Nakkalagutta, Hanumakonda, Warangal, Telangana – 506001 |
| IAS Coaching in Nagercoil | ALMIGHTY TOWERS, No.8A, Distillery Road, Vadasery, Nagercoil – 629 001 |
| IAS Coaching in Salem | 2nd Floor, kandaswarana Mega Mall, 26, Sarada College road, Salem, 636016 |
IAS Coaching in Central Zone:
| | |
| --- | --- |
| City | Office Address |
| IAS Coaching in Bhopal | 2nd Floor, Maple High street, Hoshangabad Road, Opp Ashima Mall, Bhopal – 462026 |
| IAS Coaching in Gwalior | Block # A301, A302, A303, A304, A305, 3rd Floor, Athena, Block A, Behind SP Office, City Centre, Gwalior – 4674011 (MP) |
| IAS Coaching in Ranchi | Unit 302 & 303, 3rd Floor, Pranami Height, Circular Road, Lalpur, Ranchi – 834001 |
| IAS Coaching in Indore | # 301, 10th Foor, C-21 Business Park, Opp. Hotel Radisson, Indore – 452010 |
IAS Coaching in West Zone:
| | |
| --- | --- |
| City | Office Address |
| IAS Coaching in Ahmedabad | 2nd floor, Sun avenue one, Nr. Shreyas Foundation, Manekbug Road, Satellite, Ahmedabad – 380015 |
| IAS Coaching in Surat | 904,905,906,907&908 ,9th Floor, Titanium Business Hub, Surat-Khajod Road, Bhimard, Surat, Gujarat-395017 |
| IAS Coaching in Jodhpur | 5th Floor (Rear Portion) of Solitaire Building, Plot No. 115/3, SPS Road, PWD Colony, Jodhpur-342001 |
| IAS Coaching in Kota | Plot 7, 1st Floor, Aerodrome corcle, Kota Airport area, Gumanpura, Kota, Rajasthan – 324006 |
| IAS Coaching in Aurangabad | Office No. B-9 & B-10, Aurangabad Business Centre, Opp Sessions Court, Adalat Road, Aurangabad, Maharastra – 431001 |
| IAS Coaching in Nagpur | 8th Floor, Wing A (I Park), Vidarbha Infotech Pvt. Ltd, Plot # 28, MIDC IT Park Area, Gayatri Nagar Road, Parsodi, Nagpur – 440022 |
| IAS Coaching in Nashik | Office # 101 to 110, Shree ganesh plaza, on plot no 01, S.no. 609/1, Kute Marg, Bh, Hotel Sandeep, Mumbai naka, Nashik – 422002 |
| IAS Coaching in Rajkot | 1 st Floor, Passport Office Building, Gondal Road, Makkam, Chowk, Shivalik -5, Rajkot |
| IAS Coaching in Udaipur | 3rd Floor, Center Point, Opp. BN College, Udaipur – 313001 (Rajasthan) |
| IAS Coaching in Solapur | 3rd Floor, Goldfinch Pet, Near Chowpad Post office, CTC No 8644/1, Dhangekar Complex, Solapur, MR – 413007 |
| IAS Coaching in Pune | Pentagon 5, 4th floor, A & B Wing, Magarpatta, Cybercity, Hadapsar, Pune 411 028, Maharashtra, India |
| IAS Coaching in Alwar | Plot No 7, Scheme No. 10, Vijay Mandir Road, Near Jain Mandir, Ambedkar Marg, Alwar – 30100 |
| IAS Coaching in Jaipur | Plot # 3, 3rd floor, Shyam tower, Amarapillai Circle, Vaishali Nagar, Jaipur-302021 |
IAS Coaching in East & North East Zone:
| | |
| --- | --- |
| City | Office Address |
| IAS Coaching in Jabalpur | 3rd floor, A wing, Naagal House building, Wright town Jabalpur – 482001 |
| IAS Coaching in Bhubaneswar | 2nd floor & 3rd, E-53, Chandaka Industrial Estate, Infocity, Patia, Bhubaneswar- 751024 |
| IAS Coaching in Guwahati | 3rd Floor Aditya Tower, GS Road, Guwahati, Assam – 781006 |
| IAS Coaching in Raipur | Office No. D-2, 6th Floor, Moti Mahal PALLADIUM, VIP Square, Telibanda, Raipur, Chattisgarh – 492001 |
| IAS Coaching in Kolkata | 12th Floor & 13th Floor, Srijan Tech Park, DN 52, Sector V, Salt lake, Kolkata -700 091, West Bengal, India |
| IAS Coaching in Patna | 3rd Floor, UNO business centre, Opp. Axis Bank, New Patliputra colony, Patna-800013 |
| IAS Coaching in Rourkela | 1st Floor, Gagananand Complex, TCI Chowk, Rourkela, Odisha – 769041 |
Aspirants can also write to us or contact BYJU'S IAS coaching centres for details regarding offline classes.  The centre-wise contact information has been given below: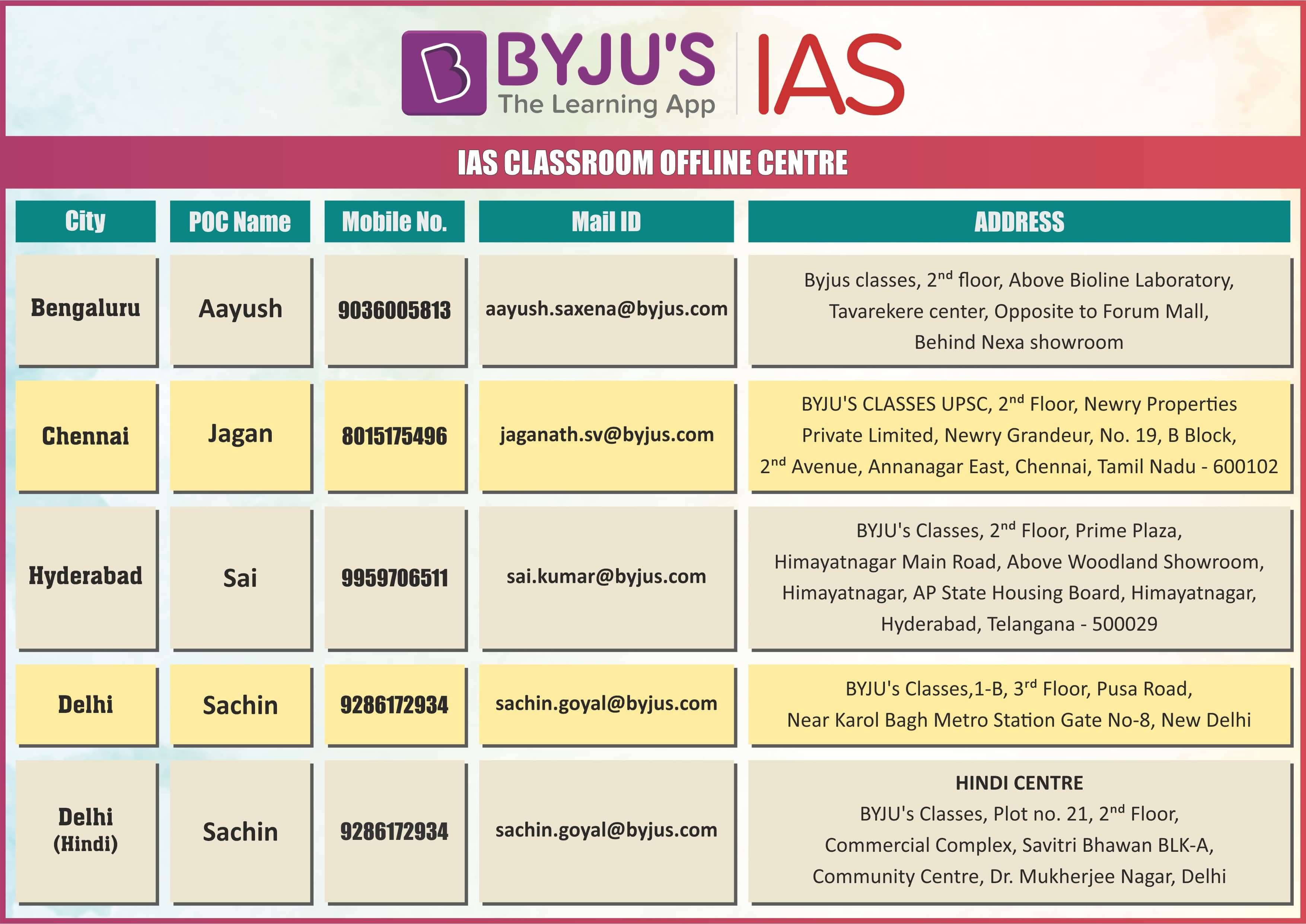 Why choose BYJU'S IAS classroom coaching?
*While the offline classes remain paused, aspirants can visit BYJU'S IAS Online Classroom page for all preparation needs.
10 reasons to choose BYJU'S classroom IAS training program for UPSC exam coaching:
Classes delivered by India's leading IAS mentors
Access to easy-to-understand video lectures enabling you to study anytime, anywhere
Detailed coverage of the IAS exam 2023 syllabus for both Prelims and Mains
Up-to-date intensive focus on UPSC current affairs
Access to student portal with weekly webinars on UPSC current affairs, current affairs monthly magazines for IAS preparation, Gist of Yojana, practice tests, etc.
Live weekly webinar lectures by subject matter experts every Tuesday and Thursday for in-depth analysis of current affairs
Special lectures on the Economic Survey, Union Budget, and the India Year Book. An interactive doubt-clearing session with IAS trainers after each webinar
One-on-one mentoring via a personalised IAS mentorship program to address all student queries and issues. Aspirants are guided through every stage of UPSC preparation by specialists in the field. The IAS Mentors also design a customized study plan and a preparation strategy as per the student's convenience
Comprehensive IAS study material with in-depth coverage of the UPSC syllabus for Prelims and Mains. Sources and reference material include standard books for preparation such as NCERTs and Indian Polity by M Laxmikant, India's Ancient Past by R S Sharma, etc.
Regular module-based tests (both in IAS prelims & mains format), UPSC question paper discussions, personalised analysis and feedback
IAS Coaching 2023
Aspirants who are going to sit for the Civil Services Examination next year shall ideally start their IAS Coaching 2023 from now. However, it depends on the interest of the aspirant to either go for classroom UPSC coaching or online IAS coaching.  With advances in technology, knowledge delivery systems have also evolved. Now, aspirants, especially from non-metro cities, don't have to struggle for quality IAS coaching or UPSC study material.
With online coaching for IAS exam, aspirants can study as per their convenience and all they need is the dedication and a decent internet connection.
Although, BYJU'S provides IAS coaching at your fingertips without even needing an internet connection.
Check out IAS 2023 Tablet Course, which contains:
500+ hours of classes by Delhi based team of India's leading IAS trainers, preloaded in a Tablet
Comprehensive IAS study plan with phase-wise tests at regular intervals
Available in both English and Hindi
250+ chapter wise tests with analysis
Complete coverage of UPSC syllabus for IAS Prelims (GS 1 and CSAT) and Mains 2023
One-on-one Mentoring by experts
Special daily, weekly and monthly modules for UPSC current affairs
Also, it includes a hardcopy of IAS study material & All India Test Series
Students can also check out our Test Series for Prelims and Mains. Attempting regular mock tests and practice exams keep one in touch with the harsh reality of the competition. Also, the objective nature of UPSC Prelims and the essay-descriptive nature of UPSC Mains require different question-solving approaches.
BYJU'S also released an All India Mains Test Series 2020 comprising:
22 tests including 16 modular tests (4 for each GS paper), 2 Essay tests and 4 simulated full-length tests
Essay orientation classes – New Feature
Questions prepared with a special emphasis on current affairs
Paper discussion for all tests
Access to Current Affairs of the past 12 months
Both offline and online modes available
FIRST TWO TESTS ABSOLUTELY FREE – No need to enrol for the entire series
All the above with BYJU's track record of more than 70% questions in UPSC Prelims coming from our study material and test series.
UPSC coaching can be a catalyst for aspirants who find themselves in doubt to begin the preparation. It is going to help them devise a perfect approach for the UPSC exam. Hence, aspirants should not miss any chance of getting guidance through UPSC exam coaching.
Frequently Asked Questions on UPSC IAS Coaching
Q1
Q 1. Why should I choose the BYJU'S  IAS Coaching Centre for UPSC preparation?
Ans. BYJU'S is one of the best coachings for IAS in the country, offering both online and offline study material, expert faculty and assistance, 24×7 support through the tablet program and a high success rate indicating quality education.
Q2
Q 1. Has the IAS Coaching 2023 started at BYJU'S?
Ans. Yes, the IAS coaching batches for UPSC 2023 preparation have started in BYJU'S IAS coaching centres in Bangalore, Hyderabad, Chennai and Delhi.
Q3
Q 2. Do BYJU'S provide IAS online coaching?
Ans. BYJU'S IAS program offers candidates special online features of the UPSC Exam Coaching Institute. Aspirants can get a detailed daily news analysis from The Hindu, NCERT UPSC notes, a summary of Press Information Bureau releases, the gist of Yojana and Kurukshetra magazines, the gist of Economic and Political Weekly. Apart from this, online IAS mock tests and previous year papers are also available.
Q4
Q 3. Which cities offer the best IAS Coaching in India?
Ans. In India, Delhi and Hyderabad are considered the hub for UPSC coaching. Being one of the best in the country, BYJU'S IAS coaching classes are available in Delhi, Hyderabad, Chennai and Bangalore.
Q5
Q 4. What facilities are provided in the BYJU'S civil services coaching?
Ans. BYJU'S provides detailed online and offline preparation material, IAS programs in both Hindi and English, skilful and professional faculty, adaptive teaching methods, classroom and online modes of study.