Nagaland Board of School Education (NBSE) is a board of school education in the state of Nagaland. It is responsible for promotion and development of secondary and higher secondary education in Nagaland. The board is headquartered in Kohima, Nagaland.
The body of Nagaland Board of School Education is composed of a Chairman, ex-officio members, co-opted members and members appointed by the state.
History of Nagaland Board of School Education
Nagaland Board of School Education (NSEB) was set up by the Nagaland Legislative Assembly and initiated its functions from the year 1974 to identify and rectify the various factors that would improve the quality of education in the state. In the year 1975, the board conducted its first HSLCE (High School Leaving Certificate Examination) thus setting a milestone of achievements and vision.
HSLC examination held by NBSE marked a significant development in 1986 with the introduction of centrally coded answer books for central evaluation. To meet the changing challenges in the education system and make education more popular among students, the board adopted the semester system and bifurcated the HSLC examination into Class IX and Class X examination.
Functions NBSE is framed to perform numerous functions.
Giving guidance to the State Government on the development of  school education
Adopting reforms in examinations and evaluation practices
Inspecting schools to ascertain attainment of standards
Organizing seminars, workshops for teachers and heads of institutions.
Objectives of NBSE
The Nagaland Board of School Education is basically instituted to achieve certain objectives such as:
To prescribe courses of instruction for examinations.
To prescribe conditions of examinations, conduct examinations and be responsible for making necessary arrangements for the same.
To publish the results of external examinations.
To prepare the curricula, syllabi and textbooks in accordance with the approved courses of study.
NBSE Notification
Examinations Conducted by NBSE
Higher Secondary School Leaving Certificate (HSSLC) Examination.
Class 11 Promotion Examination.
High School Leaving Certificate (HSLC) Examination
Class 9 Final Examination
JEE (As and when the government directs the Board to conduct)
The HSSLC and HSLC examinations are two years courses which are bifurcated into two-one year course and the examinations are held at the end of each year.
Centralized Examination: The HSSLC and HSLC examinations are conducted in selected centers at the end of Class 12 and Class 10 respectively. The evaluation is centralized and the results are declared through gazette and internet.
Decentralized Examination: Promotion examinations for Classes 9 & 11 are held in the registered institutions of the Board. Question papers are set and supplied to the institution by the Board, while evaluation and declaration of results are done internally by schools/colleges as per the criteria given by the Board.
NBSE Syllabus
The Nagaland Board of Secondary Education provides syllabus for Class 9, 10, 11 and 12. Students should study according to syllabus mentioned below which covers course structure, unit-wise marks, projects, duration of time, practicals, assignments, etc. Knowing the syllabus will help students to score good marks in exam.
NBSE Previous Year Question Papers
Previous year question papers of NBSE Board for Class 10 and 12 help students to get an idea of question paper pattern, section-wise marking scheme, important questions, difficulty level, etc. Solving these previous year question papers will make them understand their preparation level and analyze their weak point and improve it before exam.
NBSE Books
Books are an important study resource for any subject and class. The Nagaland Board of Secondary Educations prescribes textbooks for all classes and subject. These textbooks are designed according to syllabus of respective subject. Each concept in the textbook are explained in simple language with suitable examples, illustrative diagrams and activities.
HSLC Exam Routine 2021-22
Find the latest NBSE Class 10 HSLC Exam Routine 2021-22 below: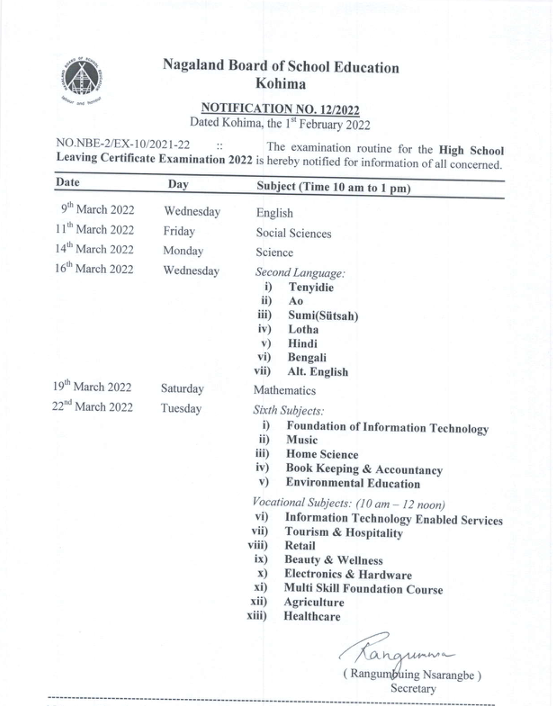 HSSLC Exam Routine 2021-11
Find the latest NBSE Class 12 HSSLC Exam Routine 2021-22 below: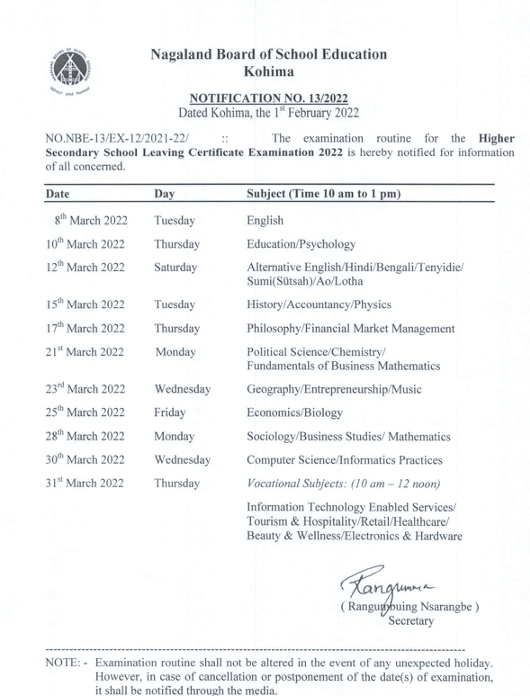 HSLC Exam Routine 2020-21
Nagaland's government announced that the ongoing Nagaland Board Exams 2021 for HSLC and HSSLC examinations will continue, according to the schedule. The examinations are expected to be conducted with strict observance of all the COVID-19 guidelines. However, schools for Classes 1 to 8  are expected to be closed down with immediate effect.
Meanwhile, please find an old schedule of the 2019 Exam. Find the dates below:
| | | |
| --- | --- | --- |
| Date | Day | Subject (Timing- 9am-12pm) |
| 13 – Feb – 2019 | Wednesday | English |
| 15 – Feb – 2019 | Friday | Science |
| 19 – Feb – 2019 | Tuesday | Mathematics |
| 21 – Feb – 2019 | Thursday | Social Science |
| 23 – Feb – 2019 | Saturday | Second Language: Tenyidie/Ao/Sumi/Lotha/Hindi/Bengali/Alternative English |
| 25 – Feb – 2019 | Monday | Sixth Subjects: Foundation of Information Technology/Music/Home Science/Book Keeping & Accountancy/Environmental Education Vo (9 am to 11 am) Information Technology Enabled Service/Travel and Tourism/Retail/Healthcare |
Class 11th Promotion Examination 2019
| | | |
| --- | --- | --- |
| Date | Day | Subject (Timing- 1pm-4pm) |
| 12 – Feb – 2019 | Tuesday | English |
| 14 – Feb – 2019 | Thursday | Geography/Entrepreneurship/Music |
| 16 – Feb – 2019 | Saturday | History/Accountancy/Physics |
| 18 – Feb – 2019 | Monday | Alternative English/Hindi/Bengali/Tenyidie/Sumi/Ao/Lotha |
| 20 – Feb – 2019 | Wednesday | Philosophy/Biology/Financial Markets Management |
| 22 – Feb – 2019 | Friday | Education/Psychology |
| 26 – Feb – 2019 | Tuesday | Political Science/Fundamental of Business/Chemistry |
| 28 – Feb – 2019 | Thursday | Economics |
| 2 – Mar – 2019 | Saturday | Sociology/Business Studies/Mathematics |
| 4 – Mar – 2019 | Monday | Environmental Education |
| 5 – Mar – 2019 | Tuesday | Computer Science/Informatics Practices Vocational Subjects: (1 pm to 3 pm) Information Technology Enabled Services/Travel & Tourism |
HSSLC Exam Routine 2019
| | | |
| --- | --- | --- |
| Date | Day | Subject (Timing- 9am-12pm) |
| 12 – Feb – 2019 | Tuesday | English |
| 14 – Feb – 2019 | Thursday | Geography/Entrepreneurship/Music |
| 16 – Feb – 2019 | Saturday | History/Accountancy/Physics |
| 18 – Feb – 2019 | Monday | Alternative English/Hindi/Bengali/Tenyidie/Sumi/Ao/Lotha |
| 20 – Feb – 2019 | Wednesday | Philosophy/Biology/Derivative Markets |
| 22 – Feb – 2019 | Friday | Education/Psychology/Capital Markets |
| 26 – Feb – 2019 | Tuesday | Political Science/Fundamental of Business/Chemistry |
| 28 – Feb – 2019 | Thursday | Economics |
| 2 – Mar – 2019 | Saturday | Sociology/Business Studies/Mathematics |
| 4 – Mar – 2019 | Monday | Computer Science/Informatics Practices Vocational Subjects: (9 am to 11 am) Information Technology Enabled Services/Travel & Tourism |