NEET Question Paper 2023: Candidates who have appeared for NEET 2023 can access and download their respective code-wise question papers. Doing so can help them analyse and roughly predict their results with some degree of accuracy. Moreover, the solutions which are provided with the question can also aid the students to understand concepts better and reinforce their learning. Aspirants who have been awarded negative marks for wrong answers can now carefully understand how to approach similar questions in the future.
Download PDF
Candidates can freely download NEET question paper 2023 and evaluate their performance. Code-wise papers have been given to make the evaluation process easier. Candidates can click on their respective codes and download the question paper.
You might like: All NEET Previous years question papers
Subject-wise NEET 2023 Question Papers with Answer Keys
You might like: NEET chapter wise previous year questions
NEET Question Paper Analysis – Live Paper Discussion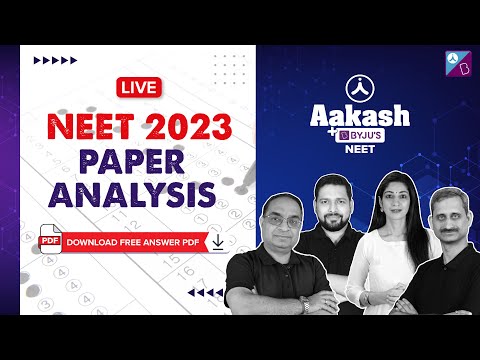 (Disclaimer: NEET 2023 question paper analysis is purely for reference purposes only. The official answer keys will be updated by the NTA on their respective website.)
Frequently Asked Questions on NEET 2023 Question paper
Q1
How hard is NEET 2023?
NEET is one of the most competitive medical entrance exams in India and hence, it is understandably hard. Moreover the number of registrations for NEET increases year by year.
Q2
Is there negative marking in NEET?
Yes, NEET has negative marking. For every incorrect answer, a total of 1 mark is deducted.
Q3
When is NEET 2023?
NEET 2023 is scheduled for May 7th, 2023.