JEE Advanced (formerly known as IIT JEE) is the second phase of the JEE examination and is usually conducted after the JEE Main exam. It is an important test for engineering aspirants (especially for those who are seeking admission in premier engineering institutes such as IITs). JEE Advanced is a computer-based exam and is usually conducted by seven different Indian IITs (Indian Institute of Technology) on a rotational basis. More details of the entrance exam including JEE Advanced 2021 are presented below.
JEE Advanced 2021 Updates
JEE Advanced 2021 that was supposed to be conducted on July 3rd has now been postponed due to the Covid-19 pandemic situation in the country. As per the notification released on the official website the new exam dates will be announced at a later stage.
Education Minister Ramesh Pokhriyal via his Twitter handle has now announced fresh exam dates for JEE Advanced 2021. As per the information provided, the exam will be held on July 3rd, 2021. Additionally, the eligibility criteria have also been revised. 75% eligibility criteria for admissions into IITs has been removed.
In recent developments, candidates who missed the JEE Advanced 2020 exam will be allowed to appear in the entrance exam in 2021. As per the exam authority, they will not be required to qualify JEE Main again to appear in JEE Advanced 2021.
Check Latest Updates Here: JEE Notifications
The details of the JEE Advanced entrance exam are presented below.
JEE Advanced Details
Exam Name:
JEE Advanced
Exam Conducting Authority:
IIT Kharagpur for 2021
Exam Purpose:
Admission to B.E or B.Tech courses
Participating Institutes:
23 IITs and 9 Premier Institutes
Exam Mode:
Computer-Based Online Test
Subjects Covered:
Maths, Physics and Chemistry
Test Duration:
3 Hours (Paper 1 and 2 Each)
Total Marks:
Varies every year
Total Eligible Candidates:
Top 2,50,000 candidates from JEE Main
Counselling Authority:
JoSAA
Available Seats in IITs:
Varies (Total IIT seats available in 2019 was 13,376)
Official JEE Advanced 2021 Notification: Yet to be Released
About JEE Advanced
It is the only gateway for students to land a seat in premier engineering institutes like IITs.
It includes 23 IITs offering around 10,988 seats to eligible candidates.
Apart from IIT colleges, nine other premier institutes offer admissions based on JEE Advanced score, namely, IISC Bangalore, IISER Bhopal, IISER Kolkata, IISER Mohali, IISER Thiruvananthapuram, IISER Pune, IIST Thiruvananthapuram, RGIPT Rae Bareli, and IIPE Visakhapatnam.
The entrance exam consists of two papers – Paper 1 and Paper 2. It is also carried out in two stages (or 'shifts') that are held on the same day. It is mandatory for all the students to appear for both papers in order to be eligible for the merit list. Candidates are granted admissions to various undergraduate courses as well as masters and dual degree programs offered by IITs based on marks scored or ranks secured in the JEE Advanced examination.
JEE Advanced 2021 will be organized by IIT Kharagpur. We are still waiting for the official notification to be released by the exam authority. In addition to the announcement of the exam dates, some new changes will likely be introduced. As far as some of the changes that the exam authority has announced they are as follows:
The eligibility criteria for seeking admission into the Indian Institutes of Technology (IITs) wherein students required to score at least 75 per cent marks in their class 12 exams, has been removed for 2021.
Students who were not able to appear for the JEE Advanced in 2020 due to the pandemic will have a chance to appear for the JEE Advanced 2021 examination.
To know about the specific dates, registration process and application forms, syllabus, exam pattern, results and more, scroll down below.
Previous Year Statistics for JEE Advanced
Examination Year
Eligible Candidates
Registered

Candidates

Appeared

Candidates

Qualified Candidates
2020

2.50 Lakh

160 Lakh

1.51 Lakh

43,204
2019

2.45 Lakh

1.75 Lakh

1.73 Lakh

38,705

2018

2.24 Lakh

1.6 Lakh

1.57 Lakh

31,988

2017

2.20 Lakh

1.72 Lakh

1.59 Lakh

50,455

2016

2 Lakh

1.55 Lakh

1.47 Lakh

36,566
JEE Advanced 2021 Important Dates
The important dates for JEE Advanced are tabulated below. However, as everything is uncertain due to the COVID-19 and lockdown situation that is ongoing in the country, the complete exam schedule or the dates will be updated as and when the official notifications are released. Candidates can watch this space to stay updated on the JEE Advanced 2021 important dates.
Official Notification Release:
To be Announced
Availability of Online Application Form:
To be Announced
Last Date to Submit Online Application:
To be Announced
JEE Advanced 2021 Admit Card Release:
To be Announced
JEE Advanced 2021 Exam Date:
Postponed. To be Announced
[Session I: 9 AM to 12 PM; Session II: 2:30 PM to 5:30 PM]
Display of Scanned Responses:
To be Announced
JEE Advanced 2021 Final Answer Key:
To be Announced
JEE Advanced 2021 Results:
To be Announced
Architecture Aptitude Test (AAT) Online Application Form:
To be Announced
AAT 2021 Exam Date:
To be Announced
AAT 2021 Results:
To be Announced
Seat Allotment:
To be Announced
JEE Advanced Eligibility Criteria 2021
Students who are planning to appear for JEE Advanced 2021 are required to meet certain eligibility criteria established by the exam conducting authority. Candidates who do not fulfil the required criteria are not qualified to appear for the JEE Advanced exam. Therefore, candidates are advised to read the eligibility criteria for JEE Advanced carefully before submitting their application form to avoid any discrepancy in the future. For 2021, the exam authority is yet to release the criteria. We will update here once it is released.
Here are some previous year requirements that students can go through.
The applicant should have born on or after the 1st of October 1995. For the reserved category, the age has been relaxed to 1st of October 1990.
The candidates are allowed to attempt the exam twice in 2 consecutive years 

irrespective of whether or not he/she passed the qualifying exam.

The candidates have to clear and rank among the top 2,50,000 students in JEE Main. The Category-wise distribution of top 2.50 lakh students is explained below.
Category
Number of Selected Candidates
Total Candidates
General
1,08,464 Candidates
1,15,120 Candidates
General PwD
6,656 Candidates
OBC Non-Creamy Layer
57,956 Candidates
61,480 Candidates
OBC Non-Creamy Layer PwD
3,524 Candidates
Scheduled Caste
32,420 Candidates
34,600 Candidates
Scheduled Caste PwD
2180 Candidates
Scheduled Tribe
16,460 Candidates
17,800 Candidates
Scheduled Tribe PwD
1340 Candidates
The candidate is not eligible for JEE Advanced (2020 data) if,
They have attempted JEE (Main) /JEE (Advanced) in 2018 or earlier.
Their admission got rejected in the past.
Was previously admitted to any of the existing IITs.
Accepted an IIT seat in the past by reporting at the reporting centre.
The eligibility criteria to be met by candidates attempting JEE Advanced AAT 2020 are:
The candidates should have attempted and qualified JEE Advanced 2020 examination.
At present only IIT Roorkee and IIT Kharagpur provide admissions into B.Arch courses. Therefore, candidates have to secure the required cutoff for admission.
UPDATE: For JEE Advanced 2021, candidates who qualify for the entrance exam will now be eligible for admissions into IITs and other technical institutions irrespective of marks that they obtain in their class 12 board exams. The admission criteria have been relaxed due to the class 12 board exams being cancelled amid the coronavirus outbreak.
JEE Advanced Application Form and Registration Process
Soon after the declaration of JEE Main results, the conducting authority for JEE Advanced exam will release the application form and other items. For 2021, IIT Kharagpur will be in charge of releasing the application forms and they should be available after the completion of the JEE Main exams. The students have to first register themselves on the official website and then fill the application form. They have to submit the form online along with the application fees. The top 2.50 lakh candidates from JEE Mains will be eligible for the IIT JEE Advanced exam.
We have laid out the steps that can be followed by the students for successful submission of JEE Advanced application form.
Step 1: Log in to JEE Advanced official website using JEE Main date of birth and roll number. If any additional information is required then they have to fill it.
Step 2: After the creation of a new password the applicants will be redirected to the application form page where the details like Personal, Academic, Educational, JEE Mains Application Number, Exam Centre, etc are to be submitted by the candidates.
Step 3: The scanned copy of the below-mentioned documents are to be submitted by the applicants:
Class 10th and 12th Mark sheets
Photographs of the applicant
Left-hand thumb impression
Candidate's Signature.
Caste certificates for Reserved category candidates
Specification for Scanned Documents
Photograph Size – 10 KB to 100 KB
Signature and Thumb impression Size – 5 KB to 30 KB
Certificate Proof Size – 50 KB to 300 KB
Step 4: Next, the applicants have to pay the exam fee through net banking, e-wallets such as PAYTM, UPI, debit card, credit card or through bank challan of SBI.
Step 5: Verify all your details carefully and submit the application form. The candidates are advised to keep the printout of the confirmation page and the fee receipts for future references.
JEE Advanced Registration Fees
Indian Nationals:
General Category Candidates:

INR 2800/-

Female Candidates:

INR 1400/-

Reserved Category Candidates:

INR 1400/-
Foreign Nationals: 
SAARC Country Candidates:

75 USD

Non-SAARC Country Candidates: 150

 USD
While filling the application students have to also have to choose 5 exam centres from an IIT zone. JEE Advanced exam centres are present in 161 cities. Once the centres are fixed, they cannot be changed. The details about the centres will be given on the candidate's admit card.
JEE Advanced AAT Application Form
The application form for JEE Advanced AAT will be released online by the exam authorities in the month of October once the JEE Advanced results are announced. The registration is opened for a brief moment, so the candidates should check the notifications constantly and fill up the application form within the specified time. The main criteria here is that only students who qualify JEE Advanced are eligible for the exam.

JEE Advanced Admit Card
The candidates whose application forms are successfully accepted by the examination authorities will be eligible to download the admit card from the official website. It's mandatory for students to present the admit card in the examination hall. They should also carry an original photo identity proof issued by the government or their college ids.
| | |
| --- | --- |
| Events | Dates |
| Availability of JEE Advanced admit card 2021 | To be Announced |
| Last date to download admit card | To be Announced |
How to download JEE Advanced Admit Card?
Open JEE Advanced official website (jeeadv.ac.in).
Login using registration number, email id, mobile number and date of birth.
Click the Submit Button.
A new window will open displaying your admit card on the computer screen. The students are advised to check their JEE Advanced 2021 admit card thoroughly for any discrepancy. At last, download and take a printout for future references.
The details given in the admit cards include;
Candidate's name
Parents/Guardian name
Date of Birth
Gender
Category of the candidates
JEE Main 2021 Roll Number
JEE Advanced 2021 Roll Number
IIT Zone
Name and Address of Allotted Exam Centre
Centre Code
Date and Time
Candidate's photograph
Candidate's signature
Signature of Chairman
Exam Day Guidelines
If there are any discrepancies in the admit card candidates should immediately inform the authorities. The admit card should be kept safely till the exams and counselling sessions are over. The admit card can be used for JEE Advanced AAT 2021 as well.
JEE Advanced Exam Pattern
Number of Papers:
2 (Paper-I and Paper-II)
Exam Mode:
Computer-Based (Online)
Duration:
3 Hours each for Paper-I and Paper-II (4 hours for PwD candidates)
Shifts:
9 AM – 12 PM, 2:30 PM – 5:30 PM
Number Of Sections:
3 (Physics, Chemistry, Maths)
Number of Questions:
Varies
Question Types:
Multiple Choice Questions (with one or more correct options), Numerical based Questions, Matching List Questions
Question Paper Languages:
English and Hindi
The exam is a computer-based online test and is conducted in two sessions. There are two papers Paper 1 and Paper 2 which contains three sections each. All sections have an equal distribution of questions from Physics, Chemistry, and Maths subjects. However, the examination pattern of JEE Advanced is different from JEE Mains exam where apart from single correct multiple-choice questions other different types of questions such as numerical based questions are asked.
On the other hand, the questions asked in IIT JEE exams are mostly based on the concepts discussed in class 11 and 12 Maths, Physics and Chemistry syllabus. Nonetheless, the exam pattern of JEE Advanced 2021 is an upgraded version where questions are generally a combination of different concepts and it might sometimes appear intimidating and complicated to students.
Types of Questions Asked in JEE Advanced
Section 1 comprises of multiple correct option type questions
Section 2 comprises of Numerical Value type questions
Section 3 comprises of Single Correct multiple-choice questions (Paper 1) and Matching list type questions (Paper 2)
The exam duration for each paper is 3 hours, the total marks allocated is 360 marks and it is conducted in English and Hindi. Also, it is mandatory for students to attempt both papers. Knowing the examination pattern is crucial for candidates as it reveals the structure of the question paper like the types of questions asked and its marking scheme. However, the most prominent feature of JEE Advanced is its unpredictable paper pattern. Practising more and more problems on concepts where students face difficulty is one of the best ways to tackle JEE Advanced.
JEE Advanced Paper 1
Section 1 – 6 multiple correct option type questions carrying 4 marks each
Section 2 – 8 Numerical Value type questions carrying 3 marks each
Section 3 – 4 Single Correct multiple choice questions carrying 3 marks each
JEE Advanced Paper 2
Section 1 – 6 multiple correct option type questions carrying 4 marks each
Section 2 – 8 Numerical Value type questions carrying 3 marks each
Section 3 – 4 Matching list type questions carrying 3 marks each
JEE Advanced Past Question Papers
JEE Advanced 2020 Paper 1 Physics Solutions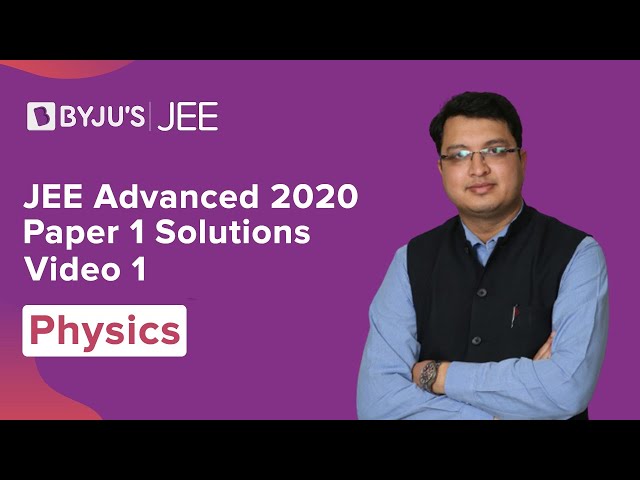 JEE Advanced 2020 Paper 2 Physics Solutions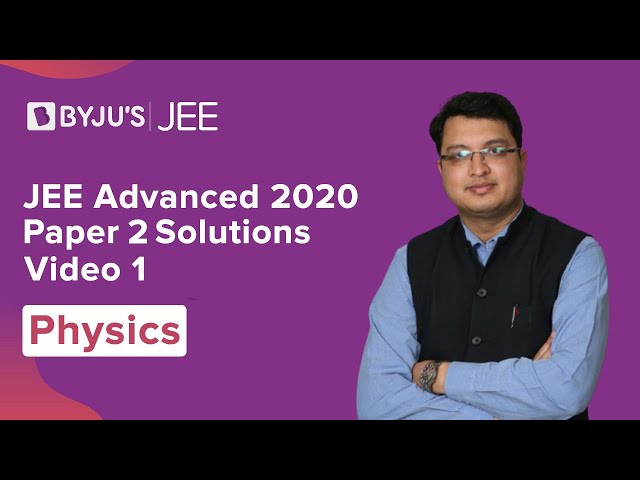 JEE Advanced Marking Scheme
Marking scheme for questions with one or more correct options
+4 if all the marked responses are correct
+3, +2, +1 for partially correct answers, provided any incorrect option is not marked
-2 for Incorrect Answer
No Negative marking for questions left unattempted
Marking scheme for questions with for Numerical Value type answers
+3 for Correct Answer
No Negative marking for incorrect answers or questions left unattempted
Marking scheme for Matching list type and single correct option questions
+3 for Correct Answer
-1 for Incorrect Answer
No Negative marking for questions left unattempted
Similarly, the JEE Advanced AAT pattern is not fixed. Here is an outline of the exam pattern as seen in previous year exams:
Mode of Examination: It is conducted offline
Exam Duration: 3 hours
Language: English
Sections:  Geometrical Drawing, Freehand Drawing, Imagination and Aesthetic Sensitivity, Three Dimensional Perception, Architectural Awareness.
JEE Advanced Syllabus
The syllabus of JEE Advanced is declared by the examination authority. As per reports, JEE Advanced 2021 syllabus will most likely be kept the same as that of the previous year. The syllabus is basically mapped according to the NCERT curriculum and is almost similar to the Mains Syllabus (with a slight difference in the weightage for different topics). Going through the syllabus will help the IIT aspirants to plan and schedule their preparation strategy.
Candidates and students can check the subject-wise syllabus of JEE Advanced from the links given below:
They can also look at some of the important topics for the three subjects (PCM) below.
JEE Advanced Physics Syllabus
| | |
| --- | --- |
| Dimensional Analysis | Gravitation |
| Laws of motion | Capacitance |
| Electric current | Magnetic Fields |
| Electromagnetic Induction | Kinematics |
| Inertia | Fluid Pressure |
| Waves | Thermal Physics |
| Systems of particles | Harmonic motions |
| Electric Fields | Momentum |
| Reflection | Atoms |
| Nuclei | Refraction |
JEE Advanced Chemistry Syllabus
Physical Chemistry
| | |
| --- | --- |
| Energetics | Solutions |
| Electrochemistry | Surface Chemistry |
| Chemical Equilibrium | Nuclear Chemistry |
| Solid State | Atomic Structure |
| Chemical Bonding | Gaseous State |
| Chemical Kinetics | Liquid State |
Inorganic Chemistry
| | |
| --- | --- |
| Ores & Minerals | Qualitative Analysis |
| Properties of Non-Metals | Extractive Metallurgy |
| Preparation of Compounds | Preparation of Non-metals |
| Properties of Compounds | Transition Elements |
Organic Chemistry
| | |
| --- | --- |
| Amino acids | Alkynes |
| Practical Organic Chemistry | Alkenes |
| Phenols | Polymers |
| Carbohydrate | Alcohols |
| Ethers | Carboxylic acids |
| Reactions of Benzene | Alkyl halides |
| Peptides | Ketones |
| Aldehydes | Haloarenes |
JEE Advanced Maths Syllabus
| | |
| --- | --- |
| Quadratic Equations | Logarithms |
| Binomial Theorem | Complex Numbers |
| Matrices | Sequence and Series |
| Trigonometry | Probability |
| Determinants | Permutations |
| Combinations | Differentiation |
| Integration | Continuity |
| Limits | Functions |
| Coordinate Geometry | Inverse Trigonometry |
| Differential Equations | Vectors |
The questions that are asked in JEE Advanced are focused more on testing conceptual clarity and application-based knowledge, therefore, candidates should practice mixed variations of problems from multiple reference books. To crack this exam, they should focus equally on all three subjects. The exam is highly uncertain and questions can be expected from anywhere, therefore, examine your strengths and prepare a suitable study plan based on the topics included in the syllabus.
Best Books For JEE Advanced
A list of books that can be referred to by students preparing for JEE Advanced 2021 is provided below.
Maths: 
NCERT Class XI and XII books

IIT Mathematics by M.L Khanna

Higher Algebra by Hall and Knight

Differential Calculus by A Das Gupta

RD Sharma Class 11 and 12

Trigonometry by S.L Loney
Chemistry:
NCERT Class XI and XII books

Inorganic Chemistry by JD Lee

Numerical Chemistry by P. Bahadur

Physical Chemistry by Wiley

Organic Chemistry by Morrison and Boyd

Inorganic Chemistry by OP Tandon
Physics:
NCERT Class XI and XII Textbooks

JEE Physics by DC Pandey

HC Verma Part I and II

Problems in Physics by S.S Krotov

Physics by Resnick and Halliday

Physics by IE Irodov
It is important for students to choose the right and best books for IIT JEE preparations. They should stick with them throughout the preparations. Avoid referring to multiple books for similar topics as it can lead to confusion between concepts. Analyze your strengths and weaknesses and make an appropriate study plan so that your preparation time can be evenly divided and the entire syllabus can be completed well in time.
JEE Advanced Results
The results are declared by the examination authority who is in charge of the exam for that particular year. In 2021, IIT Kharagpur will declare the results of the JEE Advanced exam tentatively in the 2nd week of June. The results will be published online on the official website comprising of subject wise marks and total marks secured, All India Rank (AIR) and Category Ranks.
How to download JEE Advanced Results?
Log in to the official website using roll number, mobile number, and date of birth.
Click the Submit Button.
The result will then be displayed on the screen.
Calculation of JEE Advanced 2021 Score
As stated earlier it is mandatory for candidates to write both Paper 1 and Paper 2. The marks obtained by candidates in Chemistry, Maths and Physics in both Paper 1 and 2 will be added individually. Candidates have to note that the marks obtained in each subject will be added and the total marks will be determined. For example,
Marks obtained in Physics = Marks obtained in Paper 1 (Physics) + Marks obtained in Paper 2 (Physics)
Aggregate marks/scores of the candidates are then calculated by the exam authorities on the basis of marks secured by candidates in each subject. They will use a formula for the calculation of aggregate marks for JEE Advanced 2021. It is as follows:
Aggregate Marks/Scores obtained in JEE Advanced = Aggregate marks in (Physics + Mathematics + Chemistry)
The aggregate marks that is obtained by the students will be used for the preparation of the final rank list. Students are required to obtain the minimum prescribed marks in each subject and in aggregate for their names to be included in the rank list.
Tie Breaking Policy
Whenever, there is a tie between two or more candidates then the exam authority will use a tie breaker policy for determing the new ranks. The conditions are as follows;
Candidates who have higher positive ranks are awarded a higher rank.
Candidates that have higer marks in Mathematics will be given a higher rank.
If the ties still persists then the candidate with higher marks in Physics will be given a higher rank.
JEE Advanced Counselling
Candidates have to note that IIT Kharagpur is not the authority that will conduct the counselling and allotment of seats for JEE Advanced. Joint Seat Allocation Authority (JoSAA) is in charge of conducting the rest of the activities. Candidates who qualify JEE Advanced will have to first register with JoSAA. Then only they will be able to participate in the counselling process where candidates have to choose their preferred IITs and courses. Seat allotment is done considering the ranks that candidates secure and their preference along with the availability of seats. The application form of JoSAA 2021 should be released after the results are declared.
JEE Advanced Cutoff Marks
The cutoff marks for the entrance exam will be released along with the declaration of results. JEE Advanced cut off marks are the minimum marks required by the candidates for being eligible in the counselling process conducted by Joint Seat Allocation Authority (JoSAA). The students are shortlisted for admissions at IITs based on the cutoff marks and ranks secured in the examination.
What factors determine the cutoff marks for JEE Advanced?
Total candidates eligible for JEE Advanced
Seat Availability in different IITs
The difficulty level of Exam
Total candidates appeared
Last year's cutoff trends
The overall performance of appearing candidates
JEE Advanced Qualifying Marks for 2019, 2018, 2017, and 2016
We have provided category-wise qualifying marks for each subject and overall aggregate for the exam conducted in the year 2019, 2018, 2017, and 2016. The qualifying marks are the minimum marks that the IIT aspirants are required to score in JEE Advanced for admissions in IITs.
Category
Minimum Marks in Each Subject
Overall Least Aggregate Marks

Examination Year

2020

2019

2018

2017

2016

2020

2019

2018

2017

2016

Common rank list

6

10

12

12

13

69

35

90

126

75

OBC NCL

5

9

11

10

12

62

31.5

81

115

67

Scheduled Caste

3

5

6

6

07

34

17.5

45

64

38

Scheduled Tribe

3

5

6

6

07

34

17.5

45

64

38

CRL PwD

3

5

6

6

07

34

17.5

45

64

38

OBC PwD NCL

3

5

6

6

07

34

17.5

45

64

38

Scheduled Caste PwD

3

5

6

6

07

34

17.5

45

64

38

Scheduled Tribe PwD

3

5

6

6

07

34

17.5

45

64

38
JEE Advanced Marks vs Rank
Based on previous years results analysis we have provided an approximate range of JEE Advanced Marks vs Rank. Soon after the exam, the answer keys are released by the examination authority. The candidates after calculating their marks can refer to JEE Advanced Marks vs Rank Analysis to calculate their expected rank range based on the marks secured out of 360.
| | |
| --- | --- |
| Marks Range out of 360 | Expected ranks (Approx) |
| 335 Marks to 308 Marks | 10 to 50 |
| 285 Marks to 279 Marks | 100 to 200 |
| 230 Marks to 224 Marks | 700 to 800 |
| 212 Marks to 209 Marks | 1100 to 1200 |
| 200 Marks to 197 Marks | 1500 to 1600 |
| 191 Marks to 189 Marks | 1900 to 2000 |
| 177 Marks to 175 Marks | 2700 to 2800 |
| 172 Marks to 170 Marks | 3100 to 3200 |
| 163 Marks to 162 Marks | 3900 to 4000 |
| 155 Marks to 154 Marks | 4700 to 4800 |
JEE Advanced Mock Test
The mock test paper for the 2021 exam will be released by the examination authority. The students are advised to practice these test papers sincerely to get acquainted with the computer-based online exam pattern. The JEE Advanced mock test will be of 180 minutes where the candidates will use computers to navigate between the sections and submit their answers. It is one of the best ways to prepare for highly competitive exams like JEE Advanced.
Apart from the mock test, sample papers and previous year's question papers are extremely helpful in understanding the marking scheme, types of questions asked, the difficulty level of exam, time distribution, etc. Students can access the papers from the given links.
Interested candidates can also register with BYJU'S JEE Mock test to get familiar with the exam mode and pattern.
JEE Advanced Answer Keys
Additionally, the exam authority will also release the provisional answer key of JEE Advanced 2021 via its online channel (official website). Students can compare their answers and check the correct answers to all of the questions asked in the exam. They can further calculate their tentative scores using the answer key before the announcement of the official result. More significantly, candidates can also raise objections if they think the answer is different and provide feedback. However, the reason has to be valid. The final answer key will be released by the authorities after all these processes are completed.
How To Prepare Effectively For JEE Advanced?
JEE Advanced preparation demands a well-structured strategy along with possessing analytical, time management, and exam-taking skills. Therefore, students aspiring to strengthen their engineering career with eminent professors and Nobel laureates from India's best engineering colleges are advised to plan their preparations carefully and put in the effort to study competently from the very beginning itself.
In any case, the preparation is quite challenging and it is mainly due to the uncertain paper pattern and the level of competition. To crack JEE Advanced, students should, therefore, learn and master all the concepts included in the syllabus. A doubt can weaken your foundational base, hence, get all your doubts cleared on a regular basis. Also, all your preparations are incomplete without proper revisions. Lack of revision is the biggest mistake committed by the IIT aspirants. Given below are few tips recommended by our experts to boost your JEE Advanced preparations in a significant manner.
Preparation tips for Physics: Physics is purely a conceptual subject. Hence, you need to get your basics strong to score well in this section. For better results, start your preparations from NCERT textbooks followed by reference from other core books. Mostly the questions are framed by the combination of two or more concepts. Therefore, memorize all the important physics formulas for JEE covered in the syllabus and have a strong conceptual base to answer the complex physics problems asked in the exam quite easily.
Preparation tips for Maths: This section asses the problem-solving and analytical skills of students. To excel in this subject the students are required to have a regular and rigorous practice of problems. It's merely impossible to excel in maths by just screening and memorising. Focus more on chapters like vectors, 3D geometry, derivatives, trigonometry, quadratic equations, sequence-series, logarithms, etc. Try to interlink different concepts and create your own shortcut methods to have a better understanding of concepts.
Preparation tips for Chemistry: NCERT textbooks are one of the best books for chemistry preparation. All the chapters covered in the syllabus are explained in the simplest possible ways. Chemistry is more about theoretical concepts, chemical reactions, and equations. Therefore, instead of memorizing the concepts, focus more on understanding the mechanism behind them. Have a strong grip on the periodic table, name reactions, mechanisms, synthesis and chemical compositions as well.
Find more JEE Preparation Tips and Study Hacks by clicking on the link.
List of IITs that Conduct JEE Advanced
The seven IITs that are in charge of conducting JEE Advanced are:
The JEE Advanced exam will be conducted by one of these IITs every year on a rotational basis.
JEE Advanced Exam Centre Codes
Exam Centres under IIT Bombay Zone
Goa:
Madgoan –

101

Panaji – 102
Gujarat:
Ahmedabad – 103

Bhavnagar – 104

Bhuj – 105 

Gandhinagar -106

Rajkot – 107




Surat – 108

Vadodara – 109
Karnataka:
Bengaluru – 110

Dharwad – 111

Gulbarga – 112

Mangaluru – 113

Mysuru – 114
Maharashtra:
Amravati – 115

Aurangabad – 116

Kolhapur – 117

Mumbai – 118

Nagpur – 119

Nanded – 120

Nashik – 121

Navi Mumbai – 122

Pune – 123

Thane – 124

Vasai – 125
Ethiopia:
Exam Centres under IIT Delhi Zone
Delhi-NCR:
Delhi (East) – 201

Delhi (North) – 202

Delhi (South) – 203

Delhi (West) – 204

Faridabad – 205

Greater Noida – 206

Gurugram – 207

Noida – 208

Palwal – 209
Jammu & Kashmir: 
Rajasthan:
Ajmer – 211

Alwar – 212

Bikaner – 213

Jaipur – 214

Jodhpur – 215

Sikar – 216

Udaipur – 217
Nepal:
Exam Centers under IIT Guwahati Zone
Arunachal Pradesh:
Assam:
Guwahati – 302

Jorhat – 303

Silchar – 304

Tezpur – 305
Bihar:
Arrah – 306

Bhagalpur – 307

Bihar Sharif – 308

Darbhanga – 309

Gaya – 310

Muzaffarpur – 311

Patna – 312

Purnea – 313

Samastipur – 314
Manipur:
Meghalaya: 
Mizoram:
West Bengal:
Sikkim:
Tripura:
Singapore:
Exam Centres under IIT Kanpur Zone
Madhya Pradesh:
Bhopal – 401

Indore – 402

Jabalpur – 403
Uttar Pradesh:
Allahabad – 404

Faizabad – 405

Gorakhpur – 406

Jhansi – 407

Kanpur – 408

Lucknow – 409

Varanasi – 410
Exam Centres under IIT Kharagpur Zone
Andaman & Nicobar Islands:
Andhra Pradesh: 
Chhattisgarh: 
Bhilai – 503

Bilaspur – 504

Raipur – 505
Jharkhand:
Bokaro – 506

Dhanbad – 507

Jamshedpur – 508

Ranchi – 509
Odisha:
Berhampur – 510

Bhubaneshwar – 511

Cuttack – 512

Rourkela – 513
West Bengal:
Asansol – 514

Baharampur – 515

Durgapur – 516

Kalyani – 517

Kharagpur – 518

Kolkata (North) – 519

Kolkata (Salt Lake) – 520

Kolkata (South) – 521
Bangladesh:
Exam Centres under IIT Madras Zone
Andhra Pradesh:
Anantapur – 601

Eluru – 602

Guntur – 603

Kakinada – 604

Kurnool – 605

Nellore – 606

Ongole – 607

Rajahmundry – 608

Tirupati – 609

Vijayawada – 610
Kerala:
Alappuzha – 611

Kannur – 612

Kasaragod – 613

Kochi – 614

Kollam – 615

Kottayam – 616

Kozhikode – 617

Malappuram – 618

Palakkad – 619

Thiruvananthapuram – 620

Thrissur – 621
Puducherry:
Tamil Nadu: 
Chennai – 623

Coimbatore – 624

Madurai – 625

Salem – 626

Tiruchirapalli – 627

Tirunelveli – 628
Telangana:
Hyderabad – 629

Karimnagar – 630 

Khammam – 631

Mahabubnagar – 632

Nizamabad – 633

Warangal – 634
United Arab Emirates: 
Exam Centres under IIT Roorkee Zone
Chandigarh: 
Haryana:
Ambala – 702

Bahadurgarh – 703

Hisar – 704

Kurukshetra – 705

Panipat – 706
Himachal Pradesh:
Hamirpur – 707

Mandi – 708

Shimla – 709
Madhya Pradesh: 
Punjab: 
Amritsar – 711

Bathinda – 712

Jalandhar – 713

Ludhiana – 714

Mohali – 715

Patiala – 716
Uttarakhand:
Dehradun – 717

Haldwani – 718

Haridwar – 719

Bhimtal – 720

Roorkee – 721
Uttar Pradesh:
Agra – 722

Aligarh – 723

Bareilly – 724

Ghaziabad – 725

Mathura – 726

Meerut – 727

Moradabad – 728
Sri Lanka: 
List Of Courses Offered By IITs
B.Tech course for 4 Years

Bachelor of Science for 4 Years

Bachelor of Architecture for 5 Years

Dual Degree course B.Tech + M.Tech for 5 Years

Dual Degree course B.S + M.S for 5 Years

Integrated M.Tech course for 5 Years

Integrated M.Sc course for 5 Years