Parents know best | BYJU'S Tuition Centre Experience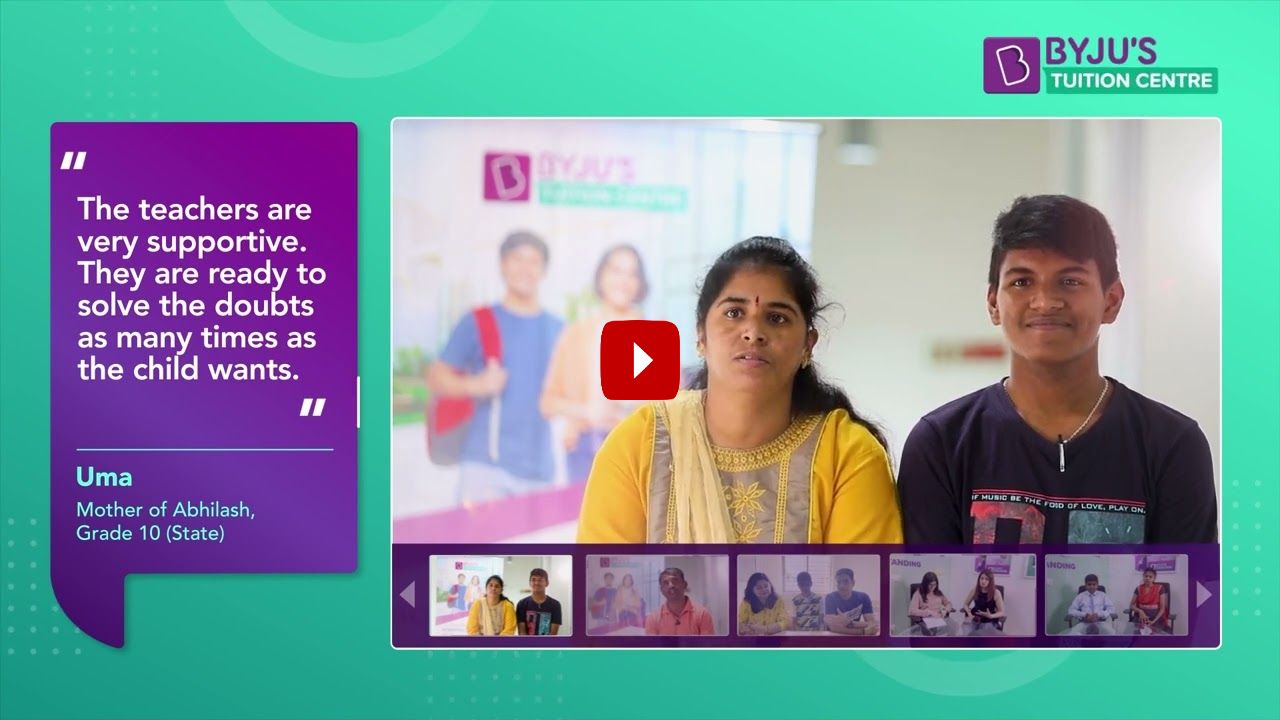 A better future is the outcome of being careful in the present. Great careers are achieved with the help of great academics. BYJU'S Tuition Centres have come up with revolutionising educational standards that will make learning effortless and faster for learners. Our teachers have ample experience in teaching their respective subjects. We provide advanced technological facilities in our classrooms at BTCs like high-tech teaching aids along with comfortable understanding of concepts by learners. We teach Maths and Science for Grades 4-10. Students studying CBSE and state board of Karnataka are both welcome here. For saving time spent by students during travelling, we have set up multiple centres across Hubli. You can find your nearest centre on our BYJU'S Tuition Centre website.
Benefits of BYJU'S Tuition Centre (BTC) - Hubli
We are aware of the different kinds of learning styles adopted by learners during any learning process. We also understand that every student learns at a certain pace. We, at BTCs, design courses and classes for Maths and Science to accommodate inclusive learning in our classes.
BTCs have been set up for the sole reason of exposing quality learning to the maximum number of students. We offer classes at affordable prices so that students do not have to face any hurdles during the learning process.
We do not believe in procrastination. Our teachers at BYJU'S firmly believe that clearing doubts and queries are essential for a student's flawless growth in the field of academics. Doubts are thus resolved on the spot at the centres by our teachers.
Relationships between teachers and students are considered very important for learning at BTCs. Our teachers maintain a cordial relationship with students so that they do not shy away from asking for help at any point of time.
We conduct a lot of interactive activities at BYJU'S to promote confidence in students: through discussions, presentations and brainstorming students learn to share their thoughts, ideas and opinions boldly.
Our centres follow a systematic approach in keeping track of the students' progress. Test results and other kinds of performance reports are analysed regularly. Parents are updated about the student's developments periodically.
We want your child to be safe and mentally at their best during classes. We offer both online and offline classes to facilitate ease and comfort for students.
BYJU'S Tuition Centres in Hubli hope to make effortless learning a possibility for your child.