BYJU'S IAS PROGRAM
Classroom Foundation Program (Prelims cum Mains) –
Comprehensive coverage of GS syllabus for prelims and mains
An all-inclusive study plan customized to suit your requirements
A complete set of study materials designed by subject experts including standard books essential for preparation
CSAT module coverage
Webinar lectures on current affairs topics' analysis
Includes extra classes for answer writing module with special emphasis on essay writing
Periodic tests for evaluation of preparation
Personality development program focusing on a student's training for interviews
IAS Tablet Program –
Access to the best lecturers anytime and anywhere
500+ hours of lectures in pre-loaded in a tablet
Extensive study material including standard books indispensable for preparation
An all-inclusive study plan customized to suit your requirements
Dedicated mentorship helpline to resolve all your queries and help you with the preparation strategy
Webinars for CSAT module coverage
Daily News Analysis Videos
All India Prelims and Mains Test Series to evaluate your ranking among the peers
Prelims Test Series –
28 tests including 23 sectional tests (17 GS and 6 CSAT) and 5 full length tests
Comprehensive coverage of entire prelims syllabus
Micro-level analysis and All-India rank after each test
Special Coverage of all the important sources such as: NCERTs, India Yearbook, Economic Survey, Budget, Yojana ,Kurukshetra, Science Reporter
Main Test Series –
Main test series for 2019 will start in the 1st week of July and will include 15 subjective papers as per the UPSC pattern. All the papers will be evaluated by our IAS experts and a detailed feedback will be provided along with the model answers.
Includes 13 tests- 8 topic-wise tests, 4 full length papers and 1 essay paper
Model answers for all the tests
Paper analysis and discussion after each test
Answers evaluation by our IAS experts with detailed feedback
WHY IS BYJU'S INDIA'S NO.1 CHOICE FOR IAS PREPARATION?
BYJU'S IAS Prep Program started in 2011 and over the years we have been able to expand our content and adapt our style of teaching successfully. Our results speak for themselves. Many of our students find their names among the top rank holders year after year in the IAS exam.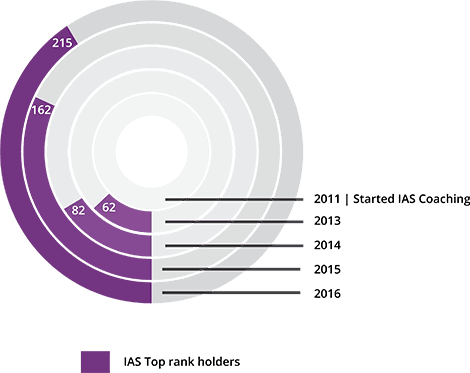 IAS SUCCESS TALES
The IAS content of BYJU'S is probably the best in the country. Exceptional teachers, excellent content and effective presentations! Thanks BYJU'S for an amazing learning experience.
Thanks BYJU'S- you have helped me crack IAS. The video lessons on reasoning skills and verbal comprehensions were super helpful. In fact, the mock interview sessions by the experienced bureaucrats boosted my confidence a lot. Taking up BYJU'S for my IAS prep has been the best decision ever.
I cracked IAS in my very first attempt! And the credit goes to BYJU'S IAS program. Thank you BYJU'S.
Innovative learning techniques backed by exceptional teachers at BYJU'S makes IAS prep very easy. I cracked IAS in the first attempt and big thanks to team BYJU'S for this.
Amog Gopinath –Rank 171
Neha Jain, AIR 12, UPSC CSE 2014
Aastha Suman – Rank 331, CSE 2016 (Law Optional, First Attempt)
Prabanajan Parthak, All India Rank 137 in UPSC civil services examination 2016
ABOUT UPSC
CIVIL SERVICES EXAMINATION
Civil Services Examination is one of the exams conducted by the UPSC among others as mentioned above.
The Civil Services Exam offers a single window entry into the Group 'A' and Group 'B' Services and the candidates who clear the exam will be allotted a service on the basis of their marks and ranking. Once a candidate is assigned to a service, they will be appointed to various posts under a specific service, or be allotted an assignment with another department of another service.
INDIAN ADMINISTRATIVE SERVICE (IAS)
The Indian Administrative Service (IAS) is an all India administrative civil service; IAS officers have significant and strategic positions in the Union Government, States and public-sector enterprises. IAS is the permanent bureaucracy in India. India being a country that follows the Parliamentary system of government, the bureaucracy forms an inseparable part of the executive branch of the Government and provides stability and objectivity to the administration.
Unlike other services, once a candidate is selected to Indian Administration Service (IAS) or Indian Foreign Service (IFS), its cadre can be recruited by both the Union Government and the different states.
An IAS Officer is given the administrative command of the complete revenue administration in the district as District Collector after 4 years of services. An IFS Officer represents the Government of India at the international level in bilateral and multilateral negotiations.
At several levels of administrations, IAS Officers play significant roles like conducting free, rational and smooth elections in Indian under the guidelines of Election commission of India and states, which is an autonomous constitutional authority.
UPSC 2019
The UPSC civil services exam 2019 is scheduled to commence on 2nd June 2019. If you aspire to serve your country by being part of the prestigious civil services, what are you waiting for? Become a part of the BYJU'S family and take your IAS exam preparation into high-octane mode!