BYJU'S IAS Coaching Academy is your one-stop destination for the most comprehensive and result-oriented preparation for the upcoming Civil Services Examination.
In this article, aspirants can find all the details pertaining to our IAS Coaching Centres in New Delhi. India's capital city is the hub of IAS coaching institutes in the country. Aspirants from all parts of the country flock to Delhi with hopes and dreams of becoming one of the chosen few in India's elite bureaucracy.
At BYJU'S IAS Coaching Academy in Delhi, aspirants can rest assured that one-on-one attention will be given along with 24*7 support and mentorship. All enrolled students will be provided with Tablet (7 inches or 10 inches) with video lectures and regular Current Affairs updates.
There are many reputed UPSC coaching centres in Delhi, however, at the end of the day, what matters is the perseverance and dedication of the individual. Coaching is not essential for clearing the Civil Services Exam but able guidance and selection of the best study material is definitely essential.
In recent years, IAS toppers have remarked on the importance of aligning current affairs with the UPSC Syllabus for Prelims and Mains. The syllabus is vast and requires aspirants to cover many topics in significant depth and range. This makes it difficult for candidates to structure and prepare a study plan which will be suitable for both Prelims and Mains.
The IAS Exam is widely considered to be one of the toughest exams in the world. That being said, it is surely not an impossible task to ace the exam. Our IAS Coaching Academy in Delhi brings together all the resources and facilities that an aspirant needs to face this daunting exam.
Aspirants looking for best ias preparation coaching in Delhi can take a look at our IAS Academy where they can find personalised mentorship regarding studying from the right sources, taking mock tests for both prelims and mains, keeping a close tab on current affairs material, practising answer writing and most of all, having a detailed preparation plan and sticking to it.
IAS Toppers in recent years have been from a wide variety of background, educational history and choice of optional subjects. Our experienced faculty and advisory board are experts in identifying the innate strengths of individual aspirants, including working professionals, and then guiding them towards the goal. Aspirants looking for best IAS preparation in Delhi can check the relevant details on this page.
The specific details of BYJU'S IAS Coaching in Delhi can be found in the table below. Both Hindi and English medium coaching is available.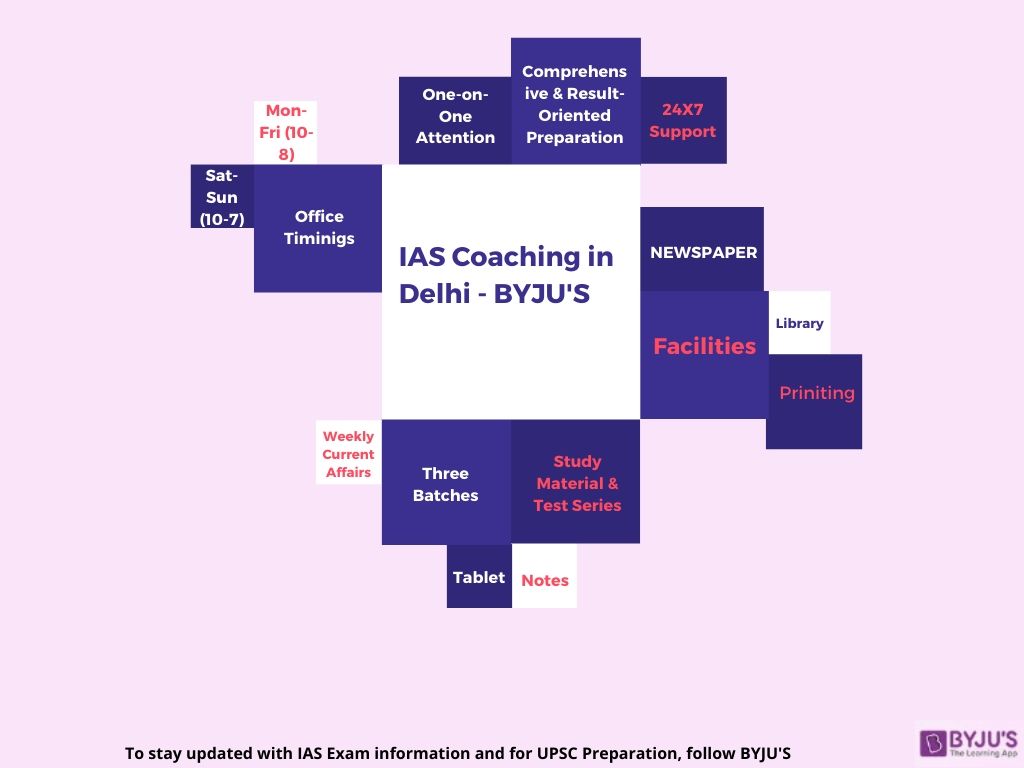 Details of IAS Coaching Academy in Delhi
Batch Timing

BYJU'S UPSC Coaching Centre in Delhi is currently running three batches

Karol Bagh Center-

Weekdays (English) – Morning Batch (07:00 AM to 09:30 AM)
Evening Batch (05:00 PM to 07:30 PM)
Weekends (English) – Saturday (03:00 PM to 08:00 PM)
Sunday (09:00 AM to 08:00 PM)

Mukherjee Nagar Center-

Weekdays (Hindi) – 02:00 PM to 04:30 PM
Weekdays (Hindi) – 05:00 PM to 07:30 PM

Study Material & Test Series

1 Tablet (either 7 inches or 10 inches)
17 GS + 1 CSAT Book materials with contents from Authors like Laxmikant, Bipin Chandra, RS Sharma, etc & compiled by BYJU'S
Personalised Notes from Faculties & Experts (Hand-written/Printed) will be given to the Students before the Classes commence.
Weekly Current Affairs updates (provided every Saturday/Sunday)
Monthly Schedule will be given to the students for suitable planning.
All India Prelims & Mains Test Series – An exclusive schedule covering CSAT & GS Papers will be followed which consists of 20+ Test for both Prelims & Mains and rankings will be provided on the same.
Added to this, Weekly Test (1 Hr Duration) – On the Portions Covered (both Subjective & MCQ's) conducted every Wednesday/Friday.

Facilities

Newspapers – The Hindu, Indian Express and monthly magazines (available for study at the centre only)
Library – The stock contains more than 200 books which are needed for the UPSC exam
Printer is provided to make copies.

Advisory Board

SN JHA (IAS Retd. Former Chief Secretary, Bihar)
CNS Nair (IAS Retd. Former Secretary to Govt of India)
AK Puri (IPS Retd. Former DGP, Himachal Pradesh)
Arun Kumar Mago (IAS Retd. Former Chief Secretary, Maharashtra)
BL Vohra (IPS Retd. Former DGP, Himachal Pradesh)
BS Lamba (IAS Retd. Indian Envoy to UNA)
AK Rastogi (IAS Retd. Former Secretary to Govt of India)
Vineet Ohri (IRS, Retd. Former Chief Commissioner, Customs & Excise)
A. K. Rastogi (IAS Retd., Former Secretary to Govt. of India)
G. Subba Rao ((IAS Retd., Former Chairman Gujarat State Police Complaints Authority)
Vishrut Abhinna (IAS Retd., Former Additional Controller, Ministry of Defence)
Dr Noor Mohammad (IAS Retd., Former Secretary, National Disaster Management Authority)

Fee

English Classroom: Rs 160000+ Tablet cost
Hindi Classroom: Rs 95000+ Tablet cost

Office Timings

Monday to Friday – 10 AM to 8 PM
Saturday & Sunday – 10 AM to 7 PM

Address

English – 1B, Third Floor, Gate No.8 Metro Station, Pusa Road Behind Karol Bagh, North Extension Area, Rajinder Nagar, New Delhi, Delhi 110060

Hindi – Plot no. 21, 1st Floor, Commercial Complex, Savitri Bhawan BLK-A, Community Centre, Dr. Mukherjee Nagar, Delhi

Phone

For IAS Coaching (English) – 09873643487

Hindi – 09205881869
Benefits of Best UPSC Coaching in Delhi
Candidates who prefer IAS coaching as a source of UPSC preparation, will have the following benefits:
They will have a mentor who is a perfect guide for the UPSC Coaching
If aspirants are ever in doubt related to any subject, they always have 24X7 support of the faculties.
A tablet with all uploaded video-sessions on each subject is provided to the aspirants for the UPSC coaching in Delhi.
An aspirant gets an access to a library which is stocked up with more than 200 books. Hence, all the resources are accessed in one place.
For tests, exam like environment is provided to the candidates in the IAS coaching in Delhi, where they can learn to take tests and score well.
These are one of the few benefits that an aspirant get in UPSC coaching in Delhi.
Civil Services Coaching in Delhi – Things to Remember
There are multiple things that one must keep into consideration while opting for the best IAS Coaching in Delhi for exam preparation. Discussed below are a few key factors that must be kept in mind while finalising your one stop UPSC coaching in Delhi:
Regular classes must be conducted and proper notes must be provided for exam preparation
Best IAS coaching should also mean the best faculty to study from. This is another point which must be kept into consideration
The UPSC coaching in Delhi should have easy access of video lectures through their online portals or tablet programmes
Presence of experts and assistance from them must also be provided for clearing doubts
The civil services coaching that you opt for in Delhi must also take regular tests to apprehend the candidate's progress and preparation status
IAS Exam preparation in Delhi (Locations)
Location For IAS Hindi Classes
Request Call Back
Frequently Asked Questions on IAS Coaching in Delhi
What are the facilities in IAS Coaching in Delhi?
BYJU'S offers comprehensive guidance on the IAS Exam preparation. Classroom teaching, one-on-one attention, tablet, notes and test series are a few examples of facilities that an aspirant get in IAS coaching in Delhi.
What is the fee for IAS Coaching in Delhi?
The fee for IAS Coaching in Delhi is between Rs 95000/- to Rs 160000/- plus the Tablet costs. For more details, call on 09873643487 or 09205881869
Is coaching essential for success in the IAS Exam?
No, there have been many IAS Toppers who have cleared the exam without any dedicated coaching. However, the right guidance along with perseverance and diligence is essential. Aspirants can check our Free IAS Preparation page for books, notes, notifications and more.
How to choose the best UPSC coaching in Delhi?
Candidates must look for civil services coaching in Delhi which conduct regular classes; have a strong background of successful past results; provide easy access to notes, online classes and video lectures and has the best faculty.
Related Links: