UPSC CAPF 2020 – The  UPSC CAPF notification 2020 to be announced after 5th June 2020. UPSC, on 20th May, has notified that after assessing the situation amid Coronavirus pandemic; it will announce the new dates for CAPF 2020 exam notification. Earlier the notification for CAPF 2020 was expected to release on April 22, 2020.
UPSC CAPF 2019 update – The UPSC CAPF 2019 result released by the Commission on October 18th, 2019. The UPSC CAPF Exam 2019 was scheduled on August 18th, 2019.
UPSC CAPF 2018 update –  UPSC has released UPSC CAPF Assistant Commandant 2018 exam merit order result (reserve list) on May 8th 2020. The detailed notice is given below: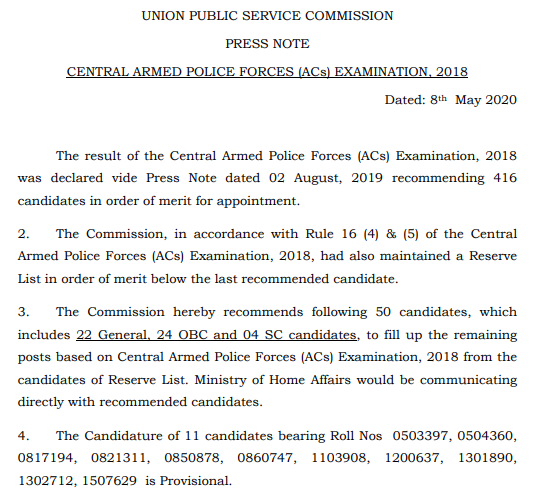 Candidates can download the UPSC CAPF 2018 Assistant Commandant Merit Result from the PDF link given below:
UPSC CAPF AC 2018 Merit Result PDF:-Download PDF Here
CAPF stands for Central Armed Police Force. The conducting body of CAPF exam is Union Public Service Commission. The Central Armed Police Force exam recruits Group A and Group B officers in the seven security forces of India. CAPF exam is going to be conducted to recruit the CAPF Assistant Commandants (Group A) Officers.
Table of Contents:
CAPF Recruitment & Notification
CAPF Syllabus and Exam pattern
UPSC Notification 2020
UPSC shall release the Detailed Application Form for the CAPF exam on April 22, 2020 (tentatively) to fill the post of Assistant Commandants in Central Armed Police Force.
The Central Armed Police Force is a unified name of the seven security forces in India authorized under the Ministry of Home Affairs. Therefore, the recruitment done in UPSC CAPF exam fills in various posts vacant in the seven security forces.
Read more on UPSC CAPF Recruitment in the linked article.
Some important links for UPSC CAPF 2020 Preparation are given below:
Since the UPSC CAPF notification 2020 is yet to release, candidates can refer to the 2019 notification.
UPSC CAPF Notification 2019:- Download PDF Here
The seven security forces under CAPF is as follows:
CISF- Central Industrial Security Force is a premier multi-skilled security agency that provides security cover to nuclear installations, airports, seaports, space establishments, power plants, sensitive Government buildings and heritage monuments.Through UPSC CAPF exam, CISF will fill in 28 vacancies of CAPF Assistant Commandant Officer.For more details on the UPSC CISF Assistant Commandant exam check the linked articles.
BSF: BSF full form is the Border Security Force. Itis a paramilitary force that guards India's land Border during peace-time and prevents transnational crime.Border Guarding Force of India is recruiting 100 Central Armed Police Force AC Group A officer through UPSC CAPF exam. For detailed information on BSF recruitment check the linked article.
CRPF: CRPF full form is Central Reserve Police Force. It was known as Crown Representative's Police. It became CRPF after the enactment of the CRPF Act on 28 December 1949.CRPF is recruiting 108 Assistant Commandant Officer through UPSC CAPF exam. Dive deep into UPSC CRPF recruitment details over here.
ITBP: Indo Tibetan Border Police Force personnel are deployed on border guarding duties. The number of vacancies CAPF AC recruitment 2020 will fill in Group A vacancies in ITBP shall be mentioned in the official notification.Read about UPSC ITBP Assistant Commandant exam in detail.
SSB: The full form of SSB is Sashastra Seema Bal. Itis Indian Central Armed Police Forces that provide security in border areas, prevent trans-border crimes, unauthorized entry into the territory of India and perform other duties assigned by the Ministry of Home Affairs, Government of India.SSB has also invited online application through UPSC CAPF exam notification 2019 to recruit 26 CAPF AC officer. Check the detail information of the SSB recruitment for Assistant Commandant exam 2019 in the link given.
NSG: National Security Guard is a Federal Contingency Deployment Force to deal with anti-terrorist activities in all its manifestations.NSG commandos are an elite force, specially trained and equipped to be used in exceptional circumstances such as any serious act of terrorism.
AR: The full form of AR is Assam Rifles. It is the oldest Central Paramilitary Force in India. The personnel in Assam rifles are recruited mainly to guard the plains of Assam region from the unruly tribes inhabiting in the surrounding hills.
Until the 2020 notification is released, aspirants can check the distribution of vacancies for 2019 recruitment. As per the UPSC notification 2019, a total of 323 CAPF Assistant Commandants (Group A) officers were recruited in the following security forces in India:
CAPF Assistant Commandants 2019 vacancies
Security Forces
Number of Vacancies 
CRPF
108
BSF
100
CISF
28
ITBP
21
SSB
26
Total
323
Online Application for UPSC CAPF Exam:
Candidates who wish to be recruited as CAPF AC -Assistant Commandant Officer have to fill the DAF online for CAPF exam 2020 on the official UPSC website.
Candidates must ensure that the application of UPSC CAPF exam is complete in all respects like details of the applicants, photograph, signature, examination centre, fee etc.
Before filling in the application form candidates must ensure to fulfil the CAPF eligibility criteria prescribed in the notification released.
UPSC conducted the written CAPF Assistant Commandant Exam on August 18, 2019, as per the examination rule published by the Ministry of Home Affairs.
Given below are the tentative UPSC CAPF exam dates 2020:
UPSC CAPF Exam Dates 2020

Official Notification

April 22, 2020

Online Application

April 22, 2020 to May 12, 2020

UPSC CAPF Written Exam Admit Card

July 17, 2020

UPSC CAPF Written Exam

August 9, 2020

UPSC CAPF Written Exam Result

September 2020

UPSC CAPF Admit Card for Physical & Medical Examination

November 2020

UPSC CAPF Interview

January 2021
Scroll down to check important dates of UPSC CAPF examination 2019.
UPSC CAPF Assistant Commandant Exam Important Dates

Opening date of Registration

24 April 2019

Closing date of Registration

20 May 2019

Last Date of online application submission 

21 May 2019

Download Admit card

31 July 2019 

UPSC CAPF Exam date

18 August 2019 

UPSC CAPF Result date

October 18, 2019

DAF- Window activation date

30 October 2019 to 13 November 2019
UPSC CAPF Exam Calendar 2019-20:-Download PDF Here
UPSC Fee Structure- CAPF Exam
Candidates who wish to apply for the UPSC CAPF AC exam can pay by both online and offline mode. Fee once paid is not refundable in any case, neither can be reserved for further examinations.
CAPF Exam Fee structure is given below:
| | |
| --- | --- |
| Categories | Amount |
| General/OBC | 200 |
| SC/ST and Women of all category | Exempted from payment of fees |
UPSC CAPF Admit Card 2020
Candidates can download their UPSC CAPF Admit Card from 24th July 2019. Last date to download the CAPF admit card is 31st July 2019.
To download Central Armed Police Force Assistant Commandant 2019 Admit Card candidate have to provide their valid credentials.
Below are the instructions for downloading the UPSC CAPF Admit Card 2019:
Candidates are required to go to the official website of UPSC to download the CAPF Admit card. (https://upsconline.nic.in)
In the login page, they have to select either of the modes: registration Id Or roll number mode.
Candidates have to provide the following details accordingly-
For Registration Id
For Roll Number
Registration Id

Date of Birth

Captcha Code

Submit icon

Roll Number

Date Of Birth

Captcha Code

Submit Icon
After providing their valid credentials candidates will successfully download their UPSC CAPF Admit Card 2020.
UPSC Eligibility Criteria- CAPF AC Exam
Candidates applying for the CAPF exam 2020 should ensure that they fulfil all the CAPF eligibility conditions applicable.
The admission of candidates at all the stages is purely provisional subject to satisfying UPSC eligibility criteria for CAPF exam.
Eligibility conditions are verified with reference to original documents only after the candidate has qualified the Interview round.
Candidates have to satisfy the following to qualify the CAPF eligibility criteria:
UPSC Eligibility criteria for CAPF Assistant Commandant Exam 2020
Nationality
Any Male or Female who is a citizen of India.
UPSC Age limit for CAPF AC exam
Minimum Age is 20 Years;

Maximum Age is 25 years;

UPSC Age limit relaxation for CAPF AC exam
SC/ST: 5 years

OBC(reservation applicable): 3 years

Ex-servicemen/Civil Central Government Servants: 5 Years

J&K Domiciled: 5 years

Educational Qualification
A bachelor's degree from any Government recognised University Or Deemed to be University
However, the above-mentioned eligibility criteria have certain conditions. You can know the detailed UPSC CAPF eligibility criteria for Assistant Commandant exam 2019 in the link given.
CAPF Syllabus and Exam Pattern
Mere qualifying the CAPF eligibility does not mean candidates have qualified the exam.
Candidates applying for UPSC CAPF exam must be thorough with the Assistant Commandant Syllabus and CAPF exam pattern.
CAPF Assistant Commandant exam is scheduled to be conducted on 9th August 2020.
The written examination to be conducted by UPSC will comprise two Papers in both English and Hindi language.
Paper-I in CAPF exam will have Multiple Choice Questions carrying 250 marks and Paper-II will be subjective type holding weightage of 200 marks.
Post the qualification of paper-I and paper-II candidates will be called for Physical efficiency test.
Candidates declared qualified in PET test will be called for final Interview round carrying 150 Marks.
Given below is the time slot for CAPF Assistant Commandant exam 2019 for the reference of candidates:
Paper-I – from 10 a.m. to 12 p.m. noon
Paper-II from 2 p.m. to 5 p.m. evening
UPSC CAPF Syllabus and exam pattern is as follows:
Slots
Syllabus
Marks
Paper-I (10am-12pm)
General Ability and Intelligence
Objective type; 250 marks
Paper-II (2 pm- 5 pm)
General Studies, Essay and Comprehension
Subjective type; 200 marks
Physical Efficiency Test
–
Candidates who qualify the above two
Personality test/Interview
–
150 marks
The commission at its discretion will fix the minimum qualifying marks separately for each paper.
Marks of Paper-II will be evaluated only for those candidates who obtain the minimum qualifying marks in Paper-I of CAPF Assistant Commandant Exam.
Read about the CAPF Syllabus in detail in the linked article.
CAPF Preparation and Strategy
Now that you are well aware of UPSC CAPF Syllabus for Assistant Commandant post, here is a breakdown for the Paper-I and Paper-II preparation.
UPSC CAPF preparation tips:
General Ability and Intelligence paper i.e. Paper-I comprise general mental ability, current events, general science, Indian economy and Polity, Indian History and Geography of India and World.
For General Ability besides data interpretation candidates have to be thorough with quantitative aptitude, logical reasoning, and numerical ability.
All the national and international events should be on fingertips for the current events section.
Being thorough with the legislative, executive, judiciary system and political system of India will help you clear the Indian polity and economy section easily.
For Paper-II the essay writing is very important and carry more weightage. Candidates are suggested to increase their language proficiency for essay and comprehension section.
The linked article will abreast you with detailed tips and strategies on UPSC CAPF preparation.
About CAPF Exam
CAPF full form is Central Armed Police Force. CAPF is the unified name of the seven security forces in India under the authority of the Ministry of Home Affairs.
The Seven Security Forces are as follows:
CRPF – CRPF full form is Central Reserve Police Force
BSF– BSF stands for Border Security Force
ITBP– is known as Indo-Tibetian Border Police Force
SSB– full form of SSB is Sashastra Seema Bal
NSG– NSG full form is National Security Guard
CISF- full form of CISF is Central Industrial Security Forces
AR- AR stands for Assam Rifles
CAPF is mandated with the responsibility of enabling the Government of India to effectively and efficiently maintain public order, legal rules and regulations, and internal security.
CAPF is also entrusted to preserve integrity, promote social harmony and development on a national level by placing service and loyalty above self.
UPSC is the body that conducts CAPF exam to recruit for various Group A and Group B posts in the above-mentioned security services of the country.
UPSC has released the official notification for CAPF Exam 2019 to recruit 323 Assistant Commandants in CAPF.
The Highlight of the UPSC CAPF Exam is Given Below:
Central Armed Police Forces (Assistant Commandant) Exam 2019
Release Of UPSC Notification
24 April 2019
Date of CAPF exam
18 August
Duration of the AC exam
One Day; Two slots
Mode of CAPF exam
Written; Phase-I and Phase-II; 2 hours each
Last date to download CAPF Admit Card
31 July 2019
DAF Availability
30 October 2019 to 13 November 2019

Frequently Asked Question – UPSC CAPF – Central Armed Police Force
Q.1. Who can apply for CAPF 2020?
Ans. Candidates possessing a Bachelor's Degree from a recognised university in any discipline can apply for UPSC CAPF 2020 exam. The detailed CAPF Eligibility related to Age limit, qualification and other criteria can be found on the link given.
Q.2. What are the different forces under CAPF?
Ans. Seven Security Forces of India are covered under CAPF, namely, Border Security Force, Central Industrial Security Force, Assam Riffles, Central Reserve Police Force, Indo Tibetian Border Police, Sashastra Seema Bal and National Security Guard. Know about them in detail.
Q.3. Which force is the best in CAPF?
Ans. Central Reserve Police Force – CISF is the best force among all under CAPF. Earlier it was known as Crown Representative's Police. It became CRPF after the enactment of the CRPF Act on 28 December 1949. Know more about
CRPF
here.
Q.4.Is there a negative marking scheme in UPSC CAPF examination?
Ans. Yes, the Paper I of CAPF written exam has the negative marking of 1/3 marks that means for each wrong answer, 33% of marks assigned to that will be deducted as a penalty.
Q.5. How many times does UPSC conduct CAPF exam?
Ans. CAPF exam is conducted by UPSC once every year. The CAPF exam process takes more than one year to complete.
Q.6. What is the UPSC CAPF Exam Cycle?
Ans. The official Notification of CAPf is issued by the Union Public Service Commission UPSC in the month of April and the final CAPF result is declared in the next year September month.
Q.7. Is the Assistant Commandant recruited through CAPF examination a Gazetted Officer?
Ans. Yes, the candidates recruited as Assistant Commandant directly through the CAPF exam is a Gazetted Officer. The candidate will be the commanding officer of an armed force unit.