The correct approach and strategy is the key to qualify any competitive exam that a candidate aspires to crack. 
In this article, we will discuss in detail the major competitive exams conducted in the country, along with the preparation strategy, syllabus, important topics and evaluation of these examinations.
For latest notifications regarding the upcoming competitive exams, candidates can visit the linked article.
Before moving forward and learning more about the correct approach for preparation and tips to successfully crack the exam, it is important for an aspirant to know why the Government sector is highly sought for growth and career prospects.
Interested aspirants can also know more about the various Government exams at the linked article.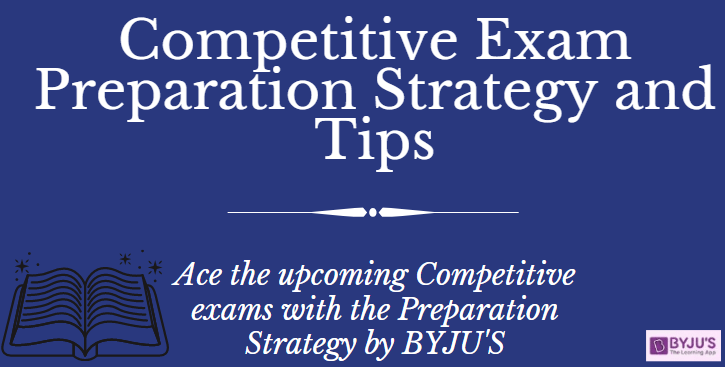 Why Government or Bank Jobs?
In India, the Government sector is one of the largest employment providing sectors and every year lakhs of candidates are given an opportunity to join this sector and enjoy the perks of being a Government employee.
Given below are the major benefits of cracking the various competitive exams to get appointed in the Government, Insurance or Banking sector:
Job Security:

There is a hundred percent job security for employees in the Government sector

Financial Security:

It is a well-known fact that the income, perks, benefits and allowances contribute as one of the major reasons for the attraction of candidates in this sector

Status Quo:

One of the most respectable industries to work in is the Government or the Banking industry

Work-Life Balance:

With scheduled working hours, there is a proper balance between work and personal life

Contentment:

Qualifying the competitive exams and joining any respectable Organisation gives the candidates a sense of achievement and contentment
For detailed information regarding the upcoming competitive exams, aspirants can refer to the links given below:
Aspirants can also refer to the video given below with the best preparation strategy that needs to be followed for the upcoming competitive exams 2023: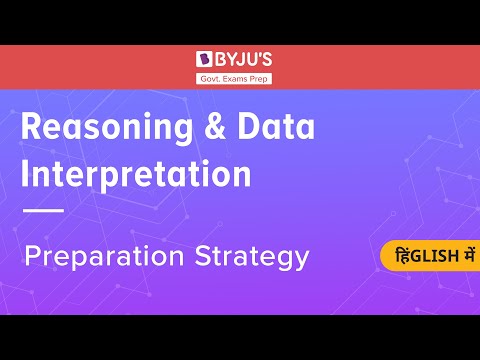 List of Major Competitive Exams
Given below is the list of all major competitive exams which are conducted in the country. Aspirants can choose from the exams and posts given below and based on their eligibility criteria appear for any of the given exams.
SSC CGL

(Combined Graduate Level Exam)

SSC CHSL

(Combined Higher Secondary Level)

SSC JE

(Junior Engineer)

SSC CPO

(Central Police Organisation)

SSC GD

(General Duty Constable)

SSC MTS

(Multi Tasking Staff)

RRB ALP

(Assistant Loco Pilot)

RRB NTPC

(Non-Technical Popular Categories)

RRB JE

(Junior Engineer)

UPSC CAPF

(Central Armed Police Forces Assistant Commandant)

SBI PO

(Probationary Officer)

SBI SO

(Specialist Officer)

SBI Clerk

(Junior Associate and Customer Support)

IBPS PO

(Probationary Officer)

IBPS SO

(Specialist Officer)

IBPS RRB

(Regional Rural Bank Exam)

RBI Grade B

(Officer Scale)

NIACL AO

(Administrative Officer)

LIC AAO

(Assistant Administrative Officer)

LIC ADO

(Apprentice Development Officer)

LIC HFL

(Housing Finance Limited)

Air Force Common Admission Test (AFCAT)

National Bank for Agriculture and Rural Development (NABARD)

Small Industries Development Bank of India Officers Grade A (SIDBI)

Common Aptitude Test (CAT)
Assistant Central Intelligence Officer in Intelligence Bureau (ACIO IB)
Indian Economic Exam Service
Combined Defence Services Examination (CDSE)
Graduate Aptitude Test in Engineering (GATE)
Apart from these, the UPSC Civil Services Exam is one of the largest examinations conducted across the country. Interested candidates can learn more about UPSC 2023 at the linked article.
Preparation Strategy for Competitive Exams
There are several questions, which come into a candidate's mind before starting the preparation for the competitive exams. These questions may include:
How to start the Government Exam preparation?

What strategy should I follow?

Can I prepare for Govt exams at home?

Can I crack the Government exams in the first attempt?

What are the tips to crack the competitive exams?

What are the important topics and syllabus for the exam?

What strategy and approach to use for the preparation of Government exams?
And the list of questions goes on and on. So, to ensure that a candidate follows the best approach, we bring to you 11 key strategies to crack the upcoming Government exams:
Set S.M.A.R.T. Goals –

Here S.M.A.R.T. stands for Specific Measurable Achievable Relevant Time-Bound. One must keep all these five goals in mind when strategising a study plan. Do not overburden yourself and set achievable goals
Self Management vs Time Management –

Ensure that you set targets which you can achieve. Manage your schedule in a manner that sufficient time can be dedicated to the preparation
Attend Online/ Offline Classes Regularly –

Choosing either online or offline classes in a candidate's decision but they must ensure that either way they attend the classes on a regular basis and any kind of ignorant behaviour shall affect their preparation
Revise on a Daily Basis –

In most cases, it has been observed that one may understand the topic when being taught but due to lack of revision may end up forgetting such concepts. Thus revising things on a daily basis is a must
Solve Time-Bound Exercises, Mock Tests & Model Papers –

This will give an examination kind of atmosphere and a better understanding of the type of questions which may be asked
Raise Doubts or Questions if any –

Mostly it has been observed that candidates hesitate to ask questions for various reasons but this may act as a hindrance for any competitive exam aspirant. Always ask doubts or questions, if any to ensure that the concepts are extremely clear
Choose Coaching/ Institutes/ Teachers Wisely –

Choose the books, study material and resources wisely. Ensure that either online or offline, sufficient study material is provided, separate time for clearing doubts is given and proper revision and tests are conducted
Get Your Concepts Clear –

The key to answering any questions is by having conceptual clarity. Ensure that every part of the concept is clear and understandable
Focus –

Even if a candidate manages to devote 3 to 4 hours a day for preparation, an absolute focussed study must be done during this time. No kind of distractions must be entertained
Solve Previous Year Question Papers –

To understand the standard of exam and the exam pattern, the best solution is referring to the previous year question papers

Be Regular, Well Planned & Disciplined –

Having a proper study plan is a must. It is important that before one starts the preparation, he/she is well aware of the subjects, topics, exam pattern and the selection process for the respective exams so strategise a time table devoting equal time to all subjects
Section-wise Syllabus for Competitive Exams
The syllabus for government exams is vast but there a few common subjects which are a part of almost all major competitive exams. 
Discussed below is the syllabus for each of these sections.
a. Reasoning Ability and General Intelligence
The Reasoning or the General Awareness section is almost a part of all competitive exams and the topics can be classified into two wide categories:
Logical Reasoning or Verbal Reasoning

Non – Verbal Reasoning
Candidates can get the detailed syllabus for topics under the verbal reasoning part at the logical reasoning page and ensure that every topic is covered properly and in detail.
Also, for the reference of aspirants, we have given the topic-wise questions in the logical reasoning questions page. Interested candidates can visit the linked article and solve more and more questions based on each topic.
b. Quantitative Aptitude and Data Interpretation
One of the lengthiest and the most complex sections which are included in almost all Government exams is the Quantitative Aptitude section. Questions in this topic may be asked in the form of:
Word Problems

Graphs (Bar, Line, Pie chart, etc.)

Simplification
The syllabus for quantitative aptitude is vast, and basic knowledge of arithmetic and mathematics shall help candidates attempt questions.
To get the list of topics included in this section, candidates can visit the quantitative aptitude page and refer to the syllabus and accordingly start their preparation.
c. English Language/ Verbal Ability
A part of almost all Government exams, the English section is one where candidates tend to lose the maximum marks. This is mainly because of the similar choices given in the options part and limited resources to prepare for this subject.
For the detailed syllabus for English section, candidates can visit the Verbal Ability page.
Candidates must pay special attention to tenses, the rules for prepositions, conjunctions, nouns, etc, along with active passive voice, direct and indirect speech, etc. This is one of the few sections from which questions are not just asked in objective form but descriptive tests are also there for a few exams.
d. General Awareness and Current Affairs
There is no limit to the syllabus for General Awareness and Current affairs section. Any Government or competitive exam conducted in the country has this section as a part of its syllabus. 
The common fields from which questions may be picked for this section are:
General Knowledge/ Static GK

Daily News

History & Geography

Politics

Banking Awareness
And the list goes on. Mostly the questions framed are based on any recent event of important across the Globe but this is not mandatory. Current affairs for around 4 to 5 months prior to the examination are also equally important.
Candidates can refer to the set of links given below to ace this section:
e. Computer Knowledge
Not too many questions are asked based on Computer Awareness but it is an easy to score section. The syllabus is not very vast and the topics included are simple and general. So, candidates can easily score well in this section. 
Interested candidates can get the basic computer knowledge from the links given below:
10 Essential Rules To Achieve Your Goal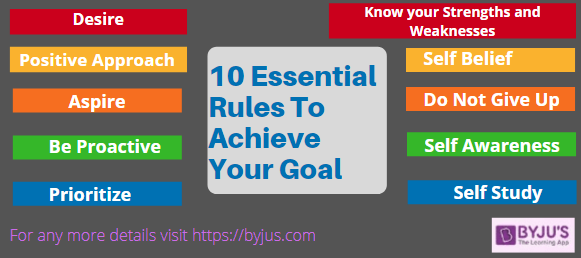 There are 10 essential rules which will help candidates crack the upcoming exams. These rules will mainly help candidates look at these exams with a much positive and optimistic approach. 
To understand these points for competitive exam preparation strategy, candidates can refer to the point below:
Having the desire to achieve something is extremely important
Knowing which subjects are your weakness and focussing more on them is a key preparation strategy. This will ensure that all the topics are equally well prepared
Being positive and having a positive attitude is a must. Also, having the never give up attitude is also necessary
Also, one must be self-aware of their progress in terms of preparation and growth and should be able to apprehend which sections need more preparation
Focus on self-study. This will ensure that you strategise a plan accordingly and devote equal time for preparation of each section and subject
Given below are other links which may help candidates achieve their goal of cracking the competitive exams for the upcoming years:
List of Books for Competitive Exam Preparation
Given below is a list of books which may help candidates ace the upcoming competitive exams and ensure that every topic under the syllabus is covered and well prepared with hundreds of sample questions.
Government Exam Preparation Strategy – Subject-wise Booklist
Reasoning Ability
Verbal & Non-Verbal Reasoning by R.S.Agarwal

A Modern Approach to Reasoning by R.S.Agarwal

A New Approach to Reasoning: Verbal & Non-Verbal by B.S.Sijwali and Indu Sijwali

Analytical Reasoning by M.K. Pandey

Multi-Dimensional Reasoning by Dr. Lal

Reasoning for Competitive Exams by Nishit K. Sinha
Quantitative Aptitude
Quantitative Aptitude by R.S. Agarwal

Quantitative Aptitude for Competitive Exams by R.S. Agarwal

Data Interpretation by Arun Sharma

Objective Mathematics for Competitive Exams by Tarun Goyal
English Language
High School English Grammar and Composition by Wren and Martin

Objective General English by Arihant Publications

Word Power Made Easy by Norman Lewis
General Awareness
India Year Book by Publications Division

Manorama Yearbook

Banking Awareness by Arihant Publications

Daily Newspapers for Current Affairs
Computer Knowledge
Objective Computer Knowledge by Kiran Prakashan

Computer NCERT Class XI 

Computer NCERT Class XII
The above-mentioned booklist will help candidates get a detailed concept, the different types of questions and sample questions from each topic.
Also, candidates can check out the Government exams preparation tips in the articles given below:
Government exam preparation is extremely comprehensive and exhaustive, yet if a candidate is prepared well in advance and manages to cover each and every topic under the exam syllabus, he/she can manage to crack the exam in the very first attempt.
For any further assistance, candidates are advised to turn to BYJU'S and get the latest exam information and study material.

Frequently Asked Questions on Government Exam Preparation
Q1
Q 1. How to prepare for Government Exams at home?
Ans. Candidates can prepare for Government exams at home, without joining any Coaching Institute by devoting 5 to 6 hours a day completely on self-study, get the best books, refer to online free classes and by solving mock tests and previous year question papers which are easily available online.
Q2
Q 2.
The salary for which Government post is the highest

?

Ans.

Salary is one of the major factors driving candidates to choose one among the various Government sector exams as a career option. Currently, the salary structure for Government posts is based on the 7th pay commission and under the highest salary posts, IAS, IPS and IFS top the chart

.
Q3
Q 3.
How to pass Government exams

?

Ans. Refer to the following pointers to ace the upcoming Government exams:
Set a preparation strategy

Sort out a study plan

Go through the detailed syllabus and check the exam pattern

Devote time for self-study

Analyse previous year question papers
Q4
Q 4.
How to start a competitive exam preparation

?

Ans.

First, a candidate needs to go through the selection process and exam pattern for the exam, followed by the syllabus and based on it, he/she can start the competitive exam preparation. They can also look for offline or online assistance in case of doubts

.
Q5
Q 5.
Can I quality the competitive exams with 1 month of preparation

?

Ans.

Qualifying any competitive exam with 1 month of preparation is not impossible but the aspirant needs to put in extra hard work, effort and dedicate almost 10 to 12 hours a day for preparation. Also, having any previous knowledge of the topics included in the syllabus shall also act as an added advantage

.
Q6
Q 6. Which Government exams are considered to be the best?
Ans. Given below is a list of most sought after Government exams:
UPSC Civil Services Exam
SSC CGL Exam
SSC CHSL Exam
RRB NTPC Exam
UPSC Indian Engineering Service Exam