Current Affairs has become an integral part of the UPSC Exam Preparation and reading the newspapers and correlating the issues in the news to the UPSC Syllabus is crucial. A difficult task for most candidates.
Hence, we bring the Daily News Analysis section for UPSC Current Affairs Preparation, an initiative by BYJU'S to make reading newspapers a simple task at the same time being comprehensive enough to aid IAS aspirants' in making easy and effective current affairs notes.
Our Comprehensive News Analysis (CNA) covers significant events or issues in the news that is important in UPSC Exam perspective.
The issues or news covered from the newspaper for our CNA is categorized into four general studies papers (GS Paper I, GS Paper II, GS Paper III and GS Paper IV) as per the UPSC Mains syllabus.
Current Affairs is a vast topic which requires a lot of attention from the aspirants' side. To be strong on this part, candidates should be updated on daily current affairs from different sources.
Our daily newspaper analysis for UPSC exam is prepared by referring to various major newspapers that include The Hindu, The Indian Express, Business Standard, Live mint etc.
The Comprehensive News Analysis also covers sample practice questions for both IAS prelims and mains exam and the questions are framed based on the current events and according to the UPSC question pattern.
For latest details on  UPSC 2022, refer to the linked article.
Daily News for UPSC
Highlights of our Comprehensive News Analysis (CNA): Daily news analysis for IAS
Newspapers Covered – The Hindu, The Indian Express, Business Standard, and other major newspapers.
Additional Coverage– Editorials.
Table of Contents– Our CNA has table of content under which the news is classified into four categories or General Studies Papers namely, GS Paper I- Art and Culture, History, Geography, Societal Issues; GS Paper II – Polity and Governance; GS Paper III- Economy, Environment, Science and Technology, International Relations; and GS Paper IV – Ethics, Integrity & Aptitude. Prelims and mains practice questions are given too.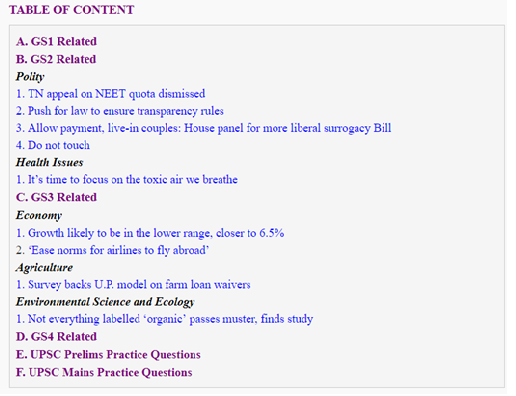 Frequency– Our CNA is released in specific compilations that include every day Daily News Analysis for UPSC, Weekly News Summary to make current affairs revision easy, and Monthly Issue.
Format- The file is provided in downloadable format on the same day.
Takeaways for IAS Aspirants from our CNA
'The Hindu' Analysis/ 'The Hindu' important news for UPSC exam/The Hindu daily analysis for UPSC exam
Save time by reading our CNA and avoid referring to various sources
Practice questions for UPSC prelims and mains
Learn an easy technique to make current affairs notes
BYJU'S CNA is the ultimate source of daily current affairs for IAS preparation. It is indeed the best current affairs site for UPSC exam.
Get your dose of daily current affairs for UPSC Exam preparation from BYJU'S comprehensive news analysis which provides you with every day 'The Hindu Newspaper' analysis for UPSC exam and sample questions for IAS Prelims and Mains Exam! Best current affairs for UPSC exam at BYJU'S Free IAS Prep!
Visit BYJU'S Free IAS Prep Website every day for the best UPSC current affairs materials.
Related Links