The Maharashtra State Government conducts various exams every year in order to recruit people into the different wings of the state administration.
The exams are conducted and overseen by the Maharashtra Public Service Commission (MPSC).
The State Service Exam, also called the MPSC Rajyaseva exam is conducted every year and this recruits officers into the administrative departments under the Maharashtra State Government.
The MPSC also conducts other examinations such as Subordinate Services, Class C Services, Engineering Services, Agriculture Services, Judicial Services, etc. In this article, you can read all about the MPSC State Service exam syllabus and paper pattern.
Read in detail (Application, Exam Dates, MPSC Jobs and News) about MPSC Exams here.
MPSC Prelims Syllabus (English):- Download PDF Here
MPSC Exam Pattern
Like the UPSC civil services exam, the MPSC state services exam is also conducted in three stages:
Prelims
Mains
Interview
A candidate has to clear one stage in order to be eligible for the subsequent stage, i.e, if he/she clears the prelims, he/she moves onto the mains, clearing which he/she would be summoned for the final stage (interview) of the MPSC exam.
Check the MPSC exam eligibility here.
Stage 1: MPSC Preliminary Exam
This exam consists of two papers, both of which are objective in nature. Take a look at the following table for the details of the prelims exam. Please note that both papers are compulsory.
| | | | | | | |
| --- | --- | --- | --- | --- | --- | --- |
| Paper No. | No. of Questions | Total Marks | Standard | Medium | Duration | Nature of Paper |
| Paper I | 100 | 200 | Degree | English & Marathi | 2 hours | Objective |
| Paper II | 80 | 200 | Mix of Degree and School (depends on topic – refer below) | English & Marathi | 2 hours | Objective |
Candidates should note that there is negative marking for incorrect answers.
For every incorrect answer, the candidate will be penalised 1/3rd of the marks allocated to that question.
The questions on decision making (Paper-II) do not attract negative marks if incorrectly answered. These generally question numbers from 74 to 80 in Paper-II.
In MPSC, both Paper I and II are counted for the merit ranking for qualifying for the MPSC mains.
Important: In the IAS exam, the UPSC CSAT paper in Prelims is just a qualifying paper (33% qualifying criteria)
The prelims marks are not counted for the final merit list.
All the questions are set in English and Marathi except for those questions which are meant to test the candidate's knowledge of English.
Stage 2: MPSC Mains Exam
In the mains exam, there are six compulsory papers. Paper I and Paper II are language papers while Papers 3, 4, 5 and 6 are general studies papers. There are no optional subjects in the MPSC, a change which was made in 2012.
In MPSC Mains, there is negative marking in the objective question papers.
The following table gives the MPSC exam pattern of the State Service Exam Mains:
| | | | | | | |
| --- | --- | --- | --- | --- | --- | --- |
| Paper | Subject | Total Marks | Standard | Medium | Duration | Nature of Questions |
| Paper 1 | Marathi & English (Essay/Translation/Precis) | 100 | XII Std. | Marathi & English | 3 hours | Descriptive |
| Paper 2 | Marathi & English (Grammar/Comprehension) | 100 | XII Std. | Marathi & English | 1 hour | MCQs |
| Paper 3 | General Studies I | 150 | Degree | Marathi & English | 2 hours | MCQs |
| Paper 4 | General Studies II | 150 | Degree | Marathi & English | 2 hours | MCQs |
| Paper 5 | General Studies III | 150 | Degree | Marathi & English | 2 hours | MCQs |
| Paper 6 | General Studies IV | 150 | Degree | Marathi & English | 2 hours | MCQs |
Stage 3: Interview
Candidates who clear the mains exam are summoned for the MPSC interview. In this round, a panel of the MPSC board assesses the candidate for his/her suitability for the administrative career through a personal discussion. This is more like a personality test where apart from knowledge, the candidate's attributes such as aptitude, presence of mind, communication skills, etc. are evaluated.
Find MPSC Question Papers for State Service Exam here.
MPSC Syllabus
In this section, you can read/download the detailed MPSC Exam Syllabus PDF for prelims and mains (English and Marathi).
Though many topics overlap with the UPSC syllabus, it is not entirely the same. Also, there is a specific focus on Maharashtra, as mentioned explicitly in the syllabus.
With the right preparation strategy, it is possible for candidates to prepare for both exams simultaneously.
For books, current affairs updates and free study material, check our MPSC preparation page.
MPSC Prelims Syllabus
The detailed syllabus for MPSC Prelims is given below:
Paper I (200 marks)
Current events of state, national and international importance.
History of India (with special reference to Maharashtra) and Indian National Movement.
Maharashtra, India and world geography – Physical, Social, Economic geography of Maharashtra, India and the World.
Maharashtra and India – Polity and Governance – Constitution, Political System, Panchayati Raj, Urban Governance, Public Policy, Rights Issue, etc.
Economic and Social Development – Sustainable Development, Poverty, Inclusion, Demographics, Social Sector Initiatives, etc.
General issues on Environmental Ecology, Biodiversity and Climate Change – that do not require subject specialisation.
General Science
Paper II (200 marks)
Comprehension
Interpersonal skills including communication skills
Logical reasoning and analytical ability
Decision-making and problem-solving
General mental ability
Basic numeracy (numbers and their relations, orders of magnitude, etc.) (Class X level), Data Interpretation (charts, graphs, tables, data sufficiency, etc. – Class X level)
Marathi and English language comprehension skills (Class X/XII level) Questions relating to this will be tested through passages from Marathi and English language without providing cross translation thereof in the question paper.
MPSC Mains Syllabus
The syllabus for the six papers in the MPSC mains is given below.
MPSC Mains Syllabus:- Download PDF Here
Paper I – Marathi & English (Essay/Translation/Precis) – Descriptive Paper – 100 marks
Section 1: Marathi (50 marks)
Essay writing – An essay on one out of the two given topics/subject (About 400 words)
Translation – English paragraph to be translated into Marathi, approximately 1/2 page/2 paragraphs
Precis writing
Section 2: English (50 marks)
Essay writing – An essay on one out of the two given topics/subject (About 400 words)
Translation – Marathi paragraph to be translated into English, approximately 1/2 page/2 paragraphs
Precis writing
Paper II – Marathi & English (Grammar and Comprehension) – Objective – 100 marks
Section 1: Marathi (50 marks)
Grammar – Idioms, Phrases, Synonyms/Antonyms, Correct formation of words and sentences, Punctuation, etc
Comprehension
Section 2: English (50 marks)
Grammar – Idioms, Phrases, Synonyms/Antonyms, Correct formation of words and sentences, Punctuation, etc
Comprehension
Paper III – General Studies I (History & Geography) – Objective – 150 marks
History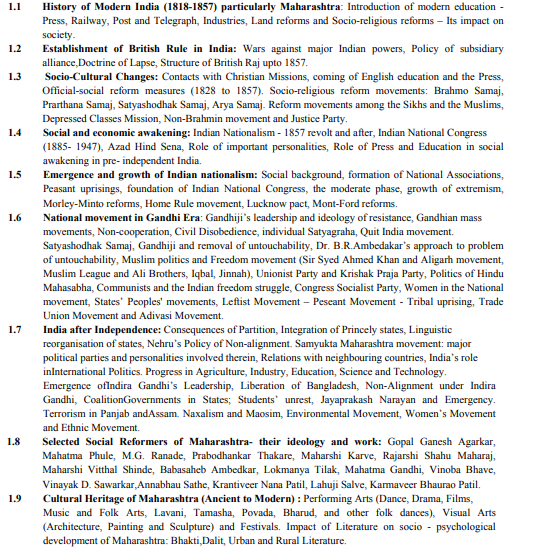 Geography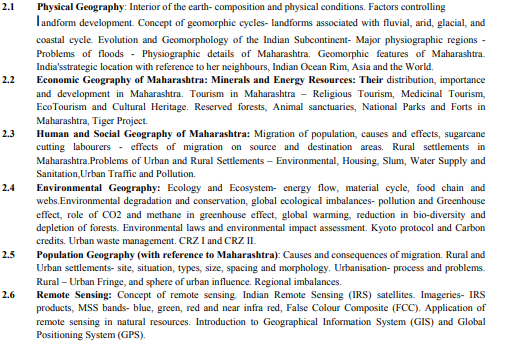 Geography and Agriculture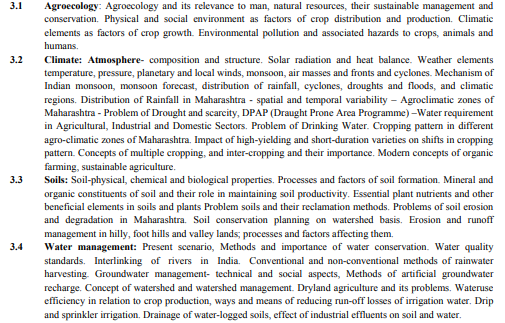 Paper IV – General Studies II (Indian Constitution & Indian Politics & Law) – Objective – 150 marks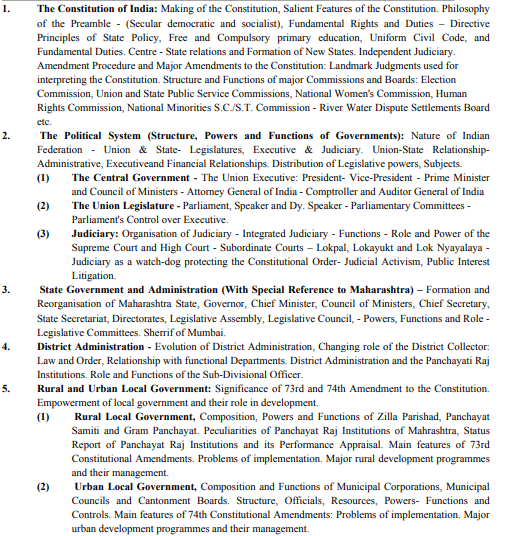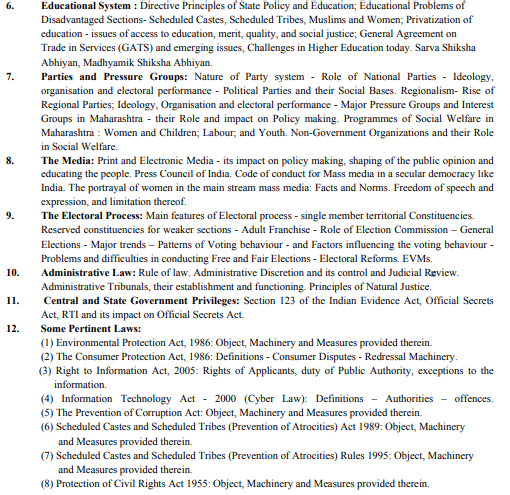 Paper V – General Studies III (Human Resource Development & Human Rights) – Objective – 150 marks
Human Resource Development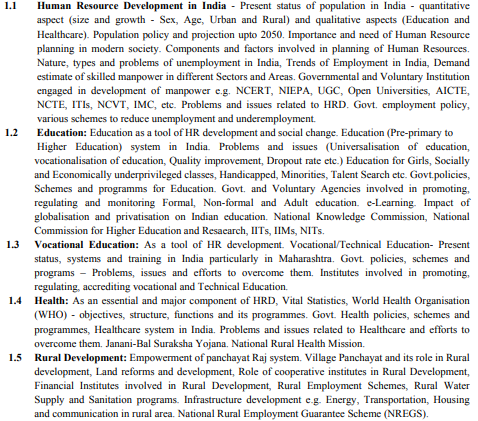 Human Rights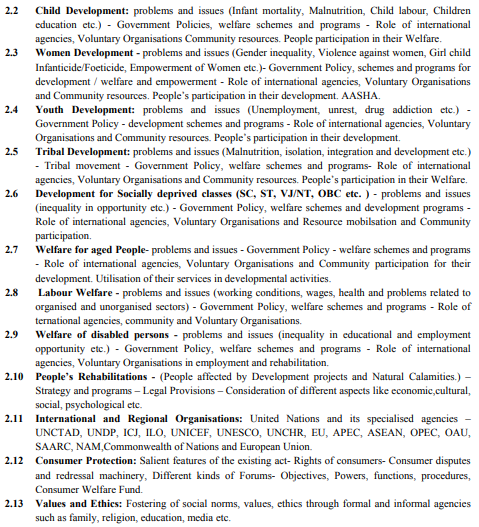 Paper VI – General Studies IV (Economy & Planning, Economics of Development and Agriculture, Science and Technology Development) – Objective – 150 marks
Economy and Planning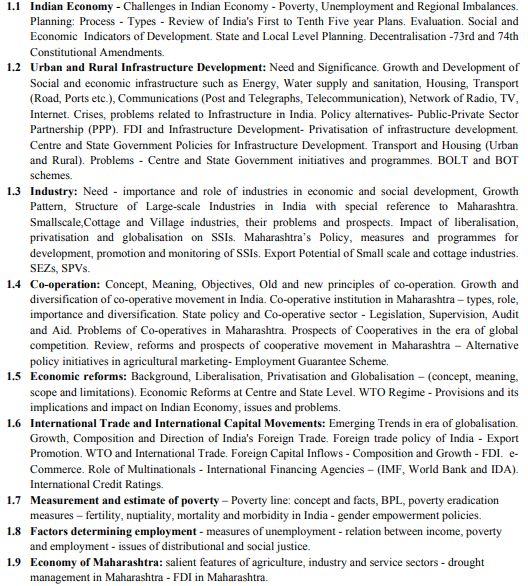 Economics of Development and Agriculture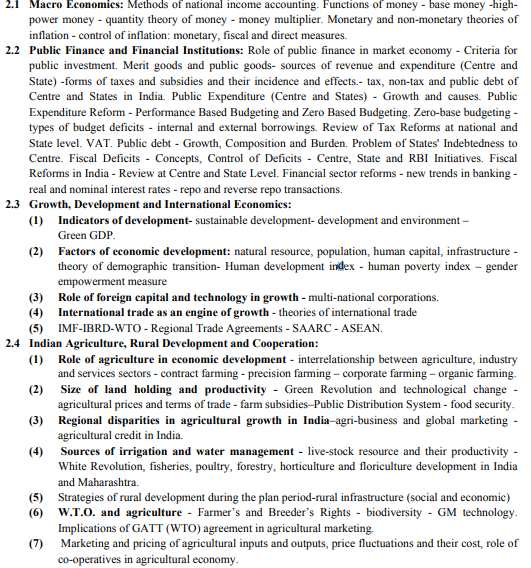 Science and technology developments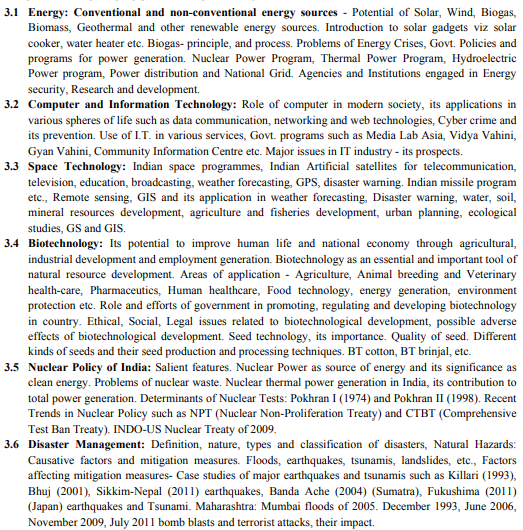 MPSC Mains Syllabus in Marathi:- Download PDF Here