The IAS exam is conducted by the Union Public Service Commission every year. The UPSC admit card is released three weeks before the date of Mains IAS Exam. As per the official UPSC notification, the Civil Services (Mains) exam will start from September 20, 2019.
Aspirants should visit the official website of UPSC for any updates related to the exam. All the exam-related relevant information are given in the UPSC Admit Card.
UPSC Admit Card for  IAS Mains Exam 2019 has been released by the UPSC.
Candidates can download the Admit Card for Mains 2019 from the UPSC's official website.
By entering the Roll No. or the Registration ID, candidates can download their Admit Cards for Mains 2019.
Steps to download UPSC admit card for IAS Mains 2019
The IAS admit cards are UPSC e-admit cards i.e. they are not sent by post and candidates have to download them from the official UPSC website and take the printout.
Navigate to upsc.gov.in in the browser and click on "Admit Cards" on the right or navigate to upsconline.nic.in and click on "e-Admit Cards for various examinations of UPSC"
Then you will be redirected to a page which lists the various UPSC exams for which the e-Admit Cards are available. Other than e-Admit cards for exams, UPSC also issues e-Summons and e-Admit cards for various recruitment posts.
Click on Civil Services (Mains) exam 2019 to download your IAS admit card for UPSC Mains 2019 once it is released.
Before downloading the IAS admit card, you will be asked to enter your Registration Id or Roll Number for the UPSC Mains 2019.
The IAS admit card will open as a PDF. Download it and take a print out of this UPSC hall ticket which you have to carry with you for both papers of IAS Mains.
For more instructions on how to download UPSC Admit Card 2019, check here.
In case you have forgotten your Registration Id for UPSC Mains and do not know your roll number yet, you can click on the "Forgot RID" option and fill in the required details (Your Name, Father's and Mother's Name, Your Date of Birth) and submit to view the registration id. You can proceed to download the IAS admit card following the normal process after this.
Refer to this link for complete information on UPSC Mains 2019 including syllabus, preparation strategy and free IAS study material.
Following details are given on the UPSC Admit Card or IAS Hall Ticket
Name of exam
Date of exam
Name of candidate
Roll No.
Father's Name
Mother's Name
UPSC exam centre
Venue of exam
Time Table of IAS Mains
General instructions for candidates
For reference of IAS aspirants, a template of UPSC Hall ticket for Civil Services (Mains) Examination is given below.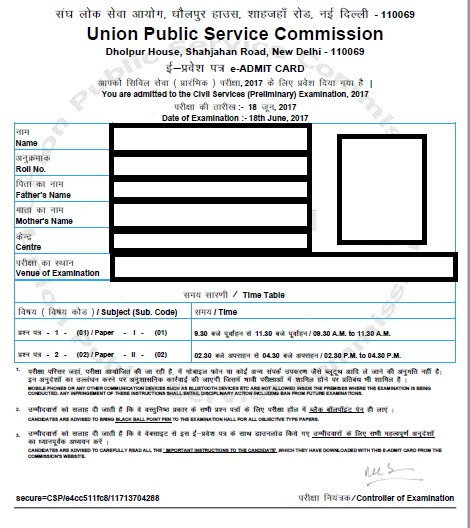 Candidates should check out the complete syllabus for IAS exam 2019.
General instructions on UPSC Hall ticket for IAS aspirants
On the IAS admit card for UPSC Mains, the following instructions for candidates are given:
Mobile phones, calculators, communication and Bluetooth devices are not allowed in the exam hall. Disciplinary action will be initiated against the candidates flouting this rule.
Candidates can only fill the OMR sheet for UPSC Mains ( General Studies and CSAT) using a black ballpoint pen
Candidates should read all the "Important Instructions" which they have downloaded along with their IAS admit card.
Candidates need to carry their two photographs in case their photo is blurry on the IAS admit card 2019. Also, an original photo identity card has to be brought along with the print out of the UPSC Hall Ticket on the day of IAS Mains.
For latest details on UPSC 2020 Exam, refer to the linked article.
Discrepancy, omission or mistake on UPSC admit card
If any detail on the UPSC hall ticket for IAS Mains 2019 is incorrect such as name/roll number/parents' name etc., then candidates should immediately reach out to the UPSC at official email-id uscsp-upsc@nic.in or call the facilitation counters between 9 AM – 6 PM on working days.
Postal Address:
UNION PUBLIC SERVICE COMMISSION, Dholpur House, Shahjahan Road, New Delhi – 110069
Facilitation Counter:

011-23098543
011-23385271
011-23381125
011- 23098591

Email:
uscsp-upsc@nic.in
List of exams conducted by UPSC
UPSC follows a common procedure for making admit cards available to candidates, i.e through the official website and not through post or email. For the list of exams given below, follow the same procedure as for downloading the IAS admit card for UPSC Mains 2019.
Engineering Services Examination (ESE)
Combined Medical Services (CMS) Examination
Combined Defence Services (CDS) Examination
National Defence Academy (NDA) Examination
Naval Academy Examination
Special Class Railway Apprentice
Indian Forest Service examination
Indian Economic Service/Indian Statistical Service Examination
Combined Geoscientist and Geologist Examination
Central Armed Police Forces(Assistant Commandant) Examination
UPSC Mains 2019 Preparation Links