The non-banking financial institutions are the organizations that facilitate bank-related financial services but does not have banking licenses. This article will help UPSC civil service exam aspirants understand the various types of non-banking financial institutions and their respective functions in this article.
Candidates would find this topic to be of importance while preparing for the IAS Exam.
Non-Banking Financial Companies – Latest Updates 
Recently, the Reserve Bank of India has proposed a tighter regulatory framework for Non-Banking Financial Institutions by creating a four-tier structure with a progressive increase in the intensity of regulation. Further information about the Reserve Bank of India is available in detail on the linked page.
It has also proposed the classification of Non-Performing Assets of base layer NBFCs from 180 days to 90 days overdue. Read more on Non Performing Assets – NPA in detail on the linked page.
Earlier in 2020, the RBI announced a host of measures to provide liquidity support to NBFCs.
The share of NBFC-MFIs (microfinance institutions) in the overall microfinance sector has come down to a little more than 30% as several large MFIs had converted into Small Finance Banks. Read in detail, What is Micro Finance on the given link.
Non-Banking Financial Institutions (UPSC Notes):- Download PDF Here
Aspirants should enhance their preparation by solving
UPSC Previous Year Question Papers
now!!
To complement your preparation for the upcoming exam, check the following links:
Non- Banking Financial Institutions – Types
Mutual Funds
Mediators between people and stock exchange
Money collected from people by selling their units is called the corpus
Oldest Mutual Fund company in India is UTI ( Unit Trust of India)
Mutual Funds nearly provides all the considerations
Insurance Companies
Collect money from the public through the sale of insurance policies
There are two types of Insurance – Life Insurance and General Insurance

General Insurance includes Loss of property, car, house etc.
It also includes Health Insurance
IRDA Act, 1999
As per the Insurance Regulatory and Development Authority Act, Insurance companies were opened up for private companies. The objective was to promote competition FDI was allowed up to 26% (Recently increased to 49%) IRDA was established as the regulator of the insurance sector
LIC – Life Insurance Corporation
Set up in 1956 by the government by nationalising all the existing private sector life insurance companies
This was done due to large scale defaults
2. GIC – General Insurance Corporation
It was established in 1973
Subsidiaries of GIC are:-

NICL – National Insurance Company of India Limited
United India Insurance Company Limited
Oriental Insurance Company of India Limited
New India Insurance Company of India Limited
ULIP – Unit Linked Insurance Plans
A mixture of Insurance and Mutual Funds
Aspirants can go through the List of Insurance Companies in India on the linked page.
Hedge Funds
These are mutual funds for rich investors
Funds are raised through the sale of their unit to High net worth Individuals and Institutional Investors
Units of these are usually sold in chunks/groups
There is a lock-in period for Hedge funds before which funds cannot be withdrawn
Corpus is an investment in risky instruments with a long term perspective
Venture Capital Firms/ Companies
They provide finance and technical assistance to firms which undertake a business project based on innovative ventures
They provide finance for the commercial application of new technology
Merchant banks ( Investment Banks)
Merchant banks provide financial consultancy services
They advise firms on fundraising, manage IPO of firms, underwrite new issues and facilitate demat trading.
Finance Companies (Loan Companies)
Financial Institutions raise funds from the public for lending purpose
e.g. – Muthoot Finance, Cholamandalam
Micro Finance Institutions (MFI)
Raise funds from the public for lending to weaker sections
In India, they mainly raise funds from banks
e.g. – Basix, Bandhan, SKS Micro Finance.
Vulture Funds
These funds buy stocks of companies which are nearing bankruptcy at a very low price.
After purchasing such stocks they initiate the recovery process to increase the price of shares and sell it at a later point of time
Islamic Banks
These banks provide loans on the basis of Islamic laws called Sharia.
In the law of Sharia Interest cannot be charged on the loans
Leasing Companies
They purchase equipment and machinery and provide the same to companies on a lease.
These companies charge rent on these machineries which is similar to EMI
Go through the given link to know in detail about various Types of Funds in India.
Non-Banking Financial Institutions (UPSC Notes):- Download PDF Here
Aspirants can check out the video to know about various other Financial institutions –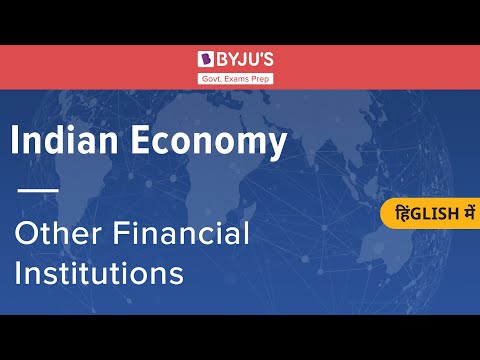 The above details would help candidates prepare for UPSC 2022.
Related Links
Relevant Links