The Union Public Service Commission conducted the IAS preliminary examination on October 10, 2021. BYJU'S has uploaded the UPSC Prelims Question Paper 2021 for GS Paper I and Paper II (CSAT) further below in this space. 
BYJU'S has also released the CSE Experts-designed UPSC Prelims 2021 Answer Key to enable candidates to evaluate their performance and accordingly start off with their mains preparation. You can download the GS and CSAT answer key at the linked article.
Applicants and aspirants can review and download the IAS Prelims 2021 Question Paper PDF to evaluate their performance. Also, refer them to comprehend the complexity of the IAS Exam paper. 
Keep track of IAS Prelims Test Series for CSE 2023. It will be designed by India's best experts in the UPSC IAS exam, using which you can fine-tune your preparation before the examination. 

UPSC Prelims 2021 Question Paper 
The UPSC Prelims comprises two objective type papers:
General Studies I (100 questions)

General Studies II or CSAT (80 questions)
Each of these papers is 200 marks and the duration of each GS paper is 2 hours. Aspirants can inspect the detailed IAS Prelims Syllabus in the linked article. 
GS Paper I:
This comprises various topics from history, economy, polity, geography, science and technology, environment and ecology, etc. Subsequently, the negative marking scheme is also applicable with a 1/3rd mark deduction for every wrongly answered question. 
UPSC Prelims 2021 GS 1 Question Paper (Set D):- Download PDF Here
For wide-ranging IAS Questions & Answers from subjects like history, polity, geography, economy, environment etc. visit the linked article now.
GS Paper II – Civil Services Aptitude Test (CSAT)
This is slightly different from General Studies Paper I and comprises questions to evaluate the logical ability of the candidates. It tests comprehension skills, analytical and communication skills, decision-making, problem-solving, basic numeracy and mental ability. This paper is just qualifying in nature. 
UPSC Prelims 2021 GS 2 Question Paper (Set D):- Download PDF Here
To check the UPSC CSE Prelims Result that shall soon release after the conclusion of the examination, visit the linked article.
Apart from solving the UPSC 2021 prelims question paper, candidates can also refer to the previous year question papers for thorough preparation and revision:
Review the detailed IAS Prelims GS Paper I and II exam analysis 2021, along with the expected cut off through the video given below: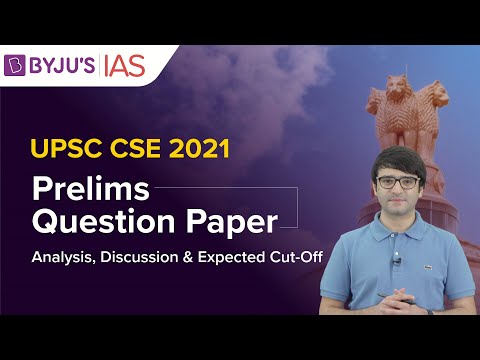 UPSC 
2021 
Prelims Question Paper – Key Points To Remember
UPSC Prelims just is the first hurdle to leap over and achieve your dream of cracking the civil services exam. Candidates can read the inspirational IAS Success Stories from the former toppers and bring in the required changes in their preparation strategies. 
Importance of Solving UPSC Prelims Previous Year Question Papers
The key advantages of attempting previous year UPSC question papers are:
UPSC 2021 prelims question paper will help aspirants get a better understanding of the latest exam pattern

Analyse the topics which are more important from the examination perspective

Apprehend the pattern and format in which the questions may be framed

Scrutinize the complexity of the UPSC Exam paper

It will help in monitoring the trend changes in the prelims examination pattern
More importantly, the biggest advantage and importance of solving previous year IAS papers is to self-evaluate and focus on your shortcomings. 
Frequently asked Questions about UPSC Prelims Question Paper
Q1
Are the same questions repeated in UPSC Prelims Question Paper?
UPSC does not repeat same but ask similar questions in a different way. Goint through previous years question papers will give a general gist of th types of questions asked.
Q2
Is 2 months enough for UPSC Prelims?
Th UPSC Prelims can be cleared in two months with proper dedication and better strategy like attempting previous years UPSC Prelims Question papers.
Q3
Can UPSC be cleared in 1 attempt?
Clearing the IAS Prelims in the first attempt is considered close to impossible by majority of the candidates. But according to a reliable report, 42 percent of the Top 200 candidates of the IAS exam in 2014 have cleared the exam in their first attempt.
For any further assistance, the latest exam updates, study material or preparation tips, turn to BYJU'S for expert assistance.