The Commission has announced the postponement of the MPPSC State Service Exam for the year 2020 indefinitely. The new MPPSC Calendar 2020 will be released along with MPPSC notification by the commission later. Read on to know the details of MPPSC Rajya Sewa Pariksha 2019 and 2020.
MPPSC 2020
Madhya Pradesh Public Service Commission (MPPSC) conducts exams for various posts in state governmental departments. The exams take place annually. MPPSC (State Service Exam) is held in three stages – Prelims, Mains and Interview.
MPPSC 2020 notification is yet to be released. However, with the current advertisement by the MPPSC, the notification, MPPSC exam dates and calendar are expected to be delayed. Check the MPPSC latest news below: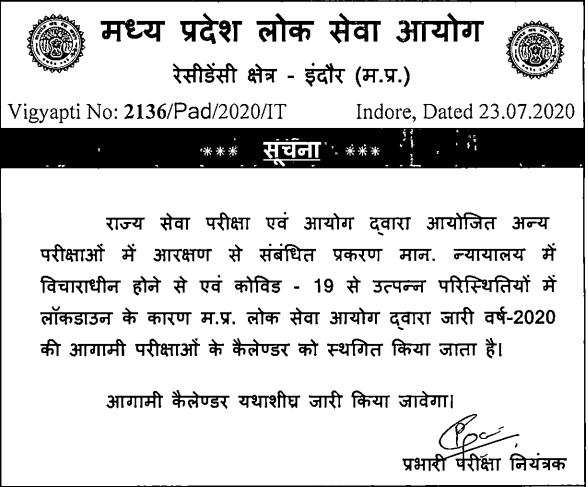 To be updated about MPPSC Prelims and MPPSC Mains 2020, refer to MPPSC official website – https://mponline.gov.in/ Also, you can refer to the details of 2019 exam given below.
MPPSC 2019
Update on MPPSC Prelims 2019:
The commission, on 29th June 2020, has released the MPPSC Prelims 2019 scorecard on its official website – https://mppsc.nic.in/. Madhya Pradesh Rajya Sewa (Prelims) took place on 12th January 2020. Candidates can download the scorecard till 29th September 2020.
MPPSC Notification 2019 was released on 14 November 2019. The admit card for the same was made available on the MPPSC official website from 8 January 2020 to 11 January 2020.
The commission has notified 330 vacancies against which recruitment will take place. The application process started from 20 November 2019 (12 PM) and the last date to apply was 9 December 2019 (12 AM).
The MPPSC (State Service Exam) details are given in the table below:
MPPSC 2019

Name Of The Exam
State Service Exam
Conducting Body
Madhya Pradesh Public Service Commission
MPPSC Exam Pattern
MPPSC Exam is conducted in three stages (similar to UPSC Civil Services Exam):

Prelims – 2 papers (General Studies and Aptitude) (Objective type)
Mains – 6 papers (4 General Studies and 2 Hindi) (essay/descriptive type)
Interview

Latest Updates
MPPSC Notification has been released on November 14, 2019.

For more updates, the official websites are:

mppsc.nic.in
mponline.gov.in

MPPSC Vacancy

2017- 190
2018- 202
2019- 330

MPPSC Syllabus
Check the updated MPPSC Syllabus of the prelims and mains 2019
MPPSC Eligibility
A Few Pointers:

A National
Minimum 21 years of age

MPPSC Exam Notification 2019
14th November 2018
MPPSC Exam Dates

Prelims- 12 January 2020
Mains- To be announced

MPPSC Admit Card
8 January 2020
MPPSC Result
Check MPPSC Result 2019 in the linked article.
MPPSC Exam Calendar 2019:- Download PDF Here

MPPSC Exams
As per the proposed calendar, the following exams are conducted yearly by MPPSC.
State Service Exam 2019
State Forest Service Exam 2019
State Engineering Service Exam 2019
Assistant Geologist Exam 2019
Assistant (Farmer Welfare andDevelopment Department) Exam 2019
Sub- Inspector Exam 2019
Scientific Officer Exam 2019
Assistant Horticulture Officer Exam 2019
Assistant Officer (Social Justice Department) Exam 2019
Assistant Fisheries Development Officer Exam 2019
One of the best sources to know about the demand of the examination is the previous year question papers. The benefits of solving and analysing old question papers are:
Alignment of preparation – A candidate learns to align his/her preparation as per the need of the questions already asked in the exams before. That furthers his/her modification in one's strategy.
Learn the strengths – A candidate can see from which area of the subject, he/she is able to answer more questions. 
Learn the weaknesses – A candidate can also learn about his/her weak subject areas and can work on them before the examination.
Feel of the exam – An aspirant gets the feel of the actual examination and can learn to be calm, composed and prepared for the D-Day.
To get MPPSC Previous Year Question Papers, aspirants can check the linked article where all old question papers PDF from 2015-2019 are provided.
MPPSC Eligibility Criteria
The Madhya Pradesh Public Service (MPPSC) sets the eligibility criteria for the various exams conducted by it. Check below, the MPPSC age limit, educational qualification for the State Service Exam 2019 and eligibility related information for other exams.
Important information:
The candidate must be a citizen of India.
Male candidates with more than one wife (living) are not eligible
Female candidates who have married a person already having a wife (living) are not eligible.
Candidates claiming age relaxation/reservation in more than one category for the MP PSC Exam shall be entitled to only one concession, whichever is more beneficial.
The MPPSC exam eligibility criteria, qualifications, and conditions are given in the linked article. The MPPSC State Service Exam eligibility also includes Physical Measurements/Fitness for certain posts. Candidates have to undergo a medical test after the interview to be considered eligible.
MPPSC Syllabus
The major portion of the syllabus for prelims and mains overlap with the IAS Exam. MPPSC has shared both prelims and mains syllabus separately. While Prelims being an objective exam demands candidates focus on minute details about the topics given, Mains exam demands candidates to be analytical with their approach.
For detailed MPPSC Syllabus, candidates can check the linked article.
MPPSC Study Material
For any exam, the availability of study material makes the most important element. While a few topics from the syllabus are better done if candidates made hand-written notes; other topics can be covered through reading other sources.
Check below links to download the important material to help align your preparation:
To get a clear idea on how to prepare MPPSC 2019, check the linked article, MPPSC Preparation.
MPPSC Related Queries
What posts come under MPPSC?
There are various posts that come under MPPSC. A few of them are:
Deputy Collector
Deputy Superintendent of Police (DSP)
State Accounts Service
Commercial Tax Officer, etc.
How many vacancies are there in MPPSC 2020?
The MPPSC Notification 2020 will mention the number of vacancies for MPPSC 2020. The official notification is yet not released. MPPSC 2019 has 330 vacancies.
What is the age limit for MPPSC?
The minimum age limit is 21 and the maximum is 35 (For MP residents) and 30 (Non-MP residents) [General Category.]