Kerala Public Service Commission conducts Kerala Administrative Service Exam to recruit for various posts. The KPSC KAS is a three-tier examination – Prelims (Screening Test), Mains and Personality Test. 
KPSC KAS 2020 notification is yet to be published. Aspirants can expect the notification in November 2020. Aspirants can follow the 2019 notification for important details related to the exam.
Update for Kerala PSC Examination 2020 amid Coronavirus/Covid-19 outbreak:
Kerala PSC has notified about the postponement of the all the examinations till May 30, 2020; on its  official website – https://keralapsc.gov.in/
All PSC examinations scheduled till April 14, 2020 have been postponed. Revised dates will be announced later by the Kerala PSC.
The Commission, through an official notice, has informed about the postponement of Document Verification, Service Verification and the direct distribution of appointment memo till March 31, 2020.
Candidates can visit the Kerala PSC official website for these updates.
Update for KPSC KAS 2019:
The Main Examination for the post of KAS Officer (Junior Time Scale) Trainee STREAM – I will take place on the following dates:

Paper-I (100 Marks) – 20th November 2020 (10 AM – 12 PM)
Paper-II (100 Marks)- 20th November 2020 (2 PM – 4 PM)
Paper-III (100 Marks) – 21st November 2020 (10 AM – 12 PM)

The KAS Admit Card for Mains 2019 Exam will be released on 6th November 2020.
The result of KPSC KAS Prelims 2019 is released.
Kerala PSC KAS Prelims took place on 22nd February 2020. Answer Key for the same has been uploaded by the commission. Download the answer key below:
Kerala PSC KAS Prelims Answer Key 2019:- Download PDF Here
Kerala has notified in an official circular that KPSC KAS Mains 2019 will take place in the month of July 2020. The KAS Mains will be wrapped up in two days, however, the dates are not finalized and a notification about the same will be released by KPSC soon. Read the notice below:
Get the Latest Notifications of Government Exams in the linked article.
The important details about Kerala Public Service Commission (KPSC) are given in the table below:
What is the name of the exam?
Kerala Administrative Service (KAS) Officer (Junior Time Scale) Trainee Stream-1, Stream-2, Stream-3
Who is the conducting body?
Kerala Public Service Commission
What is the pattern of the exam?
KPSC KAS exam takes place in three stages:

Preliminary Stage (Screening Test) – 200 Marks
Mains Stage (Descriptive Papers) – 300 Marks
Personality Test (Interview) – 50 Marks

KPSC KAS Latest Updates

Kerala PSC KAS Mains 2019 to take place in November
Kerala PSC KAS 2019 Prelims took place on 22-02-2020
The Kerala PSC KAS Notification 2019 was released on 01-11-2019

For other updates, refer to the official websites:

Kerala PSC Vacancy
2019 – To be updated by the commission
Kerala PSC Syllabus
Candidates can check the Kerala PSC KAS Syllabus 2019 in the linked article.
KAS Exam Eligibility
Check the complete Kerala PSC KAS Eligibility Criteria here
Kerala PSC Notification
2019 – Released on 01-11-2019

Check complete details about Kerala PSC KAS Notification 2019 in the linked article
The commission, for KPSC KAS 2019, has mentioned a few notes which should be kept in mind by the candidates: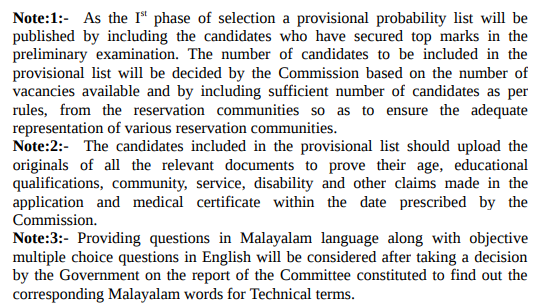 Aspirants should know that KPSC KAS also stands for Karnataka Public Service Commission – Karnataka Administrative Service. Aspirants looking for information on Karnataka Administrative Service may check the links given below:
To prepare for the Kerala PSC, you may check the following links:
The Kerala PSC Calendar 2020 has not been released yet, hence candidates should keep checking the official website of the commission or visit BYJU'S for any updates.
KPSC KAS Exam Pattern
Candidates should check the Kerala PSC exam 2019 pattern below: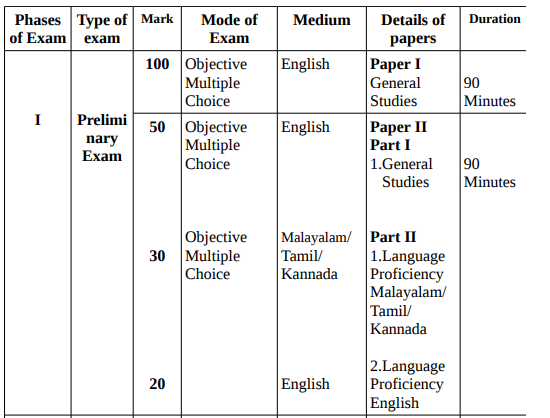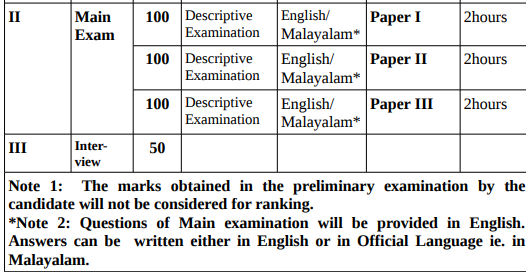 KPSC KAS Result
On 26th August, Kerala Public Service Commission declared the results of KAS Prelims 2019 that took place on 22nd February 2020. Candidates can download the result below:
KPSC KAS Prelims 2019 Result:-Download PDF Here
Aspirants can also check the result on the Commission's official website by clicking the link provided under 'Latest Announcements' and later downloading it.
Candidates who have scored 77 marks and above, in the Preliminary examination have been selected for the Mains stage. All the candidates have been given time till 9th September to apply for rechecking of their answers scripts. Also, they can obtain a photocopy of their Prelims OMR answer sheet by paying a fee of Rs. 335/paper. This too can be done until 9th September.
Kerala Public Service Commission (KPSC)
The commission is the state agency that is authorized to conduct the State Civil Services Examination for various posts.
The composition of the commission is given below:
Name
Designation
Adv. M.K Sakeer
Chairman
Sri.Saju George
Secretary
Prof. Lopus Mathew

Smt. R. Parvathi Devi

Dr.P.Suresh Kumar

Sri. Sureshan.C

Dr.M.R Baiju

Dr.Ginu Zacharia Oommen

Adv.Reghunathan M.K

Sri.G.Rajendran

Dr.K.P.Sajilal

Dr.D.Rajan

Sri.T.R.Anilkumar

Sri.Mohamed Musthafa Kadambot

Sri.P.H.Muhammed Ismail

Sri.Roshen Roy Mathew

Sri.Vijayakumar.P.K

Members
To know about other states Public Service Commission exams, check the linked article.