The UPSC civil services exam is one of the most competitive exams conducted in India. It is attempted by lakhs of candidates every year. However, only a fraction of those come out with flying colours in the end. Clearing this exam gives an entry into the prestigious civil services of the country. As soon as the IAS results are announced, the UPSC toppers gain limelight in the country. The IAS toppers serve as inspiration to thousands of young people who aspire to become IAS officers.
The results of the 2018 IAS exam were released in April 2019. 759 candidates were recommended to the services this time. The IAS toppers 2018 come from quite different backgrounds. There are engineers, arts graduates, doctors, teachers, etc.
The IAS topper 2018 who secured all India rank 1, Kanishak Kataria scored a total of 1121 marks out of 2025 giving him a percentage of 55.36%. The second ranker Akshat Jain secured 53.33% while third rank-holder Junaid Ahmad scored 53.18%.
Check out the total marks of the UPSC 2018 toppers and also download the UPSC Marksheet 2018 here.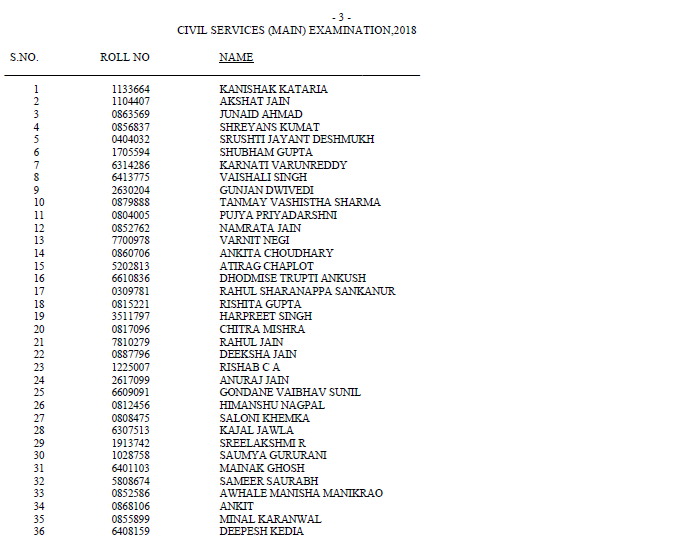 IAS Toppers 2018 List
| | | |
| --- | --- | --- |
| Rank | Name | Optional Subject |
| 1 | Kanishak Kataria | Mathematics |
| 2 | Akshat Jain | Anthropology |
| 3 | Junaid Ahmad | Geography |
| 4 | Shreyans Kumat | Anthropology |
| 5 | Srushti Jayant Deshmukh | Sociology |
| 6 | Shubham Gupta | Law |
| 7 | Karnati Varun Reddy | Mathematics |
| 8 | Vaishali Singh | Law |
| 9 | Gunjan Dwivedi | Political Science |
| 10 | Tanmay Vashistha Sharma | Mathematics |
Mathematics features thrice in the list above. Know more about the mathematics optional from another civil services topper who had maths as the optional. In the linked article, Utsav Kaushal shares his strategy for the mathematics optional.
List of IAS Toppers in Last 5 Years (AIR:1)
IAS Topper 2018 – Kanishak Kataria
IAS Topper 2017 – Anudeep Durishetty
IAS Topper 2016 – Nandini K.R.
IAS Topper 2015 – Tina Dabi
IAS Topper 2014 – Ira Singhal
UPSC Toppers 2018
The next table has links to the biographies of the 2018 UPSC toppers.
You can also check out the UPSC toppers 2017 & 2016 below:
IAS Toppers 2017

Rank

Name

Optional

1

Anudeep Durishetty

Anthropology

2

Anu Kumari

Sociology

3

Sachin Gupta

Anthropology

4

Atul Prakash

Mathematics

5

Pratham Kaushik

Geography

6

Koya Sree Harsha

Anthropology

7

Ayush Sinha

Geography

8

Anubhav Singh

Mathematics

9

Saumya Sharma

Law

10

Abhishek Surana

Physics
In 2017, the score secured by the rank one holder was 1126 marks. You can download the 2017 UPSC Marksheet from here.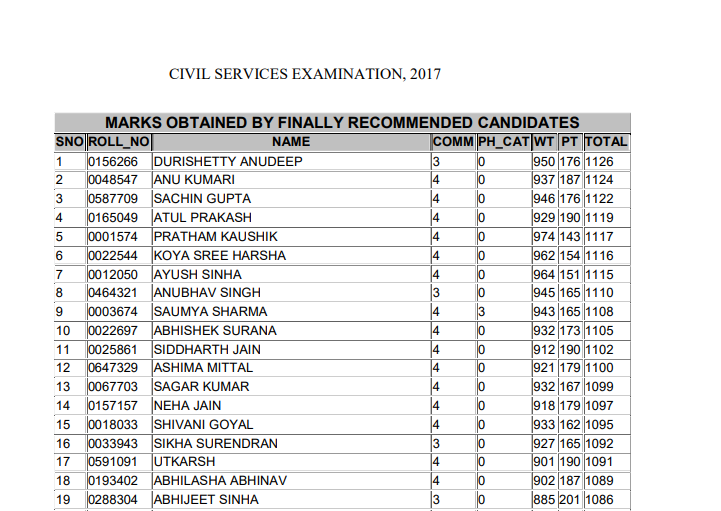 Candidates become IAS toppers by using some time-tested techniques and tips in their IAS preparation. In the next table, we have compiled a few toppers' tips and strategy for IAS aspirants to take a cue from.
See the list of UPSC IAS Toppers 2016 below along with their optional subjects.
IAS Toppers 2016

Rank

Name

Optional

1

Nandini K R

Kannada Literature

2

Anmol Sher Singh Bedi

Political Science

3

Gopalakrishna Ronanki

Telugu Literature

4

Saumya Pandey

Geography

5

Abhilash Mishra

Public Administration

6

Kothamasu Dinesh Kumar

Political Science

7

Anand Vardhan

Political Science

8

Shweta Chauhan

Geography

9

Suman Sourav Mohanty

Public Administration

10

Bilal Mohi Ud Din Bhat

Veterinary Science
Did you know that even not-so-popular subjects such as Botany can fetch you a high score if you have a good interest and knowledge in it? Read the story of UPSC topper Dibya Jyoti Parida, who secured an amazing rank of 26 in the CSE 2015 with Botany optional.
For a detailed list of the toppers, click on the links below:
Reading the success stories of UPSC toppers can surely inspire and propel you to work towards realising your goals. Anybody can clear the IAS, provided they put in the right effort in the right direction. Even without a fancy education, and the comforts that money can buy, one can achieve UPSC success. The heartwarming story of Muhammad Ali Shihab is testimony to it.
Did you know?
The average age of UPSC toppers is about 26 years. Read more about the average age of UPSC toppers in the linked article.
Related Links: