When the UPSC 2019 civil services exam results were announced, 829 candidates found themselves on the coveted civil services list. The IAS success stories present a curious mix of tales ranging from the gritty to the sheer remarkable.
In this article, you can read all about UPSC topper Jeydev C.S., who bagged the AIR 5 in the IAS exam 2019.
Jeydev C.S. IAS Topper Background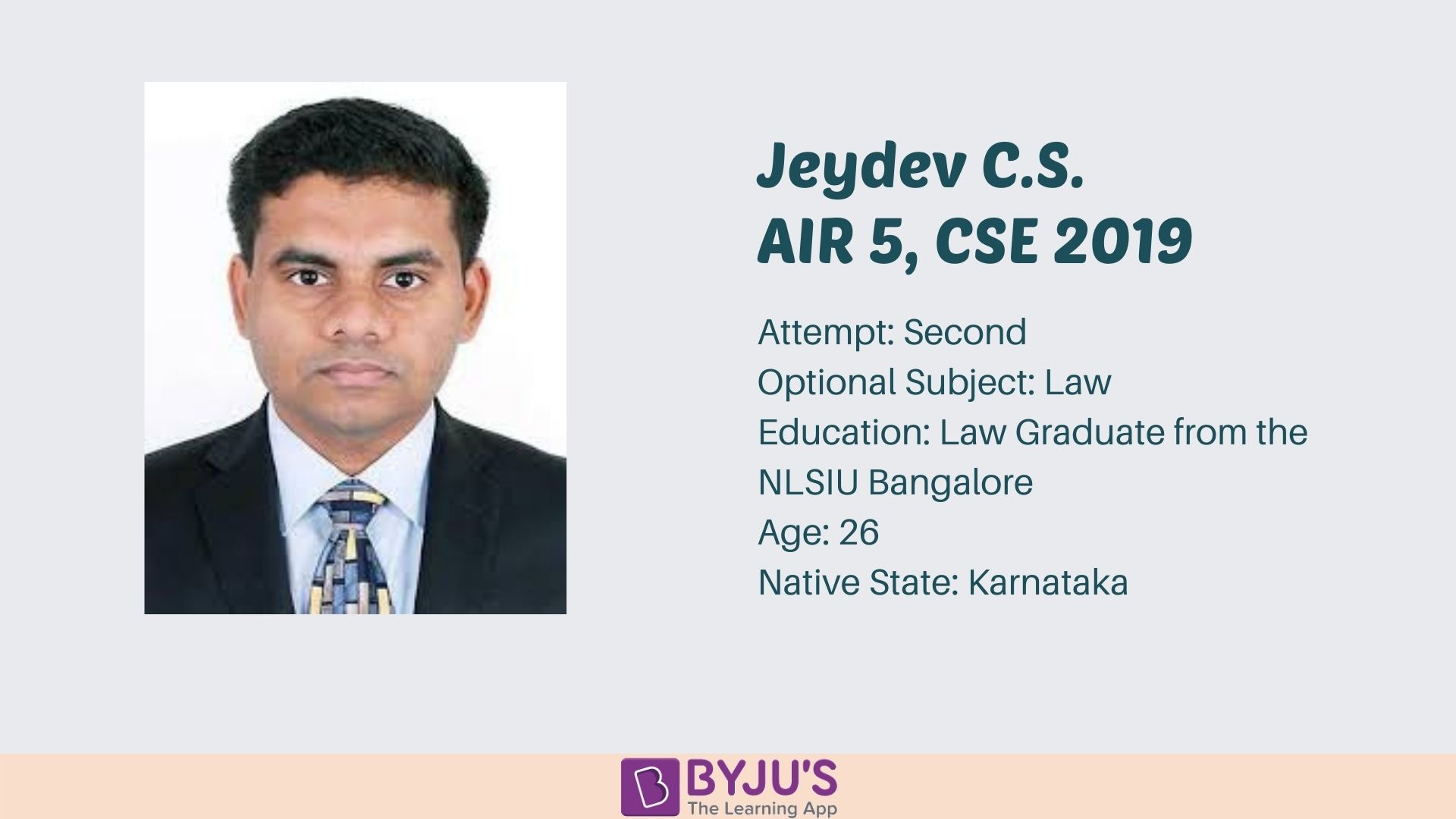 Jeydev is a native of Bengaluru, Karnataka and is a lawyer by training. He graduated from the National Law School of India University (NLSIU) in Bengaluru in 2018 and was a keen debater, quizzer and mooter there. In 2015, Jeydev was part of the team that won the international Henry Dunant Moot. 
Jeydev completed his schooling from Frank Anthony Public School.
Previous attempts
This was Jeydev's second attempt at the UPSC IAS exam. In the first attempt in 2018, he did not clear the UPSC Prelims exam. According to Jeydev, it was his lack of knowledge about the demands of each stage of the IAS exam that led to his failure in the first attempt. In the second attempt, however, the IAS topper learnt from his past mistakes and achieved his dreams.
Jeydev is one of the about 40 candidates from Karnataka who cleared the civil services this year. He is also the state topper.
IAS Topper's Strategy 
Jeydev advises candidates to study every topic in the UPSC syllabus and not leave out anything. He studied extensively from the NCERT books of classes X and XII and revised them thoroughly. You can get a list of NCERT books needed for the UPSC exam in the linked article.
Jeydev's three important tips for the IAS exam are
Keeping up-to-date with current affairs through the daily newspapers.

Taking mock tests and working on the mistakes made in them.

Going through the previous years' question papers of the UPSC and preparing their answers.
Jeydev says that the key to clearing the exam in his second attempt was his focus, apart from the answer writing practice he had.