In this article, you can read about IAS coaching in Hyderabad. Clearing the IAS exam gives you an entry into the Civil Services of India, but it is easier said than done. Read on for more on UPSC coaching in Hyderabad.
The UPSC Civil Services Exam is considered one of the toughest in the country to crack. The exam has a vast syllabus and a complicated process that leaves aspirants confused and weary. Thankfully, BYJU'S IAS Coaching Academy in Hyderabad offers the best solution to students aspiring to clear the IAS exam.
At our two centres in Hyderabad (Himayatnagar and Madhapur), BYJU'S Civil Services Coaching Institute gives students multi-faceted and dynamic learning opportunities along with personalised mentorship. The major benefit is that aspirants can avail both weekday and weekend classes for IAS as per their comfortability
IAS Toppers have listed multiple factors which determine success in the IAS exam such as studying from the right sources, taking mock tests for both prelims and mains, keeping a close tab on current affairs material, practising answer writing and most of all, having a detailed preparation plan and sticking to it religiously.
At BYJU'S IAS Coaching in Hyderabad, we strive to provide the right guidance that can be the big difference between clearing the IAS exam and not making the cut. The chances of success in this exam are way higher if IAS coaching is taken up.
From Current Affairs webinars to complications of UPSC Notes from the best study material available, our IAS Coaching Centre in Hyderabad guides students to form a holistic preparation strategy to ace the Civil Services Exam.
Only at BYJU'S IAS Coaching Academy in Hyderabad, aspirants will be given individual tablets (7 inches or 10 inches) so that they can prepare from video lectures as per their needs. Along with a compilation of notes from recommended books (NCERTs, Laxmikant, Majid Hussain, Bipin Chandra etc.), students will also be provided with faculty notes and weekly Current Affairs material.
Aspirants enrolled at our IAS Academy in Hyderabad will also have a chance to learn from top faculty from Delhi. There will also be regular modular tests (both in prelims & mains format), question paper discussions, personalised analysis and feedback on answers.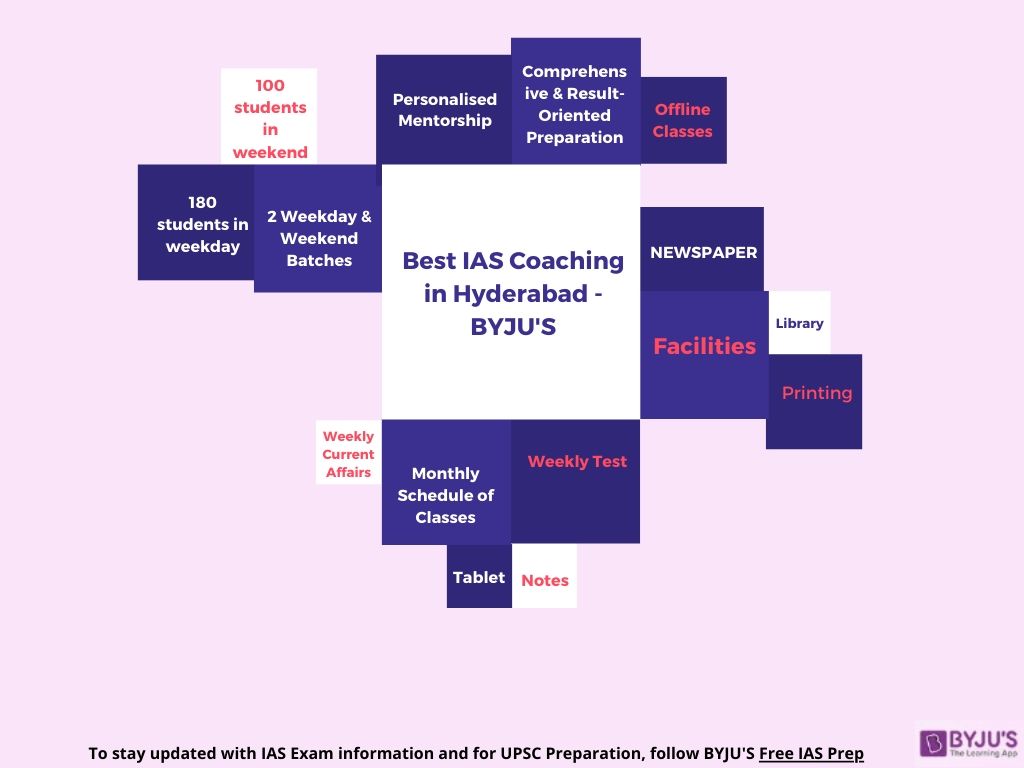 Details of IAS Coaching Academy in Hyderabad
Batch Timing

Weekday Batches (Himayatnagar)

Morning batch: 7 AM -9.30 AM
Evening batch: 6 PM – 8.30 PM

Weekend Batches (Madhapur)

Saturday: 2 PM – 8 PM
Sunday: 10 AM – 7 PM

Batch Strength

Weekday – 180
Weekend – 100

Study Material & Test Series

1 Tablet (either 7 inches or 10 inches)
16 GS + 1 CSAT material with contents from Authors like Laxmikant, Bipin Chandra, Majid Hussain etc., compiled by BYJU'S
Personalised Notes from Faculties & Experts (Hand-written/Printed) will be given to the students before the classes commence.
Weekly Current Affairs compilation
Monthly Schedule will be given to the students for suitable planning.
All India Prelims & Mains Test Series – An exclusive schedule covering CSAT & GS Papers will be followed which consists of 20+ Test for both Prelims & Mains and rankings will be provided on the same.
Added to this, Weekly Test (1 Hr Duration) – On the Portions Covered (both Subjective & MCQ's) conducted every Saturday.

Fee

Rs 100000/-

Office Timings

Monday to Friday – 7 AM to 8.30 PM
Saturday & Sunday – 10 AM to 7 PM

Address

BYJU'S IAS (Weekend) – Srishti Tower, Hitech City Rd, VIP Hills, Silicon Valley, Madhapur, Hyderabad, Telangana 500081″
Weekdays- 3-6-196/197, 2nd Floor, Prime Plaza, Himayatnagar Main Road, Above Woodland Showroom, Himayatnagar, AP State Housing Board, Himayatnagar, Hyderabad, Telangana 500029″

Phone

8884018335
IAS Coaching Location in Hyderabad
Location For Weekdays Classes
Location For Weekend Classes
Request Call Back
Frequently Asked Questions on IAS Coaching in Hyderabad
What is the fee for IAS Coaching in Hyderabad
The fee for IAS Coaching in Hyderabad is Rs 100000/-. For more details, call on 8884018335
How can I prepare for IAS Exam without coaching?
Aspirants should start by going through the UPSC Syllabus and then making a detailed study plan for the exam. Check our Free IAS Preparation page for books, notes, notifications and more.
What are the facilities in IAS Coaching Centre in Hyderabad?
At BYJU'S top IAS coaching in Hyderabad, aspirants get personalised mentorship, choice of weekday or weekend batch and comprehensive general studies notes along with tablet having subject-wise video sessions.
Related Links: