Parents know best | BYJU'S Tuition Centre Experience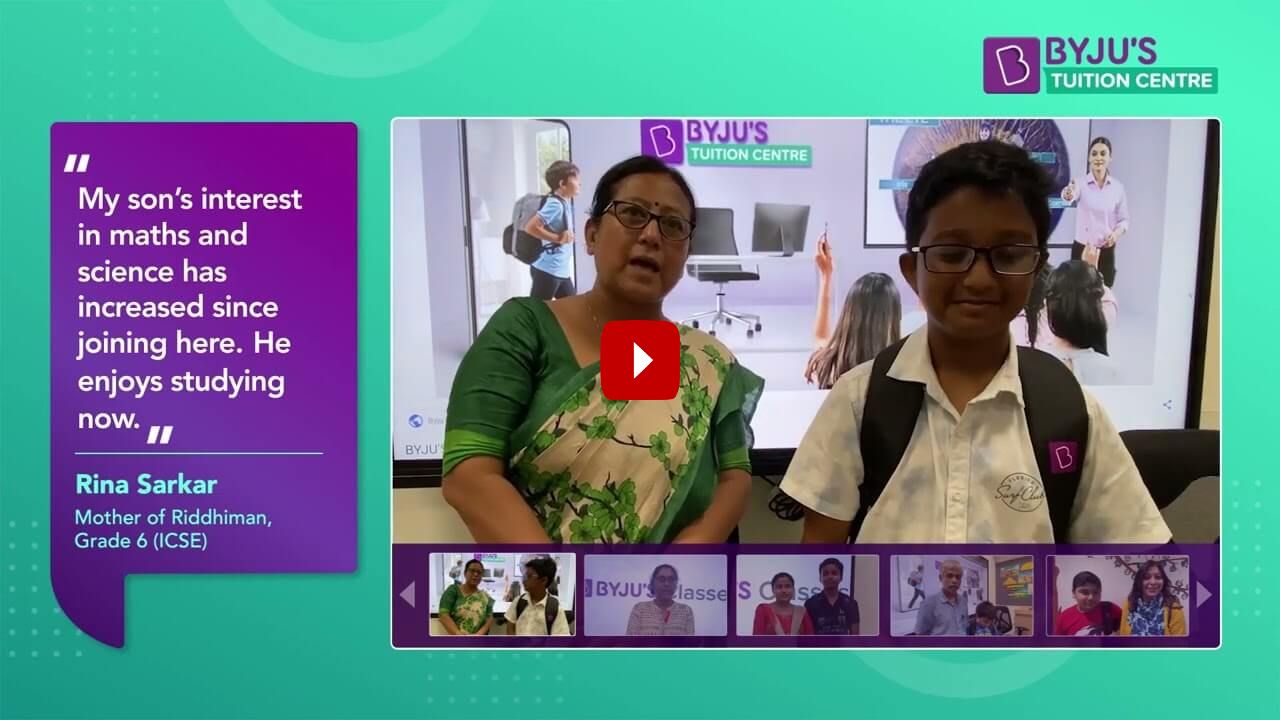 Are you weak in your academics and looking for the best tuition in Kolkata to boost your academic performance? BYJU'S Tuition Centres in Kolkata will be the perfect solution for your problems. Students often feel shy, and sometimes hesitate to ask for help at school. They do not open up with their teachers completely. If your child is facing a similar problem, enrol them for BYJU'S tuition classes after school hours. With friendly teachers and state of the art tech-enabled classroom facilities, BYJU'S Tuition Centres in Kolkata are set up to fulfil this need of students. Concepts related to Maths and Science are explained visually for better understanding. The BYJU'S Tuition Centres in Kolkata provide tuition classes to students from Classes 4-10. Students studying under both CBSE and ICSE curriculum can join our tuition classes. Some selected centres also provide tuition classes for students under the state board of West Bengal.
Benefits of BYJU'S Tuition Centres (BTC) - Kolkata
A good relationship between a student and a teacher is very beneficial for a student's progress in academics. Our teachers maintain a friendly and warm relationship with the students. We follow a learner-centric approach at BYJU'S Tuition Classes for Maths and Science in Kolkata. We put extra time and effort in areas where a student is facing problems. Extra classes are personalised to help students learn at their own pace. Our motive is to create individuals who can build successful careers on the basis of their knowledge. Benefits of joining tuition classes for Maths and Science at our centre are as follows:
Expert teachers design lessons that are inclusive of all learner needs.
Teaching through animated videos, puzzles, games, etc.
Regular homework is assigned to students along with subjective questions.
Preparation for competitive exams like Olympiads and entrance exams.
Classes are available at affordable prices.
Teachers maintain a friendly relationship with students.
On the spot resolution of doubts and queries.
Peer-learning is encouraged for developing interaction and communication.
Quality assessments and tests.
Performance of the student throughout the course is recorded and analysed.
Parents are informed and updated regularly about the student's progress.
Set your child on the right path to academic success by enrolling them in BYJU'S Tuition Centres near you.
List of BYJU'S Tuition Centres in Kolkata
BYJU'S Tuition Centres in Kolkata are easily accessible to students living within a radius of 5 km around the centres. Students can contact us at the centres for any kind of queries or assistance required related to Maths and Science tuition classes. Given below is a list of BYJU'S tuition centres based in Kolkata:
1. Tuition Centre in Rabindra Sarobar
1st Floor, Thapar house , 163
Shyama Prasad Mukherjee Rd, Charu Market
Rabindra Sarobar, Kalighat, Kolkata
West Bengal - 700026
2. Tuition Centre in Park Street
Saket Building, 3rd Floor
#44, Park Street, Kolkata
West Bengal - 700016
3. Tuition Centre in Salt Lake
Infinity Think Tank, Tower 1
2nd Floor, GP Block, Saltlake, Sector 5, Kolkata
West Bengal - 700091
4. Tuition Centre in Dalhousie
Thapar House. 25, Brabourne Road
1st Floor, Dalhousie, Kolkata
West Bengal - 700001
1st Floor, Akash Tower, 781
Anandapur, Above Passport Seva Kendra
Eastern Metropolitan Bypass, Kolkata
West Bengal - 700107
6. Tuition Centre in Ghoshpara Road
18/2, Ghoshpara Road, 4th Floor
Above Reliance Trends, Barrackpore, Kolkata
West Bengal - 700120
3rd Floor, ABC Square, Plot No. 2D/17
Street No. 111, Major Artillery Street, Biswas Bangla Sarani
Above More Hypermarket, Near NKDA Cricket Ground and Sharachi EK Tower
Rajarhat, Kolkata
West Bengal - 700161
1st Floor, Daffodil Water Front, 25A Ho Chi Minh
Saroni, Ray Dighi, Near Ray Dighi Shitala Mandir
West Bengal - 700061
Frequently Asked Questions (FAQs)
Q1
Students of which classes are provided tuition at BYJU'S Tuition Centres in Kolkata?
Students from Grades 4 to 10 can enrol for tuition classes at BYJU'S Tuition Centres in Kolkata.
Q2
Do the classes at BYJU'S Tuition Centre in Kolkata correspond to the portions currently taught at school?
Yes, we have multiple tuition batches available. Students can choose a particular batch that suits their study plan as per the local school syllabus.
Q3
Do you provide lesson notes and homework after tuition classes?
Homework is assigned to students after every class. Students can submit their BYJU'S Tuition Centre homework to get the tutor's feedback. We provide study resources in the form of both hard and soft copies. Your child can also access engaging video lessons and practice tests on the BYJU'S Learning App for extra learning.
Q4
What are the aims of workshops at BYJU'S Tuition Centre?
These are free workshops designed by our expert BYJU'S faculty to focus on learning outcomes such as exam preparation, preparation for Olympiads, or building foundational concepts. Students and their parents will get to experience our advanced classroom facilities and get one-on-one guidance from our expert faculty.
Q5
Will the teachers at BYJU'S Tuition Centre also help students with school homework?
All of the doubts asked by the student will be resolved in the classroom by the teachers. Tests and worksheets will be given to students as homework after every class. This homework will be evaluated by the teachers. Their results will be shared on the portal.
Q6
What will be the difference between online and offline classes?
In the live online class, the student will be taught using the two-teacher model. In this, the teacher will explain all concepts in detail via high quality animated videos. The live teacher who comes later will solve all doubts and queries to ensure clarity of concepts. The live teacher will also teach your child methods and techniques for solving application-based problems. Your child will attend online classes at home for 2-3 days in a week. Offline classes will be face-to-face tutorial classes at The BYJU'S Tuition Centre where teachers will spend time working with each student and ensure that they are able to solve the tutorial sheet. Your child will attend tutorial classes at BYJU'S Tuition Centre for 1-2 days in a week.