NCERT Solutions for Class 10 Science Chapter 9 Heredity and Evolution details important questions with a thorough analysis of the answers. Discover important concepts and their relevant questions, all carefully answered by our highly qualified teachers and industry professionals. Previous years questions are also answered with adequate explanations wherever necessary. Furthermore, we make sure that relevant content on NCERT Solutions Class 10 is regularly updated as per the CBSE board.
We also ensure that the answers that we deliver are tailored to meet various criteria that teachers look for when awarding marks. This ensures that our answers are relevant and useful without sacrificing informational quotient.
Access Answers of Science NCERT Class 10 Chapter 9 Heredity and Evolution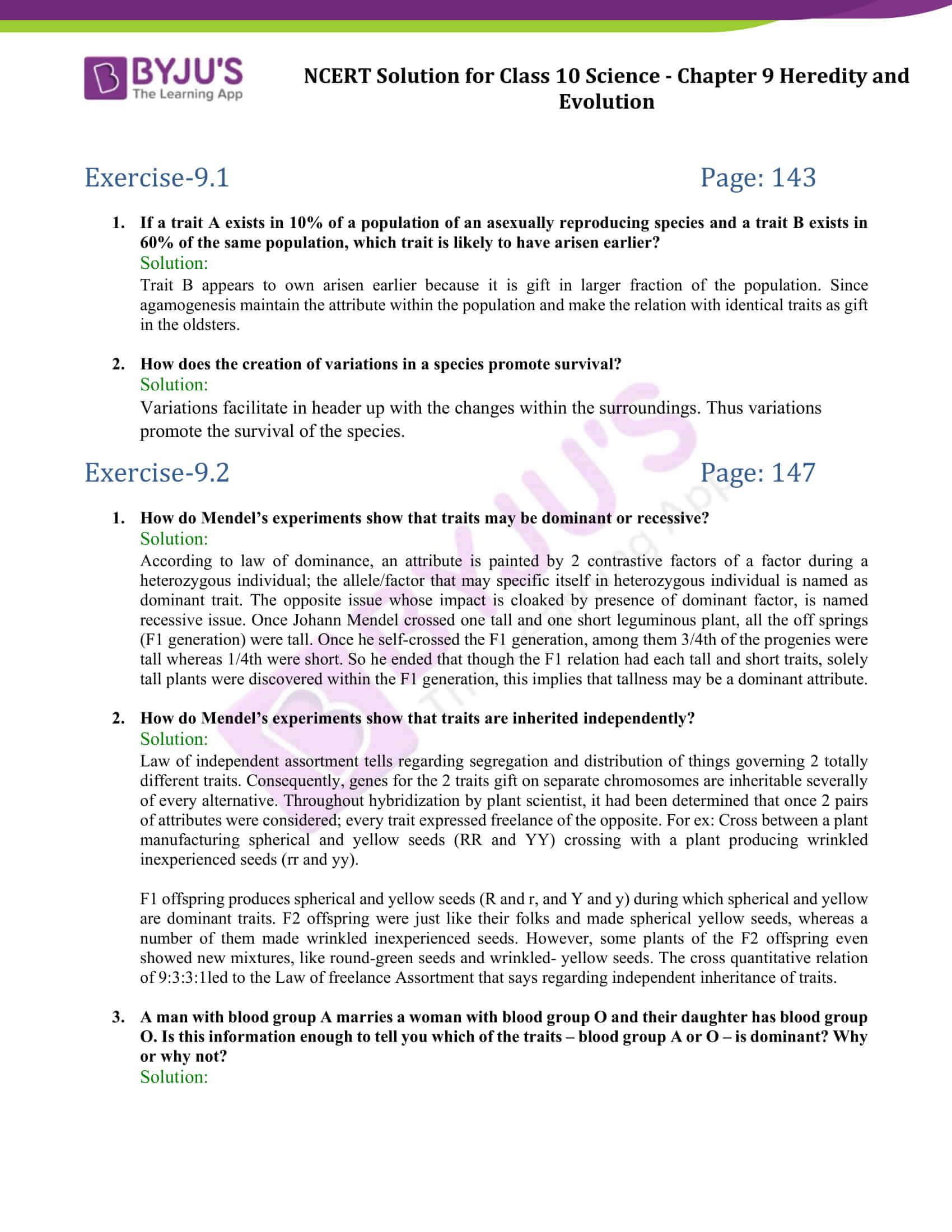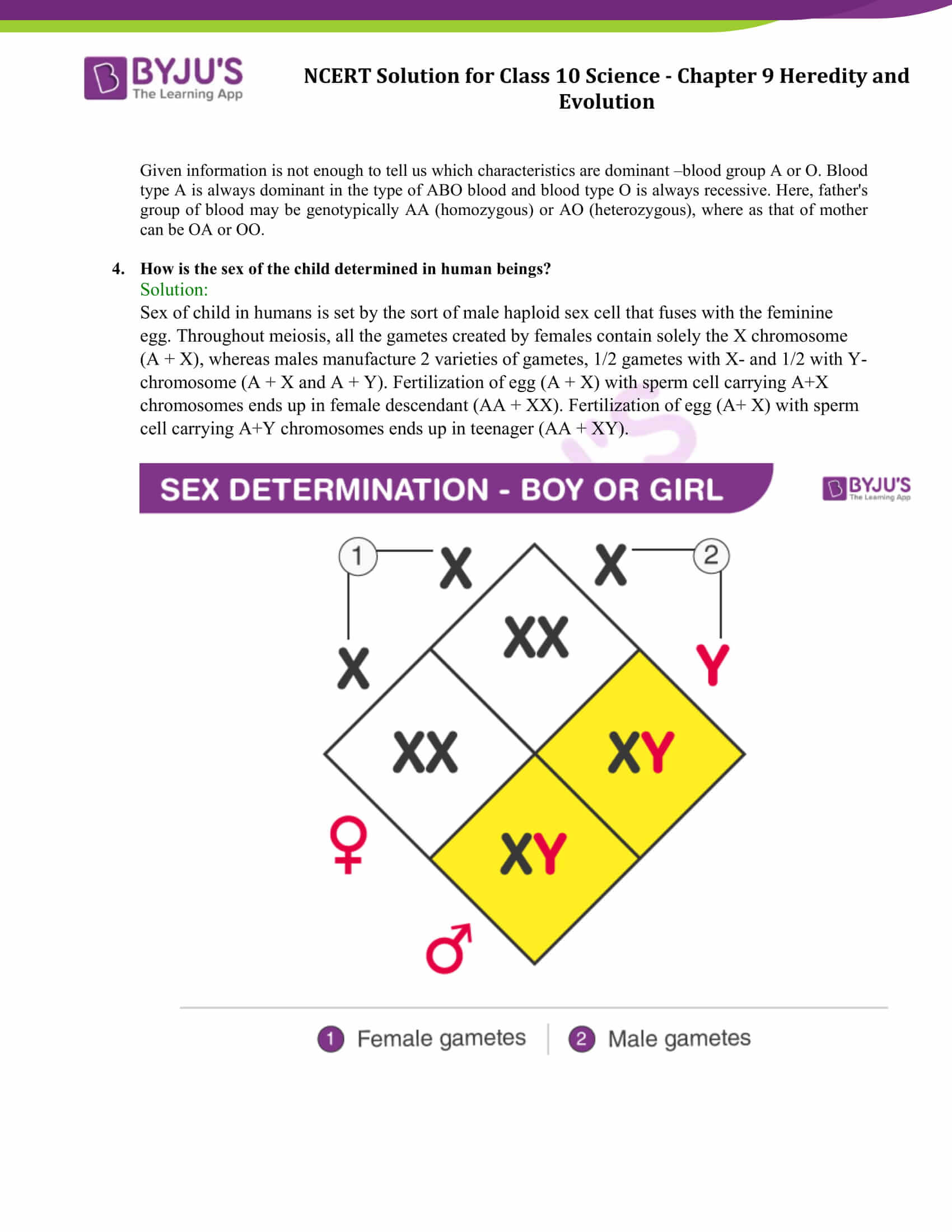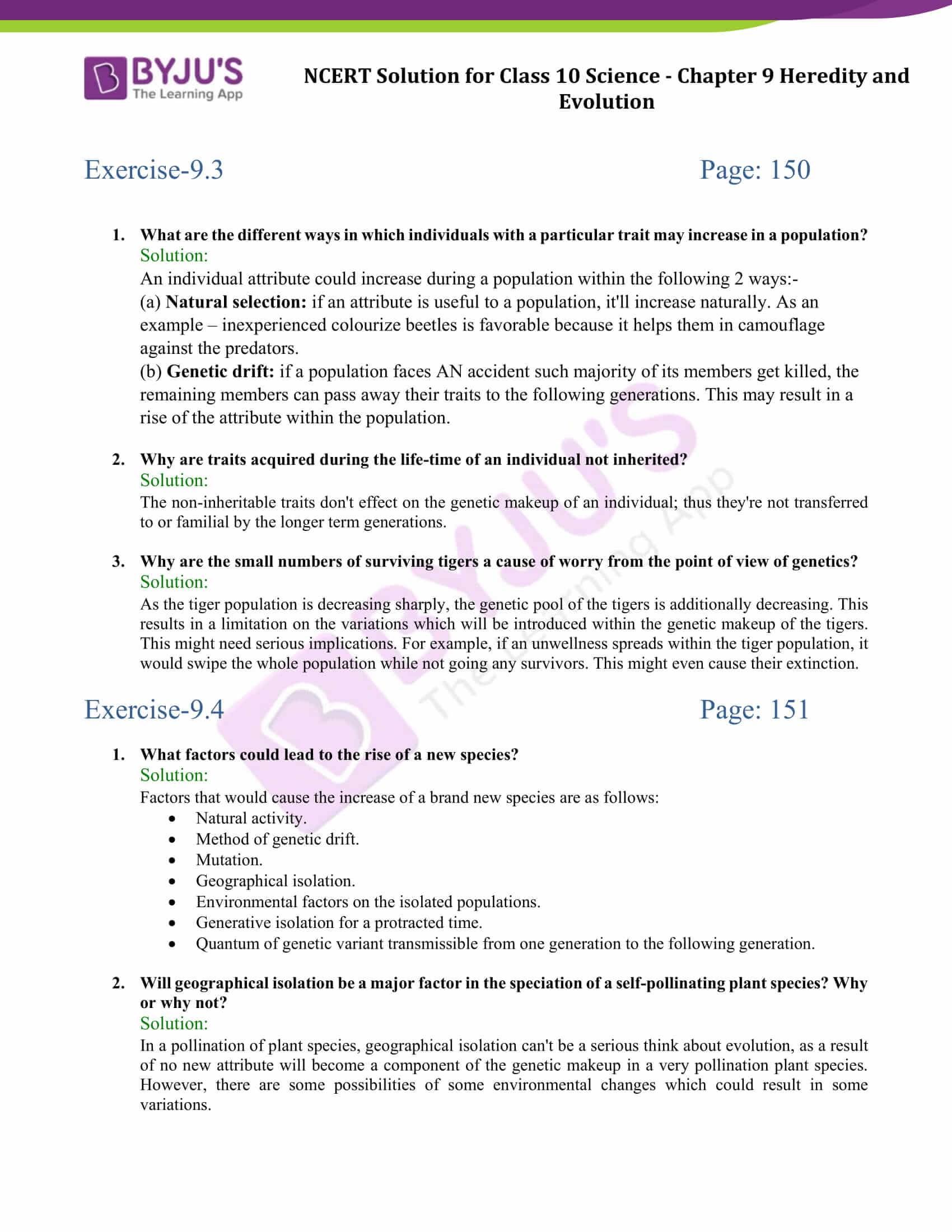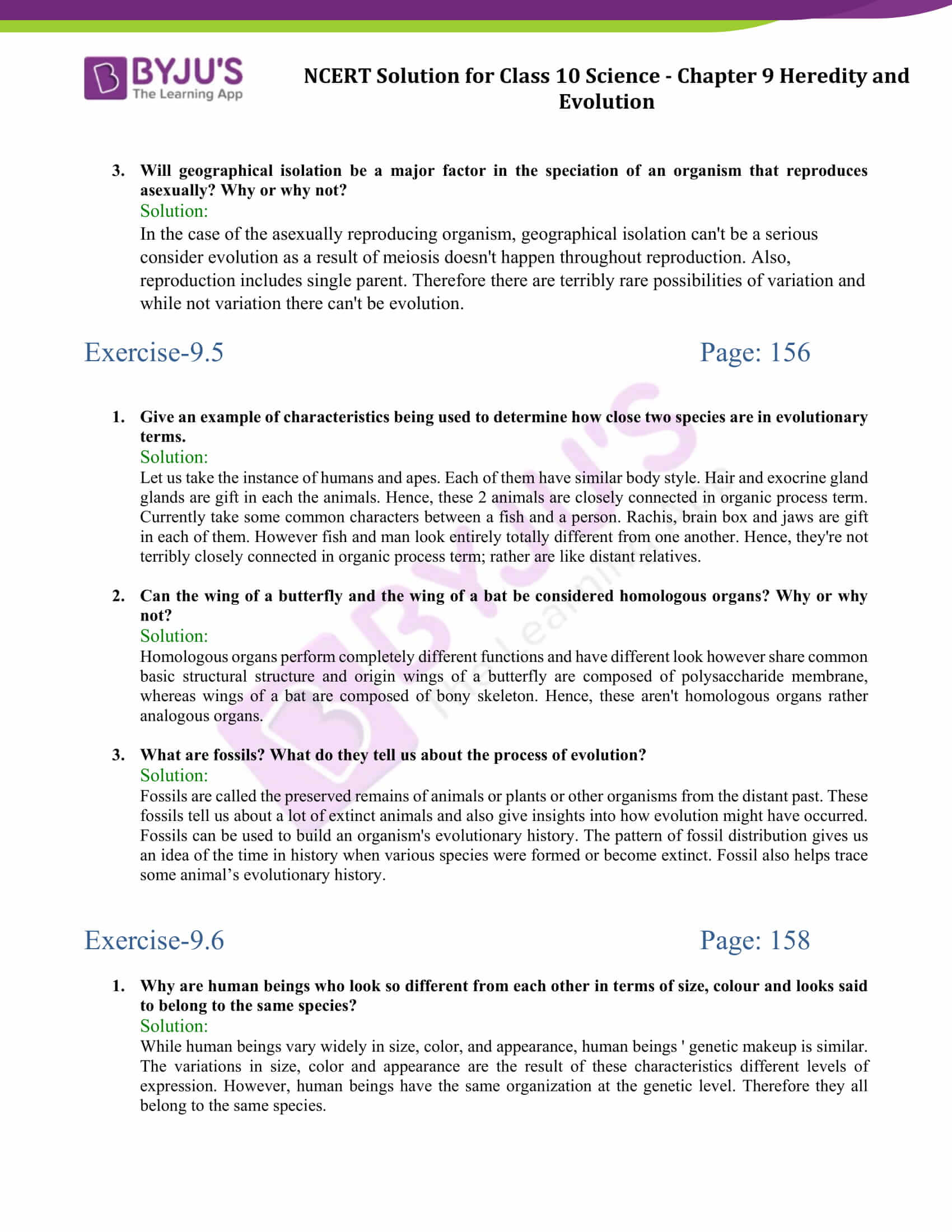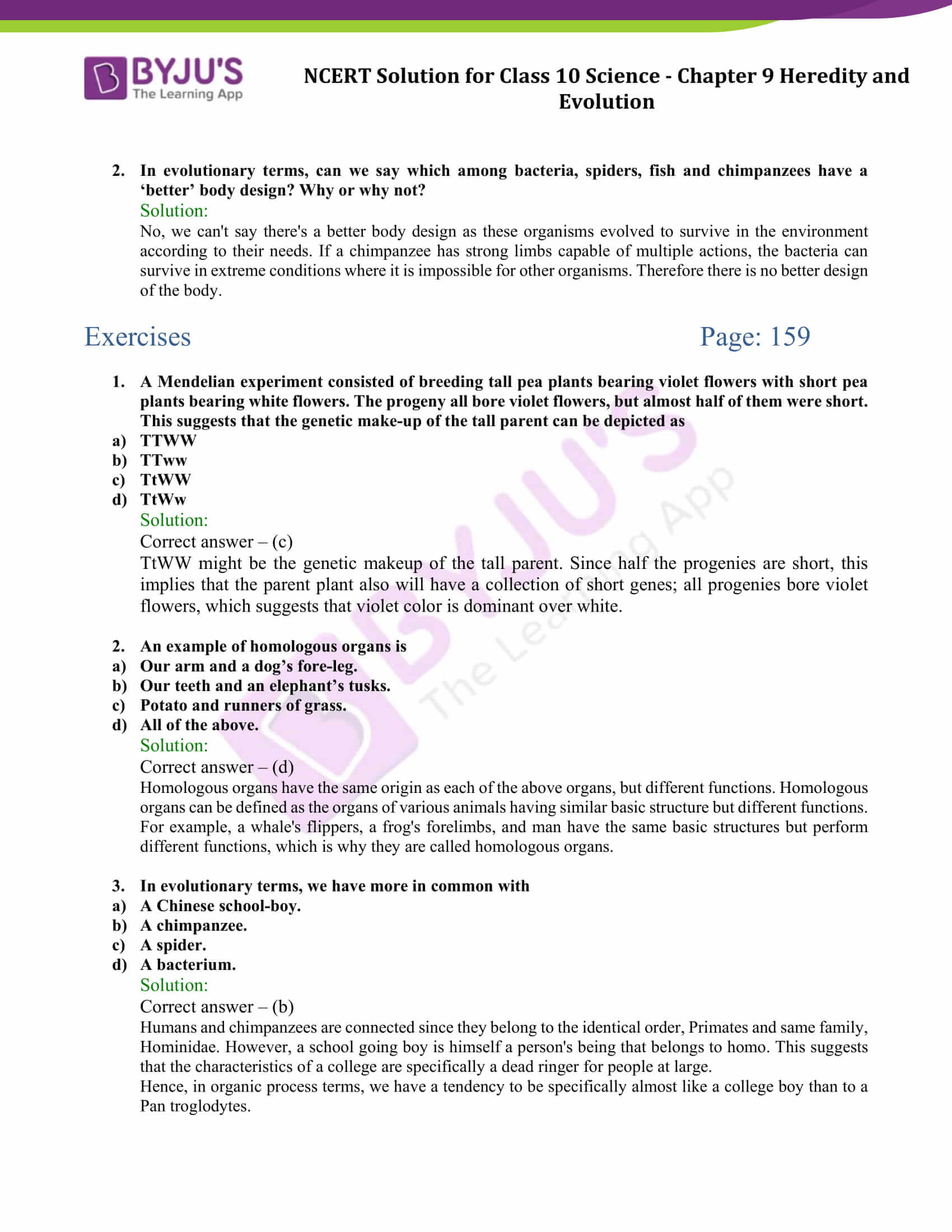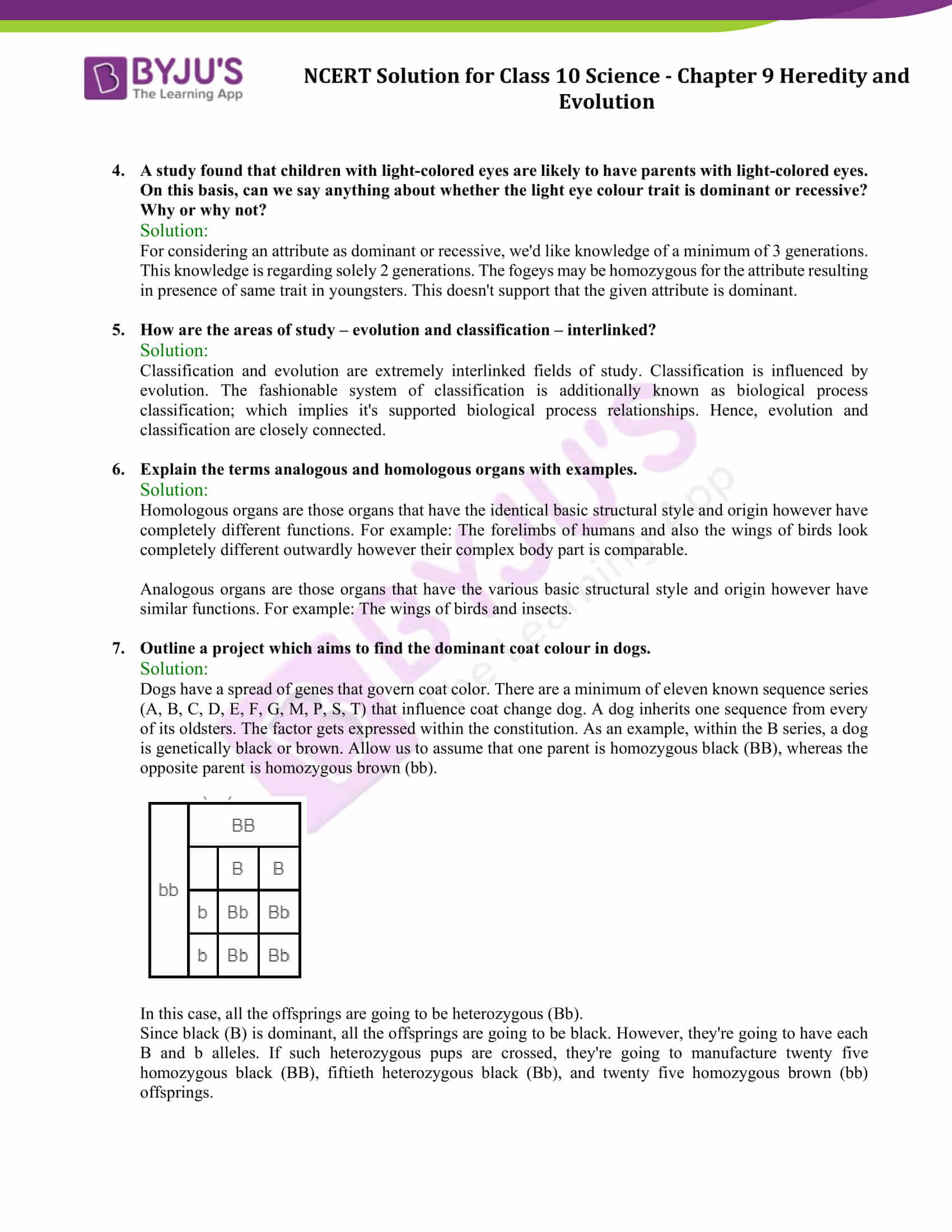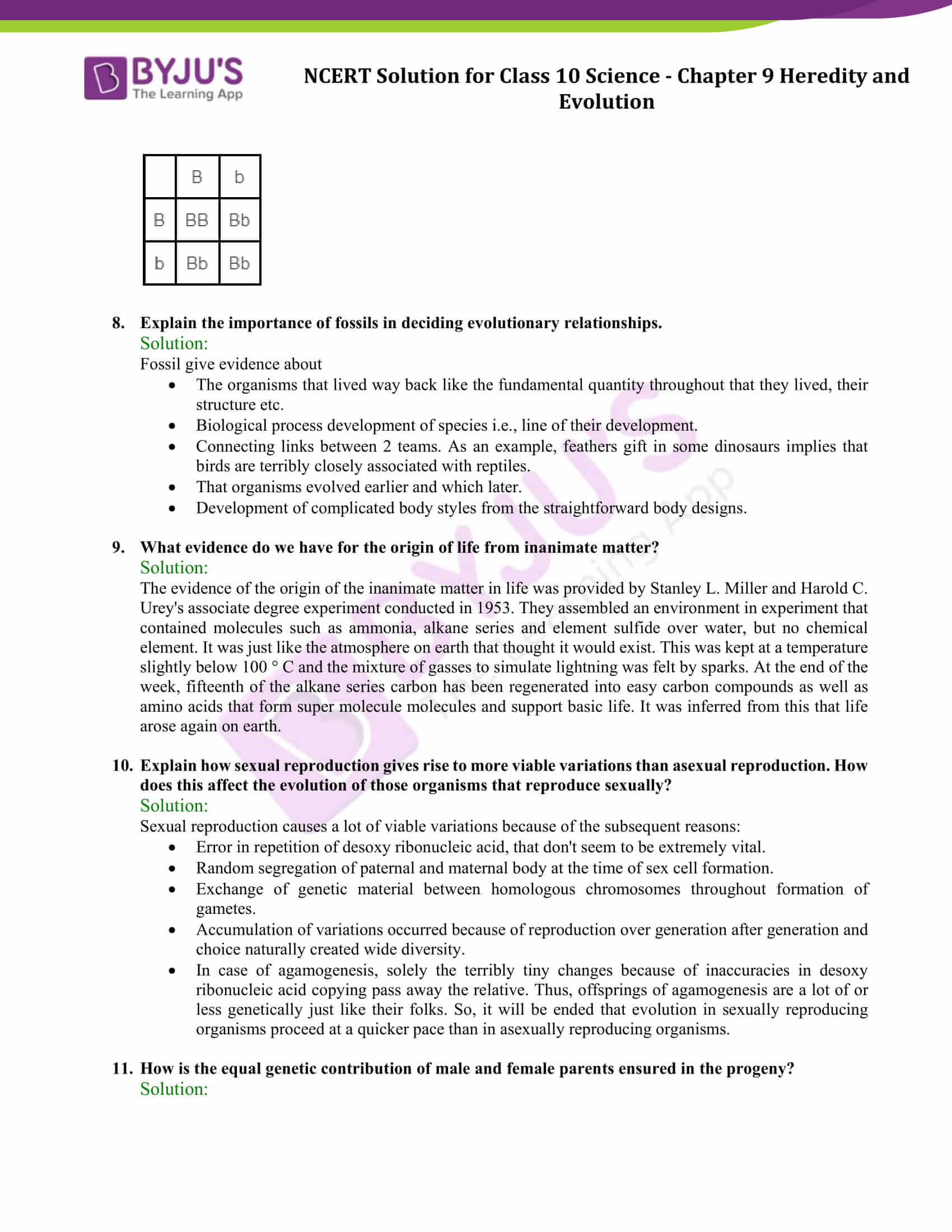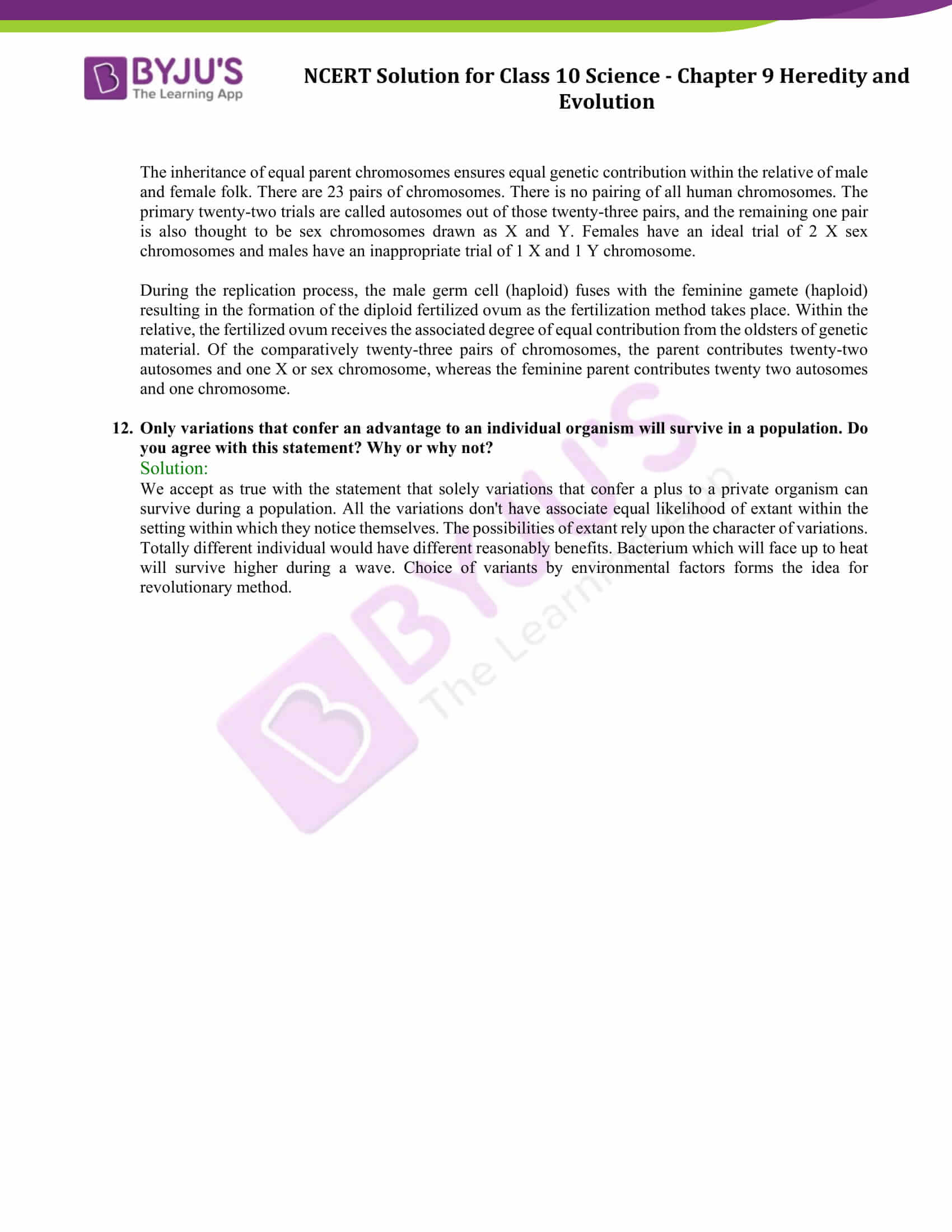 NCERT Solutions for Class 10 Science Chapter 9 Heredity and Evolution
Chapter 9 – Heredity and Evolution are expected to have between 1 to 3 marks based on the yearly trends.
In 2018, however, only 1 question was asked (regarding Laws of Inheritance) in the class 10 science exam. But it would be wise to learn all the relevant concepts in order to avoid any unpleasant surprises.
The topics covered in this chapter are:
Laws of Inheritance
Mendel's Experiments
Monohybrid cross
Dihybrid cross
Evolution and its theories
Evidence of evolution
NCERT Solutions for Class 10 Science Chapter 9 Heredity and Evolution
It is necessary to know how physical characteristics and traits are passed from a parent to its offspring. Furthermore, heredity provides a lot of insight into how genetics play a major role in organisms. Evolution is a gradual process where an organism changes and adapts to many variables. Sometimes, it is driven by the environment or competition.
Explore the definition of heredity and evolution. Discover its significance and implications. Find more learning resources on NCERT Solutions to aid your exam preparation and streamline your last-minute revisions.
Key Features of NCERT Solutions for class 10 Science Chapter 9 Heredity and Evolution
Elaborate and detailed Solutions
Tailored to meet CBSE prescribed norms
Use of simple and easy-to-understand language
Nearly all jargons are explained in detail
Access to a plethora of additional learning tools and resources ranging from sample papers to solved previous year question papers
More to Explore: NCERT Solutions Class 10 Science
Frequently Asked Questions on Heredity and Evolution
How does the creation of variations in a species promote survival ?
Variations facilitate in header up with the changes within the surroundings. Thus variations promote the survival of the species.
Why are traits acquired during the life-time of an individual not inherited?
The non-inheritable traits don't effect on the genetic makeup of an individual; thus they're not transferred to or familial by the longer term generations
What are fossils ?
Fossils are called the preserved remains of animals or plants or other organisms from the distant past. These fossils tell us about a lot of extinct animals and also give insights into how evolution might have occurred.
Explain the importance of fossils in deciding evolutionary relationships ?
Fossil give evidence about
The organisms that lived way back like the fundamental quantity throughout that they lived, their structure etc.
Biological process development of species i.e., line of their development.
That organisms evolved earlier and which later.
Development of complicated body styles from the straightforward body designs.
Explain the terms analogous organs ?
Analogous organs are those organs that have the various basic structural style and origin however have similar functions.
Explain the terms homologous organs ?
Homologous organs are those organs that have the identical basic structural style and origin however have completely different functions.