JEE Advanced question papers hold great significance for students who are currently preparing for the entrance exam. In the last few days leading up to the main exam, candidates should go through the JEE Advanced question papers including previous year papers to test their preparation level and practice solving problems. One of the top advantages of referring and solving these question papers is that it will help students gain valuable insights about the types of questions, difficulty level, the pattern of the exam and more.
JEE Advanced 2021 Question Paper Analysis and Discussion
JEE Advanced 2021 Paper Analysis – Memory Based Questions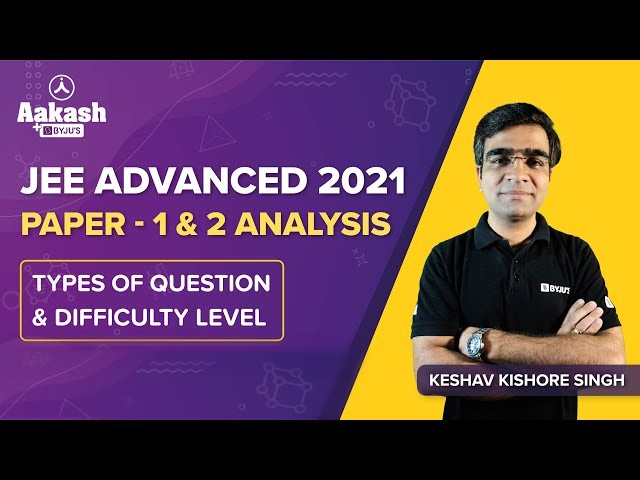 JEE Advanced 2021 Paper 1 Analysis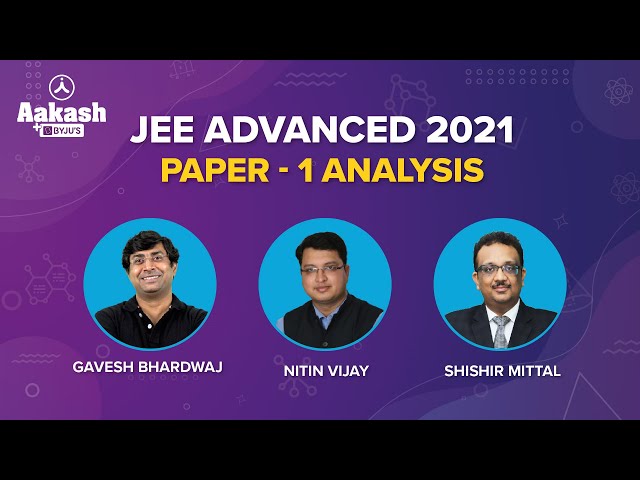 JEE Advanced 2021 Paper 2 Analysis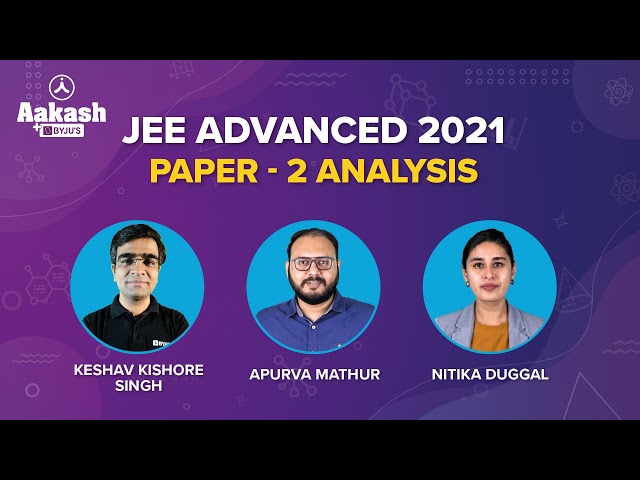 JEE Advanced 2021 Question Papers and Solutions
We at BYJU'S have put together a set of IIT JEE Advanced question papers along with their solutions in the form of PDFs. All the question papers are easily downloadable from the link provided on this page. 
The past question papers for JEE Advanced available here are from the year 2020 to 2007 and students will also find all the answer keys and solutions for each paper. The question papers for JEE Advanced further cover all the three important sections of Maths, Chemistry, and Physics.
Table of Content
JEE Advanced 2020 Question Papers
Click on the link provided below to view or download the question papers for JEE Advanced 2020.
JEE Advanced 2019 Question Papers
IIT Roorkee was in charge of conducting the JEE Advanced 2019 exams. The overall paper was set similar to 2018 exam pattern. However, in terms of difficulty, the 2019 paper was on a tougher side. As usual, the Physics and Maths sections were set from moderate to difficult level while Chemistry was the easiest section.  Students can view the 2019 JEE Advanced question paper analysis by visiting the link.
Download question papers for JEE Advanced 2019 along with their solutions below.
JEE Advanced 2018 Question Papers
In 2018, the JEE Advanced paper was kind of surprising for candidates where paper 1 was on a moderate difficulty level. However, paper 2 as per the feedback from the candidates was comparatively difficult. In paper 1, the Maths section was easy while the Physics section was considered moderate. Unexpectedly, Chemistry featured some difficult questions. Likewise, in paper 2, the Maths section had some tricky questions while Physics had lengthy questions. Like paper 1, the Chemistry section in paper 2 was said to be the most difficult one. Get a detailed analysis of JEE Advanced 2018 question paper by clicking on the given link.
Access 2018 question papers from the table below.
JEE Advanced 2017 Question Paper
The 2017 JEE Advanced question paper was significantly easier compared to the previous year papers. As per recorded feedbacks Chemistry was yet again a hurdle for many candidates with difficult questions whereas solving Math questions were moderately easy and the Physics section comprised of questions that could fetch high scores for the candidates. To know more about JEE Advanced 2017 Question Paper analysis visit the given link.
Students can download the question papers from the table given below.
JEE Advanced 2016 Question Paper
The question paper that was set for JEE Advanced 2016 comprised of a mixed set of questions in terms of difficulty. Looking at paper 1, the overall difficulty was on a moderate level. The Maths section had some lengthy questions while the Physics section featured tricky questions. The Chemistry section, in general, was comparatively easy that the other two sections. Paper 2 was slightly difficult. The Maths and Physics sections were longer than paper 1 but on a moderate level. The Chemistry section in paper 2 was the most difficult section.
Also Read:
JEE Advanced Previous Year Question Papers: Download PDFs
Benefits Of Solving JEE Advanced Question Papers
Below we will look at some of the benefits of solving the questions from JEE Advanced paper.
Candidates will get a clear idea about the real exam.

Know the important topics to focus on.

Develop better time management ability.

Practice and learn effectively.

Develop better problem-solving skills.

Identify one's strengths and weaknesses.

Test their preparation level.

Be well prepared to tackle any type of question that could be asked in the final exam.
JEE Advanced Exam Pattern
Exam Mode

Computer-based (Online) Exam

Exam Duration

Three hours

Total Sessions

Morning Shift – 09:00 AM to 12 Noon

Afternoon Shift- 02:00 PM to 05:00 PM

Number of Papers

Two

Sections

Physics

Chemistry

Mathematics

Marking Scheme

Full, partial, zero and negative marking schemes.

Language of Examination

English and Hindi

Total Questions Asked

108 questions

Questions Type

Multiple choice, Numerical and list Match Sets.
JEE Advanced Sample Papers
In addition to these question papers, BYJU'S is also offering free JEE Advanced sample papers to help students take their preparation to a higher level. Students can easily download these sample question papers (part I and part II) and practise solving different types of JEE problems.
Important Things To Know About JEE Advanced
JEE Advanced is the second phase of IIT JEE and is conducted after JEE Main. This entrance exam is conducted primarily to offer admission into the top IITs in the country. Candidates who successfully clear JEE Main and are among the top 2,50,000 are eligible to appear for JEE Advanced. The exam is conducted in a computer-based mode and is held once annually. There are seven IITs that conduct the exam on a rotational basis. The IITs are IIT Kanpur, IIT Kharagpur,  IIT Roorkee, IIT Delhi, IIT Madras, IIT Bombay,  IIT Guwahati. The JEE Advanced 2021 exam will be conducted by one of these institutions.
Below students can read more about some of the important things that are essential in order to prepare effectively and succeed in the upcoming JEE Advanced exam. Get detailed information regarding the exam.
To learn more about competitive exams and get the latest notifications and updates about JEE Advanced 2021, admit cards, exam schedule keep visiting BYJU 'S. Candidates can also download the JEE Advanced 2021 Brochure released by officials.


Frequently Asked Questions On JEE Advanced Question Paper
In what mode will the JEE Advanced 2021 exam be conducted?
JEE (Advanced) 2021 examination will most likely be conducted only in the Computer Based Test (CBT) mode.
Are both papers compulsory for JEE Advanced?
JEE Advanced consists of two papers (Paper 1 and Paper 2) of three hours duration each. Both the papers are compulsory and only the responses of candidates who have appeared in both Paper 1 and Paper 2 will be evaluated.
How many questions shall be there in JEE Advanced 2021 question paper?
As per the last year, there were 108 questions asked in the JEE Advanced paper.
What kind of questions are asked in the exam?
The type of questions that are asked in the JEE Advanced question papers are designed to test comprehension, reasoning and analytical ability of candidates.
Will I get a copy of the question paper and my responses?
No, but the question paper along with the answer key will be available for download from the JEE (Advanced) official website at a later stage.
Can I change the language (from English to Hindi and vice versa) during the exam?
Yes, candidates can toggle between English or Hindi languages, as the viewing language of any question, anytime during the entire period of the examination.
Will I be given rough sheets for my calculations during the Computer Based Test (CBT) of JEE (Advanced)?
Yes, you will be given a "Scribble Pad" (containing blank sheets, for rough work) at the start of every paper. You can do all your calculations inside this "Scribble Pad". You will need to bring your own pen/pencil.
Can I change my answer in the CBT mode?
Candidates can change the previously saved answer of any question, anytime during the entire duration of the test.
Will PwD candidates be eligible for compensatory time?
All PwD candidates are eligible for one hour compensatory time, i.e., the end time will be 13:00 IST for Paper 1 and 18:30 IST for Paper 2.
Will there be a separate merit list prepared for Architecture Aptitude Test candidates?
No, there is no separate list prepared for AAT candidates. The seats are allocated solely based on the AIR that candidates obtain in the JEE Advanced exam.