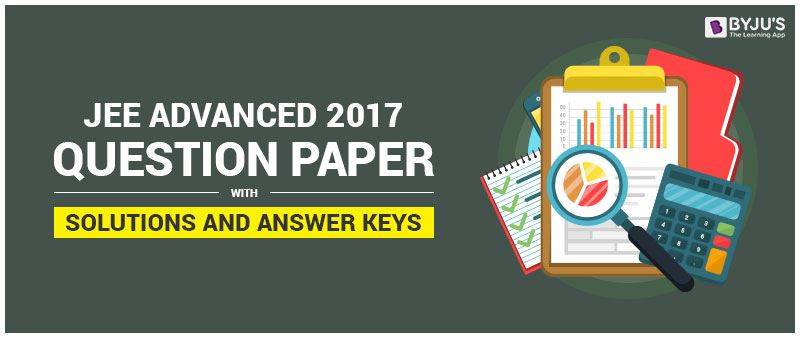 JEE Advanced 2017 Question Papers – IIT JEE Advanced was conducted by IIT Madras in the offline mode on 21st of May in 2017. The Top 2.2 lakh candidates from JEE Main were eligible to appear for this exam. The question paper had a total of 10 sets (code 0 to code 9). Each set was divided into 3 sections (Mathematics, Physics, and Chemistry). The exam pattern of JEE Advanced 2017 was almost similar to the examination conducted last year. Soon after the examination, JEE Advanced question papers along with their answer keys and solutions were made available on the official website. Meanwhile, the question papers are very useful JEE resources for studying and they play an important in helping students prepare sharply for the exam.
The merits of practising IIT JEE Advanced 2017 question papers are:
Students will come across a variety of important concepts and several complicated problems that are generally not covered in the textbooks or in the study materials provided by the coaching institutes. Ultimately, advancing their preparations to a higher level.
Analysing these JEE Advanced  2017 solutions thoroughly will also enhance their approach, speed, accuracy, thought-process and time management skills while attempting the exam.
Furthermore, these question papers for JEE Advanced will enable students to have a quick revision of the entire syllabus. It also offers a general idea of the important concepts for the examination point and students can develop a proper idea about the exam pattern.
JEE Advanced 2017 Question Paper
These previous years JEE Advanced question papers will assist students in identifying the type of questions expected in the exam along with their difficulty level. Reviewing these previous year question papers will help in identifying the weightage of different chapters included in the syllabus. Hence, students can streamline their preparation and move in the right direction by ascertaining the topics and questions that are frequently covered in the examination.
JEE Advanced 2017 Question Paper Analysis
There were a total of 54 questions (183 marks) in each JEE Advanced paper 1 and paper 2 with 18 Questions (122 marks) from Physics, Chemistry, and Mathematics. Out of total 386 marks, 151 marks were allotted to the class 11th syllabus and whereas 215 marks were allotted to the class 12th syllabus.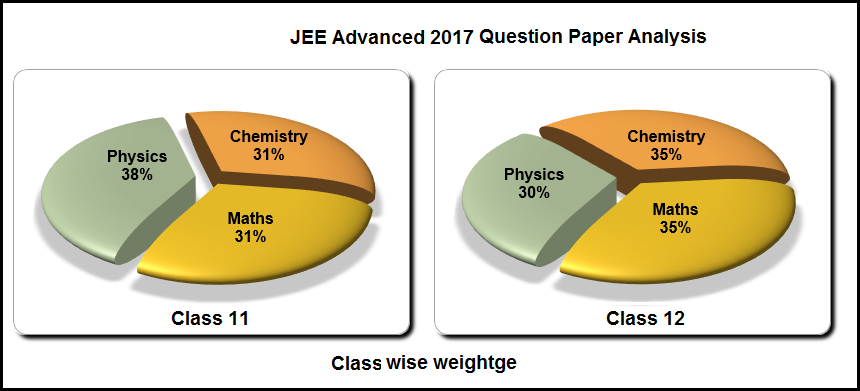 JEE Advanced 2017 Question Paper Difficulty Level Analysis
JEE Advanced 2017 Paper 1 and Paper 2 Difficulty level Analysis
Subject
Physics
Chemistry
Maths
Category
Questions
Marks
Questions
Marks
Questions
Marks
Easy
16
52
9
28
12
42
Moderate
15
53
10
36
18
58
Difficult
5
17
17
58
6
22
Total
36
122
36
122
36
122
JEE Advanced Paper 1: In comparison to chemistry, questions from Physics and Mathematics were comparatively easier. Both these sections were moderate in terms of difficulty whereas chemistry was quite difficult.
JEE Advanced paper 2: The difficulty curve of questions asked in the Physics section was in between moderate to tough because of the lengthiness and the calculative nature of the problems. Questions from Mathematics were comparatively easier than the other two subjects. The Chemistry section was difficult mainly because of the application-based approach of the questions. However, students having a good conceptual knowledge found it moderate in terms of difficulty.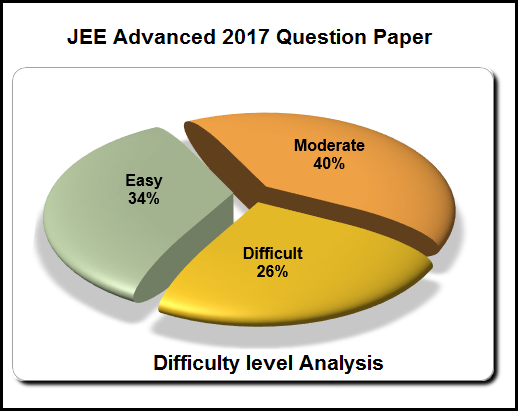 Overall JEE Advanced 2017 question paper was comparatively easier than the last year. Chemistry was the most difficult whereas Mathematics was moderate and physics was easier to score in comparison to the other two subjects.
Topic Wise Marks Allocation
Physics
JEE Advanced 2017 Paper 1 and Paper 2 Physics Section
Unit
Total Marks
No. of Questions
Weightage (%)
Electromagnetic Field
6
20
16.39%
Alternating Current
2
8
6.56%
Electrostatics
1
4
3.28%
Capacitance
2
6
4.92%
Electromagnetic Induction
1
4
3.28%
Centre of Mass
1
4
3.28%
Heat & Thermodynamics
5
17
13.93%
Gravitation
1
3
2.46%
Error in Measurement
1
3
2.46%
Rectilinear Motion & Vectors
1
3
2.46%
Mathematical Tools
1
3
2.46%
Surface Tension
1
3
2.46%
Rigid Body Dynamics
5
17
13.93%
Optics
3
11
9.02%
Modern Physics
3
9
7.38%
SHM & Waves
2
7
5.74%
Total
36 Questions
122 Marks
100.00%
Chemistry
JEE Advanced 2017 Paper 1 and Paper 2 Chemistry Section
Unit
Total Marks
No. of Questions
Weightage (%)
Chemical Bonding
6
22
18.03%
Coordination Compounds
1
4
3.28%
p-block
2
6
4.92%
General Organic Chemistry- II
1
3
2.46%
d & f block Elements
1
3
2.46%
Alkyl Halide, Alcohol & Ether
3
11
9.02%
General Organic Chemistry
1
3
2.46%
Carbonyl compounds
3
10
8.20%
Aromatic Compounds
3
9
7.38%
Atomic & Nuclear Chemistry
3
9
7.38%
IUPAC & Isomerism
1
4
3.28%
Mole Concept
1
3
2.46%
Chemical Equilibrium
1
4
3.28%
Chemical Kinetics
1
4
3.28%
Thermodynamics
2
7
5.74%
Solid State
1
3
2.46%
Electrochemistry
2
6
4.92%
Surface Chemistry
1
4
3.28%
Solution & Colligative Properties
2
7
5.74%
Total
36 Questions
122 Marks
100.00%
Mathematics
JEE Advanced 2017 Paper 1 and Paper 2 Mathematics Section
Unit
Total Marks
No. of Questions
Weightage (%)
Algebra
3
1
2.46%
Coordinate Geometry
20
6
16.39%
Complex Numbers
4
1
3.28%
Integral Calculus
22
6
18.03%
Differential Calculus
24
7
19.67%
Permutation & Combination
6
2
4.92%
Matrix & Determinants
14
4
11.48%
Quadratic Equation
6
2
4.92%
Probability
7
2
5.74%
Trigonometry
4
1
3.28%
Sequence & Series
3
1
2.46%
Vector and 3D
9
3
7.38%
Total
122 Marks
36 Questions
100.00%
Get access to a wide range of JEE Advanced question papers and also stay updated with the latest IIT JEE notifications covering the availability of application form, eligibility criteria, important dates, paper pattern, syllabus, and more at BYJU'S.

Frequently Asked Questions On JEE Advanced
How is the top 20 percentile calculated for the Qualifying Exam?
The percentiles are calculated by taking the aggregate marks of all the subjects of the Qualifying Exam. Institutions will provide cutoff marks for top 20 percentiles of various categories and the information will be published on the IIT websites.
What kind of questions can I expect in JEE Advanced?
The questions in JEE Advanced are quite tricky and analytical. As for the format, they are mostly multiple-choice type and covers all the three science subjects – Physics, Chemistry and Mathematics.
Is there any way to confirm the registration status for the exam?
The registration status of candidates can be confirmed through the official website. The status is updated within 72 hours of payment of fees. Candidates should immediately contact the admission authorities if they do not see.
How to develop better skills for solving JEE Questions?
The best and effective way to develop better skills for tackling JEE Advanced question is to solve a maximum number of question papers be it sample papers or previous year papers, etc. Candidates can also take up mock tests as well. All these study exercises will help aspirants get familiar with the paper patterns and they will know how to answer the questions during the real exam.
What is the medium of JEE Advanced question paper?
JEE Advanced question paper will come in both English and Hindi languages.
Do candidates pay application fees for both JEE Main and JEE Advanced together or separately?
The application fee for JEE Advanced has to be paid separately. It is paid by candidates who are interested or are appearing for the exam.
JEE Advanced Chemistry Analysis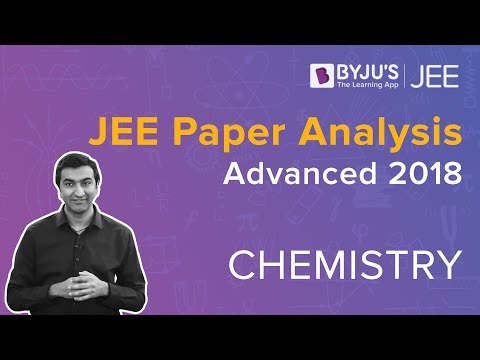 JEE Advanced Maths Analysis