JEE Advanced 2017 Question Papers had a total of 10 sets (code 0 to code 9). Each set was divided into 3 sections (Mathematics, Physics, and Chemistry). The exam pattern of JEE Advanced 2017 was almost similar to the examination conducted last year. On this page, official JEE Advanced question papers and their answer keys and solutions are available in an easily downloadable PDF format.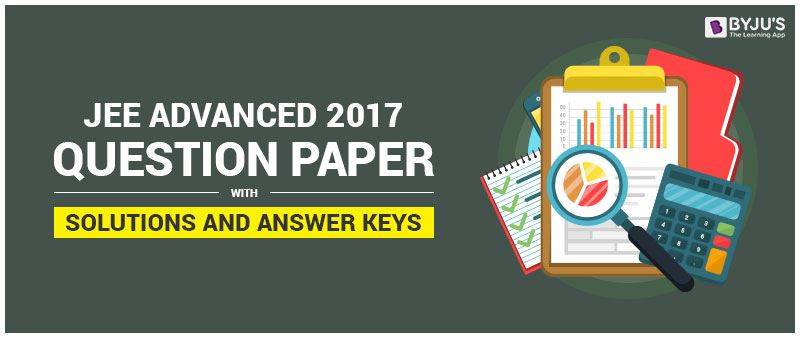 All these JEE Advanced question papers are very useful to JEE aspirants for studying, and they play an important role in helping students prepare sharply for the upcoming exam. Students can download the JEE Advanced 2017 question paper with solutions from the table below.
JEE Advanced 2017 Question Paper PDF
These previous years' JEE Advanced question papers will assist students in identifying the types of questions expected in the exam and their difficulty level. Checking these previous year's question papers will help identify the weightage of different chapters included in the syllabus. Hence, students can streamline their preparation and move in the right direction by ascertaining the topics and questions that are frequently covered in the examination.
Also, Check-Out JEE Advanced 2017 Paper Analysis: 
Merits of Solving Past Question Papers
The merits of practising IIT JEE Advanced 2017 question papers are:
Students will come across a variety of important concepts and several complicated problems that are generally not covered in the textbooks or the study materials provided by the coaching institutes. Ultimately, they will be able to improve their preparations to a higher level.

Analysing these JEE Advanced 2017 solutions thoroughly will also enhance their approach, speed, accuracy, thought-process and time management skills while attempting the exam.

Furthermore, these question papers for JEE Advanced will enable students to quickly revise the entire syllabus. It also offers a general idea of the important concepts for the examination point, and students can develop a proper idea about the exam pattern.
Get access to a wide range of JEE Advanced previous year question papers and stay updated with the latest IIT JEE notifications covering the availability of application form, eligibility criteria, important dates, paper pattern, syllabus, and more at BYJU'S.
Frequently Asked Questions On JEE Advanced Exam
Q1
How is the top 20 percentile calculated for the Qualifying Exam?
The percentiles are calculated by taking the aggregate marks of all the Qualifying Exam subjects. Institutions will provide cutoff marks for the top 20 percentiles of various categories, and the information will be published on the IIT websites.
Q2
What kind of questions can I expect in JEE Advanced?
The questions in JEE Advanced are pretty tricky and analytical. As for the format, they are primarily multiple-choice and cover all three science subjects – Physics, Chemistry and Mathematics.
Q3
Is there any way to confirm the registration status for the exam?
The registration status of candidates can be confirmed through the official website. The status is updated within 72 hours of payment of fees. Candidates should immediately contact the admission authorities if they do not see them.
Q4
How to develop better skills for solving JEE Questions?
The best and most effective way to develop better skills for tackling JEE Advanced questions is to solve a maximum number of question papers, be it sample papers or previous year papers, etc. Candidates can also take up mock tests as well. All these study exercises will help aspirants get familiar with the paper patterns, and they will know how to answer the questions during the actual exam.
Q5
What is the medium of JEE Advanced question paper?
JEE Advanced question paper will come in both English and Hindi languages.
Q6
Do candidates pay application fees for both JEE Main and JEE Advanced together or separately?
The application fee for JEE Advanced has to be paid separately. It is paid for by candidates who are interested or are appearing for the exam.