Parents know best | BYJU'S Tuition Centre Experience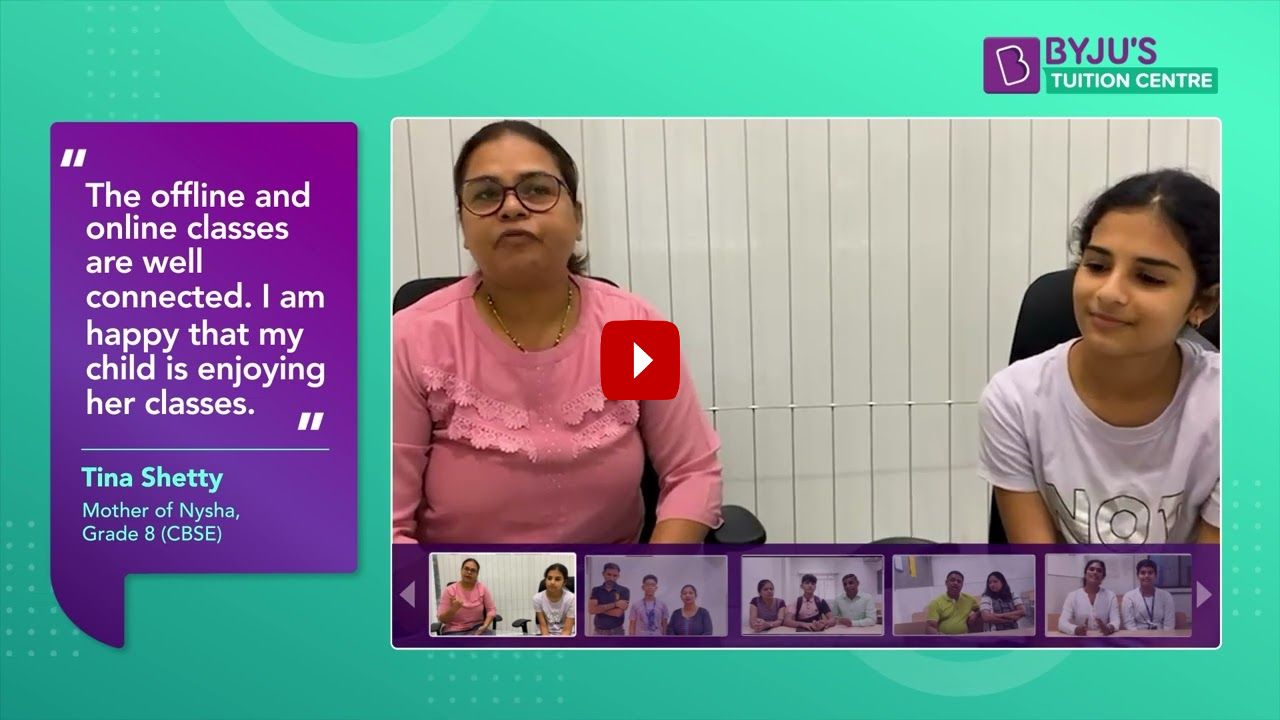 At BYJU'S Tuition Centre, Solapur, Maharashtra, parents can get the desired outcomes for their money invested on their child. We make sure to personally attend to every student in the classes and resolve their doubts immediately. The search for the best tuition near you ends here as BYJU'S Tuition Centre has a proven methodology of better results. The expert teachers are well informed of the students' learning style and they teach every child accordingly. With BYJU'S Tuition Centre, Solapur, Maharashtra, we promote a fun learning environment in order to create a stress-free zone for learning. We are currently providing Maths and Science tuitions for CBSE and Maharashtra state board students for Classes 4-10 in Solapur. BYJU'S Tuition Centre is a place where you can get the perfect tuition experience at an affordable price.
Benefits of Learning with BYJU'S Tuition Centre
At BYJU'S Tuition Centre, Solapur, Maharashtra, we have unconventional teaching methodologies — be it animated video lessons, hybrid learning mode and even free workshops. The teachers are hand-picked based on their experience and subject expertise. BYJU'S Tuition Centre has some exciting features which make us stand out from the others. Some of them are listed below:
Benefit of learning with India's largest ed-tech company available in your neighbourhood
Animate videos to promote fun learning and generate interest in the topics
Real-time doubt solving with our exclusive two-teacher advantage
Personalised learning experience for Maths and Science tuition near you
Performance tracking in order to fill the gaps
Tech-enabled classroom for new-age learning
Regular homework and physical tests at BYJU'S Tuition Centres, Solapur, Maharashtra
Ease of learning with hybrid mode with online and offline classes
Regular revisions, unlimited practice and in-depth analysis followed by detailed discussion with parents
Regular monitoring at the centres to understand real-time progress and scope for improvement
Improved confidence and social skills with group discussions, team activities etc.
At BYJU'S Tuition Centre, Solapur, we believe in making learning fun and put all our efforts into making that a reality. Get a call back from our counsellors to make the right decision for your child.