Parents know best | BYJU'S Tuition Centre Experience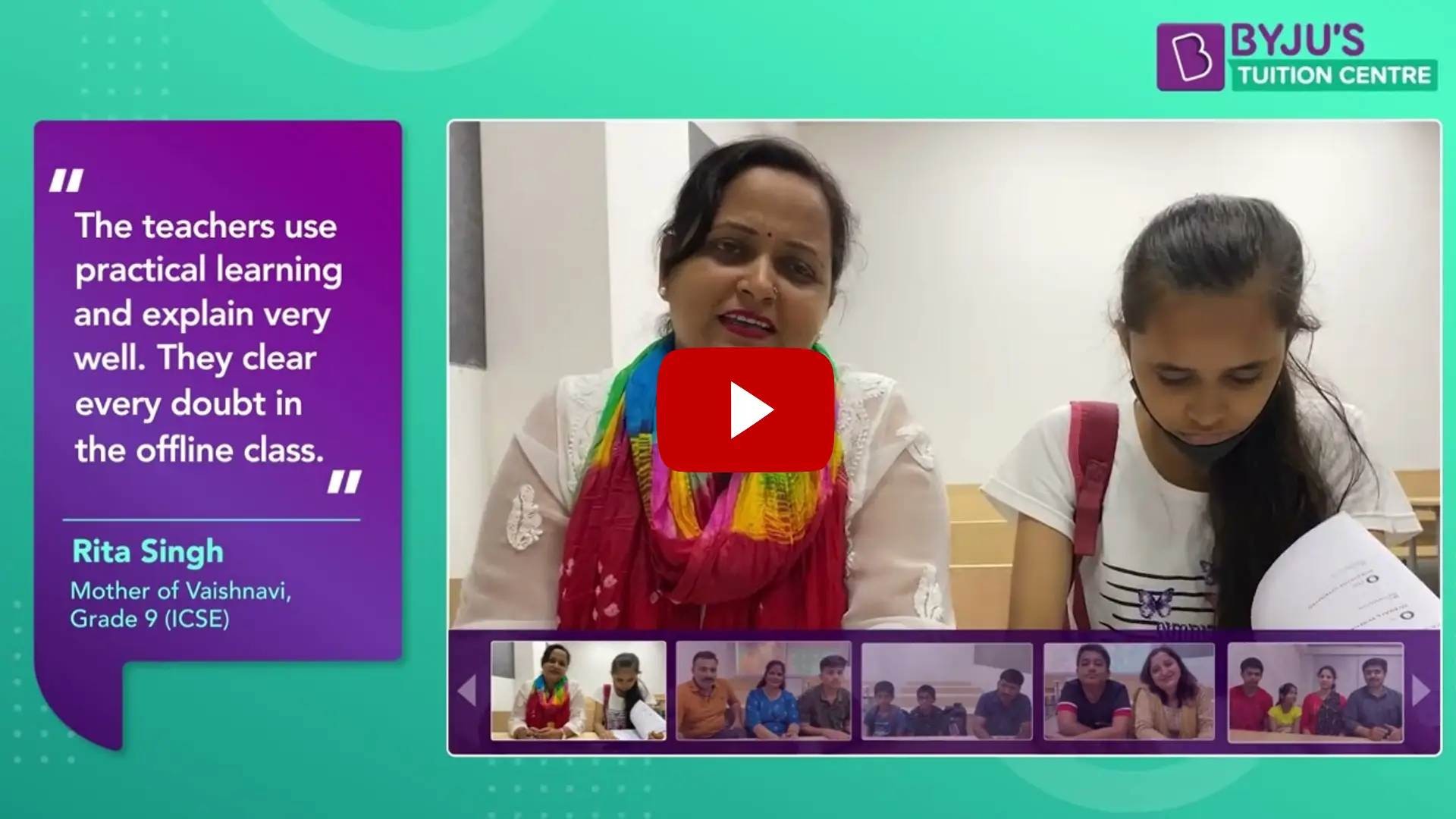 BYJU'S Tuition Centre in Aligarh provides tuition for Classes 4-10 to students studying under the CBSE curriculum. It provides tuition classes for Maths and Science. Our classrooms are tech-enabled, and our teachers are highly qualified and well-experienced in teaching. Students of BYJU'S Tuition Centres get personalised attention from their teachers that helps in clear understanding of concepts and proper clarification of doubts and queries. To check students' progress, teachers conduct tests, give assignments and provide feedback for improvement in studies accordingly. Teachers at BYJU'S Tuition Centre help students excel in their exams with apt conceptual examples during teaching. Currently, we have started out with one centre in Ramghat Road. The quality of education offered at our centres is excellent for students who want to master Maths and Science.
Benefits of BYJU'S Tuition Centre (BTC) - Aligarh
We understand that a good relationship between a student and a teacher promotes proper learning. Our teachers at BYJU'S Tuition Centres in Aligarh maintain a warm and friendly relationship with students both inside and outside classrooms. We do not want any student to shy away from asking questions.
Benefits of BYJU'S Tuition Centres in Aligarh are:
We offer hybrid classes that comprise both online and offline classes.
We focus on inclusive learning - learning styles and paces are taken into account while designing lessons and courses.
A learner-centric teaching methodology is followed here.
Teachers are available for both explaining concepts and clearing doubts separately to give a fair amount of time and attention to all learners.
We offer classes at affordable prices so that money is not a constraint for any student to get the right education
Teachers maintain good relationships with students so that they ask doubts without hesitation
On the spot doubt resolution is available at the centres for smooth transition to the next topic without wasting time.
Interactive activities are planned to boost confidence in the presentation skills of students.
Parents are updated regularly about developments made by the students.
Remedial solutions are suggested for betterment of the child in academics.
Students should join BYJU'S Tuition Centre in Aligarh to get better results and achieve academic excellence in Maths and Science without facing any kind of stress.
Bottom Content
List of BYJU'S Tuition Centres in Aligarh:
BYJU'S Tuition Centres in Aligarh are easily accessible to students living within a radius of 5 km around the centres. Students can contact us at the centres for any kind of queries or assistance required related to Maths and Science tuition classes.
Given below is a list of BYJU'S tuition centres based in Aligarh:
1. Tuition Centre in Ramghat Road
1st Floor, Liberty Plaza
Above IDBI Bank, Kishanpur Tiraha
Ramghat Road, Aligarh
Uttar Pradesh - 202001
Frequently Asked Questions (FAQs)
Q1
Students of which classes are provided tuition at BYJU'S Tuition Centres in Aligarh?
Students from Grades 4 to 10 can enrol for tuition classes at BYJU'S Tuition Centres in Aligarh.
Q2
Do the classes at BYJU'S Tuition Centre in Aligarh correspond to the portions currently taught at school?
Yes, we have multiple tuition batches available. Students can choose a particular batch that suits their study plan as per the local school syllabus.
Q3
Do you provide lesson notes and homework after tuition classes?
Homework is assigned to students after every class. Students can submit their BYJU'S Tuition Centre homework to get the tutor's feedback. Your child can also access engaging video lessons and practice tests on the BYJU'S Learning App for extra learning.
Q4
What are the aims of workshops at BYJU'S Tuition Centre?
These are free workshops designed by our expert BYJU'S faculty to focus on learning outcomes such as exam preparation, preparation for Olympiads, or building foundational concepts. Students and their parents will get to experience our advanced classroom facilities and get one-on-one guidance from our expert faculty.
Q5
Will the teachers at BYJU'S Tuition Centre also help students with school homework?
All of the doubts asked by the student will be resolved in the classroom by the teachers. Tests and worksheets will be given to students as homework after every class. This homework will be evaluated by the teachers. Their results will be shared on the portal.
Q6
What will be the difference between online and offline classes?
In the live online class, the student will be taught using the two-teacher model. In this, the teacher will explain all concepts in detail via high quality animated videos. The live teacher who comes later will solve all doubts and queries to ensure clarity of concepts. The live teacher will also teach your child methods and techniques for solving application-based problems. Your child will attend online classes at home for 2-3 days in a week.
Offline classes will be face-to-face tutorial classes at The BYJU'S Tuition Centre where teachers will spend time working with each student and ensure that they are able to solve the tutorial sheet. Your child will attend tutorial classes at BYJU'S Tuition Centre for 1-2 days in a week.