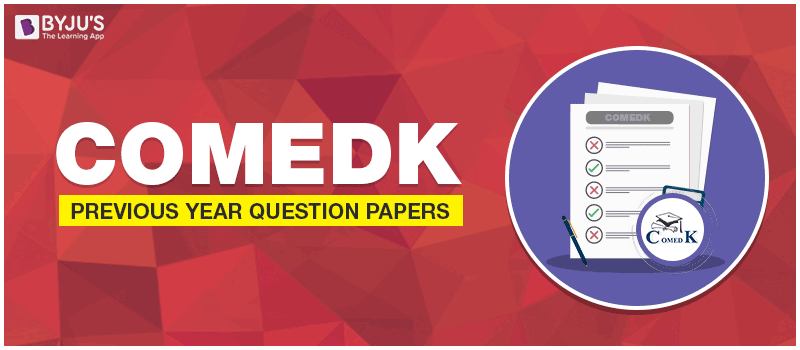 The Consortium of Medical Engineering and Dental Colleges of Karnataka which is abbreviated as COMEDK is a state level undergraduate entrance examination for students who are aspiring to study medicine or engineering courses under various colleges in the state of Karnataka. The exam is conducted mostly in the month of May and approximately 72,152 candidates apply for the prestigious examination every year. To get a good score in this competitive exam students must prepare well for the exam. Solving COMEDK Previous Year Question Papers is one of the best ways to prepare for the examination. The COMEDK Papers are provided here to help aspirants prepare for the exam in a better way.
Candidates are suggested to practice the COMEDK last year papers on a regular basis to prepare for the exam more efficiently. Practising the COMEDK Previous Year Question Papers will give aspirants and idea about the exam pattern, syllabus and the marking scheme of the exam. They will also get familiar with the question weightage and the difficulty level of questions asked in the examination. Solving COMEDK papers on a regular basis will also develop a candidate's time management skill and also evolve their seed and accuracy.
COMEDK Previous Year Question Papers
The COMEDK previous year question papers are provided in the table given below.
COMEDK 2004 Question Paper
COMEDK 2005 Question Paper
COMEDK 2006 Question Paper
COMEDK 2007 Question Paper
COMEDK 2008 Question Paper
COMEDK 2009 Question Paper
COMEDK Question Paper 2010​​
COMEDK Question Paper 2011
COMEDK 2012 Question Paper
COMEDK 2013 Question Paper
Stay tuned with BYJU'S to get the latest notification on COMEDK exam along with the exam syllabus, COMEDK application form, exam pattern and other exam related details.