The Civil Services Exam (CSE) in India is a nationwide competitive examination conducted by the Union Public Service Commission (UPSC).
Via the Civil Services Examination, the UPSC recruits candidates for various Central and All India Civil Service posts in the Indian Administrative Service (IAS), Indian Foreign Service (IFS), Indian Police Service (IPS), Indian Revenue Service (IRS), etc.
UPSC Civil Services Exam

The full form of the CSE Exam is Civil Services Exam and it is conducted by a constitutional body, Union Public Service Commission. The notification for 2023 recruitment was released on 1st February 2023 by the commission. The notification released by the commission is comprehensive in nature and contains all important details to be known by the aspirants. To check out or download the official CSE Notification 2023 PDF, use the link below:
Civil Services Exam Notification 2023:-Download PDF Here
The below table provides important information related to Civil Services Examination 2023:
UPSC CSE Prelims – May 28, 2023
UPSC CSE Mains – September 15, 2023 onward
Name of the Examination
Civil Services Exam (UPSC CSE Exam |)
Exam Level
All India / National Level
Conducting Body
Union Public Service Commission
Exam mode
Offline / Pen and paper mode
Number of vacancies in Civil Services 2023
1105

Check detailed Civil Services Vacancy break-up in the linked article.

Eligibility
The Civil Services Age Limit for Indian Citizens is between 21 – 32 years.

For details on eligibility and age relaxation, see Civil Services Age Limit.

Number of attempts
6 attempts are allowed for General Category aspirants in UPSC Civil Services
Civil Service Exam 2021 Dates

UPSC Civil Services Prelims – October 10, 2021
UPSC Civil Services Mains – January 7th, 2022 onward

For details on UPSC Exam Dates, visit the linked article.

Civil Service Exam 2022 Dates

UPSC CSE Prelims – June 5, 2022
UPSC CSE Mains – September 16, 2022 onward

Civil Service Exam 2023 Dates

UPSC CSE Prelims – May 28, 2023
UPSC CSE Mains – September 15, 2023 onward
Candidates can download the UPSC Civil Service Examination (Preliminary) 2023 Admit Card from the official website once it is released.
For the latest details on Civil Services 2023 Exam, refer to the linked article.
UPSC Civil Services Exam Timeline
Given below is a general time frame within which the UPSC schedules important events of the exam such as the Indian Civil Service notifications and exam dates.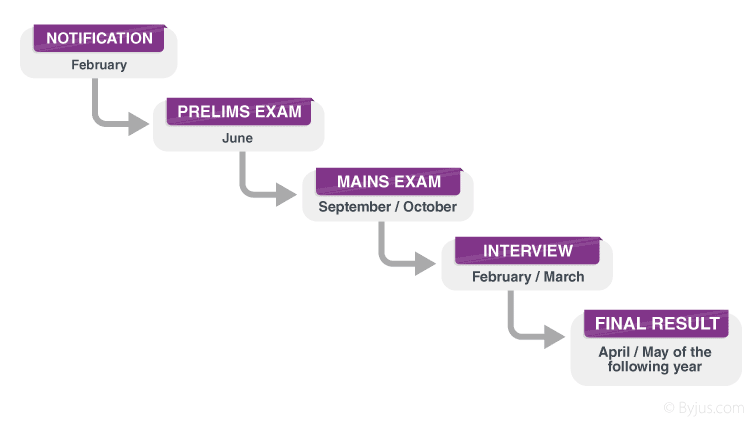 In India, the different State Public Service Commissions also conducts civil service exams for recruitment to the state services. The State PSC Exams are modelled on the same lines as the UPSC Civil Services Exam.
The entire process of the Indian civil services examination from the notification of the preliminary examination to the declaration of the final results takes place roughly within a year. The candidates who get selected are recruited and trained for various services by the Central Government and then allotted different State Cadres, as per their preference and ranking.
Candidates can check the linked article on Public Service Commissions to find state-specific civil service exam details.
UPSC Application Form 2023
As mentioned above, the notification was released on 1st February 2023 and interested candidates can fill out the application form from 21st February 2023 to appear in Civil Services (Preliminary) Exam. The whole process has three stages and before each stage, the candidates are required to fill out separate forms.
To know more about UPSC Online Application Form 2023 in detail, check the linked article.
UPSC Civil Service Exam Posts
The civil services exam posts are categorized into two categories: Group 'A' and Group 'B'.
Group 'A' services include three All India Services (the IAS, IPS and the IFS) and 18 other services as indicated in the table below.
GROUP 'A' SERVICES
(i)
Indian Foreign Service (IFS)
(ii)
Indian P & T Accounts & Finance Service
(iii)
Indian Audit and Accounts Service
(iv)
Indian Revenue Service (Customs and Central Excise)
(v)
Indian Defence Accounts Service
(vi)
Indian Revenue Service (I.T.)
(vii)
Indian Ordnance Factories Service (Assistant Works Manager, Administration)
(viii)
Indian Postal Service
(ix)
Indian Civil Accounts Service
(x)
Indian Railway Traffic Service
(xi)
Indian Railway Accounts Service
(xii)
Indian Railway Personnel Service
(xiii)
Post of Assistant Security Commissioner in Railway Protection Force
(xiv)
Indian Defence Estates Service
(xv)
Indian Information Service (Junior Grade)
(xvi)
Indian Trade Service
(xvii)
Indian Corporate Law Service
(xviii)
Indian Revenue Service (CBEC)
Group 'B' has five services under it.
GROUP 'B' SERVICES
(i)
Armed Forces Headquarters Civil Service (Section Officer's Grade)
(ii)
Delhi, Andaman & Nicobar Islands, Lakshadweep, Daman & Diu and Dadra & Nagar Haveli Civil Service
(iii)
Delhi, Andaman & Nicobar Islands, Lakshadweep, Daman & Diu and Dadra & Nagar Haveli Police Service
(iv)
Pondicherry Civil Service
(v)
Pondicherry Police Service
Civil Services Exam Qualification
Candidates who wish to appear for the Civil Services Exam must fulfil the conditions of nationality, age, and educational qualification. The candidate must not be less than 21 years of age and more than 32 years of age. The candidate must also have completed graduation in any discipline from a recognized university. However, there are age relaxations, depending upon the category the candidate belongs to.
To check eligibility and know the required qualification to appear in Civil Services Exam, check UPSC Eligibility Criteria from the linked article.
Civil Services Exam Pattern 2024
The Indian Civil Service Exam (UPSC IAS exam / UPSC Civils) is conducted in three stages:
Civil Services Exam (Preliminary)  – Objective Type
Civil Services Exam (Main) – Descriptive Type
Personality Test / Interview
Aspirants can check out Civil Service Exam Pattern to know about the pattern in detail.
Also, read in detail about the Civil Services Exam Syllabus, from the linked article.
Civil Services Prelims Exam
Prelims is the first stage of the UPSC CSE process. It is a screening test to select the students for the further selection process. Prelims exam comprises two objective type papers of 200 marks each. Only those who manage to score more than the cut-off declared by the UPSC for that particular year will be summoned for the next level of examination. However, the marks scored in Prelims will not be counted for arriving at the final merit list.
Read more about the pattern and syllabus and preparation strategy for Civil Services Exam (Preliminary).
Civil Services Mains Exam
Mains Exam is the second level in the Civil Services Selection Process. Mains exam comprises 9 descriptive type papers: 1 Essay paper, 4 General Studies Papers, 2 Optional Papers (of your choice to be selected from the Civil Services Exam Optional Subjects), 2 language papers (marks scored in language papers will not be included to arrive at the final ranking order – however, candidates need to score at least 25% in each paper in order to qualify).
Learn more about the UPSC CSE Mains stage, from the linked article. The below table highlights a detailed exam pattern for Mains Exam:
Civil Services Exam Pattern For Mains
Papers
Subjects
Marks
Paper A
One of the Indian languages (listed in the Eighth Schedule to the Constitution of India) mentioned below to be selected by the candidate (Qualifying)
300
Paper B
English (Qualifying)
300
Paper I
Essay
250
Paper II
General Studies I (Indian heritage and culture, history and geography of the world and society)
250
Paper III
General Studies II (Governance, constitution, polity, social justice and international relations)
250
Paper IV
General Studies III (Technology, economic development, biodiversity, environment, security and disaster management)
250
Paper V
General Studies IV (ethics, integrity and aptitude)
250
Papers VI, VII
Two papers on subjects to be selected by the candidate from the list of optional subjects below (250 marks for each paper)
250
Sub Total (Written Test)
1750
Personality Test (Interview)
275
Total Marks
2025
The candidates can make use of the below links to prepare for General Studies papers more effectively:
Civil Services Interview
Personality test, commonly known as the interview, is the final round in the Civil Services Exam selection process. It is the gateway to your dream service. Only those candidates who manage to clear the mains exam cut-off are allowed to attend the interview. The purpose of the interview is to assess the suitability of the candidate to the Civil Services. At this stage, the candidates are tested for their mental alertness, the balance of judgment, intellectual and moral integrity, etc out of 275 marks. Marks scored by the candidate in the interview will be added to the marks scored by him/her in the mains exam for arriving at the final merit list.
To know more, check IAS Interview Questions from the linked article.
After clearing all these stages, training will be given to the selected candidates based on their allocated posts. Check out LBSNAA – Bharat Darshan: IAS Training In Detail to read about the experience.
UPSC Preparation 2024
Reading NCERTs is one of the basic things to do when one decides to prepare for the Civil Services exam. The aspirants can check out NCERT Notes For UPSC to know the complete list of NCERTs to be covered for this exam.
After covering the basics, the aspirants can refer to UPSC Books to learn each subject in the UPSC Syllabus in a more comprehensive way. The aspirants can also download the booklist PDF for Civil Services Preparation from the link given below:
Download list of Civil Services Books PDF: –Download PDF Here
For the latest Civil Services Exam updates and study material, candidates can turn to BYJU'S for assistance.
Civil Services Exam – Frequently Asked Questions
Q1
Q.1. Is Civil Service Exam hard?
Ans. Civil Services Examination is one of the toughest examinations to crack, however, it is not impossible to clear this exam. The syllabus and the exam pattern of the Civil Service Exam make it hard for an aspirant, but with a clear strategy, one can qualify for civil services. Learn about the strategy of
IAS Toppers
given in the linked article,
Q2
Q.2. Is UPSC and civil service exam the same?
Ans. UPSC Full Form is Union Public Service Commission. It is the apex body that conducts various examinations. Civil Service Exam is one of the exams held by UPSC that recruits for IAS, IPS, IFS, IRS, etc. Find out the dates of these examinations in the 
UPSC Calendar 2023
.
Q3
Q.3. Which degree is best for Civil Services?
Ans. There isn't any good or bad degree for Civil Services. As per the UPSC Notification, a candidate with a bachelor's degree from a government-recognized university/college/institute is eligible for the exam. However, there are candidates who align their graduation with UPSC preparation, hence it is advisable to choose a subject that is also asked in IAS Exam. For example, one can choose
History Optional
if he/she had 'History' as a graduation subject.
Q4
Q.4.Can 12th Pass apply for Civil Services?
Ans. No, the basic educational qualification is a graduation degree. After 12th, one is needed to complete a Bachelor's course from a college or an institute recognized by the Government. A final year college student can apply for Civil Services.