IAS Interview 2021 Dates: The Commission has notified that UPSC Interview 2021 will take place between 5th April and 26th May 2022. The personality test dates were out after the release of UPSC Mains Result. 
1823 candidates who have cleared UPSC Mains this year have to present themselves before the UPSC panel during the personality test.
The Civil Services Interview 2021 will take place in two time slots:
Forenoon – At 9 AM
Afternoon – At 1 PM
This article will provide you with the salient points of IAS Interview 2021, IAS Interview Questions, the process of personality test and the UPSC Interview Strategy.
Candidates who are going to appear for UPSC Interview, are advised to check the BYJU'S IAS Video below on 'Understanding the Nuances of Personality Test' explained by Prof. D.P Agrawal (Former UPSC Chairperson):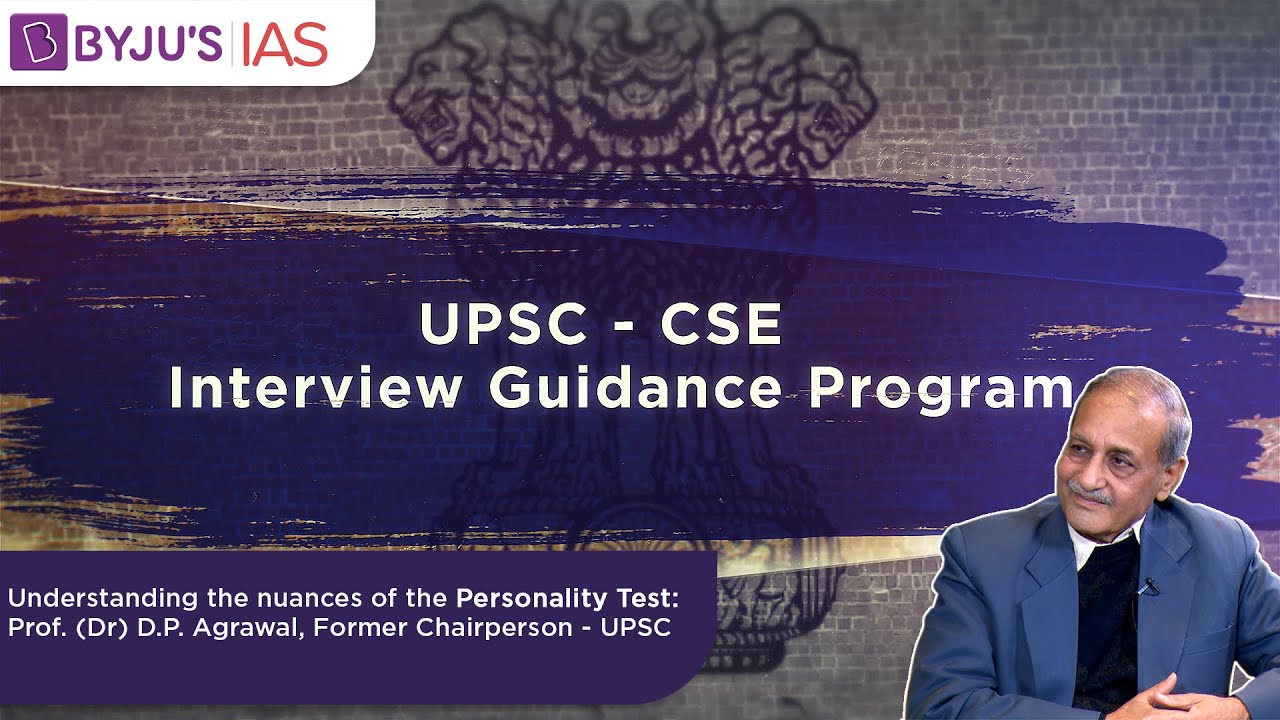 Candidates preparing  for UPSC Prelims can check the below-mentioned important links to brush up on their concepts:
UPSC IAS Interview 2021 Updates
The final stage of the Union Public Service Commission (UPSC) Civil Services Exam is the IAS interview or the UPSC Personality Test.
Unlike the requirement to produce a four-day-old negative RTPCR report mandatorily during the 2020 IAS Interview; this year candidates are not asked to bring a negative RTPCR report. Meanwhile, the commission has offered to reimburse the lowest 'to and fro airfare' to the candidates who will attend the UPSC PT.
Candidates can download the latest UPSC notice regarding the CSE Interview.
IAS Interview 2021 Notice by UPSC-Download PDF Here
Important Points:
e-Summon letters can be downloaded from the UPSC official website (upsc.gov.in).
The Personality Test panel and the interviewee will be given Sealed Kit (face shield, gloves, sanitiser) to ensure safety while conducting the interview.
The highest standards of health safety and precautions will be taken up by the commission to successfully conduct the UPSC Interview 2021.
Following the successful completion of the Mains and Interview stages; the commission will declare the UPSC Civil Services Final Results. Candidates will be able to get the latest result in the linked article.
UPSC – IAS Interview Details 
Venue
: Union Public Service Commission (UPSC), Dholpur House, Shahjahan Road, New Delhi-110069
Timing: Two sessions per day ( Forenoon session 9:00 AM onwards, Afternoon session 1:00 PM onwards). It will be mentioned on the candidate's call letter.
Dress Code: Basic formals suffice (dark trousers with a light-coloured plain shirt for men and saris or 'churidar' for women)
Maximum Marks: 275 (it seems less when compared to Mains but scoring high marks here can be the path to one's service/cadre of choice).
Vacancies: 796 (as per UPSC 2020 notification)
Aspirants can check the detailed UPSC Notification in the linked article.
UPSC IAS Interview Process
The questions in the IAS Interview are more like a discussion between the UPSC board and the aspirant. Generally, an IAS interview lasts for about 20 minutes and aspirants face interview questions that cover a broad range of topics. Facing the UPSC IAS interview panel is a daunting task but armed with facts and information, a candidate with confidence and appropriate soft skills can surely ace the interview.
Aspirants can read below the first-hand account of the UPSC IAS Interview experience:
Candidates usually reach the venue with some time in hand, and the security in front of UPSC organizes them in a queue and does the preliminary verification (interview call letter and cross-checking the candidate's name on their list). It is recommended to carry some government-issued identification.
After the security ushers the candidates inside the hallowed gates of the UPSC; they are required to check in their bags and mobile phones. The candidates are then made to sit in an entrance hall where the actual verification of documents (education documents, caste certificates) takes place. Usually, it is a smooth process and the staff is polite and ready to help. There are also newspapers along with tea/water and biscuits for the candidates. Candidates are also handed out a questionnaire to fill in (basic background info for UPSC's research and analysis purposes).
Once the documents are submitted, the candidates are given the number of the panel and the sequence number of the order in which they will appear before the panel. For e.g. a candidate might be told he/she has to appear before panel number 5, and for that panel, he/she will be going in as the 3rd individual for that session. They don't disclose the name of the panel chairperson at that time and it is pointless to ask that.
The somewhat visibly nervous candidates are then escorted to a large circular hall in the centre of the building complex. Here, the candidates are grouped and seated based on their panel number (all the people scheduled to appear before panel number 5 will sit in a group and so on). Also, this is where a few staff members will hand out forms for travel reimbursement for out-of-town candidates (they refund for train travel in 2nd class).
In one session, a panel takes the interview of 5-6 aspirants. So, initially, the hall is quite full (5-6 panels in all, hence 30-35 odd candidates sitting and waiting). Usually, an interview lasts for about 20 minutes, although there is no time limit as such and people have recounted experiences of being part of even a 40-minute interview.
One by one, names are called and candidates make their way to their respective panels (after another security check where one has to leave any remaining documents/papers/pen). Usually, a staff member escorts one from here to the room of the panel chairperson.
So, candidates usually reach the venue around 8:45 AM for the forenoon session. After the formalities, the first candidate to appear before the panel will be called around 10:15 AM. Depending on one's sequence number, one can estimate the waiting period. Hence, it is essential that you don't arrive on an empty stomach or sleep-deprived.
Tackling the actual UPSC interview is a completely different challenge. It's a unique experience for everyone, even for experienced candidates but there are some essential things that candidates need to inculcate before they face the panel.
Broadly speaking, a polite, humble candidate who is calm and confident has the best chance to score high marks irrespective of the panel chairperson, the medium of the interview and the number of questions answered.
Check the linked article for detailed preparation information and study material for IAS 2021.
Read on to know more about IAS toppers and relevant interview questions one can expect.
IAS Interview Questions
The UPSC interview questions test the candidates' mental acuity, general awareness, social etiquette, and overall personality. The questions in the IAS interview are not meant to solely ascertain the theoretical knowledge so instead of mugging up, candidates should focus on their soft skills.
The IAS interview questions faced by Civil Service aspirants follow a similar pattern. Let's look at a few of the broad categories of questions in the IAS interview and how candidates can prepare for them.
IAS interview question on Introduction
Tell us briefly about yourself.
Tell us about your hometown.
What is the meaning of your name (first name/ surname)
Tell us about your family
To answers questions related to self-introduction in the IAS interview, which are open-ended and straightforward, aspirants should prepare 30-40 second coherent responses. These questions are merely setting a baseline i.e. the eminent UPSC board will use the information you give to ask follow-up questions.
IAS interview questions on Education
Which subjects did you study during school/graduation and do you think they are relevant to life in administration?
Which subject was your favourite/least favourite?
Why did you choose 'xyz' college/school?
What kind of projects did you do during school/graduation/PG?
Would you call yourself an average student? Why?
The basic educational qualification for the UPSC CSE exam is graduation. The questions in the IAS interview may be oriented towards your graduation subject or the latest trends in the same. However, if you don't know the answer to a particular question then trying to bluff your way out is not advised. It's better to be humble and truthful.
IAS Interview questions on Current Affairs
What are today's headlines?
Few important issues in news about India/your state/your hometown in the last few months
Reading newspapers and following the daily news is important from the UPSC IAS Interview perspective as well. The IAS interview questions can refer to the latest news topics. Try to avoid giving one-dimensional opinion/information unless the question is relatively straightforward. (for e.g., What does the term 'Petrodollars' mean?)
To know more about the Current Affairs related information, refer to the linked article.
IAS interview questions on Work profile
What were your roles and responsibilities at your job?
Why do you want to become an IAS/IPS/IFS officer?
Be prepared to answer questions about any gaps in your work history and how your previous experience is going to help in your career as an administrator.
IAS interview questions on Optional Subject
Why did you choose 'xyz' optional?
Why didn't you pick your graduation subject as your optional?
Also, you might face some questions in IAS interview related to topics/theory/contemporary issues based on your optional subject.
IAS interview questions on Hobbies
Here, the nature of questions varies depending on the hobbies you have listed in your DAF. For those who have listed sports as a hobby, the Panel has asked questions on famous sports persons or/and latest results. A few candidates have also been asked to sing during the interview process.
IAS Interview Preparation Strategy
Keep following current affairs
Prepare a list of possible questions that can be asked based on your DAF
Practice answering questions in front of a mirror
If possible, record yourself as you answer questions during the practice session
Brush up your knowledge on your graduation subject
The purpose of the questions in the IAS interview is to check a candidate's suitability to live in administration. It is not at all mandatory that one has to answer all the questions to get good marks in the UPSC Personality Test. Often, it is not about whether you know the precise answer to the question but how you actually come across as an individual when put under some pressure.
Few key points to avoid in an IAS interview
Don't stress out on the day before the Interview. Better be rested and calm.
Don't try to bluff your way out. The IAS interview is unlike any other interview you have encountered before, so don't try bluffing strategies.
Don't be concerned about theoretical questions. It is more about how you approach any question which is being asked to you.
Don't argue with the panel members. It is a discussion but candidates should maintain decorum at all times.
Candidates willing to sit for the upcoming examination can get details of UPSC Online in the linked article.
Related Links