Uttarakhand Board of School Education i.e UBSE is responsible for advising the courses of instructions and text books. It is also in charge of conducting examinations for secondary school students in the State of Uttarakhand. It has declared the Results for the Board Exams conducted for Class 10 and Class 12 on 25th May 2023. Uttarakhand exams for Class 10 and Class 12 were conducted from 16th March to 6th April 2023.
Latest Notification: The Uttarakhand Board (UBSE) has announced the results for Class 10 and Class 12 2023 Board Exams. Students can check the results on the Board's official website: ubse.uk.gov.in. 
Uttarakhand Board(UBSE) Overview
Uttarakhand Board of School Education(UBSE) is affiliated with almost 10,000 schools and its regional office was set up in 9 February 1996, at Ramnagar, Uttarakhand. Here, we will also take a look at some of the functions of Uttarakhand Board:
Conducting Class 10 and Class 12 Exams
Prescribe various study and reference material for all classes
Organize training programme for Teacher's/Principal's/BEO's/CEO's related to Board Examination and Evaluation
UBSE Table of Contents:
Class 10 Exam
Class 12 Exam
UBSE Syllabus
UBSE Results Online
UBSE Study Material
Exam Date-Sheet
Syllabus
Previous Year Question Papers
Sample Papers
UK Board Class 10 Exams
Uttarakhand 10th examination is a vital year for most students, as after the year, they can select specialized stream of studies for their higher classes. UK Board conducts public exam for the class 10 students. Last year UBSE overall pass percentage for Class 10 board exam was 77.47%. This year saw some improvement over the last year with an overall pass percentage of 85.17%.
No. of Students Who Appeared for Class 10 Board Exams
Pass Percentage
Girls Pass Percentage
Boys Pass Percentage
2022
1,29,778
77.47%
84.06%
71.12%
2023
1,32,115
85.17%
88.94%
81.48%
Uttarakhand Board Class 10 Pass Percentage Comparison 2023 v/s 2022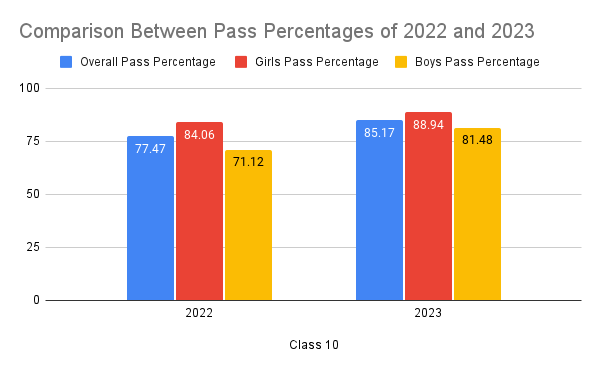 UK Board Class 12 Exams
Class 12 is another important year for the students and the UK Board is in charge of conducting the Board exams for this class. This year in 2023, 1,23,945 students appeared for class 12 examinations. For UK Board Class 12, 83.49% girls passed the examination in comparison to 81.48% boys.
No. of Students Who Appeared for Class 12 Exams
Pass Percentage
Girls Pass Percentage
Boys Pass Percentage
2023
1,23,945
80.98%
83.49%
81.48%
2022
1,11,688
82.63%
85.38%
79.74%
Uttarakhand Board Class 12 Pass Percentage Comparison 2023 v/s 2022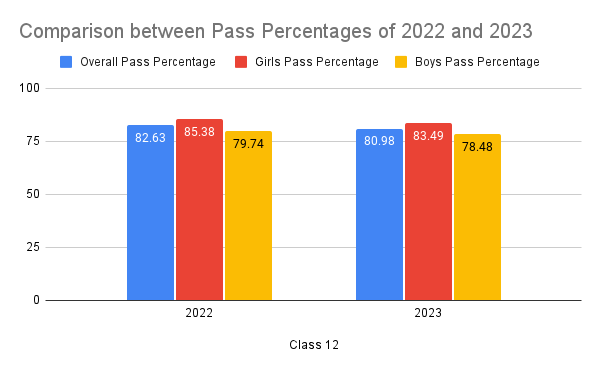 Uttarakhand Board Syllabus
The UBSE Syllabus for every class is prescribed by the UK Board of Education. The main subjects taught in class 10 includes Science, Maths, Social Science, Home Science and many more. They are also taught languages like Hindi, English, Sanskrit and so on. Following class 10, students can streamline their studies into science stream, commerce or Arts stream as they prefer. The syllabus for all these subjects for all the streams are advised by the Board and Government.
We have provided the complete UBSE syllabus for classes 9, 10,11 and 12 here for the convenience of the students. Students can download it from here and go through it so that they get familiar with the topics they are required to study in the respective classes.
Uttarakhand Board Results
Following the class 10 and 12 Board exams conducted in March, the UK Board usually releases the results in the month of May. The results for 2023 were made available on the official site on 25th May 2023. We are providing details about checking the results online.
After this, you can also get more details about the compartmental / supplementary exams. Compartmental or Supplementary exam is another opportunity for the students who were not able to clear the board exams the first time.
UBSE Examination Materials