Parents know best | BYJU'S Tuition Centre Experience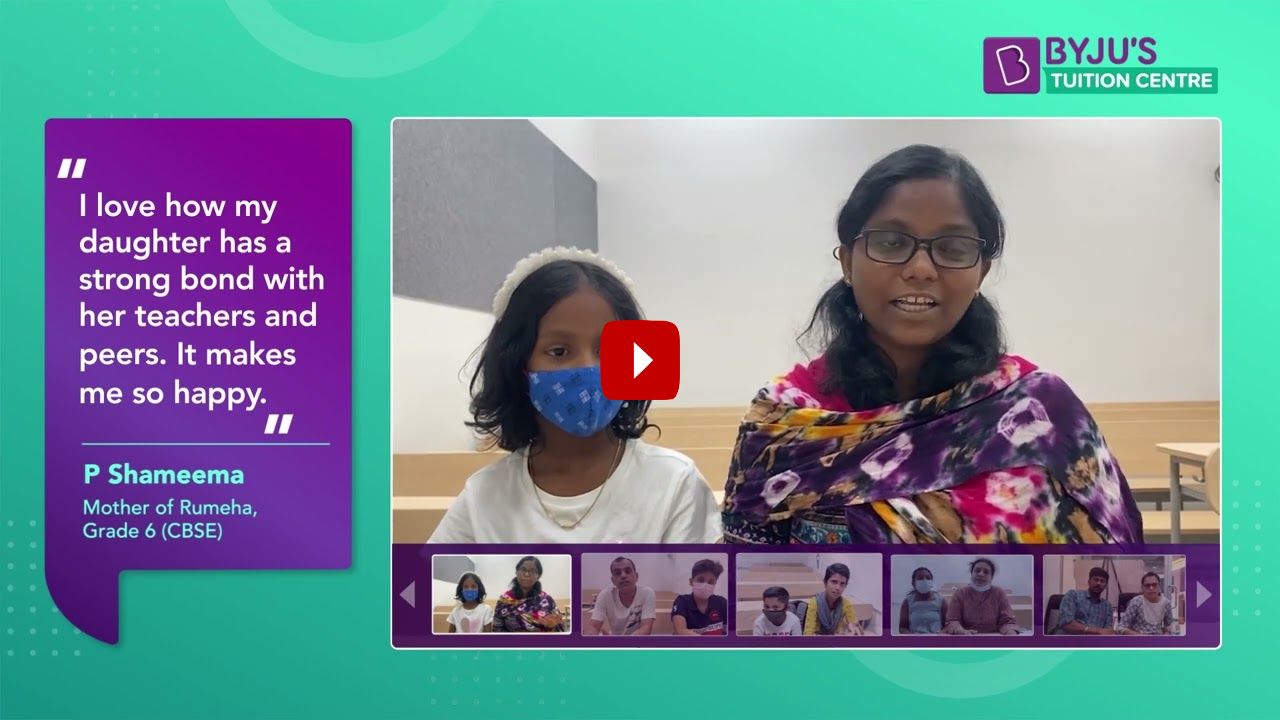 Looking for online tuition from home which also provides physical classes with direct interaction with your tuition teacher? Enrol your child at BYJU'S Tuition Centres in Chennai. We provide a blend of online and offline classes for Grades 4-10. Students studying under CBSE curriculum and the state board of Tamil Nadu can enrol for our tuition classes. BYJU's tuition centres provide tech-enabled classrooms with expert teachers for better guidance. Learning becomes easy with the introduction of innovative lesson plans that focus on explaining concepts visually. Our content is well-researched and updated regularly according to the latest modifications in the syllabus. You can look up your nearby BYJU'S Tuition Centre to start preparing for a journey of academic success.
Benefits of BYJU'S Tuition Centres (BTC) in Chennai
We follow a learner-centric approach at BYJU'S Tuition Centres in Chennai. We put extra time and effort in areas where a student is facing problems. Teachers provide extra support to help students learn at their own pace. Our motive is to create individuals who can make successful careers on the basis of their knowledge.
Benefits of joining tuition classes for Maths and Science at our centre are as follows:
Expert teachers design lessons that are inclusive of all learner needs.
Teaching through animated videos, puzzles, games, etc.
Regular homework is assigned to students along with subjective questions.
Preparation for other competitive exams like olympiads and entrance exams.
Classes are available at affordable prices.
Teachers maintain a friendly relationship with students.
On the spot resolution of doubts and queries.
Peer-learning is encouraged for developing interaction and communication.
Quality assessments and tests.
Performance of the student throughout the course is recorded and analysed.
Parents are informed and updated regularly about the student's progress.
Enrol your child in your nearest BYJU'S Tuition Centre to help them learn better, score better marks and achieve academic excellence.
List of BYJU'S Tuition Centres (BTC) in Chennai
BYJU'S Tuition Centres in Chennai are easily accessible to students living within a radius of 5 km around the centres. Students can contact us at the centres for any kind of queries or assistance required related to Maths and Science tuition classes. Our tuition classes run in a hybrid mode: online classes can be accessed from anywhere while offline classes can be accessed from the physical tuition centre according to the convenience of the students.
Given below is a list of BYJU'S Tuition Centres based in Chennai:
Door No. 17, 17A & 18,
Sardar Patel Road, Adyar, Chennai
Tamil Nadu -600020
Samsung SmartPlaza - Vijay Electronics
Old No 158, New No 514, TT Krishnamachari Rd
Alwarpet, Chennai
Tamil Nadu - 600018
73C, 74C, 2nd Floor, South Park Street, Secretariat Colony
Venkatapuram, Ambattur, Chennai
Tamil Nadu - 600053
4. Tuition Centre in Anna Nagar
M 78/6, 3rd Avenue, 2nd Floor
Anna Nagar East, Chennai
Tamil Nadu - 6000102
74/26, 1st floor
Fagun Mansion, Fagun Towers
Ethiraj Salai, Egmore, Chennai
Tamil Nadu - 600008
New 2/Old 46, Chetty Street
Porur, Chennai
Tamil Nadu - 600116
7. Tuition Centre in Purasawalkam
No. 118, Pursawalkam High road, Chennai
Tamil Nadu - 600084
1st Floor, Sri Koushigan Plaza, Velachery Main Road
Camp Road Junction,Opp. Silver Oak Apartment
Selaiyur, Chennai
Tamil Nadu - 600073
9. Tuition Centre in Sholinganallur
269, Old Mahabalipuram Road
Sholinganallur, Chennai
Tamil Nadu - 600119
10. Tuition Centre in Vadapalani
Premises No.184/2, Third Floor
N.S.K. Salai, Vadalapani, Chennai
Tamil Nadu -600026
11. Tuition Centre in Velachery
23, Velachery Main Road, Nagendra Nagar
Velachery, Chennai
Tamil Nadu - 600032
1st Floor, SKYD Complex
No. C7, TNHB Survey No 713/1 B1 Part
Avadi, Chennai
Tamil Nadu - 600054
Plot 5, 4/222, 1st Floor
East Coast Road, Palavakkam, Chennai
Tamil Nadu - 600041
Frequently Asked Questions (FAQs)
Q1
Students of which classes are provided tuition at BYJU'S Tuition Centres in Chennai?
Students across classes 4 to 10 can enrol for classes at BYJU'S Tuition Centre.
Q2
Will the teachers at BYJU'S Tuition Centre in Chennai also help students with school homework?
All of the doubts asked by the student will be resolved in the classroom by the teachers. Tests and worksheets will be given to students as homework after every class. This homework will be evaluated by the teachers.
Q3
Do the classes at BYJU'S Tuition Centre in Chennai correspond to the portions currently taught at school?
Yes, we have multiple batches available for students to select from to suit their study plan as per the local school syllabus.
Q4
Do you provide lesson notes and homework after tuition classes?
Homework is assigned to students after every class. Students can submit their BYJU'S Tuition Centre homework to get the tutor's feedback. Additionally, your child can also access engaging video lessons and practice tests on the BYJU'S Learning App for extra learning.
Q5
Where can I track my child's progress?
Mentors will be in touch with parents regularly to discuss their child's progress. Parent teacher meetings will also be conducted to provide a comprehensive progress report.
Q6
What will be the difference between online and in-classroom classes?
In the live online class, the student will be taught using the two-teacher model. In this, the teacher will explain all concepts in detail via high quality animated videos. The live teacher who comes later will solve all doubts and queries to ensure clarity of concepts. The live teacher will also teach your child methods and techniques for solving application-based problems. Your child will attend online classes at home for 2-3 days in a week. Offline classes will be face-to-face tutorial classes at The BYJU'S Tuition Centre where teachers will spend time working with each student and ensure that they are able to solve the tutorial sheet. Your child will attend tutorial classes at BYJU'S Tuition Centre for 1-2 days in a week.