NCERT Solutions are useful for students as it helps them to score well in the class exams. We in our aim to help students have devised detailed chapter wise solutions for the students to understand the concepts easily. The NCERT Solutions contain detailed steps explaining all the problems that come under the chapter 3 "Coordinate Geometry" of the class 9 NCERT Textbook. We followed the latest Syllabus, while creating the NCERT solutions and it is framed in accordance to the exam pattern of the CBSE Board.
These solutions are designed by subject matter experts who have assembled model questions covering all the exercise questions from the textbook. By solving questions from this NCERT Solutions for Class 9, students will be able to clear all their concepts about "Coordinate Geometry." Apart from this, other resources used to help students to prepare for the exams and score good marks include the NCERT notes, sample papers, textbooks, previous year papers, exemplar questions and so on.
Access Answers of Maths NCERT class 9 Chapter 3 – Coordinate Geometry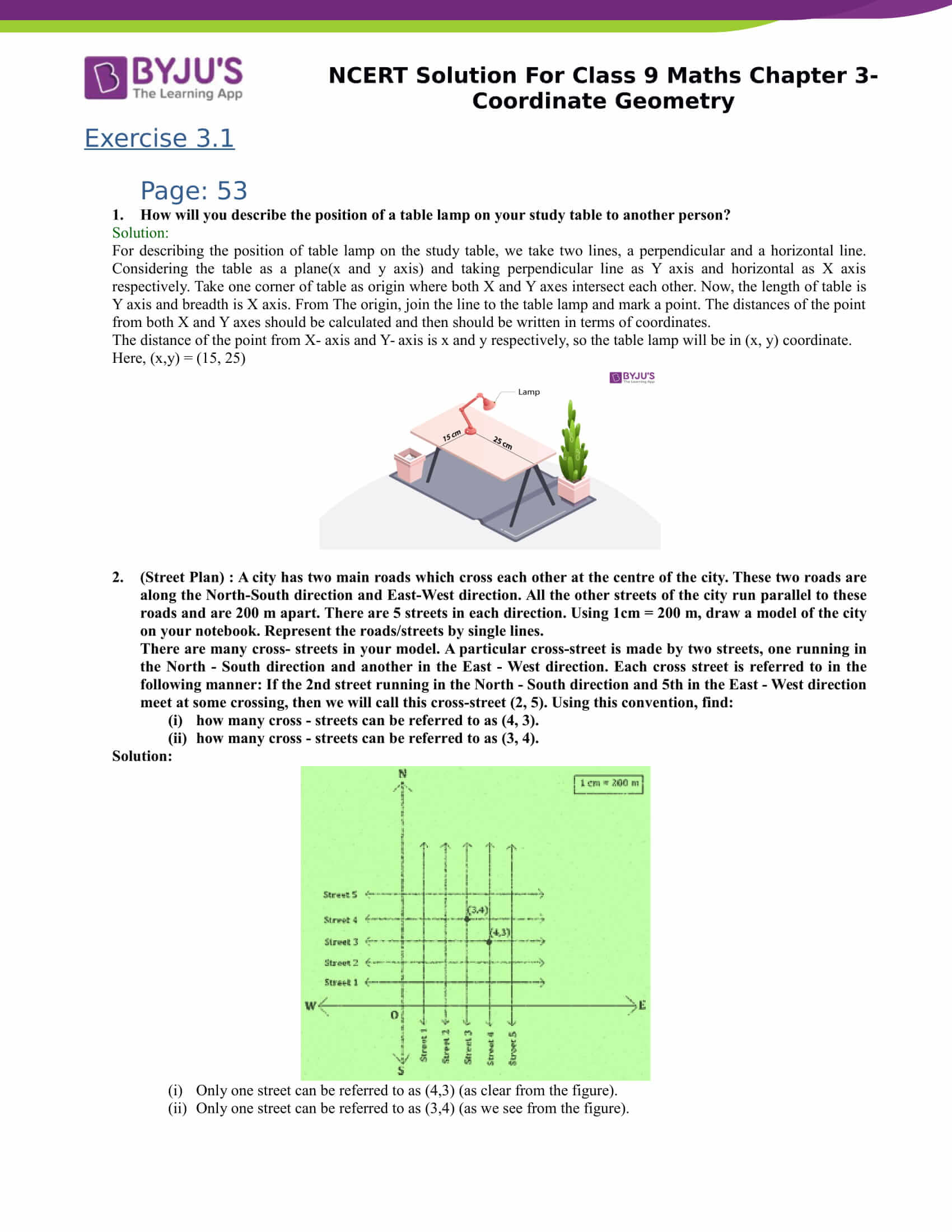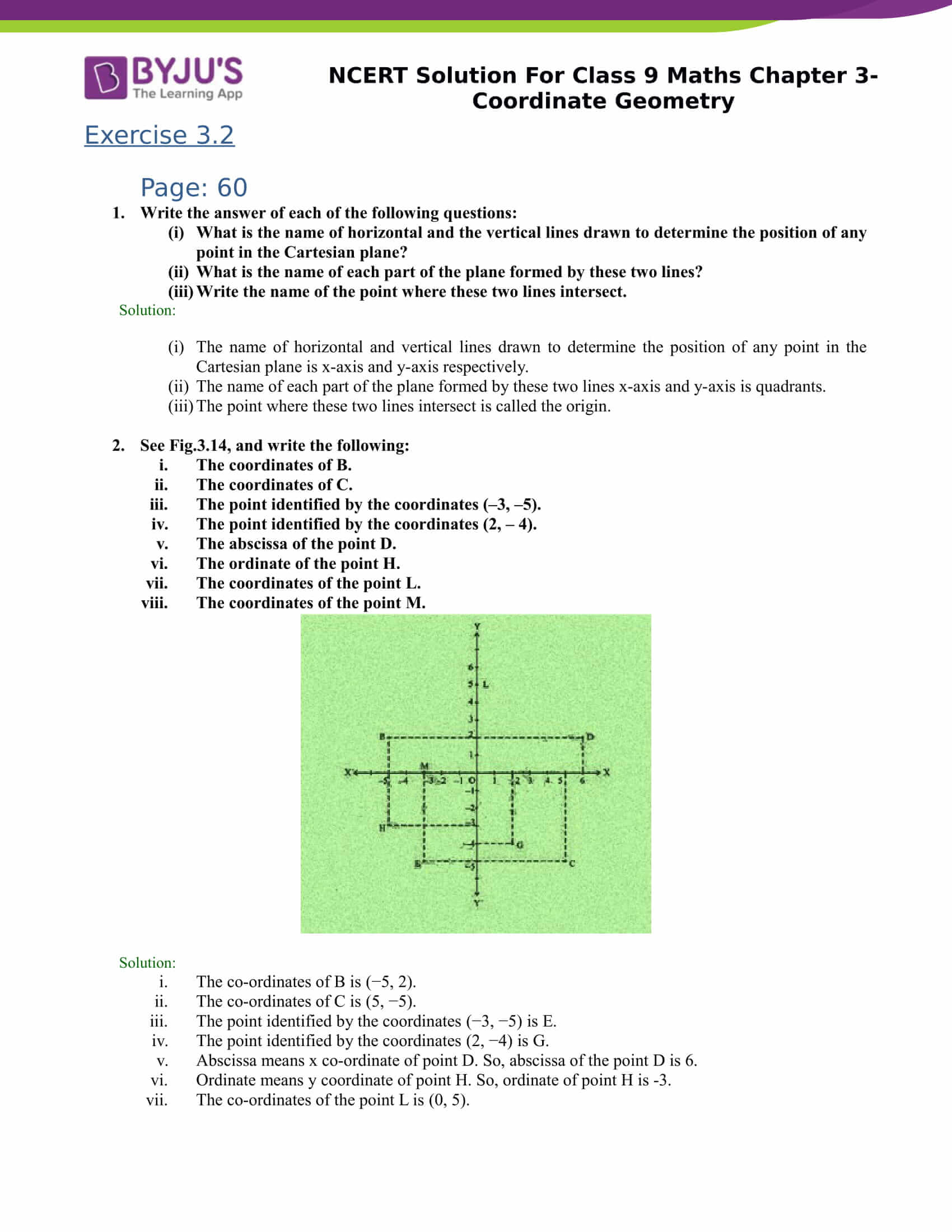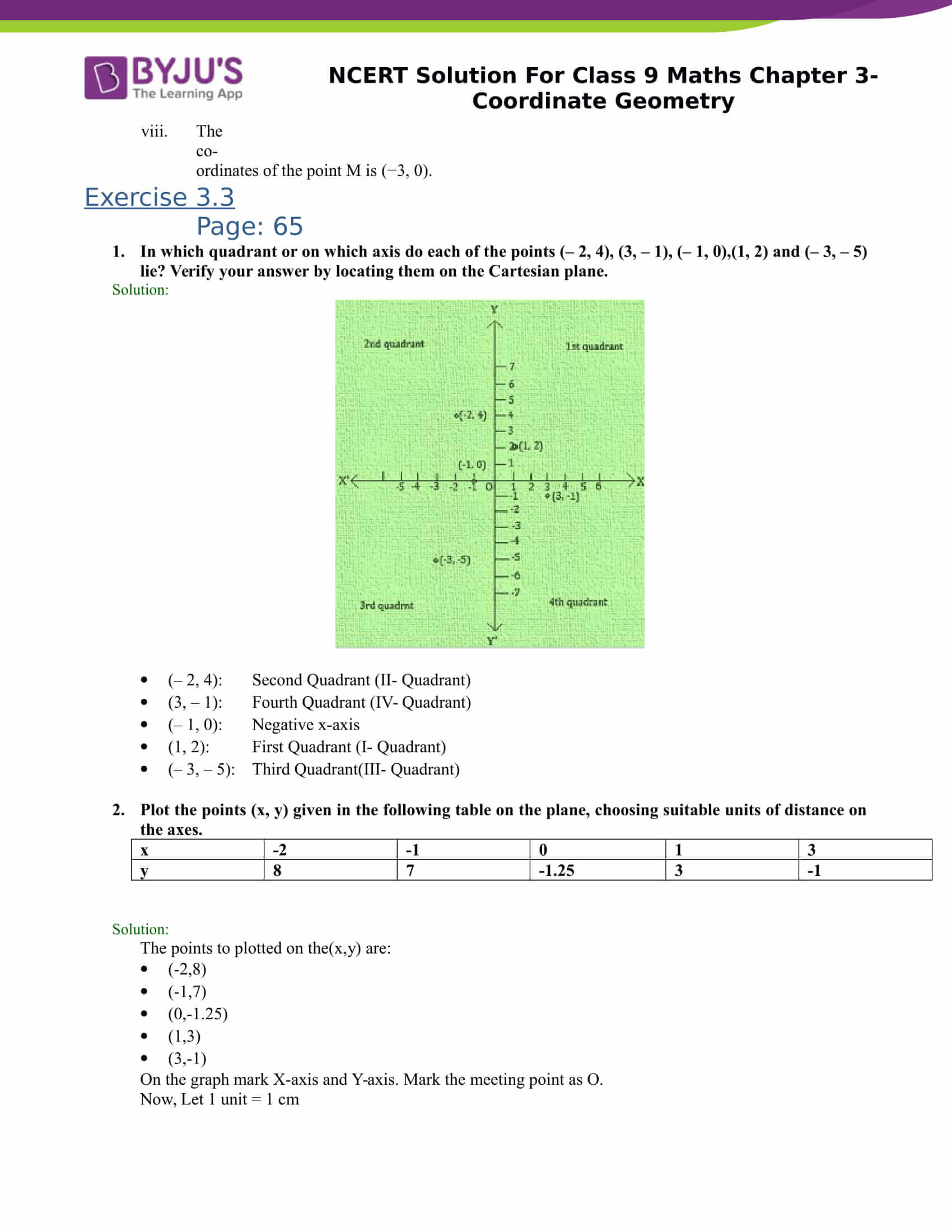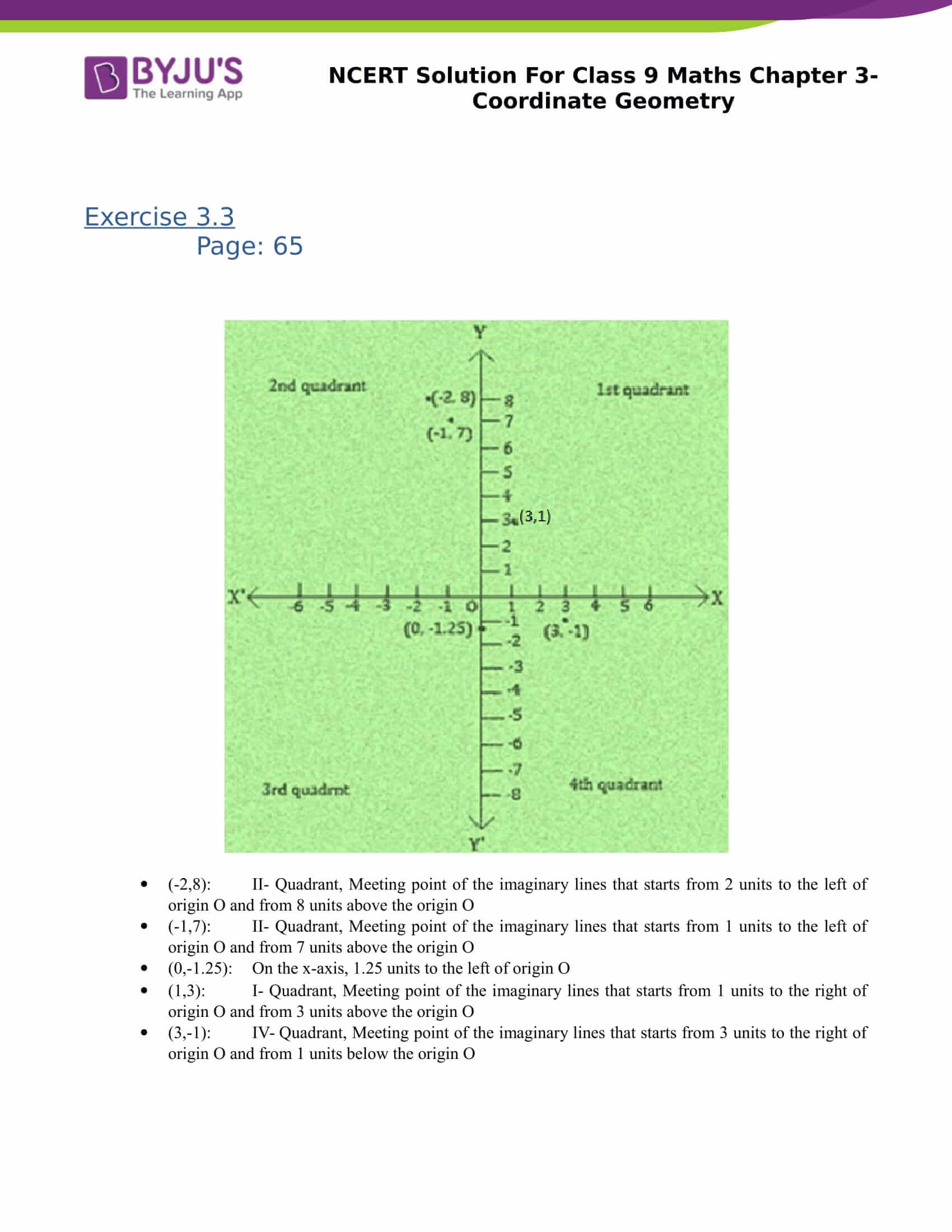 NCERT Solutions for class 9 Maths Chapter 3- Coordinate Geometry
Out of the 80 marks assigned for the CBSE class 9 exams, questions of about 6 marks will be from the Coordinate Geometry. Also, you can expect at least about 2-3 questions from this section to come surely for the final exam, as seen from earlier trend. The 3 questions have been assigned with 1,2 and 3 marks respectively, thus adding up to make the 6 marks from the units of Coordinate Geometry.
Main topics covered in this chapter includes:
3.1 Introduction
3.2 Cartesian System
3.3 Plotting a Point in the Plane if its Coordinates are Given
Exercise 3.1 Solutions 2 Questions (1 Long Answer Question, 1 Main Questions with 2 Sub-questions under it)
Exercise 3.2 Solutions 2 Questions (1 Main Question with 3 Sub-questions, 1 Main question with 8 sub-questions)
Exercise 3.3 Solutions 2 Questions (2 Long Answer Questions)
NCERT Solutions for class 9 Maths Chapter 3- Coordinate Geometry
Coordinate geometry is an interesting subject where you get to learn about the position of an object in a plane, learn about the coordinates or concepts of cartesian plane and so on. For example, "Imagine a situation where you know only the street number of your friend's house. Would it be easy for you to find her house, or would it be easier if you had both the house number and the street number?" There are many other situations, in which to find a point you might be required to describe its position with reference to more than one line. You can learn more about this from the chapter 3 of NCERT Textbooks. And here we provide you with solutions to all the questions covering this topic in the NCERT Solutions for Class 9 Maths.
Key Features of NCERT Solutions for class 9 Maths Chapter 3- Coordinate Geometry
Helps to inculcate the right attitude to studies amongst students
Make the fundamentals of the chapter very clear to students
Increase efficiency by solving chapter wise exercise questions
The questions are all assembled with detailed explanation
Students can solve these solutions at their own pace and gain practice