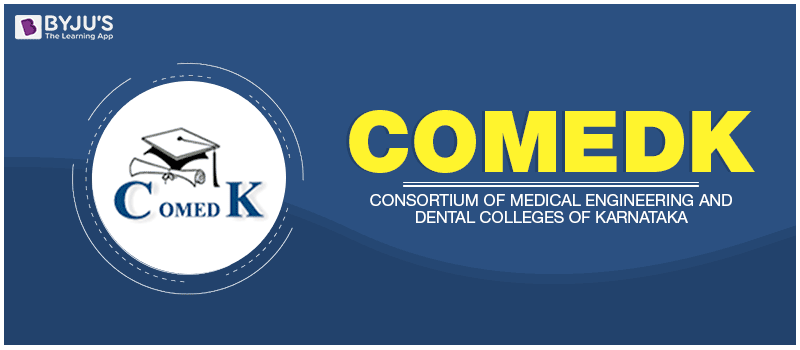 A consortium of Medical, Engineering and Dental College of Karnataka or just COMEDK is an autonomous institution that conducts state level entrance exams called COMEDK UGET for admission to undergraduate engineering courses in Karnataka. The institution mainly consists of senior academicians and reputed administrative officers who are all responsible for organizing testing procedures that help to determine the merit of aspiring candidates in a fair, transparent and non-exploitative manner. Since the establishment of COMEDK in 2004-05 has gained a lot of popularity and today, the institution serves several Engineering, Medical and Dental colleges.
Talking about the exam, COMEDK UGET is a testing mechanism used by colleges to provide admissions to eligible candidates for various UG programs. As per the records, a total of 20,000 seats are offered through the exam. This exam is open to all candidates who are a citizen of India. We will talk about the exam in detail below.
Table Of Content
Overview Of COMEDK UGET
| | |
| --- | --- |
| Examination | COMEDK UGET |
| Exam Conducting Authority | A consortium of Medical, Engineering and Dental College of Karnataka |
| Exam Category | Undergraduate (UG) |
| Purpose | B.Tech programmes, B.Arch, etc. |
| The Frequency of the Exam | Annually. Once in a year. |
| Mode of Exam | Online |
| Participating Institutes | 6 Medical, 24 Dental and 190 Engineering Colleges of Karnataka. |
| Official Website | www.comedk.org |
COMEDK Important Dates
Below students will find all the important dates for COMEDK 2022.
| | |
| --- | --- |
| Events | COMEDK Exam Dates |
| Registration and Application form for COMEDK UGET 2022 | 14th March 2022 |
| Availability of mock test | 15th April 2022 |
| Last date for online payments and for submission of the completed application form | 2nd May 2022 |
| Start date to edit select fields in the application form | 2nd May 2022 |
| The last date to edit select fields in the application form. | 16th May 2022 |
| Test admission ticket download | 6th June 2022 |
| Last date for downloading of Online Test Admission Ticket(TAT) | 18th June 2022 |
| COMEDK UGET engineering entrance exam 2022 | 19th June 2022 |
| Publishing of Provisional Answer Keys and start date for online submission of objections/challenge of Provisional Answer keys | 22nd June 2022 |
| Last date for receiving challenges/objections pertaining to Provisional Answer Keys | 24th June 2022 |
| Final answer keys | 30th June 2022 |
| Release of Marks Card | 15th July 2022 |
COMEDK UGET Admissions
The admissions to colleges are based on what score or rank the candidates' achieve in the exam. However, there are also centralized counselling sessions held for candidates during which aspirants can understand about the colleges and finalize their choice.
COMEDK UGET Eligibility Criteria
To appear for COMEDK UGET, the eligibility criteria is actually different for each program. It totally depends on whether the candidate is seeking admission to B.Tech (B.E) or B.Arch courses. The conducting body prescribes the eligibility criteria and the details are made available on the official website. Candidates should go through the details carefully.
The key eligibility criteria are the qualifying exam (QE), minimum marks and the subjects combination. To get detailed information about the COMEDK UGET 2022 eligibility criteria students can click on the given link.
COMEDK UGET Application Form And Process
Candidates who are planning to write the exam must first visit the official website and register themselves. During registration, candidates have to provide details like name, DOB, contact details like email ID and mobile number and they also have to submit some valid ID proof number. After completing the registration successfully, candidates are granted COMEDK login credentials (user ID and password) via mail. Aspirants can use the credentials to log in and fill the COMEDK application form. The whole process is done in an online mode.
For 2022, the application form has been released on 14th June. The last date for submission of forms has been kept on August 18th. Candidates also have to pay some amount of application fee for the UGET exam which is Rs. 1500. Candidates who apply for both COMEDK UGET and UNI-GAUGE (Under–Graduate Engineering Entrance Exam), they have to pay an amount of Rs. 2400. The application fee has to be paid online either through debit or credit card or net banking.
For detailed information on the various steps involved in filling out the COMEDK 2022 application form, students can click on the given link.
COMEDK Exam Pattern
Students who are planning to appear for the exam should clearly understand the COMEDK exam pattern. By learning the pattern students will get valuable insights into things like the type and nature of questions, marking scheme, time allotment amongst others. Knowing all these things will help students develop a better preparation strategy.
The medium of examination is in English.
1 mark is awarded for each correct answer.
No negative marking is given.
Total Marks is 180.
Exam duration is 3 hours.
Questions are mostly Multiple Choice Questions (MCQs) type.
There are three sections which include Physics, Maths and Chemistry.
COMEDK Admit Card
Admit card is an important piece of document for candidates without which they will not be allowed to write the exam. The COMEDK 2022 admit card as per the notification released by the exam conducting body is said to be made available from 10th August. The admit card is released on the official website and candidates have to download it from there. It has to be noted that the hall tickets will be available only through the online channel. No hard copies will be sent through the post.
To know the full process of downloading COMEDK 2022 admit card students can visit the given link.
COMEDK Syllabus
The entrance test is mainly based on the existing syllabus of 11 and 12th standard or 1st and 2nd PUC. However, candidates should go through the syllabus as it will help them get a complete overview of the important chapters, topics and other details. This exercise will further help them develop an effective preparation strategy for the exams.
To know more about the latest COMEDK syllabus students can follow the given link.
COMEDK Results
The COMEDK results are usually announced online tentatively in the month of May. For 2022, the results are said to be announced by September. When the results are announced candidates can go to the official website, fill in the required credentials and check the result. 
COMEDK Cutoff
When we talk about the cutoffs, it generally means the minimum score that is required for admission. Therefore, candidates have to score higher or equal to COMEDK UGET 2022 cutoff. The cutoff marks are usually determined branch-wise where participating institutions are likely to set their own cutoffs which will be further based on several criteria like seat slots, applications received, candidates' category etc. 
COMEDK Counselling
Counselling is another important process after the results and merit list is generated. All eligible candidates have to attend the COMEDK counselling session during which they will have to finalize the college and course of their choice. Based on their rank and preference seats will be allocated to them. Candidates are usually assigned different venues for reporting and they should also carry their documents which will be verified at the venue. 
COMEDK Question Papers
Question papers are important and effective study material that will help candidates to not only practice and prepare well but also get valuable insights about things like the types of questions, exam pattern and more. Candidates can visit the links given below to access the study materials and practise productively.
COMEDK Exam Centres
As per the details provided, the exam is conducted in 300 centres across India. The COMEDK centres are assigned on "first come first serve" basis. Details regarding the exam centre will be given on the admit cards. The centre cannot be changed.

Frequently Asked Questions On COMEDK
What level of computer knowledge is required for COMEDK online exam?
A basic level of computer knowledge is required. Students just have to use the mouse often.
How to answer the question in the COMEDK online test?
There are usually 4 options provided for each question. Candidates have to click on one option using the mouse. They can change their answer as well.
Is there any limit to registering for COMEDK UGET 2022 exam?
There is no limit as such. However, the mail id that is used for registering earlier cannot be used again.
Is the Entrance Test only conducted for Karnataka students?
No, the exam is open to all students who are a citizen of India.